NYFF Critic's Choice – "The Social Network"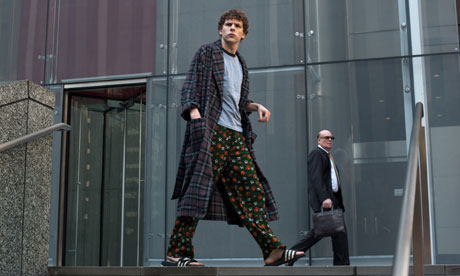 The Independent's senior film critic Kurt Brokaw offers his picks from the 2010 New York Film Festival, which runs September 24th through October 10th. For a complete list of his selections, click here.
The Social Network
(David Fincher. 2010. USA. 120 m.)
Why do you suppose Mark Zuckerberg, America's only billionaire inventor with 500,000 friends, would pick September 25th—the day that David Fincher's bullet-hard drama about Mark's young life premiered at the New York Film Festival—as the day to give New Jersey public schools $100 million dollars of his fortune? Could it be, as the movie poster suggests, that Mark made "a few enemies" on the way to his mid-20s? Mark says he doesn't own a television set, so maybe he didn't catch all the commercials; he's also on record stating he has no intention of seeing the movie. Still, one can speculate that a hidden agenda of America's richest entrepreneur under 30 may be to mute the unfriendly criticisms that fill The Social Network. After all, the movie's producer, Scott Rudin, is no doubt hoping to bury Catfish, its smaller, scrappier internet competitor still hanging onto screens at some multiplexes.
While you're pondering these burning theatrical issues, here's a bottom-line assessment: The Social Network may be the drama you'll be chatting and debating with all your online friends long into the night…but Catfish is the documentary you'll remember as you create, embellish, and polish your own Facebook profile. The lessons of invention, of fashioning a fully-realized, three-dimensional online person ready for display, of birthing a supposedly flesh-and-blood human being that another real person will come to like, maybe one day to hire, maybe even one day to love, will outlast any relationship you develop in the dark with that nerdy coder kid, Mark Zuckerberg.
This isn't to suggest that the 48th New York Film Festival curators chose the wrong movie for opening night. Fincher's The Social Network comes armed with Aaron Sorkin's blazing, staccato screenplay (based on Ben Mezrich's book, The Accidental Billionaires), hyperkinetic performances by Jesse Eisenberg as the 20-year-old Harvard wunderkind and Justin Timberlake as the Napster hipster who becomes Mark's go-to hero and mentor, plus the edgy, industrial synthesizer score of Nine Inch Nail's former frontman Trent Reznor.
Credits like these are all head-and-shoulders above the let's-put-on-a-show amateur theatrics of the Catfish troupe. But "amateur" is what Facebook, YouTube, Twitter, Tumbler, MySpace plus all those other microblogs, social networks, and a major percentage of what passes for text messages are celebrating. It's all about amateur status if it's all about you in the first laps of your career. Facebook leads the pack; one of every 14 people on the planet today has a Facebook account, cumulating 48 billion unique images. Some of them are likely yours.
For its first half hour, The Social Network holds onto its amateur footing in the startup period of Zuckerberg's foray into the ether. In the winter months of 2003 he was a Harvard sophomore who first pioneered CourseMatch, (matching students' courses to their preferences) and then a social network, FaceMash, somewhat akin to Friendster but with a more overt sexual bias. Two brothers, Tyler and Cameron Winklevoss, then hired Mark to help program their ConnectU site. Mark will maintain he completed that task, then created TheFacebook (as it was known in its first iteration) with a profiling concept and code totally apart from ConnectU. By the fall of 2004, TheFacebook had gathered in over a quarter million students at nearly one hundred colleges. Fincher telegraphs all this with incredible speed and dispatch; they're the fastest scenes of overlapped dialogue you've tried to follow since The Front Page. (Mark's gal pal—Rooney Mara in a vivid opening vignette—dumps him in part because he's talking too fast for her, and sometimes us, to even comprehend.)
At that point The Social Network segues into Sorkin's Roshomon-style format, cross-cutting differing points of view that will define the rest of the movie: Zuckerberg, The Napster founder Sean Parker (Timberlake), the Winklevoss twins (Armie Hammer, Josh Pence), plus Mark's pal Eduardo Saverin (Andrew Garfield) who finances his original project and opts for chasing Mad Ave marketers instead of Silicon Valley investors. These become the round robin of stories we observe through a sea of legalese.
The film becomes a he-said/he-said series of arguments. Eduardo is Mark's social compass and moral guide; he's an in loco parentis substitute in Mark's life. Sean comes along as the ultimate success story Mark wants to emulate—he's cooler, smarter, faster than Mark. It's Sean who instructs Mark to shorten TheFacebook to Facebook. (The Winklevoss twins are stuck back in square one, trying to stop what they regard as the theft of their concept.) Aaron Sorkin has said, "Mark wants to feel like the people in a Coca-Cola commercial," and Sean is his portal. Sean helps Mark get $38 million from venture capitalists, far more serious money than Eduardo could ever have hoped to pry out of Mad Ave marketers. Apart from a couple of icy smart female lawyers (Rashida Jones makes the stronger impression), this is a guy film flanked by reams of co-eds who drink too much and behave like Bud Light extras. It may remind you of the macho, drill-like precision Sorkin built into most of A Few Good Men. Friendly it's not. (Sorkin maintains the men in The Social Network are "socially dysfunctional people," though that may have changed with the recent hiring of Sheryl Sandberg, a Google exec and former chief of staff for Lawrence Summers when he was Secretary of the Treasury.) The computer experts here may be as one-dimensional as the young filmmakers in Catfish, but The Social Network's strenuous pace, pushed by Reznor's 360-degree score, is gripping. You know you're in the hands of real pros who've done their homework, exhaustively and seamlessly.
And students respond. The morning of the 9 am press screening at Manhattan's Walter Reade Theater, this writer arrived at 6 am expecting an endless line of critics and industry types pining to get into one of its 268 seats. And naturally there wasn't a soul outside the theater. But the second person to show up was Neta Alexander, a Columbia University student who already reviews (in Yiddish) for an Israeli newspaper. And the third person was James Miller, a Fordham University student and budding film critic whose passion is animation. Imagine—the next gen of film critics onboard before sunrise. Bookmark that as a good sign for The Social Network.
---