How to Open a Festival with a Bang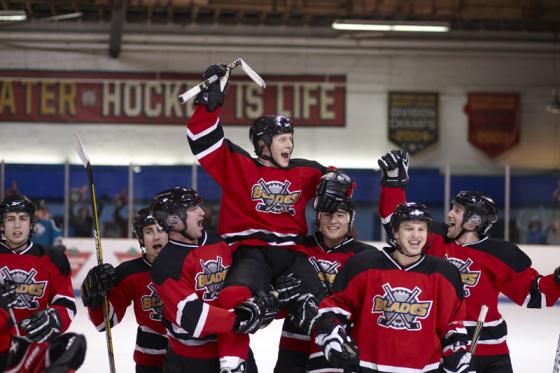 There is something unusual about Score: A Hockey Musical, which opened the Toronto International Film Festival this year. For one, it is a Canadian musical. Second, it's big in every way, from how it was presented at the gala, to how it's being marketed by distributor Mongrel Media, to the stars it features (including Olivia Newton-John, Nelly Furtado, and George Stroumboulopoulos).
To its credit, Score opened TIFF with a bang, not a whimper: Executive producer and music supervisor Jody Colero led a sing-along and a teenage marching drum band and children's opera company appeared live on stage. The audience sang "Hockey: The Greatest Game in the World" in unison (a three-minute version was then remixed for radio). "I wanted to give the audience something where they could walk out feeling happy," Colero says. "It [was] opening night, so we wanted to do something show-businessy." It also gave the audience something to talk about after the show, too. Not to mention viral content.
Quite a difference from the opening film at last year's TIFF, Creation. The husband-wife vehicle for Paul Bettany and Jennifer Connelly wasn't even a Canadian film. But this year, TIFF decided to go back to its roots with Score. Colero says that when he found out that the film was chosen for the opening gala, he was, in a word, "floored." Colero admits, "I actually thought [writer/director Michael] McGowan was joking."
At most film festivals, and even more so at festivals on par with TIFF, there are dozens of great films (and some not so great) that are all competing for attention. Being the opening film means coverage and attention that can launch a film "into public consciousness," according to McGowan, whose film opens across Canada on October 22nd.
"You're hoping to get into the festival, first of all," McGowan says. But with more exposure comes more scrutiny. "Everybody's in town," points out Colero, "so the hype is huge."
"There have been some people who said, 'How dare you open with a hockey musical," McGowan says. According to Colero however, Score is meant to be fun and tongue-in-cheek, to entertain the audience, not to take itself too seriously. Yet flashy openings risk more of a backlash than staying under the radar. Still, McGowan says, "I would take any negatives because of the positives that come with what opening does for the film."
McGowan has been interested in doing a musical for a number of years, having rejected a growing number of ideas before settling on combining the sport of hockey with the genre of a musical. In fact, he was surprised it hasn't been done before. After his success with One Week, McGowan had the freedom to take on Score. "I grew up playing hockey," says McGowan, who has played the "greatest game in the world" since he was six-years-old and still does today. "I could have been in the NHL," he jokes.
Then, of course, there is the music. For McGowan, music has been fairly central to his films, from Saint Ralph to One Week; he loves what it's capable of adding to the movie experience. "It was just interesting to try to take it a step further as a musical," he says.
The most gratifying aspect for McGowan has been how much the audiences enjoy and get the humor. "The laughs were almost bigger than I could have hoped for," he says. "You just enjoy how much they've gone along for the ride."
But what about non-Canadian audiences, have they been going along for the ride, too? Although Score is clearly targeted at a Canadian market, being the opening gala film meant that it also received its fair share of international eyeball, more than usual, in fact. "We're now getting interest from international," McGowan, says. "We'll be able to announce the sales in the next week or so for fairly large international territories, so there is tons of interest."
Colero thinks that it might play well in US hockey towns, though since it's a film made for Canadians foremost, he asks, "Why not do well in Canada?" McGowan believes that the "particular reveals the universal," which was the case for Saint Ralph (in French). It managed to open as far as South Korea, on 137 screens, and was a box office success in Japan.
So, given how important a role being a TIFF opening gala film can play for a Canadian film, does the festival have a responsibility to open with something home grown? McGowan says, "We're sufficiently developed as filmmakers in Canada, [and] we should be able to put up something that can entertain that audience every year."
To find out more about Score: A Hockey Musical, visit www.scoreahockeymusical.com.
---
---
Regions: Canada