Reviews: Jarecki's "All Good Things" and Hickenlooper's "Casino Jack"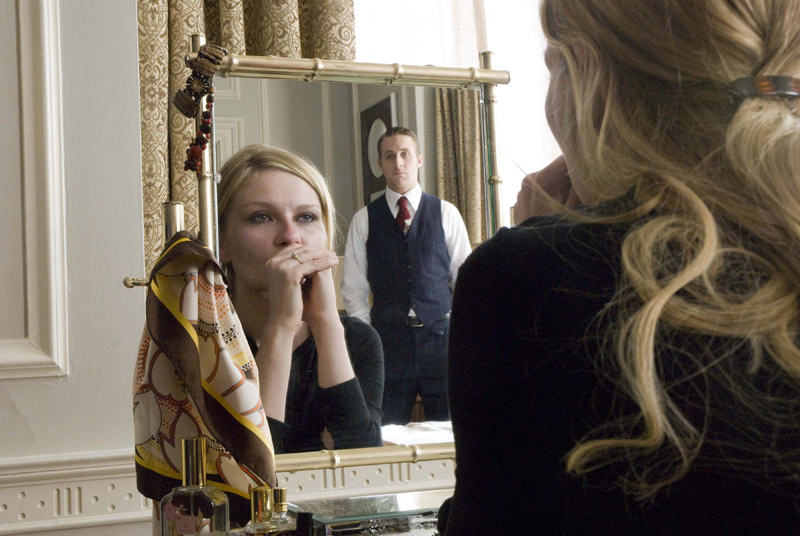 All Good Things
(Andrew Jarecki. 2010. USA. 132 min.)
Casino Jack
(George Hickenlooper. 2010. USA. 108 min.)
As a dramatic form, today's crime docudramas have a rich literary heritage originating in true-crime magazines like True Detective and Master Detective, of the 1930s. These "slicks" were different from their fictional counterparts, the "pulps," that grew Raymond Chandler and Dashiell Hammett. Pulp fiction of the first half of the 20th century was printed on cheap, ragged-edge wood pulp paper, with names like Black Mask and Dime Detective. Literary masters Hammett, Chandler, Cornell Woolrich, Leigh Brackett, Erle Stanley Gardner, John D. MacDonald, and Robert Bloch were penny-a-word pulpsters, and their short stories, novellas, and novelettes (some of which grew into best-known classics like The Big Sleep and The Maltese Falcon), were published as almost all text with a single illustration framing the story.
The slicks, on the other hand, contained scores of crime scene photographs, lineups and mug shots, and commonly were re-creations of actual murders, kidnappings, bank robberies and vice dens, as-told-to (and sometimes written by) an actual sheriff, deputy, or other law enforcement officer. True crime reporters planted the seeds of scenes that might or might not have actually taken place, much as the reenactments of crimes were scripted and acted in the popular live radio drama, Gangbusters through the 1930s and 40s. It's significant that the one writer for magazine slicks who then segued into fictional crime novels with his clinical, no-frills voice intact was Jim (The Killer Inside Me) Thompson. Jim was the bridge author into true-crime novels of the 60s like Truman Capote's In Cold Blood and Norman Mailer's The Executioner's Song, in which wholly invented scenes and fictionalized characters became legitimate elements of the storyteller's art.
Two new domestic crime docudramas—Andrew Jarecki's All Good Things and George Hickenlooper's Casino Jack—demonstrate how the art form has evolved into a kind of speculative journalism. For example, in constructing All Good Things, in his director's statement Jarecki wrote, "we used extraordinary elements from the life of Robert Durst as the inspiration for a dramatic story of desire, family, obsession and murder…We didn't try to replicate the exact history." That's why not all characters are named after their real-life inspirations, for example. Jarecki, who grayed similar lines in Capturing the Friedmans, is typical of documentarians who migrate onto a playing field that promises more artistic freedom. His latest film summarizes a quarter century history of events preceding and following the disappearance of a married woman in one of New York's frontline real estate families in 1982. Both fact and Jarecki's fiction are worth examining more closely.
All Good Things is the name of a Vermont health food store that Robert (Ryan Gosling) and his new wife Kathie (Kirsten Dunst, not to be confused with real-life Durst) ran briefly in 1972. Durst had witnessed his mother's suicide as a child and was forever under the thumb of his wealthy dad (Frank Langella) who wanted both his sons to inherit the management of his down-and-out Times Square buildings. Dad prevails and Robert and Kathie move into a Manhattan penthouse; Robert becomes a low-level bagman, collecting rent and reporting to his older brother. Robert smokes more pot, starts abusing Kathie, and eventually kills and dismembers their dog. Kathie has a miscarriage, drinks more, and dabbles in cocaine. Robert's shadow childhood pal, the journalist Susan Berman, perhaps becomes more than a pal. (Lily Rabe, whose character in the film is called "Deborah Lehrman.") In 1982, after a nasty scene between Robert and Kathie at a party in Westchester, Kathie disappears, though the staff at their Manhattan building remembers seeing her arrive that night and leaving the next morning. These sightings become Robert's alibi and he's never charged in her disappearance, though Kathie told a partygoer "if anything happens to me, don't let him get away with it."
Eighteen years pass. In 2000 Westchester DA Janet Rizzo (Diane Venora playing "Jeanine Pirro") decides to reopen Kathie's disappearance. Robert moves to Galveston, Texas and disguises himself as a mute woman; he befriends an erratic, elderly neighbor, Morris (Philip Baker Hall), who comes to believe they'll buy a home together. Robert won't pick up increasingly distressed long-distance calls from Susan Berman, to whom he's already sent checks for $25,000. Susan threatens to talk to the police and is found murdered in her Benedict Canyon home. Then Morris's dismembered body is found in Galveston Bay. Durst admits to murdering Morris but pleads self-defense, and is acquitted. Susan's killer has not been found. In 2006, Durst agreed to surrender any and all ties and claims to his family's trusts in exchange for $65 million dollars. Today Robert Durst lives in Florida and works in real estate.
All Good Things is, as they say, a hot property, and it's not surprising that Harvey and Bob Weinstein are the producers. The film is exceptionally well cast, the credits are first-rate, both Gosling and Dunst are immensely likeable as a couple destroyed by their own success, and Langella is (again) peerless as the coldly withdrawn patriarch. The question remains—whodunnit? This is where journalism turns into speculation, where slick reportage becomes pulp fiction. There's a four-second moment in a late flashback—you have to pay close attention here—in which Jarecki's "inspiration" and that of his screenwriters, Marc Smeling and Marcus Hinchey, suggest what may have happened the night Kathie disappeared. If you buy this dramatic conjecture (and a lot of viewers will, because it's presented without the usual devices—scrims, distorted perspectives, Vaselined lenses—that once used to signal we were in imagined territory), the murders of Susan and Morris lock into place. None of the final scene superscripts, which summarize the factual events, touch on any of this.
Is this responsible filmmaking? Are we back in Catfish country, where we're not only dealing with untrustworthy narrators, but possibly untrustworthy artisans as well? It's a pretty slippery slope here, and worth your consideration.
Like All Good Things, Casino Jack, the late George Hickenlooper's brilliantly visceral tale of lobbyist Jack Abramoff (Kevin Spacey), is constructed as a flashback. Just as All Good Things works its way back from Robert Durst's trial, Casino Jack starts with Abramoff's jailing and, "inspired by true events," re-creates his misdeeds with Indian tribes and their gaming operations, Chinese sweatshops in the Mariana Islands, rogue freedom fighters, and a floating cruise casino he eventually comes to own. Abramoff and Durst are both shown living the high life but working for the kind of clients not usually associated with white-shoe law firms and world class builders.
Durst's downfall starts with an indiscretion—a pair of lace panties discovered by his wife in their laundry, just as Abramoff's smarmy dealings start to fall apart when his partner Michael Scanlon (Barry Pepper) accidently includes a girlfriend's lace panties in his dry cleaning. Casino Jack tells us if you're first in line to cooperate with federal authorities (like Scanlon), you can go free and restart your life chasing girls as a lifeguard…while if you're second in line (like Abramoff), you can serve four years in federal prison for stealing from your clients. On the other hand, All Good Things suggests you can get away with murder. They're similar but very different docudramas.
Of the two, Casino Jack (which should not be confused with Alex Gibney's documentary, Casino Jack and The United States of Money, released earlier this year), is the more entertaining, mainly because Ryan Gosling's Durst becomes more and more sullen and withdrawn in his rich but empty life, while Kevin Spacey's Abramoff becomes increasingly frantic and desperate as he careens deeper into a sinkhole of power and greed. Jack Abramoff was on a first name basis not just with Congressional extremists like Ralph Reed, but Ohio Senator Bob Ney, House Majority Leader Tom Delay, and even President George W. Bush.
Spacey's Abramoff is a tour-de-force of passions run amok; at the top of his game, Abramoff was a leader of his synagogue, a planner of an academy for Jewish youth, a dedicated husband and father, a skilled impressionist, and among the highest paid lobbyists on K Street in DC. But he also had a habit of falling behind on his mortgage payments, even as he was ordering Zamboni machines for the skating rink he imagined for his youth academy. Maybe Abramoff gave up common sense when he started producing action movies like Red Scorpion with Dolph Lundgren, and maybe this is why he cooperated with Hickenlooper, from his cell in Cumberland Federal Prison, in the scripting (with Norman Snider) of Casino Jack. (The real-life Abramoff appears in a mortice scene flanking the final credits of Hickenlooper's film, introducing Tom Delay to an adoring audience of Young Republicans at the Harvard Club; it's word-for-word what we've watched acted, and it's eerily spooky.)
Hickenlooper surrounds Spacey with a fine supporting cast: Pepper, Kelly Preston as Abramoff's wife, and Maury Chaykin (who also passed away this year) as the casino front man who indirectly involves Abramoff with a mob hit in Miami. The director also gives Spacey the freedom and the incentive to go for greatness. There's a scene near the end in which Abramoff is confronted in a Senate hearing on the Indian tribe scandals by an irate John McCain, who's pounding away on Jack because he's been instructed by his attorneys to invoke his constitutional privileges and remain mute. It's unlike Abramoff, so Hickenlooper invents a spectacular rebuttal scene in which Abramoff goes ballistic and tells us what we all suspect—that half of Congress takes envelopes of cash (and everything else they can get) from lobbyists like him. It's a fabulous invention, in its way a late centerpiece of the film, and it's done without the shadowy speculation that informs and slants All Good Things.
Casino Jackand All Good Things are emblematic of the increasingly blended fusion of pulp fiction and true-crime reportage—the pulps and the slicks. For much of the 20th century, they were separate but equal forms of print entertainment, which movies began to endlessly scramble. Hickenlooper and Jarecki's movies are two of the best of an uneasy breed of modern-day journalism.
---