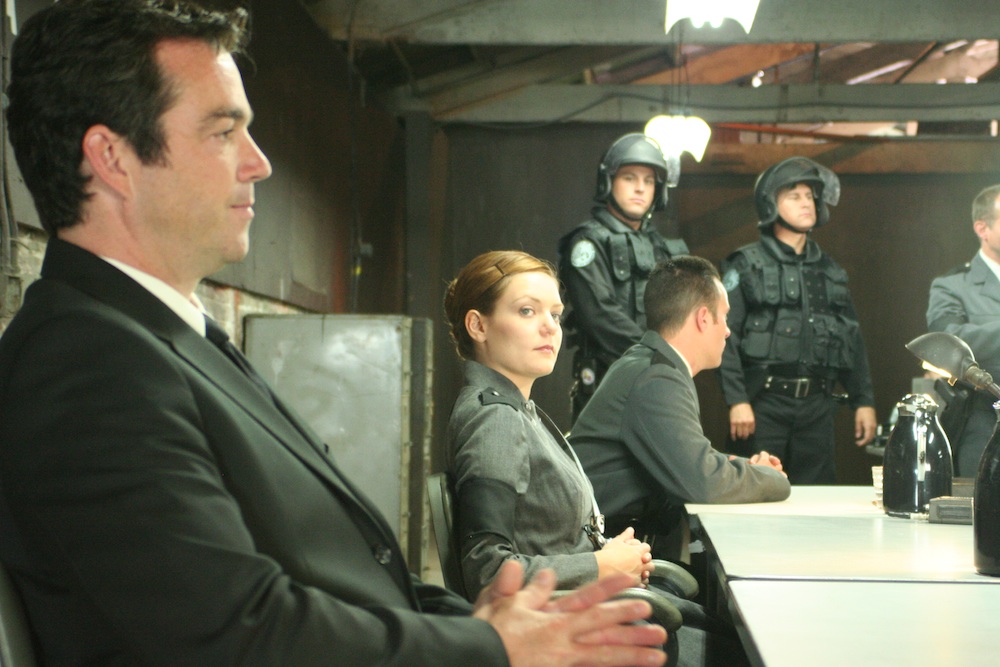 Still from "Radio Free Albemuth," co-produced by Elizabeth Karr.
Pitch sessions are becoming the go-to attraction at film festivals and conferences. How are filmmakers and expert panelists making the most of these meetings?
After attending a few sessions firsthand, The Independent asked film professionals for their input on how to maximize the pitch opportunity. Turns out the answers aren't so simple. We spoke with:
• Sean Fynn – documentary filmmaker with Principle Pictures and a pitch winner at The Good Pitch, currently working on a documentary called What Tomorrow Brings
• Lesley Norman – executive director at Filmmaker's Collaborative, which sponsors pitch sessions and film conferences, including "The Art of the Pitch Workshop" on February 12th at Mass College of Art in Boston
• Elizabeth Karr – actor, director, and producer who has participated in pitch sessions, including the People's Choice Pitch; Karr just completed Radio Free Albemuth, her first feature as a producer.
That's "pitch" with a "p." What is a pitch session?
Generally, filmmakers apply to participate in a pitch session with a project description and a work-in-progress trailer. Sessions are crafted for all types of films, narrative and documentaries, depending on the venue. Selected filmmakers present their concept to a panel of film industry experts and the public. The filmmakers' goal is to generate interest in their work and, ultimately, win prizes, funding, contracts, and find partners for your cause.
Time frames for each pitch can vary, but generally allow enough time for a trailer screening and for comments and feedback from panelists. The pitch event is typically open to other film festival attendees or the public. The idea is to watch filmmakers connect with funders and distributers. It's a networking event in a fishbowl.
The forum specifics and filmmaker requirements vary depending on the event and sponsor. Some do not require a trailer. Others do not involve an open forum, but offer private meetings with each representative. At some pitch sessions, a separate team selects the pitches so that the panelists see the pitches for the first time at the session. In others the panel does it all.
The Good Pitch, founded by Britain's Channel 4, connects documentary filmmakers with nonprofits and NGOs related to the film's issue or cause in order to set up partnerships for outreach and audience engagement early in the filmmaking process. The Good Pitch has been a part of IFP's Independent Film Week and HotDocs, among others.
Sean Flynn describes his experience at The Good Pitch as intense. "There are 30 people at the table, all of whom are in a position to accept or reject your film—and 200–300 observers," he said. In spite of the high-stakes setting, Flynn found "a positive, upbeat vibe" to the experience. "Organizations are getting more excited about documentary films and finding a messenger for their message."
Although seemingly less common than for docs, pitch sessions for narrative films have also been springing up. Elizabeth Karr described her experience at the People's Choice Pitch, a high-profile pitch session through the American Film Market, as a good learning experience. Filmmakers are allowed two minutes to pitch alone in a room, on video. Each filmmaker is given two tries, but for the second try, you have to erase the first. A panel selects four finalists and shows the video pitches on TV for the voting public. Karr said, "Two minutes may sound short, but it's a long time to speak to camera alone. And there's no way to gage any feedback for how you're doing as you speak."
No batter. No batter. Swing! The benefits of a pitch session.
Flynn has inadvertently become somewhat of the poster boy for pitching. He's pitched (and won) two documentaries over the past two years. The first was The Promise of Freedom, about the plight of Iraqis endangered by working for the United States to help rebuild Iraq, and What Tomorrow Brings, about a girls' school in Afghanistan. In both pitch sessions, Flynn pitched with producer/director Beth Murphy. The Promise of Freedom won IFP's Fledgling Fund award of $10,000; they pitched at The Good Pitch at Hot Docs, in 2008, also connecting with production and distribution resources and human rights organizations for outreach support. What Tomorrow Brings was selected for The Good Pitch at IFP's Independent Film Week 2009.
He said that he finds pitch sessions enormously helpful, regardless of their outcome. "It's an opportunity to soak up knowledge about the industry, meet key decision-makers, start building relationships, and get your project on their radar so they are expecting that funding grant proposal. Afterwards, incorporate their feedback into your proposal."
For the panelists, pitch sessions can help them identify broadcast material that is right for their agencies. Filmmakers Collaborative, a Boston-based nonprofit that provides fiscal sponsorship, professional development, and networking opportunities to independent filmmakers around the country, is sponsoring a pitch session at their conference on February 12, 2010. Executive director Lesley Norman said that it's critical to make industry connections early on in the production process because filmmakers must do outreach as they film. Responses during the sessions can also help the filmmaker evaluate their narrative, she explained.
In a session, panelists might pose questions that filmmakers will have to address in funder proposals, poke holes in the story, or critique the way a filmmaker describes the film or its concept. Taking criticism in a public forum, on a personal project that's required blood, sweat and tears—and often personal financing—can be tough.
But Flynn recommended hearing criticism earlier in the process rather than later. "I'm grateful for the criticism. The panelists have their finger on the pulse of the industry and art; their feedback and insight is valuable. Filmmakers should have open ears. It's insider info on how to improve you work and stand out. It comes from a supportive place," he said. When he pitched What Tomorrow Brings he heard some criticism. Then others stood up in his pitch's defense. "Everyone had a different view," he said.
Sometimes, it takes an outsider to identify the obvious. At one pitch session I attended for this article, after watching a trailer for a movie about a female boxer, one panelist opined, "We never see her box!"
Keeping your eye on the ball.
"Each time you pitch you get better at describing and promoting your film," said Flynn. "You learn what grabs people's attention."
Applying for a pitch session later in your production process can give you an advantage, perhaps simply by virtue of having more of your film together and more informal experience "selling" your concept though networking and grant applications. However, it's more complicated than that. Other factors contribute to a win, such as the trailer, the cogency of the storyline, how well-planned the production is, and the filmmakers themselves.
"Sometimes people get funded at the paper stage, before anything has been shot," said Norman. "Each pitch is different. A well-researched pitch, regardless of where they are in the process, can be the best pitch. Or a good trailer can make it or break it. It can also depend on the filmmaker's track record. Although I've seen a first time filmmaker bring an audience to their knees. A filmmaker must be good on his feet and speak with passion [to win]."
Although Karr's experience is unique from documentary filmmakers, her thoughts are similar. "The more elements of your project you have together the better, but at the heart, you have to have a great story—it's about the emotional impact of the character's journey. Then, they want to know that you know what you're doing."
Flynn recommended projecting confidence and knowing your audience when you pitch your story and Karr agreed. "A lot of it is in the delivery," she said. "I think, for me, being an actress is an advantage. Many times in auditions there are 10–12 executives in a room, but you're saying someone else's words. In pitching it's your own. I like to know it cold, but not have it memorized."
From farm team to the Big Leagues.
Attending pitch sessions is a great way for new filmmakers to get into the game. By watching others pitch, you'll learn what works and what doesn't. "I was at one pitch session," said Karr, "where the premise of the movie was so great, but the pitch was just so bad."
Flynn advised filmmakers, particularly new filmmakers, to take advantage of smaller/ local pitching forums. "For large forums, participants can pay $700 or $800 just to observe." He said, "So any chance you get to watch (at a good price)—take it. Lots of time you'll go to one of these and then later see the finished product later. It's inspirational."
Karr weighs the cost with the value when applying to pitch. "Any time there's an opportunity to talk about your project, take it. But for a large fee, I would really have to know who was going to be on the panel. It would almost be like paying to audition."
Regardless of the type of film or size of the pitching forum, pitch sessions are giving a new and valuable public voice to filmmakers. "It's always fun to hear from filmmakers and see their passion," said Norman. "It adds a visceral real-life aspect to any festival."