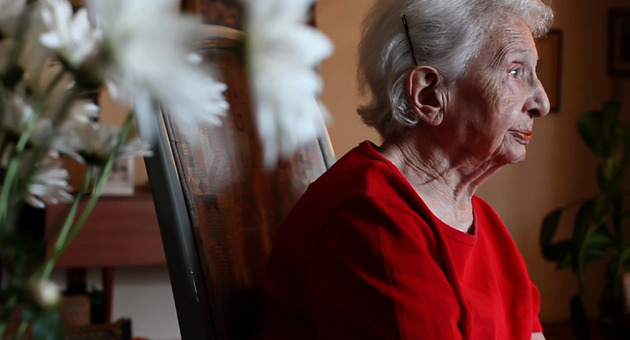 Red Shirley, Lou Reed's 28-minute homage to his 101-year-old cousin, Shirley Novick, had its New York premiere January 15th, as part of the 20th Annual New York Jewish Film Festival which runs through January 27th. Novick (known as Shulamit Rabinowitz before her marriage to the late editor of the Yiddish daily, The Morning Freiheit, Paul Novick), was there to discuss the film along with Reed and co-director/cinematographer Ralph Gibson. Journalist Nicolas Rapold moderated.
It should be noted, the sold-out Walter Reade Theatre didn't attract the kind of crowd that filled Brooklyn's St. Ann's Warehouse in 2006 when Reed performed his dark, drug-addled 1973 album Berlin in a series of concerts directed and designed by Julian Schnabel. This audience was a seasoned and eclectic mix of 50-and-up Upper West Siders, couples, "red diaper babies," Holocaust survivors, union activists, civil rights workers and organizers—New Yorkers who support the widest panorama of Jewish cinema. Reed, now 68, walked with a slower gait and looked, in close up, like chiseled granite, clearly Walking On The Mild Side—adjusting Novick's wheelchair, gently handing her tissues, patiently repeating questions from the audience. The singular sensation of the evening, both on screen and in the follow-up Q&A, would be observing a rock icon of monumental influence being awed by, tamed, and, yes, instructed by a tougher, longer-lived champion of workers' rights. Lou and Shirley. What an unlikely screen duo.
The film intercuts a trove of photos found by Reed in Novick's closets in her Chelsea Garment Worker Project apartment with their on-camera conversations. Reed traces her migration from Poland to Canada and "being smuggled" down to New York City, carrying little more than two suitcases, a mandolin (which she could play), several embroidered pillows, and an immigrant's dream of a better life. She went to work for 47 years in the garment trade starting at $5 a week, and made dresses for Lord & Taylor and other Fifth Avenue stores (one of which was worn by Liza Minnelli). When Novick began to speak out for better working conditions—the only Jewish worker in an Italian shop to do so—she became the black sheep. "But I wasn't a black sheep, I was enterprising…I was a red sheep," she declares on film. The film concludes with her memories of the 1963 March on Washington, where she was near the front watching Dr. King and Mahalia Jackson.
And what does Shirley Novick think of Lou Reed's film? "It's not bad," she opined with candor. She's totally without guile and Reed loved it. "This is not My Dinner With Andre, and she's no talking head,'" he mused back. "This is a different kind of hardcore." And so it is. The film is elegant and tight, shifting between color and black and white (a device Reed said was inspired by Tom Ford's A Single Man). His music score is formal, spare, and unobtrusively tucked under by his Metal Machine Trio (Reed, guitars; Ulrich Krieger, sax and live electronics; Sarth Calhoun, continuum and live processing). His DP, Ralph Gibson, photographed Red Shirley with a Canon 5D2 still camera, similar to the Canon EOS 7D used by Lena Dunham for Tiny Furniture. (These may be the first breakout feature and short using Canon technology that can alternate between still and moving photography; the images are rich and sharp.) Reed himself has become an estimable still photographer with exhibitions and three books of photographs (Romanticism is the most recent); he uses a Leica medium format with a $24,000 body, and is versed in both medium format Hasselblad and the Alpa with Schneider lenses. Working with Julian and Lola Schnabel on the Berlin doc concert, with its sinuous textures, mottled lighting and color saturations, may also have quickened his move into filmmaking.
Red Shirley has garnered its share of acclaim at Rencontres Internationales du Documentaire de Montréal and the Visions du Reel festival in Switzerland. Reed says he has no plans to expand Shirley's life and times to feature-length. He seems satisfied to have documented and preserved the essence of this remarkable woman's century-long journey, and that it will remain an important historical part of The Jewish Museum's film collection, a work both endearing and enduring.
---
---