New Directors/New Films 2011 – Critic's Choice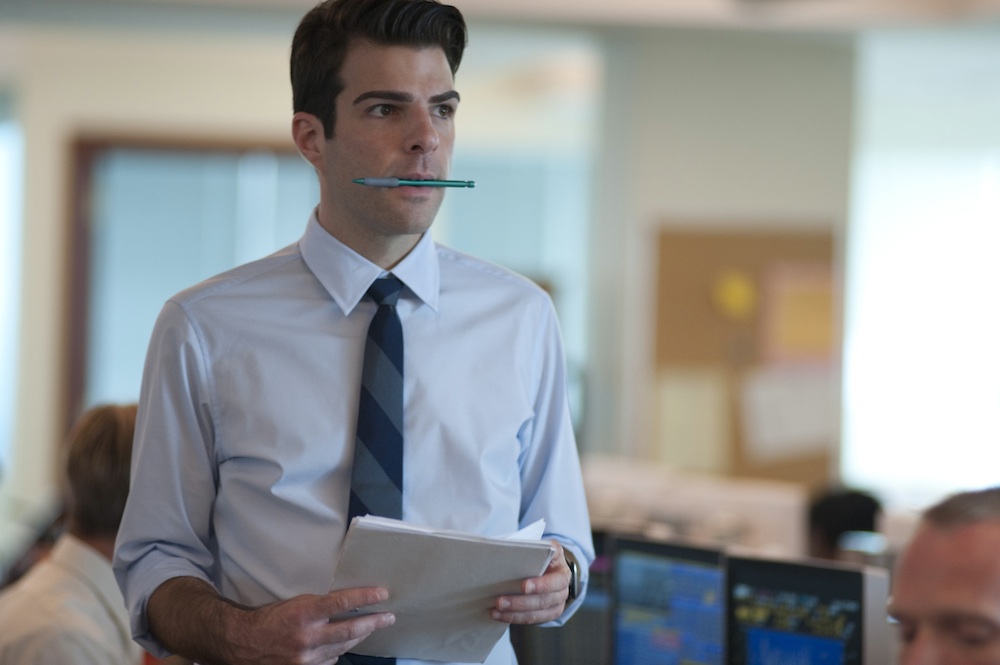 For the second consecutive year, The Independent's senior film critic, Kurt Brokaw, has screened the entire lineup of New Directors/New Films and is reviewing his favorites below, including Margin Call, The Black Power Mixtape 1967-1975, Night Hunter, and Incendies.
In addition to teaching literature and business courses for the New School University for more than 25 years, Brokaw curates and hosts the "Killer Movies: Lost Films Noir" series and teaches a course on lesbian fiction at the 92nd Street Y.
Margin Call
(J.C. Chandor. 2011. USA. 109 min.)
If you watched the Oscar telecast on March 7th, you may recall that Charles Ferguson began his acceptance speech for Inside Job (Best Documentary) with this thought, "Forgive me, I must point out that three years after our horrific financial crisis caused by massive fraud, not a single financial executive has gone to jail, and that's wrong." It's hardly surprising with that bulldog attitude that Ferguson, an MIT-educated director with a PhD in political science, wasn't able to snare a single Wall Street Master-of-the-World into talking on camera. (The closest he got was former Goldman Sachs CEO Hank Paulson, whose breezy, guarded m.o. was "if you're growing, you're not in recession.") Ferguson did get under the skins of sideline academics at the Columbia Business School and Harvard, who quickly sensed they were in no-win territory and came off looking flat-footed and foolish.
Not to worry. If you want the real skinny on how a roomful of the smartest-guys-in-the-room controlling eight trillion dollars (nearly half of the $20 trillion that melted down globally in 2008) nearly let it all slip away, the Museum of Modern Art and the Film Society of Lincoln Center have just the ticket for you.
Margin Call, the opening night selection in their 40th Annual New Directors/New Films, is a deep immersion in the private hell of a Wall Street brokerage house that starts out with a series of wrenching firings, then segues into discoveries by a senior trader and an entry-level analyst that the firm is days, maybe hours, away from leveraging itself out of existence. It's the debut feature of J.C. Chandor, whose dad logged 40 years at Merrill Lynch, and obviously gave his son a crash course in how the leverage ratio (the ratio of assets to owner's equity) can fatally wreck an investment firm if it suddenly decreases even a few consecutive days.
This is essentially what happened to Lehman Brothers, and while Margin Call never mentions that firm's name, Chandor's film is clearly out to docu-dramatize the start of Lehman's eventual bankruptcy. It's a fabulous win-win for this writer/director and his bold, bristling ensemble cast headed by Kevin Spacey, who's building on his splendid performance in the recent Casino Jack, and who plays the senior floor trading manager in too long (34 years) and too deep to turn on his mercurial CEO, acted with icy impact by Jeremy Irons. Irons plays John Tuld—you can't script a name much closer to Lehman's former chairman, Richard Fuld, Jr—and it's Tuld who makes the decision in Margin Call to raise immediate cash by having a fire sale of assets.
Chandor's wisest script decision is to show how oblivious and out-of-touch with financial intricacies everyone in top management seems to be. And even if they were paying attention, the board heavies played by Spacey, Irons, Simon Baker, Paul Bettany, and Demi Moore all look like they could use a Powerpoint presentation on financial investment. That's what a lot of Charles Ferguson's well-intentioned Inside Job doc felt like, which is why we can't remember much of it. Here, the educating is done by the most junior player in the room (Zachary Quinto) who gives the role of Peter the analyst the same technical depth and expertise that Jesse Eisenberg brought to his portrayal of Mark Zuckerberg in The Social Network—but without the attitude. We like Peter and listen closely to him because he's not played as an insufferable smart-ass like Zuckerberg, and he doesn't talk a mile-a-minute. He's a five-figure analyst trying to save his own job by saving the firm. Quinto is also one of the film's three producers.
We like Kevin Spacey's character even more because Chandor's script gives him a dying dog he deeply loves, as a continuing plot element. This sounds cloying beyond words but it's a vital and humanizing note—one of the very few—in a dark, darker, darkest Wall Street day-through-night as the firm argues its way into the fire sale scenario. Spacey is beefier and more weary than his Casino Jack Abramoff; he's closer to the coldly calculating lawyer the late actor/director Sydney Pollack played in Michael Clayton. Paul Bettany is fine as a senior trader who briefly flirts with suicide in a chilling rooftop interlude. Stanley Tucci has a marvelous scene in which the fired trader, sitting outside his Brooklyn brownstone, wistfully recalls a bridge he once designed and built that actually had some utilitarian purpose. Demi Moore also scores points as the senior risk management officer who finally reveals she, too, like Tucci, did the due diligence that showed the enormous risks the first was incurring. And who but a supremely experienced actor like Jeremy Irons could take his line to Peter, "explain all this to me like I'm a child," and make it credible, even wistful? Margin Call goes a long way toward explaining how our Wall Street Masters-of-the-World could lose $20 trillion dollars in what felt like a New York minute.
Margin Call premieres March 23rd at 7 pm and 7:30 pm at the Museum of Modern Art (two screens).
The Black Power Mixtape 1967-1975
(Göran Hugo Olsson. 2011. Sweden. 100 min.)
The field marshal of the Black Panther party, Donald ("DC") Cox died in February 2011 at his home in France. He was 74, and his obituary in The New York Times noted he was a member of the central committee of the socialist movement founded by Huey P. Newton and Bobby Seale in Oakland, California, in 1966. Cox was a Panther spokesman, and the obit by Bruce Weber states that Cox reviled "those media freaks and that bloodsucking Tom Wolfe" who exploited the cause of black liberation to make money from it "and were part of the machinery that tried to ridiculize it."
Cox's distaste and distrust of establishment media go a long way toward explaining the candor and intimacy enjoyed by Swedish documentarians who explore the Black Power movement in this eight-year review. Göran Hugo Olsson's compilation of unused 16mm interviews and events, The Black Power Mixtape, demonstrates how a dozen committed Swedish videographers won the trust of the Panthers, and thus were able to film their subjects up-close-and-personal.
It's rare, fly-on-the-wall journalism that you may have glimpsed in the still photos of the late Village Voice photographer Fred McDarrah, who had a similar all-access pass into the lives and homes of the Beat Generation leadership some years earlier. Olsson's mixtape provides relaxed reflections by Newton, Angela Davis, Stokely Carmichael, Eldridge Cleaver, and documentarian Emile de Antonio, who customarily put their political agendas front and center to a roomful of reporters. Here they're laid back, at ease. No one is performing for the camera. This is one doc that puts genuine soul in its history lessons.
Some of the footage is amazing. We sit in a quiet and heartrending interview with Davis in her jail cell, awaiting trial. Carmichael softly becomes his mother's interviewer in a poignant and halting scene in which she recalls her hardships of discrimination. Lewis Michaux (brother of pioneering black filmmaker Oscar Michaux) and proprietor of the legendary National Memorial African Bookstore in Harlem, welcomes us to a floor-to-ceiling world class shop of black literature and history. Attorney William Kunstler, looking tired but indefatigable, muses on his work holding back authorities determined to take down this nationalist movement.
At the same time we're given the background to understand the reverse side of the mirror—how, at the time, Swedes were alienating US media and governmental power structures. In 1971, TV Guide ran a cover story on "anti-American" stories by Swedish reporters, and there's a long clip of that magazine's fusty editor taking investigative journalists to task. When Lars Ulvestam's Harlem: Voices, Faces doc was shown on Swedish Televsion, the US ambassador to Sweden demanded equal airtime to refute scenes. Shortly after that, diplomatic ties were cut between the US and Sweden—so it's no surprise the Panthers embraced the Swedes as gatekeepers of a free press.
Goran's 100 minutes, produced by Annika Rogell and co-produced by Joslyn Barnes and actor Danny Glover, were largely discovered in the basement of Swedish Television, unseen in over 30 years. The music producer is Corey Smyth, and the excellent music is by Ahmir "Questlove" Thompson and Om'Mas Keith.
This one-of-a-kind Mixtape will be shown Saturday, March 26th, at 9 pm at MoMA and Monday, March 28th, at 6 pm at the Walter Reade.
Night Hunter
(Stacey Steers. 2011. USA. 16 min.)
Remember last year's animated short, LogoRama? Its 16 minutes represented six years of work and 6,000 frames drawn by a French team headed by Francois Alaux. While Alaux and his mischievous scamps were picking up their Oscar, another animator Stacey Steers, out in Boulder, Colorado, was into her fourth year and 4,000-and-counting frames of her 16-minute extravaganza. Steers was probably glued to her television, thinking, "You just wait."
Night Hunter is worlds removed from the eye-popping blitz of corporate logos, slogans, and cartoon images (up to 14 in a frame) that made up the LogoRama circus. Night Hunter is nightmare art. But it's nightmare art with a touch of whimsy, a delicious conceit that has to be the most innovative piece of movie magic in the entire 40th New Directors/New Films fest. It's a journey into haunted house territory with an Edward Gorey tonality and treatment, alive and undulating and ever-shifting to reveal a young woman in terrible, perpetual, helpless, and hopeless peril, who happens to be a young Lillian Gish.
Steers has chosen frame stills from a number of Gish's most memorable silent films, including Way Down East, Broken Blossoms and The Wind. Then she's eased Gish into various hand-tinted attitudes and locations filled with crawling snakes, Alien-like eggs, and a maze of other bestial and wormy shapes and forms, all complemented by Larry Polansky's creepy sound design. Gish sometimes wears a blood-red collar, which is the one touch of color in the frame and recalls Gorey's set designs for the Broadway production of Dracula.
Night Hunter doesn't look or sound like anything you've experienced on-screen. Here's one suggestion, a literary allusion, to what it feels like:
At the conclusion of Dorothy Scarborough's 1925 novel, The Wind, Letty, who Gish would play in MGM's 1928 film by Victor Sjostrom, is struggling against a Texas wind "that was like a devil, and all powerful. The wind had risen almost to cyclonic fury now. Again the curtains of sand were rolled up from the plains to the sky, wavering, shifting, their gigantic folds writhing with hideous suggestion. What horrors did these curtains hide? With a laugh that strangled on a scream, the woman sped to the door, flung it open and rushed out. She fled across the prairies like a leaf blown in a gale, born along in the force of the wind that was at last to have its way with her."
The above passage suggests something of the artistic power Stacey Steers has woven into Night Hunter.
It will show Friday April 1st at 8:30 pm at the Walter Reade and Saturday, April 2nd at 2:30 pm at MoMA.
Incendies
(Denis Villeneuve. 2010. Canada/France. 130 min.)
Watch the boy having his head shaved in the opening scene in a hillside school somewhere in the Middle East. Note his heel, which appears marked with three vertical dots. This clue is deliberately inserted by the Canadian writer/director Denis Villeneuve as a kind of prologue symbol, which will eventually help us and others identify him in his later life. Incendies, which translates as "scorched," is indeed a scorched earth movie of burning intensity and uncommon intelligence—far and away the best foreign drama premiered at this 40th New Directors/New Films festival.
Based on a play by Lebanese-born Wajdi Mouawad, Incendies' core concept wraps around the 15-year imprisonment, torture, and rape during the 1980s of a young Christian woman, Nawal Marwan (Lubna Azabal) in a war zone prison (Kfar Ryat). The isolated prison is located in a land that remains nameless, though most of the picture was shot in Jordan. There she gives birth to twins, a boy and a girl. Eventually she is released and migrates to Montreal, where she works for 18 years—bitter and perhaps mentally damaged by her imprisonment—until her death in 2009.
During the reading of her will, twin son and daughter, Jeanne (Mélissa Désormeaux-Poulin) and Simon (Maxim Gaudette) are given envelopes to pass on to a father they believed to be dead, and a brother they never knew existed. (We see Nawal birth this child early on, and before that as the young boy in the prologue.) Jeanne, a math teacher, sets out to retrace her mother's path, hoping to discover both her father and brother. We learn that Nawal witnessed a horrific massacre of women and children on a school bus, which she narrowly escaped, later becoming the tutor to the children of a southern militia leader and shooting him point blank at a luncheon. Thus her imprisonment in Kfar Ryat, where she is known as a whore and "the woman who always sings."
Like its prior life on stage, Incendies is fashioned to be timeless—an eternal conflict between Christians and "nationals," uneasily sharing a common land in which religious conflicts and civil war produce slaughters that trigger awful reprisals. What we have is an unraveling mystery in a setting filled with sudden, unpredictable violence—a knockout premise if the director is up to the task. And Denis Villeneuve delivers with the same fervor and technical aplomb we first encountered decades ago in the early films of Costa-Gavras. Incendies' director artfully cuts back and forth as Nawal and her daughter encounter danger, cultural clashes, and rash military decisions with their inevitable reprisals and revenge. André Turpin's lush but urgent camerawork, Monique Dartonne's razor-sharp editing, and Grégoire Hetzel's stirring and exotic score (including a song by Radiohead that fits in seamlessly) build a mosaic that's breathtaking.
Villeneuve's smartest artistic decision was to jettison all political agendas from the get-go, so the search for family stays front and center. He provides title cards between scenes that help us keep our bearings. Désormeaux-Poulin and Gaudette both possess strong, determined natures and physical strength, and both show a conviction that love can endure even beyond the grave. The surprising conclusion, while heartrending, brings a moving sense of closure to this first-rate drama.
Incendies will be shown Sunday, March 27th at 8:30 pm at the Walter Reade.
For the complete ND/NF schedule, visit here.
---
---
Regions: New York