Tribeca 2011: Critic's Choice – Features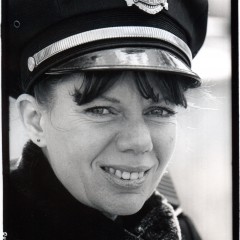 A Decade In the Life of the Tribeca Film Festival
If you want eight million New Yorkers and millions of vacationers to see more than Ground Zero when they visit lower Manhattan, you need to pick movies that will attract the widest possible range of moviegoers. Tribeca Film Festival founders Robert De Niro, Jane Rosenthal, and Craig Hatkoff set this agenda in a raw, wounded, and vulnerable post-9/11 community, and here's how well it's worked: Since opening its doors in 2002, the festival has attracted more than three million total visitors and more than one million have attended nearly five thousand film screenings. How many surrounding shops, restaurants, galleries, high-end boutiques and modest mom-and-pop operations and businesses have been bolstered, cheered, and saved? Talk to almost anyone who lives and works there. Tribeca's packed sidewalks and vibrant street life attest to the overall good health of its intersecting and ethnically diverse neighborhoods. The festival is widely viewed as a grassroots, caring neighbor that gives far more than it takes—it's a welcome grace note in a city in which you reach out to any grace note that comes your way.
In its 10th season, running April 20th to May 1st, films from 40 countries will screen at TFF, including world premieres of 47 features, 22 international shorts, and 28 New York shorts. The nonprofit Tribeca Film Institute will give over $1 million in grants to independent filmmakers. The festival's distribution label, Tribeca Film, is expanding its release schedule of 26 features to theaters, VOD and DVD, airlines and hotels, and online. The Tribeca Flashpoint Media Arts Academy in Chicago educates next-gen animators, gamers, music, and production technicians. Tribeca All Access provides grants and mentorships in underrepresented communities, encouraging women and minority artists. The Doha Tribeca Film Festival in Qatar gives voice to filmmakers in the Arab world. TFF's founding sponsor, American Express, has logged a decade as the deep-pocket underwriter for much of this activity.
The fun, free whirlwind of annual TFF activities continues: a family festival street fair…Tribeca/ESPN sports day (this year featuring a five-on-five industry soccer tournament on Pier 40)…the Tribeca Drive-In parked on another pier…plus a slew of panels open to all without admission on various aspects of movie-making. Both the opening night selection, Cameron Crowe's doc of the making of Elton John and Leon Russell's album, The Union, followed by Elton John's concert at World Financial Plaza, were free to everyone who lined up early enough for their wristbands.
If you're looking for the world's most inclusive film festival, it's in lower Manhattan and never looked stronger.
-KB
Below are the Critic's Choice feature picks. For the shorts, click here.
Tribeca 2011 – Critic's Choices – Features
Blackthorn
(Mateo Gil. 2011. France, Spain, USA. 98 min.)
The ghosts of Robert Redford and Walter Huston haunt Blackthorn, a laconic, curiously compelling revisiting of what might have happened to Butch Cassidy and the Sundance Kid if they had survived their shootout with the Bolivian army in 1918. You probably have hazy memories of Redford and Paul Newman playing Butch and Sundance in George Roy Hill's fanciful 1969 romp, accompanied by a spirited young Katherine Ross as Etta, their gun-toting moll.
In Mateo Gil's new continuation (with the one-sheet poster line, "Butch Cassidy's last adventure"), James Blackthorn is Butch 20 years later, fully embodied by Sam Shepard in an irascible, full-tilt performance that's the best work of his career. Shepard is now old enough, grizzled enough, and ornery enough to play Butch writ large, and the character finally has the legs of a legend. Call it intuition, age, or luck, the actor who Shepard may frequently remind you of is not Robert Redford at all, but Walter Huston in his Oscar-winning role in the 1948 Treasure of the Sierra Madre. Huston played a bearded maverick in the 20s trying to strike it rich mining gold in Mexico, and Shepard's character plays a bearded maverick in the 20s trying to strike it rich in a mine in Bolivia.
Blackthorn has a more complicated plot than either Treasure of the Sierra Madre or Butch Cassidy and the Sundance Kid. Shepard's Butch politely withdraws all of his savings from a bank and sets out by horseback to reunite with his son (by Etta) to whom he's been writing letters as "Uncle Butch." He's ambushed by Eduardo (Eduardo Noriega), a Spanish engineer who's just robbed the owner of the mine at which he was working. Eduardo spooks Butch's horse which runs off with the saddlebags holding all of Butch's savings, and Eduardo then saves his own life by offering to cut Butch in on his mining heist hidden in a mine shift. There's a dozen hard cases from the mine hot on the trail of Eduardo and now Butch.
Gil flavors up this standard chase movie with an unusual twist—five separate flashbacks into his younger life with Etta (Dominique McElligott) and Sundance (Padraic Delaney). While Etta and Sundance don't look anything like Ross or Newman, Butch (Nicolaj Coster-Waldau) is a dead ringer for Redford. This produces a lively conflict of interest onscreen, because the scenes with Shepard's grumpy Butch and the mopey Eduardo as they try to outrun the pursuing posse aren't as much fun as watching the younger Butch, Sundance, and Etta, who are stylish and lively. Shepard has to work hard to hold the screen and your attention, and he does—he's angry about his lost savings, lonely for a kid he's never seen, and irritated as well as scared about plunging into another escapade that could get him killed.
Like Walter Huston way back in John Huston's movie, Shepard has come to carry a lot of mileage in his face. He's a hoot on horseback twanging a guitar and talk-singing a couple of original tunes, reminding us of his 60s days when he played drums with The Holy Modal Rounders. Like most of the great Western actors, he's an authentic bent hero, a flawed but honorable cuss, a damn-your-eyes outlaw that just won't roll over and die. Walter Huston would have liked Shepard's Butch Cassidy a lot, and you can bet Robert Redford will, too.
Gone: The Disappearance of Aeryn Gillern
(Gretchen and John Morning. 2011. USA. 85 min.)
It's every parent's worst nightmare: A child who vanishes. Aeryn Gillern was 34, working as a research clerk for the United Nations Industrial Development Organization (UNIDO) in Vienna, when he disappeared the night of Octoer 29, 2007, after visiting the plush Kaiserbrundl sauna. Gillern reportedly was seen running nude from the sauna late that night, toward the Danube Canal. There, Vienna police claim, he committed suicide, though a supposed police investigation with divers never recovered his body. UNIDO phones Aeryn's mother Kathy, in upstate New York that her son is missing; Kathy flies immediately to Vienna.
The unique edge of Gretchen and John Morning's anguished but rock-solid documentary is that Aeryn's mother is a retired cop, a seasoned SWAT-trained veteran. Right away she senses the Vienna police are suspicious, uncooperative, hostile to a fellow officer. Little by little, first covertly and then overtly, she learns why: The tall, strikingly handsome and robust Aeryn was Mr. Gay Austria. Thus his identity and sexual orientation were known throughout the country. He had a boyfriend though neither Kathy nor the filmmakers appear to be much interested in him.
What they're intensely interested in is information Kathy gleans through an LGBT bookstore employee—that the police never searched the river at all, declaring Aeryn's disappearance a "spontaneous suicide" and abruptly closing the file. She discovers the one witness provided by the police to support their conclusion, a boatman, changed his story five times about what he saw or didn't see, becoming more vague with each telling. Kathy also suspects through conversations with sauna members that men there know what actually happened to Aeryn—but no one's talking.
Gone steadily builds the anecdotal evidence and points to what Kathy believes may be a massive cover up of Aeryn's demise through foul play. The film suggests a homophobic regime reminiscent of the Nazi era, though it doesn't push this arresting idea too far or too long. The suggestion is also made that anyone operating an upscale gay men's sauna in a prime shopping district would need government approval—payoffs—at the highest levels. Kathy's taut and unfolding narrative turns what starts out as a police procedural into a puzzle, not unlike dramatic classics like Chinatown and LA Confidential, which only a loving, grieving mother who also happens to be a smart, reasoning detective could ever begin to unravel.
Or not. Inquests into Aeryn's disappearance have been filed with the Austrian Parliament and Ministry of the Interior, and repeatedly denied. Each year on October 29th, Kathy returns with a broken heart but a will of steel to hold a vigil outside the Kaiserbrundl sauna. Standing with a large photo of Aeryn and a candle, a lone figure amid the bustle of downtown Vienna, she may remind you of the closing images of The Cove, in which dolphin activist Ric O'Barry stands with a television monitor strapped to his chest showing the annual dolphin slaughter in a hidden cove outside Taiji, as morning Tokyo commuters stream past him. The Cove won the Best Documentary Oscar, and the brave, uncompromising Gone is at that level of excellence.
The Union
(Cameron Crowe. 2011. USA. 90 min.)
The turning point in former Rolling Stone journalist Cameron Crowe's affectionate and warmly moving fusion of pianists Elton John (age 64) and Leon Russell (age 69) comes shortly after Russell returns to the recording studio after five hours of brain surgery. He's moving even more gingerly with his cane, his cascading white hair now pinned under a concealing cap, and the mood as they resume recording and shooting is pretty subdued.
But Russell's got a song for the occasion, all about the option of giving up and dying, without trying to make it to tomorrow, or discovering how this work will maybe bring him a "a brand new start," that'll put him in "a whole new race," because the angels may know who's here to help him. When you're in the hand of angels, Russell sings gratefully, looking and sounding visibly stronger by the moment, "life is oh so sweet." This living legend may break you as he breaks Sir Elton, who wanders out of the studio weeping and into another room where he stands faced away, trying to compose himself.
The main business of Crowe's The Union is showing us the making of an album—from its tentative first days in late 2009 in a Los Angeles studio with the supportive T-Bone Burnett producing, through triumphant shows last October at the Beacon Theater in Manhattan tied to the album's release, which zoomed to number three on Billboard's bestseller chart. (Russell recalls his biggest selling album made it to 11, decades ago.)
Crowe's back-story is in some ways even more fun than watching these survivors spelling each other in their late innings—we get to study each (often in split-screen) rocking through the much of the second half of the 20th century. Russell had been LA's hardest working session man, accompanying everyone from The Ventures to Sinatra, and first went to see John at LA's Troubadoor in 1970. "I thought my career was finished," Russell has said, "because he could do everything I could do, in a duck costume." We learn Russell narrowly missed signing John to his Shelter Records label, and they briefly toured together with John opening for Russell. Crowe shows us how John evolved the slambang showmanship of Little Richard and Jerry Lee Lewis, while Russell became a sleek rock god (especially on guitar) who headed up the raucous Mad Dogs & Englishmen tour, as well as a sublime composer of anthems like "Superstar," "Delta Lady," and "A Song For You." Thirty-eight years passed without contact—John's 40 albums and lifetime partnership with lyricist Bernie Taupin grew him into a global brand, while Russell's career sputtered along on bus tours. And so The Union really is something of an angelic lift, a kick-start and payback from a student to his teacher.
Along the way, the backup talent and visitors are a heady lot—Booker T. Jones, Don Was, Dennis Wilson, and Stevie Nicks get some face time. Annie Liebowitz shoots the album cover photo, which looks formal and graceful in its full-size foldout double-LP format. A mint copy was selling at Academy Records on 18th Street in NYC for $23.
Everything Must Go
(Dan Rush. 2010. USA. 96 min.)
Nick (Will Ferrell), a regional sales VP for his Phoenix-based company, sits stewing in his car. He's just been canned for his drinking, and is about to take his severance gift, a Swiss army knife, and stab his boss's car tire, in which his knife, emblazoned with his name, will get permanently stuck. First he finishes his flask and knocks back a few Pabst Blue Ribbons. After deflating the tire, he drives home and discovers all his belongings have been tossed out on the front lawn by his wife, who's also changed the locks on her way out, frozen their joint $45,000 bank account, and shut off his cell phone. (She's about to have their car towed away, too.) Since there's no one home and he's locked out with no wheels, Nick settles into his favorite lounge chair to drink the night away and gradually begin the process of selling off everything he owns in the longest-running lawn sale in movie history.
There's more to this rueful and carefully observed tale of a functioning alcoholic than meets the eye. Importantly, it derives conceptually from Raymond Carver's short story, Why Don't You Dance? from his 1988 collection Where I'm Calling From, which gives it literary credentials and heft. We learn that Nick has been in and out of a recovery program and had six months sober before his last relapse, that his wife (who we never see) is also a recovering alcoholic, and that his sponsor Frank (Michael Pena), is a Phoenix police detective who helpfully keeps Nick from getting jailed for his tire slashing and even gets him a three-day permit to legally hold his yard sale. Frank is a shadow presence in the movie, and his relationship with Nick is uneasy, uneven, and, finally, a jolting betrayal.
Nick's strength and hope, as it turns out, won't come from his sponsor but from a pregnant neighbor (Rebecca Hall), plus his once-upon-a-time high school crush (Laura Dern), plus a neighborhood kid (Christopher Jordan Wallace) who organizes and runs the yard sale in an admirably businesslike fashion. Nick ends up giving away his most valuable possession, a baseball signed by the '78 Yankees team, and accepts a token from his sympathetic neighbor, a baseball card bearing the legend "Everything is not yet lost."
Will this be enough to curb Nick's steady drinking? Very doubtful. But Will Ferrell—quietly tending to his ruined life and his drinking, and guided by writer/director Dan Rush in this modest and impressive debut feature—gives a nuanced, intelligent, and admirably restrained performance. He also downs at least twice as many PBRs as Clint Eastwood put away in Gran Torino and Jeff Bridges gulped in Crazy Heart…again demonstrating how a stealth brand that became virtually extinct nearly half a century ago seems to be Hollywood's new six-pack of choice, moving from its blue-collar roots into white-collar territory.
She Monkeys
(Lisa Aschan. 2010. Sweden. 84 min.)
The one-sheet poster advertising this meditative coming-of-age drama is a large outdoor medium shot of the 15-year-old Emma (Mathilda Paradeiser), facing away from camera, her long blond braid falling straight down her back; we can spot a rifle cradled in her arms. It's a beautifully stark photo and lends She Monkeys the tonality of a frontier western, which emphatically it is not, though its director, Lisa Aschan, seems to wish it is.
This warrants some discussion, as Aschan's first feature, She Monkeys, has been named Best Narrative Drama in world competition at the festival. Set in and around a contemporary riding stable and a state-of-the-art diving pool, the picture opens with the shy, quiet Emma joining young equestrian riders leaning to perfect intricate routines. The more voluble, conventionally attractive blond taking a interest in helping train Emma up is Cassandra (Linda Molin), though their interest in each other as they exercise, swim, dive and flirt with boys doesn't seem competitive or sexual. Neither Emma nor Cassandra's character is as clearly defined as other recent films of girls approaching womanhood such as The Evening Dress, Water Lilies, The Holy Girl, and the transgender drama XXY. She Monkeys title probably derives from the 18th century Jamaican expression "monkey see, monkey do" on how learning occurs. Its seductive tonality emerges from a slower, slicker, more deliberately polished look than these other films.
"I want to be like I was before," muses Emma, staring at her 8-year-old sister (Isabella Lindquist), a precocious and transparent moppet who wants to wear a bra and have her older male cousin massage her belly. Emma's far more remote as she watches horses engage in sexual congress, briefly peers through a rifle's telescopic scope on a rooftop, snaps at her father when he turns off the TV she's watching, and broods mightily when she's not accepted on the competitive riding team because she doesn't have enough "presence"…later taking a shocking action that gets her on the team.
Emma's mo is mostly to conceal her feelings "because you'll only get hurt." She's in transition, in process, but this is one stubborn enigma. Director and co-writer Aschan told a Manhattan audience in a Q&A that She Monkeys is about how sex is power and vice versa, and that she regards it as more like a western that examines "what it means to be a man." The poster certainly suggests exactly that, but the poster's not the film it's inviting you to see.
More critic's choice reviews will be added in the next days. Visit the festival's website here.
---
---
Regions: New York