"Losing Control" Melds Science and Romance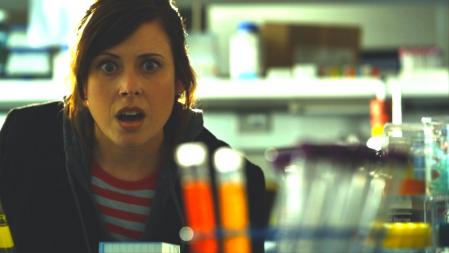 When describing their work, directors often talk about their need to reveal the truth. In her narrative feature Losing Control, scientist-turned-filmmaker, Valerie Weiss, shows us how both science and filmmaking involve the pursuit of truth.
Weiss wrote a film journal (see links below) for The Independent throughout the making of her film, a comedy about a female scientist who wants proof that her boyfriend is "the one." It premiered as the closing night film for the Vail Film Festival on April 2nd and won First Honorable Mention in the 2011 Christopher Wetzel Award for Independent Film Comedy, part of the Gene Siskel Film Center in Chicago.
In April the film also played at the Harvard University's Science Center, an apropos setting for a movie, inspired by Weiss's own PhD work at Harvard. Weiss set her film at Harvard Medical School and involved Boston landmarks and cultural elements in the storyline.
After a personable introduction by Weiss's former thesis advisor, praising her work both as a scientist and a filmmaker, the film played to an audience of Weiss's former science colleagues, thrilled to see their domain taking center stage. The post-film questions focused less on the production process and more on issues related to science education and the face of scientists in the media. "These are such different questions than the other screenings," said Weiss. "I love it!"
In Losing Control, the lead character, Samantha, played by Miranda Kent (Campus Ladies), searches for proof over faith and Kent gracefully captures Sam's contradictions and quirkiness. From the first frame of the opening credits showing Sam's flowchart for her life, to the bold colors of solution indicating an experiment's success or failure, to the overhead shots of experiments and equipment, science is a character in the film. The joy of discovery, whether scientific or relationship-oriented, helps drive the plot.
Weiss' cast is strong. Reid Scott, from the TBS series My Boys, stars as Sam's boyfriend Ben. Kathleen Robertson, best known for playing 90210's Claire Arnold, plays Sam's equally quirky best friend, Leslie. Steve Howey (Reba) and Ben Weber (who played, Skipper in Sex in the City) also have a role.
It could be easy to dismiss Losing Control as some great fun (it is!) with a smattering of smart, but ditzy characters and scenarios. But Weiss clearly has an agenda with her comedy—humanizing the portrayal of a usually typecast world. Her film shows the often-unseen lifestyle and culture of scientists through a window only someone with personal experience could recreate.
Losing Control is a high-energy and funny film. It's such an enjoyable ride that by the end, the marriage of science-with-romantic-comedy is a natural fit—even joyful. Valerie Weiss wouldn't have it any other way.
Upcoming screenings include CalTech on May 18th, the Waterfront Film Festival June 9-13, Chicago Comedy Award screenings on June 11th and 14th, and Stony Brook Film Festival on July 23rd. Weiss is also gearing up for a special screening at the National Academy of Sciences in Washington DC, which will be held in October.
---
---
Regions: California