NYFF Critic's Choice – "The Turin Horse"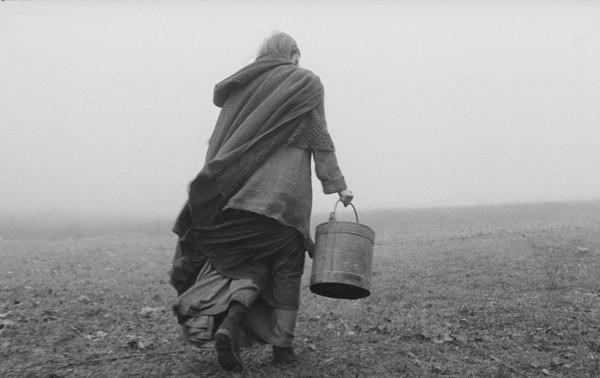 The Independent's senior film critic, Kurt Brokaw, is viewing the entire main slate of the 49th New York Film Festival, showing at Lincoln Center September 30-October 16th. Below is one of his critic's choices—from among 27 feature films plus numerous 'special event' features, masterworks, "views from the avant garde" and shorts. His complete list from 2011 is here.
The Turin Horse
(Béla Tarr, Ágnes Hranitzky. 2011. Hungary/France/ Germany/ Switzerland/USA. 146 min.)
This year's festival sports not one but two colorful, high profile end-of-the-world movies. One is Lars Von Trier's Melancholia, in which Kirsten Dunst, her character's sister (Charlotte Gainsbourg), their entire families, and all of civilization are incinerated by a rogue fly-by planet. The second is Abel Ferrara's 4:44 Last Day on Earth, in which Manhattan Sohoite Willem Dafoe, his girlfriend, and all their friends on Skype worldwide, die simultaneously from the effects of global warming. Both films are a thin cut above multiplex fare, and neither is within a country mile of Béla Tarr's simple but epic human drama of a father and daughter facing annihilation from a killer wind that's trapped them in their rural farmhouse in 1899.
The Hungarian director voice-overs The Turin Horse's initial premise, which conjectures what might have occurred after the philosopher Friedrich Nietzsche collapsed and went mad as he watched a horse being whipped in Turin. This formidable stallion carries farmer Ohlsdorfer (János Derzsi, in the kind of stern, blasphemous father role Raymond Massey played in the 30s) and his daughter (Erika Bók, stoic and unbending) through a pounding storm back to their isolated farmhouse. There the wind grows to near-hurricane force, trapping the two into a daily diet of boiled potatoes with a well that's running dry. Days and nights pass. The horse will not venture out from their barn, and stops eating. A wandering band of gypsies finishes off the water in their well. Ohlsdorfer and the daughter tie their meager belongings into a cart and try pulling it themselves, but the ferocious wind and stinging debris force them back to the farmhouse. Their kerosene lamps give out. The daughter is the first to stop eating her daily potato.
All of this is infinitely more absorbing in Tarr's measured black-and-white images—complemented by the insinuating organ score—than watching Kirsten Dunst (playing an advertising copywriter from hell) sink into madness while the loose planet hangs over her country house.
What Tarr demands more than most directors is your patience, and he earns it here, just as with his 2007 NYFF selection, The Man From London, a moody neo-noir featuring Tilda Swinton and based on a George Simenon novel of a shipyard night watchman who finds a suitcase stuffed with money. Tarr finished that film after the suicide of his producer, the legendary Humbert Balsan, and he's said that The Turin Horse will be his last film—it looks like it must have been punishing to make because the devastating wind that seals the doom of the father and daughter doesn't feel faked. Tarr's pictures have the severe rigor of an early Ingmar Bergman in which God is dead or absent or silent, coupled here with the kind of impossible locations in which Werner Herzog frequently plants his casts. The Turin Horse is told in daily chapters that slowly weaken and break its two characters, and while it's physically exhausting to watch, it's not a minute too long.
At the press conference following his 4:44: Last Day on Earth, director Abel Ferrara, looking fit and feisty as ever, told the audience that Willem Dafoe's rooftop loft in Soho was "the perfect example of real estate's first principle: location, location, location." Ferrara's right—if you're going to stay home and watch the world end, you might as well have drop-dead views. But the view from Ohlsdorfer's farmhouse window is even more vivid, with those devastating winds pummeling and leveling everything that moves. The horse senses this, and stays put in the barn. You'll remember that magnificent animal long after you've forgotten the world passing away in other films.
---