NYFF Critic's Choice – "Footnote"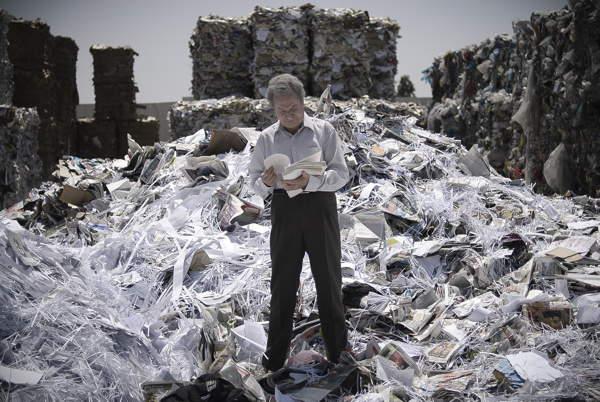 The Independent's senior film critic, Kurt Brokaw, is viewing the entire main slate of the 49th New York Film Festival, showing at Lincoln Center September 30-October 16th. Below is one of his critic's choices—from among 27 feature films plus numerous 'special event' features, masterworks, "views from the avant garde" and shorts. His complete list from 2011 is here.
Footnote
(Joseph Cedar. 2011. Israel. 106 min.)
A tiny but defining moment occurs early in Joseph Cedar's wise and poignantly perceptive Israeli drama. The aging Talmudic scholar and philologist Eliezer (Shlomo Bar-Aba) sits silently, watching his son Uriel (Lior Ashkenazi) as he's received into the Academy at Hebrew University in Jerusalem. It's an honor that's eluded the father, though he's been frequently nominated. Both father and son are Talmudic professors and researchers, but the son is outgoing and gregarious, and tells a robust story. It's an upscale, festive evening, and we watch Eliezer move outside and sit alone, while the guests mingle indoors. As the older man starts to shuffle back in, he's stopped by a security guard at the glass doors. Why? He's not wearing a blue plastic wristband like all the other guests.
Eliezer stares at the guests, their ID bands, and the guard. The thought may cross your mind that perhaps he views these common bracelets as branding devices from a never-to-be-forgotten war. In any event, he won't conform himself to the crowd. He's a loner, an outsider—kind of like Jack Gilford in the 1985 fantasy Cocoon, who won't join his senior citizen pals in the retirement community when they board a spaceship for some faraway planet of milk-and-honey. Gilford was the single holdout who elected to stay home, and he was Jewish. Eventually we may come to treasure Eliezer just as we did Gilford.
Writer/director Cedar is a huge help in speeding the necessary exposition that launches us into the world of Talmudic scholarship. He uses a feverish music score matched to CinemaScope images that divide and move like slides in a slide projector, rocketing us forward through vignettes that define the family. What we learn is that Eliezer has labored away for 30 years, comparing and reconciling ancient and modern texts, only to be one-upped by another academic who acknowledges Eliezer's work in a single footnote. Eliezer is a traditionalist forever stuck in original text. Eliezer's wife is very much old school as well. Their son Uriel represents modern day Judaic studies. Uriel's wife, a smart and attractive woman, regards her husband as something of a blowhard and perhaps a bore. And their son is a fairly typical movie teenager, which means he's a layabout who sorely tries his father's patience.
Cedar has prepared us for the issue that will power his movie: Uriel wins The Israel Prize, given to outstanding citizens (like David Ben Gurion) since 1953…but the announcement and citation are mistakenly delivered to his father. Oy. The rest of the film (no spoilers here) is devoted to sorting out what happens. Everyone has a different take on what should be done to rectify the mistake, including the Talmudic Studies faculty and its garrulous head (Micah Lewensohn); they crowd into a tiny conference room to thrash out the error in tumultuous fashion. Some of this is exceedingly funny, and Cedar quotes Henry Kissinger by remarking that only in academia can the most intelligent people get so angry, because the stakes are so small.
Like his fellow NYFF director, Asghar Farhadi of Iran (A Separation), Cedar is concerned with the intricacies and intimacies of family life, and Footnote becomes a touching and profound examination of father/son relations. At one point the family attends a production of Fiddler On The Roof staged in a Jerusalem theater. And there's Tevye the milkman, striving to maintain a balance between tradition and change, struggling to love his children in a world he trudges into, heavy with doubt. By illustrating this eternal conflict anew with strikingly contemporary filmmaking and razor-sharp editing, aided by a nimble and attuned cast that's pitch-perfect in their roles, Cedar transcends his nation's boundaries. Like Farhadi of Iran, he's created a film that is universal and timeless in its emotional impact. This is one for the heart, a real keeper.
---