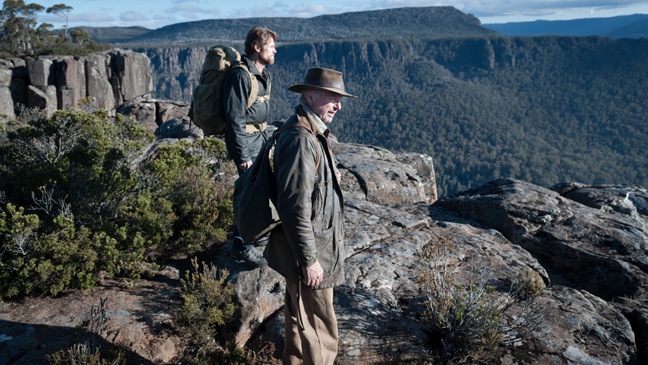 In The Hunter, Willem Dafoe plays Martin, a mercenary who is sent from Europe by a mysterious biotech company to the Tasmanian wilderness on a hunt for the last Tasmanian tiger, something that most people believe does not exist. There, he discovers something even more precious than the tiger. Directed by Australian Daniel Nettheim, the film also stars Sam Neill, Sullivan Stapleton, and Frances O'Connor.
Dafoe made an appearance at this week's SXSW as the film is now available on VOD and will be released theatrically on April 6th for US and Canadian audiences. The Independent's Katherine Brodsky caught up with Dafoe and Nettheim at last fall's Toronto International Film Festival, where the film had its North American premiere.
*****
Willem Dafoe knew that he was meant to visit Tasmania at some point. He had been to Australia a number of times before. On one of his visits, he recalls looking across the sea and hearing someone say: Tasmania is over there. "In that moment, I had a sense that someday I'm going to be there and I'm going to do something," he said.
For Dafoe, by making the film, in a sense he was reacting to the invitation for an adventure. "The attraction is more what appeals to me as an actor and as a life adventure," he explained. The understanding and appreciation of the film's themes, on the other hand, came later. "I don't know what these are until I'm there," admitted Dafoe, "I can kind of sense out what may be fertile ground for exploring."
He said that it may not always be comfortable but he loves location movies. "And I love stuff outdoors because it guides you. It really helps you tell the story. And keeps you from being able to control things absolutely," he added.
It also allows for interesting possibilities.
"I mean you think of the role of weather when you're shooting outside a lot. It's interesting. It's like a divine partner that sometimes messes you up and sometimes helps you. And to have that strong element that you can't control and having to deal with it always keeps you in a place of attention," said Dafoe.
Meanwhile, director Daniel Nettheim was initially drawn to the characters, and then the characters in the landscape. "I love the premise of this intimate character story playing out against this really amazing landscape. And the themes about the uneasy relationship between people and the environment they live in," said Nettheim.
Despite his joking that he loves "shooting the heads off those little squirrels," Dafoe is not really a hunter — he only plays one. He reassured that it has never really been a side hobby of his. So how does one who has never hunted before get into the mindset of a real hunter with a degree of authenticity?
"By learning to do those hunter things," answered Dafoe. "Having someone teach me how to make a snare — and how to de-scent my clothes, how to walk through a certain kind of terrain," he explained, "It comes through the doing, I think."
It also comes through observing the people who teach him: "You don't study them and say like, oh yeah, I'll take that gesture. But they do inspire your imagination."
Dafoe recalled one hunter in particular. A real character. "Martin is not him," confided Dafoe, "but there are certain elements about his purity and his approach to his work that I wanted to be thinking about."
On the subject of purity, Nettheim has also learned from observing the hunters: "Before studying this project, my preconceptions would have been that hunting is barbaric. What I learned is there is a really pure philosophy — the clean kill is very important. A hunter — if they see an animal suffer — they have somehow failed in what they're doing. I think that kind of purity is very important."
One of the main themes of the movie is a common one: loneliness and a craving for some sort of connection. "I think all around we were dealing with lonely people who were looking for a connection, but had difficulty in achieving that connection," said Nettheim.
Dafoe's character in The Hunter is not exactly one that's particularly ethical. There is no doubt that he has done plenty of immoral things, though ultimately his journey leads him on a search for redemption.
"I'm looking for redemption," joked Dafoe, "I don't know about you!" When asked what he has done to be on such a crusade, Dafoe answered: "We've all done things…"
"I don't want to present redemption as something that is simple to achieve," said Nettheim.
After all, if it was easy then everyone would do it.
"That's it," laughed Dafoe, "I'm just gonna go and get me some redemption."
"That's what church is for," someone else in the room offered up.
"I've never found [a character] that I could play that's really moral in the respect that [he's] upright," said Dafoe, who has certainly played more than his fair share of immoral ones. "I mean — I think everybody in their way thinks they're righteous — that's not the part you have to play. It's conventional wisdom that if you have a hero you want to develop their shadow side. And if you have a bad guy you want to develop their divine side. That's been a theme for me all my life, in work and even a little in personal life."
And why is that?
"I just keep on being reminded that nothing is as it seems," he observed.
For his part, Nettheim hopes that The Hunter will cause the audience to consider humankind's uneasy relationship with the planet and the environment. For him, the idea of "instinct" is central to the story, in particular, survival instinct. "To what extent do we go to protect ourselves, to take care of ourselves, to look after ourselves, and what is the impact on those around us," said Nettheim. "That poor old tiger has been surviving on instinct for a long time."
Does the tiger still exist?
"You know. Maybe."
For more information, visit www.thehuntermovie.com.
---
---
Regions: Australia & New Zealand