Tribeca 2012: Critic's Choice – Features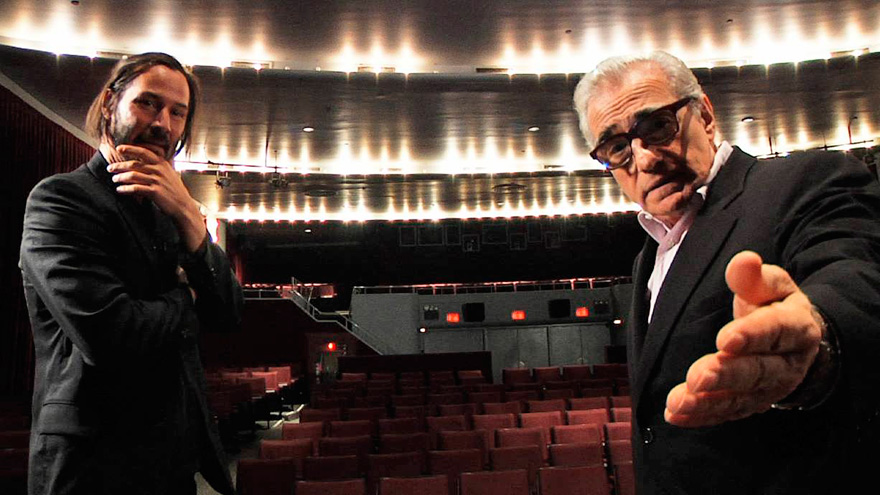 America's leading brands hold onto their core essences and mission while they line-extend their flavors, colors, sizes and packaging, and they do it endlessly. This is the formula the Tribeca Film Festival (TFF) continues to follow as it begins its second decade of "spurring the economic and cultural revitalization of the lower Manhattan district." TFF's something-for-everyone formula (with a generous dollup of free movies, panels, talks, and other activities) has erected the widest set of tent poles in the film industry, attracting a restless young multi-racial, multi-ethnic demographic while holding onto (as chief creative officer Geoffrey Gilmore put it at a press breakfast) "older New Yorkers whose hair is as white as my beard."
The accomplishments over a decade are formidable. TFF reports it has shown 1,300 films from 87 countries. This year, 90 features and 60 short subjects (from 3,090 feature submissions and 2,860 shorts submissions) are offered, at low-cost $8 admissions for late night and weekday matinees, to pricier $16 evening admissions. There are 50 world premieres. More than one hundred feature directors and 66 shorts directors are wandering around Soho as I write. In the first decade since 9/11, 3.7 million visitors have walked neighboring streets, generating a reported $725 million in economic activity during festival time. It's widely understood and acknowledged that TFF has done its part in helping save many small businesses that define the city's character from going under. American Express continues as TFF's deepest-pockets founding sponsor.
The founding partners (Jane Rosenthal, Robert De Niro and Craig Hatkoff) thrive on mixing it up, New York-style. TFF has always been a class act with an eye and ear on the wild side. The Avengers holds forth as the closing night gala, Jaws chomps away at the Tribeca Drive-In on the pier, Eddie the Sleepwalking Cannibal is coming to life in the Cinemania section. They're cheek-to-jowl with The Zen of Bennett, saluting Tony Bennett, sweet new movie-movies from Julie Delpy and Sarah Polley, and Susan Froemke's magnificent Wagner's Dream, a doc on the four-year making of The Metropolitan Opera's Ring operatic cycle.
Tribeca Film now distributes fest films on multiple platforms including VOD, digital, home video, theaters, and television. There's a Tribeca Film Institute Interactive Day dedicated to film, media, gaming, technology and society; Tribeca claims to be the first provider of non-fiction transmedia in the country, and now also offers an online film fest following premieres. Six juries give out substantial last-day audience award monies; scholarship prizes and assorted funding goes to students and other promising filmmakers through the Alfred P. Sloan Foundation, Tribeca All Access, The TFI Latin America Media Arts Fund, the TFI New Media Fund, and TFI Film Fellows; and the TFF Artist Awards program gives away contributed artwork by boldface names like Cindy Sherman.
Finally, there's free stuff galore for movie fans, including three Drive-In features, short films, a Focus on Film lunch series, Tribeca Talks, Tribeca/ESPN Sports Day, Tribeca/NY Fest Soccer Day, and the annual Family Festival Street Day. You can even cozy up with De Niro and Meryl Streep reminiscing over Universal's golden decades of iconic stars and pictures. TFF's message to moviegoers, in the grandest Cecil B. DeMille tradition, might as well be Too-Much-Ain't-Enough.
Perhaps the fest's most intriguing low-frequency buzz surrounds an upcoming movie in planning stages, The Irishman, on Jimmy Hoffa's demise, reuniting De Niro and his longtime producing partner, Jane Rosenthal, with Marty Scorsese directing De Niro, Al Pacino, and Joe Pesci (screenplay by Steven Zaillian). It's based on Charles Brandt's book, I Heard You Paint Houses which is Mafia-speak for rubout. Whatta team. Rosenthal told The Hollywood Reporter: "It would be good if I make no other movie after that." Something no true cinephile or fan will ever accept.
Critic's Choice – Features
Side by Side
(Chris Kenneally. 2012. USA. 99 min.)
Digital or film? Dailies or 'immediate-lies'? IMAX or iPhone? What will the movies we experience for the rest of our lives look like, sound like, feel like? Chris Kenneally's engrossing and enlightening new doc—a sweeping, meticulous survey of 70 directors, producers, DPs, editors, colorists, and actors tells us what we are already seeing in our multiplexes and indie cinemas, and know in our hearts: 35mm cameras, photochemical filming, and 35mm projection are all taking a slow fade to black.
The chorus of voices assembled by Kenneally and interviewed by co-producer Keanu Reeves is hardly unanimous on this. There are holdouts and doubters, protestors and absolutists, and their mingled anger, frustration, and sadness are palpable. But what Side by Side relentlessly documents in year-by-year, tech-advance-by-tech-advance progression, is pretty clear. The 21st century of moviemaking has become a whole new ballgame in which you adopt the new tools of film making and film viewing, or stay home watching black-and-white oldies on TCM. Or, maybe, once-in-a-blue-moon, theatrical magic like Moneyball or War Horse or Tree Of Life or The Hunger Games—little and big and important movies are still shot on film. (According to a Tribeca fest administrator, a little more than l/4 of the films at this fest are being shown on film prints.)
As you'd expect, some prominent cinematographers are the most stubborn defenders of film, and Side by Side echoes the 1992 doc, Visions of Light, that elegantly celebrated the golden decades of the DP. "People used to think of us as magicians," recalls Don McAlpine. "I always prefer film's grit, grain and texture," states Dick Pope. "I'm not about to trade my oil paints for a set of crayons," fumes Wally Pfister. Young Reed Morano (Frozen River) speaks for many camera operators and directors of photography when she says, "film is like money running through the camera, and everyone brings their A-game."
Some industry veterans are not even sold on digital's clear advantages of speed, ability to shoot more scenes, and instant playback. "What actors are mostly looking at (on monitors) is their hair," drily comments director Joel Schumacher. "You're watching a television set, not what's going to be up on a screen a thousand times bigger," observes director Christopher Nolan. On the other hand, comments director David Fincher on traditional dailies, "I don't like the betrayal of watching yesterday's great performance and seeing a day later that it was out of focus."
The biggest laugh in Side by Side is an anecdote told about how Robert Downey, Jr. was so incensed by 14-hour digital shooting days on A Scanner Darkly that he began leaving mason jars of urine scattered around the set. And the shrinkage and compacting of today's delivery systems—watching movies on mobile devices on the subway—elicits a loud "no-o-o-o!" from Greta Gerwig. Another new boldface name, writer/actor/director Lena Dunham (Tiny Furniture, Girls) wins some audience applause when she remarks that it's only 24-year-old guys who want to watch a movie in bed on a laptop, because it's a novel way to get a girl into bed.
Despite the lingering holds that 35mm capture and delivery still cling to, the new processes of Digital Cinema Package (DCP), Real-D and "Presented in Sony 4K" (and their antecedents) have been the guiding lights of farsighted directors like George Lucas and James Cameron for a long, long time. The highlights zip by: Bell Labs' CCD chip in 1965 morphs into Lucas' 1980 Editdroid which leads to the era of camcorders in the 80s, which births Dogma 95, InDigEnt and a slew of varied movies (Celebration, Tadpole, 28 Days Later, Star Trek II, Young Sherlock Holmes, Attack of the Clones, The Phantom Planet) that grow digital by leaps and bounds.
The advent of the Viper camera, Panavision's large-format single chip, the Red One, SI2K advancing to 5K, Slumdog Millionaire winning the Oscar for cinematography, Canon's 5D and 7D motion picture/still cameras used by Dunham and by Lou Reed (Red Shirley) have all filtered way down to NYU film student Shruti Ganguly in helping her launch a career on NYC streets. The marquee directors weigh in; technology advances in the past five years make it inevitable that Robert Rodriquez can say, "without digital I couldn't have made Sin City…George Lucas taught me to follow Obi-1." Lana Wachowski comments, "We're going to mourn the loss of film." David Lynch says flatly, "I think I'm done with film." TFF's Geoffrey Gilmore sums up the past: "When digital was introduced at Sundance, it wasn't an acceptable substitute for film. As it achieved acceptance, 225 feature film submissions grew to ten times that." James Cameron points to the future: "By 2015 there will be 100,000 digital screens worldwide."
Digital's one presently unfulfilled promise appears to be in the vital area of preservation. Marty Scorsese, the industry's premiere preservationist as well as a master craftsman and innovator (Hugo) hints that 50 to 75 years from now, photochemical preservation may still surpass digital preservation. For his part, James Cameron has every reason to hope so: "Our prints of Titanic were shown so often in theaters, they literally fell apart in their projectors."
Wagner's Dream
(Susan Froemke. 2012. USA. 115 min.)
The setup for Susan Froemke's breathtaking chronicle of the Metropolitan Opera's landmark production of Richard Wagner's complete Ring des Nibelungen isn't much to look at. It's a long, patiently edited series of scenes shot in a workshop in Quebec City, in which director Robert Lepage, set designer John Sellers, and Met general manager Peter Gelb are staring at a tiny tabletop model of "The Machine." Flanking the wooden model are little puppets on strings. Like the blocked painter in Jacques Rivette's La Belle Noiseuse who can't seem to begin his work, Lepage is stuck. He's playing with the 24 planks that turn like spokes on a wheel, trying to imagine how they'll move and carry performers as well as pixilated projections. Gelb, like the tireless and supportive cheerleader he'll turn out to be in this journey, is wisely keeping his mouth shut.
We quickly sense this will be the most formidable challenge both director and producer have tackled in their artistic careers. To some degree the future of the Metropolitan Opera is hinged on how successfully the production team invents and executes what will become a gargantuan, 90,000 pound set piece that will test the very structural foundations of the Met. Froemke's doc rapidly takes on the urgency of a thriller.
Lepage's own dream is to "make the movie that Wagner wanted to make before movies existed." As the two-dozen planks are cut and assembled, they're covered with fiberglass so that singers in aerial rigs can climb them manually. The cameras begin tracking the rehearsal process, getting tight in on gods and demigods, dwarves and giants, mermaids and warrior maidens. What's apparent is that Froemke's two previous Met productions, James Levine: American Maestro and The Audition, have won her and her crew the friendship and trust of the company. She becomes the fly-on-the-wall filmmaker as we watch the performers gingerly adjust to their roles on the levitating planks of the The Machine. They're unsteady and vulnerable. We are, as the posters say, beginning to "Mingle With The Gods," and it's a curious, scary potpourri of plate tectonics wedded to smoke-and-mirrors theatricality. The real question is, will this $16 million dollar mountain of technology perform on opening night of Das Rhinegold, the first of four operas comprising The Ring?
Alas, it does not. The Monster's machinery sticks. Your heart sinks. It's like the DP back in Side by Side warned us, that trying to preserve films on digital is doomed because hard drives inevitably stick. Lepage's 45-ton monster sticks in front of a stunned audience. At the next performance the director has the planks and towers and hydraulics fixed and operating smoothly, but there's more trouble on the way. Conductor James Levine is forced to withdraw because of chronic back pain, and must be replaced by Fabio Luisi, the Met's principal guest conductor. And tenor Craig Lehman is felled by a virus and is replaced in the third opera, Siegfried, by his cover, Jay Hunter Morris.
Wagner's Dream shifts its emphasis during these transitions away from the daunting set and onto the human dynamics of how Luisi and Morris work with the volatile Brunnhilde, performed by the veteran soprano Deborah Voigt. The two leads are well-paired, off-stage and on; they're consummate pros and team players, and they come across as exceedingly likeable performers in these tragic Germanic and Nordic mythologies written over 150 years ago. Shorter scenes from Siegfried and the final opera, Gotterdammerung (Twilight of the Gods) are shown, and Lepage's overall production of The Ring emerges as a triumph of professionalism for Peter Gelb and The Metropolitan Opera.
Gelb withstands withering criticism from a number of classical music reviewers, who aren't happy with any of Lepage's visions or lavish expenditures. But we like Gelb and trust his instincts, because he backs his directors and will have presented 62 new productions and introduced 17 works to the Met repertoire when his first decade as general manager concludes in 2016. One cannot help but be conscious, comparatively, of the sad, shabby treatment accorded director Julie Taymor in her $75 million Broadway launch of Spiderman: Turn Off The Lights, in which much of her experimental work was focus-grouped and shredded by her producers, who later replaced her altogether. Taymor probably longs for Peter Gelb.
Susan Froemke and her editor, Bob Eisenhardt, pepper the journey of Wagner's Dream with countless small examples of how operatic and theatrical traditions infuse and surround, and in their way protect the making of a spectacle. One of the best moments occurs when the camera, prowling around backstage, catches one of the principal singers staring intently down at the floor of cables, sawdust and debris. It appears he's searching for something. "Pavarotti once said he'd never make his first entrance until he found a bent nail," the singer murmurs in all seriousness. And, amazingly, he finds one and holds it up. One bent nail. You don't have to know opera to know Wagner's Dream is a dream come true.
Following its Tribeca premiere, Wagner's Dream will be shown in 400 HD-equipped theaters on May 7th. Info at wagnersdream.com.
Joe Papp in Five Acts
(Tracie Holder, Karen Thorsen. 2012. USA. 82 min.)
As the founder and proprietor of the Public Theater, just a few blocks from The New School in lower Manhattan, Joe Papp touched a countless number of student lives through the 60s, 70s, and 80s. One was a student of this critic and New School professor, and this review might as well start with a personal glimpse into Papp's real priorities:
In the late 80s, students taking my basic advertising course were asked to write a term paper examining their favorite ad campaign. One theater major was charmed by Joe's radio commercials for his plays; Papp always read all the copy with his usual enthused bombast and concluded with the memorable theme line, "The Public Theater… I Named It After You." The student was shy about contacting him for a possible personal interview, and it was suggested that she hand-write an honest, passionate letter to Mr. Papp about the campaign, asking to speak whenever he might have a few spare moments, and deliver it to the box office with one red rose. She did, and the next day received a call from Papp's office that he'd meet with her that week. Which he did, and spent over an hour with her, pouring out history and statistics and anecdotes and scripts and posters… almost more stuff than she could carry away. And, oh yes, the offer of a summer internship, too. Her paper, as you might expect, was a killer.
That generosity of heart and spirit is reflected throughout Tracie Holder and Karen Thorsen's clear-headed, revealing documentary of Papp's impact and influence on all he encountered. The portrait that emerges is of a man admired, respected, even beloved by the unending series of faces, forces, institutions, and establishments he pushed against his entire career.
It's a doc you walk into with fingers crossed, just as you did approaching Richard Press's Bill Cunningham New York, because there are only so many icons that have kept us smiling through the best and worst times in this town. The Joseph Papp Public Theater, like Bill Cunningham's style pics and Bill's own inimitable style, are two of those enduring presences. Press's doc got Bill right, and the Holder-Thorsen doc gets Joe right, thanks to a chorus of testifying actors, playwrights, producers, and even wives, plus 433 boxes of archival material from the New York Public Library's Billy Rose Theater Collection.
The concept of dividing Papp's life into five acts has an ominous ring, suggesting the film might run longer than Long Day's Journey Into Night. But this doc is a trim, fleet 82 minutes; each "act" is introduced by Kevin Klein, reciting a few lines of relevant Shakespeare. We first see Papp armed with a provisional charter from New York State in 1954 to found and run The Shakespeare Workshop as an educational project, with a mission statement of bringing live theater to the largest public audiences. "I felt charging even a quarter would be too much," Papp says as he hits the streets, touring Brooklyn neighborhoods in a 35-foot former Sanitation Department truck complete with attached platform stage, then mounting early works like Julius Caesar at The East River Amphitheater and the Emmanuel Brotherhood on East 6th. The producer, barely 33, is looking for a home.
Papp lets CBS-TV fire him from his daytime stage manager job for refusing to name names to the House Unamerican Activities Committee (HUAC), probing Communists in the arts. He petitions parks commissioner Robert Moses for open-air theater space in Central Park. Moses has zero interest in free shows or theatergoers trampling his neat lawns with their "Keep off the grass" signs, prompting scores of irate New Yorkers to send packets of grass seed to City Hall. Papp brushes aside protests by Jewish rabbis over George C. Scott's performance as Shylock in The Merchant of Venice, and brashly tells newspaper theater critics to "bring their brains" if they're going to review his shows. The producer insists on fully integrated theater companies and has no hesitation casting the young Diane Venora as Hamlet. Working with Papp on his play No Place To Be Somebody, Charles Gordone becomes the first black playwright to win a Pulitzer Prize. In 1965 Papp buys the old Astor mansion on Lafayette street, which was once a shelter for homeless Jews—this will become The Pubic Theater for new voices in the theater, just as the Delacorte theater in Central Park will become Papp's base for free Shakespeare in the park.
With his producing partner Bernard Gersten (who functions as an able and affable on-camera narrator), Papp launches the careers of actors like Colleen Dewhurst and Meryl Streep, Martin Sheen and Raul Julia, playwrights like Ntozake Shange and Liz Swados. He backs his directors, writers, and actors much the same way as Peter Gelb at the Met backs his directors, conductors and singers. When Michael Bennett can't jell the staging of A Chorus Line, Papp tells him to take the time he needs to get it right. Larry Kramer is given total freedom to put The Normal Heart through a massive amount of rewriting.
Papp watches Hair, the first non-Shakespeare play he produces at the Public in '67, become a hit there as well as in its uptown move to Broadway (running 1,700 performances), and this begins a pattern he never dreamed could happen. Papp turns Shakespeare's Two Gentlemen of Verona into a Hair-like, full-tilt follow-up that transfixes Broadway audiences who've never seen anything like it. He moves his 1971 Central Park free staging of The Pirates of Penzance revisited as a rock musical with Klein and Linda Ronstadt over to Broadway, winning the Tony as Best Musical. Finally he workshops A Chorus Line from humble origins on Lafayette Street up to Broadway, where it runs an unprecedented 3,389 performances and earns The Public 39 million dollars.
Papp pays a price for this success. Gail Merrifield Papp and Peggy Bannion Papp, two of the four women he married, speak evenly and without regret of his 24/7 commitment to theater, of how he came to live in what he called "splendid isolation," of how even his Jewish roots stayed hidden from his closest associates for many of his 37 years running a theater. We sense he often wore his impoverished Brooklyn roots as a one-time newsie and chicken-plucker like a heavy garment, and when he sings "Brother, Can You Spare A Dime?" in close-up at a UJA benefit, the pathos is chiseled in his face and voice like granite. He seems to be a man who made time for everyone but himself, even as he worked with several full-time archivists near the end, organizing the history of the Public. It's a terrible irony that, in 1991 at age 71 and shortly following the passing of his son Tony from AIDS, Papp died from prostate cancer.
At the Q&A following the film's world premiere, Larry Kramer opined that we'll probably never see his like again, and vigorously challenged Oscar Eustis, the current Public Theater head since 2004, to "keep making me mad, just like Joe did." Liz Swados fondly recalled how Papp "loved his big cigars and his three playwright Davids—David Hare, David Rabe, and David Henry Huang." Mandy Patinkin, choking back tears, told the audience how much he looks forward to owning a DVD of this documentary "that I can watch for the rest of my life."
Side by Side…Wagner's Dream…Joe Papp in Five Acts. A film festival that premieres documentaries on film, opera, and theater as accomplished as these abiding works is going to have a fine second decade.
This concludes Tribeca 2012's critic's choices on features. A link to the shorts selections is below.
Originally published with review of "Picture Paris" on April 24, 2012. Addition on May 7, 2012. Critic's choice shorts published here April 30th.
---
---
Regions: New York