Julia Bacha on the Art of Non-Violent Filmmaking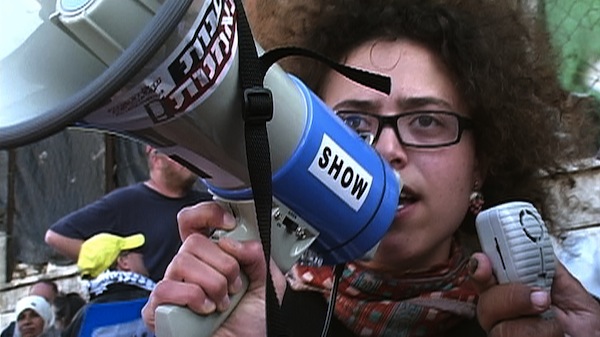 In a conversation via Skype over the summer, acclaimed writer/director Julia Bacha talked with The Independent's Rebecca Reynolds about Bacha's work at Just Vision, a nonprofit organization dedicated to documenting the lives of Palestinian and Israeli civilians who are working to promote peace and freedom in the Middle East. Since 2006, she has directed or co-directed three films for Just Vision: Encounter Point, about bereaved families and activists coming together to find some hope in resolving the conflict; Budrus, about Palestinians and Israelis launching a non-violent movement to save a village from a separation barrier; and My Neighborhood, the story of a Palestinian teenager who has half his home overtaken by Jewish settlers in East Jerusalem's Sheikh Jarrah neighborhood. In addition to making films, the organization creates educational tools and maintains a database of resources for how to get involved. Reynolds asked the Brazilian-born, NY-based filmmaker about her process and the challenges involved in shooting her award-winning documentaries about non-violence in the midst of the ongoing conflict.
How do you choose the subjects for your films?
There are 12 people on the team at Just Vision, including the founder, Ronit Avni. A third of them are based right in Jerusalem. The people who work there are Israeli and Palestinian activists. We are constantly getting feedback from our colleagues on the ground, so it becomes a very natural way in which we choose subjects, since everyone on the team shares values and respects honest conversation. Our team members there have access to the stories that can really unlock the conflict and start real dialogue. They are always examining a particular event, talking to grieving parents, talking to settlers who have decided to leave the settlement.
Rulah Salameh and Irene Nasser are the two Palestinian staff members based in Sheikh Jarrah, East Jerusalem, who remain in close touch with the activist community and feed us story and context on an ongoing basis. They work in the neighborhood featured in My Neighborhood. The title of the film has a double meaning, since it's where the film is set and where our Just Vision offices are located. It's a story very close to what they experience in Sheikh Jarrah on a daily basis.
So, there's always a new story in the works?
Yes, and there are many story advocates out there telling us, 'You have to tell this story.' or 'You have to do this.' Once we set the idea, we select the people to follow, and I then go in and spend a couple of months at a time. For Encounter Point I spent seven months, learning the ropes and making the contacts. We film a lot of material to develop the story, up to 200 hours of footage.
In Budrus someone remarks that the situation has become like Fallujah, referring to the Israeli troops occupying the village and the escalation of violence between the soldiers and the civilians. Have you experienced violence firsthand?
[The village of] Budrus did get very hot, that's true. But not during the time I was there. I personally have never experienced physical violence. I have experienced psychological violence in the form of interrogations. On the way out of Tel Aviv last July, I got caught for further screening. I've been strip searched and interrogated several times before. Once you get used to it, you get used to it, and it usually lasts one and a half hours maybe. Last year they kept me for seven hours. It was very intense. They put me in a room with a man without a uniform, which is illegal—no uniform, and you must have a woman to guard a woman. Those are the laws. It was very scary, but I managed not to cry, to stay cool, and to hold my ground.
What was their reason for detaining you?
They wanted the password for my laptop. I know my rights, so I know I don't have to do it. They knew I work with a lot of civil disobedient and non-violent activists. They were looking for names.
What about the rest of your crew?
The people who have filmed a lot of material for us have been in real danger. We have partnered with activists in the area who are there on the ground with their cameras simply filming the action to keep a record of the violence and for humanitarian reasons. Israeli Jews have better access to the area, otherwise you run the risk of being thrown out. Shai Pollack and Jonathan Massi are the two Israeli filmmakers who shot most of the action scenes in Budrus. They were not there working for us at the time, but we licensed the footage from them and from another 10 activists/filmmakers who spent different amounts of time there. No one was there from the beginning to the end, so this was really a crowd-sourced documentary. Also, it's important to note that the very presence of cameras makes the Israelis less likely to use force, so everyone is constantly filming what's going on. For My Neighborhood we hired Riyad Deis, a Palestinian cameraman, to work with us.
How do you avoid getting attached to the subjects you're filming?
At a certain point I have to view the people as characters in the story—characters who will have a beginning, middle, and end. It was very difficult to leave Budrus, because in a documentary, it is really an arbitrary end point that you, the filmmaker, decide. We were originally going to do a story of all the villages, but as we went along, we realized the power of the story was in the individual characters living in Budrus, the original village. Ayed Morrar and his 15-year-old daughter united Fatah, Hamas, and Israelis in an unarmed movement to save their village. They became the lead characters and the human faces of the story.
You and co-director Rebekah Wingert-Jabi quickly finished My Neighborhood in February 2012 and then almost immediately premiered it at Tribeca. What was the rush?
The story of My Neighborhood isn't over. We wanted to get the film out as soon as possible, because we didn't want the window to close while there was still time to try and stop the settlements there. Budrus inspired people, so we wanted to maximize that momentum, as well. With My Neighborhood we now have an example of something that people could actually act on while it is still happening.
What has the response to My Neighborhood been so far?
Shock. We recently had a screening at the European Parliament. The teenager from the film, Mohammed El Kurd, came and addressed the Parliament. He had never been out of the region. The Parliament was blown away by Mohammed's story of the settler conquests, the Palestinian evictions, and his new friendships with the Israeli activists working on his family's and other Palestinian families' behalf. Since then, the European Parliament has made a commitment to bringing up the issue of re-settlement through their diplomats.
What's next?
We're just beginning to start work on a new story, but it's too early to say which one.
How can people learn more about Just Vision?
Films are the most visible aspect of what we do, but films are inherently reductive in the breadth of story they can tell. There are also online tools, including Visionaries, in-depth written interviews translated into several languages that extend the conversation and reach out to educators, faith leaders, and others.
What's your biggest challenge now?
Every time I start a film, I promise myself I will learn Arabic. I have some degree of fluency, but I rely on the native speakers, the locals. I would never be able to meet their level of understanding, so I rely on the nuances of their translations.
So what do you bring to the process that isn't lost in translation?
Passion, curiosity and some storytelling skills.
For future screenings of Just Vision's films, click here.
---
---
Regions: Middle East, India, Tibet, & Nepal