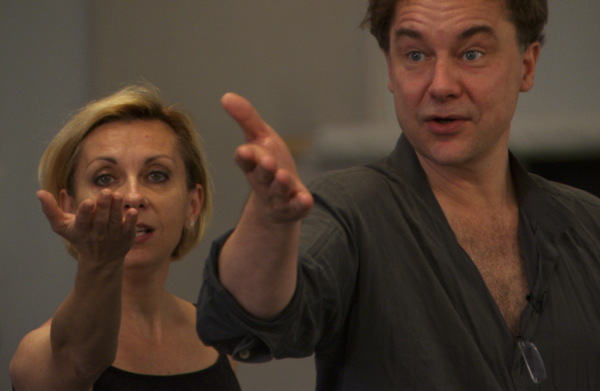 Brokaw writes that "Becoming Traviata" is the mirror opposite of his 2012 Tribeca pick "Wagner's Dream."
The Independent's senior film critic, Kurt Brokaw, is viewing the entire main slate (plus) of the 50th New York Film Festival, showing at Lincoln Center September 28-October 14th. Below is one of several critic's choices. A festival overview and complete list from 2012 is here.
Becoming Traviata
(Philippe Béziat. 2012. France. 113 min.)
The best narrative drama of 37 I viewed at the 2012 Tribeca Film Festival wasn't even in the narrative category. It was Susan Froemke's thrilling documentary, Wagner's Dream, a moment-by-moment, peril-filled journey of the creation, construction and—following a rocky opening night at the Metropolitan Opera—eventual triumph of Robert Lapage's 90,000-pound "monster," the largest and most expensive set ever assembled in Met history.
Philippe Béziat's documentary Becoming Traviata is the mirror opposite of Wagner's Dream; it fastens on the birth of art in its most no-frills, fragile, and vulnerable state: the blocking of actors in Verdi's La Traviata on a nearly bare stage, accompanied by an orchestra in street clothes and studied uncertainty. What makes this an extraordinary process to view, listen to, and study is the impassioned concentration of the opera's director, Jean-Francois Sivadier, the delicately nuanced direction of his orchestra conductor Louis Langrée, and—most importantly—the voice and presence of virtuoso soprano Natalie Dessay, La Traviata's beguiling Violetta.
Béziat, like Froemke, has been the fly-on-the-wall documentarian at other operas-in-progress. Here he's shooting very tight and letting long scenes develop with leisurely, sinuous intensity. He also layers in later rehearsal scenes, showing how the actors and musicians grow more confident in their roles and scores. Wagner's Dream used some of this method of sequencing, but it's focused here more on performance, unaffected by staging. There's nothing between Dessay's Violetta and us, as she transitions from black leotards to a flowing white dress and eye glitter.
We don't see the finished product, the actual performance; that's not Béziat's mission. The closing minutes show Violetta rehearsing her final collapse onto the stage, while the director simultaneously cues a blackout. We watch, fascinated, as she crosses the stage to her mark. She falters, bends, and falls to the floor as the lights go to black. A single stagehand sweeps the stage behind Dessay, oblivious to her search for perfection. It's a magic series of moments by performer and director, and you may find yourself cheering the actor's dedication to her craft, and Béziat's exquisite witness to the artistic process.
Becoming Traviata will be shown September 29th at 8:30 pm, October 1st at 3:30 pm, and October 3rd at 3:30 pm in the Elinor Bunin Munroe Film Center.