NYFF 2012 Critic's Choice – "Beyond the Hills"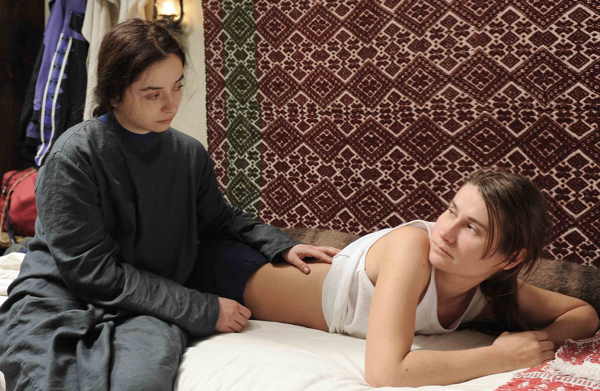 The Independent's senior film critic, Kurt Brokaw, is viewing the entire main slate (plus) of the 50th New York Film Festival, showing at Lincoln Center September 28-October 14th. Below is one of several critic's choices. A festival overview and complete list from 2012 is here.
Beyond The Hills
(Cristian Mungiu. 2012. Romania. 150 min.)
When this writer criss-crossed the Carpathian Alps of Transylvania in 1975 (researching a book on the cultural history of Dracula), Romania was in near lockdown in the grip of the Ceausescu regime. The directors of The Death of Mr. Lazarescu (Cristi Puiu), Four Months, Three Weeks and Two Days (Cristian Mungiu) and Police, Adjective (Corneliu Porumboiu), three of the premiere dramas in the current renaissance of Romanian cinema, were ages eight, seven, and two. All three of these filmmakers would grow up under the harsh realities of a Communist dictatorship that took no prisoners and first and foremost served the State.
The message of each of the three films above is "never forget." Lazarescu follows a dying 62-year-old alcoholic through Bucharest's broken hospital system; Four Months explores a pregnant college student and her girlfriend's bitter journey to find a backroom technician who'll abort the pregnancy without killing the patient; and Police, Adjective offers a portrait of a young police detective shadowing and reluctantly arresting a teenage drug user, only to be upbraided by a precinct captain who's the most law-and-order authoritarian since Vlad the Impaler.
Mungiu's abortion drama won the 2007 Palme d'Or at Cannes, which got him stronger financial backing and emboldened him to take on yet another Romanian institution, the Orthodox Church. Mungiu's inspiration for Beyond the Hills was an incident at a remote Moldavian monastery in 2005 in which a young woman died following an exorcism. The director's fictionalized screenplay invents a scenario between two young women who'd grown up together in an orphanage, formed an intimate friendship, and then separated. The shy, obedient Voichita (Cosmina Stratan, who is 26) has joined a monastery and given herself over, body and soul, to the teachings of orthodoxy. Her former companion, Alina (Cristina Flutur, who is 34) has come to visit and persuade her to immediately leave the monastery and the church, so they can be forever together.
Though in his press notes and in a Skype Q&A, Mungiu didn't categorize the two women as lesbians, what's up on screen offers clear evidence that Alina still is. An early scene after she unpacks shows Alina having her back rubbed with oil, then turning over in bed and quietly pleading with Voichita to massage her bare breasts, which Voichita refuses. Alina will spend the entire movie, and what remains of her life, growing more agitated, anguished, and then hysterical by the minute, as the monastery priest solemnly intones that "men do not marry men and women do not marry women."
This is the eternal conflict that drives the drama and propels Alina to an eventual exorcism and death, from a possible combination of pneumonia, self-willed starvation, and a broken heart. It's a win-win for Mungiu, because if he's accused of attacking the Orthodox Church, his answer can always be that the sinner pays with her life—just as lesbians have done (if they didn't marry, find another same-sex partner, or commit suicide) throughout most 20th century novels and films. What makes the film work is a first-rate, sleekly professional production and pacing—finally a two-and-a half hour Romanian saga that's not a slog—and the two splendid actresses who anchor the drama. Flutur is the trained and experienced theater pro, handsome and severely attractive, making her feature film debut, and it's her movie. She's explosive, a marvel to watch as she begins to go mad under the derision and then the chains that bind her to a plank in the dead of winter. Her suffering isn't at the extreme levels of Steve McQueen's Hunger, and the misery index doesn't reach the heights of Jacques Rivette's 1966 classic, The Nuns, but Flutur's performance is daunting, steely, authentic, and totally fearless.
Writer/director Mungiu also takes a final couple of swipes at the hospital staff that unhappily accepts Alina's body, and the accusatory police investigator, another Vlad, who's looking for a culprit at the monastery—the priest, the nuns, the novices, almost anyone that could have caused the visitor's death. The last minutes show the police officers in transit, stuck in a traffic tie-up from endless road repairs. Nothing works very well in this post-Ceausescu world, says Mungiu's script, but at least the movies are getting made that show and condemn it all.
Beyond the Hills shows October 2nd at 9 pm and October 7th at 2:30 pm at Alice Tully Hall, and October 11th at 3:30 pm in the Elinor Bunin Monroe Film Center.
---