NYFF 2012 Critic's Choice – "The War of The Volcanoes" and "Liv & Ingmar"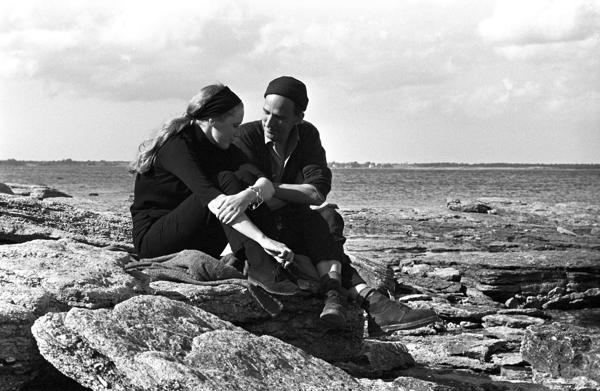 The Independent's senior film critic, Kurt Brokaw, is viewing the entire main slate (plus) of the 50th New York Film Festival, showing at Lincoln Center September 28-October 14th. Below is one of several critic's choices. A festival overview and complete list from 2012 is here.
The War of The Volcanoes
(Francesco Patierno. 2012. Italy. 52 min.)
Liv & Ingmar
(Dheeraj Akolkar. 2012. Norway/UK/India. 81 min.)
Playing "Remember when?" can be a film festival's sweet spot. Try and catch both of these up-close-and-personal documentary dissections of Liv Ullman falling in love with her director, Ingmar Bergman…and Ingrid Bergman, almost two decades earlier, falling in love with her director, Roberto Rossellini. You'll be aware how the movie going public's sense of morality changes from the rigid, unforgiving 40s into the more liberated, enlightened 60s. And, perhaps, you'll be struck anew by Woody Allen's pithy summary of why people sometimes stray into dangerous liaisons—"the heart wants what the heart wants," said Woody—that can seriously injure (or leave untouched) their careers and public popularity.
The War of the Volcanoes: Italian director Roberto Rossellini was at the peak of international success in the late 1940s, with Rome, Open City and, L'Amore (both with the fiery and jealous Anna Magnani) and the war drama Paisan topping critic's lists. Magnani was in love with Rossellini and figured he was hers. The famed director was also helping his cousin develop a drama on tuna fishermen, using an underwater filming technique that would be shot around and on a tiny Sicilian island noted for its active volcano.
At the same time, Ingrid Bergman, married and at age 32 an established star with Casablanca, Notorious and Joan of Arc starring credits, wrote Rossellini a combination fan letter and pitch, urging him to consider her for his next picture. Impressed, Rossellini flew to New York, met with Bergman, promptly fell in love with her, and decided to dump Anna for Ingrid. He appropriated his cousin's movie plans, thinking the fishermen/volcano drama would be an ideal vehicle for Bergman, and hired the erratic millionaire and RKO head, Howard Hughes, to produce it. Rossellini's idea was to change the storyline he'd lifted by improvising much of the action and Italian dialogue, which in retrospect sounds like the worst idea imaginable, given Hughes' penchant for tinkering with movies for seasons, sometimes years.
Both Magnani and the director's cousin were enraged. The cousin went to Warner Brothers and cut a deal to do his original romantic drama with Magnani in the lead, playing a prostitute; Rosanno Brazzi, playing a diver and the romantic interest; and the island volcano, blowing its stack; with the veteran Hollywood pro William Dieterle directing. It would be called Volcano. Rossellini initially knew nothing of this and assumed he was the one volcano filmmaker with his picture, to be titled Stromboli and filmed on that primitive island.
Bergman quickly became pregnant by her director, and was totally unprepared for making a film that started and stayed largely improv. She was also sickened by the tuna slaughter in the waters off Stromboli, the centerpiece scene of the movie. Hughes, bewildered by Rossellini's working methods and uninterested in Bergman since she was already in bed with his director, gave minor attention to the project. Then Rossellini learned his cousin had the original premise that he'd spirited away, shooting on a neighboring Aeolian island, with Magnani. On top of that, Dieterle was sending people to spy on Rossellini's production, trying to learn what was going on and being dumbfounded that the script was being invented daily. Bergman found it difficult to act in Italian, mostly with amateur fishermen from the seaside village. Finally, Bergman's husband, Peter Lindstrom, a Swedish doctor and the father of their 10-year-old daughter, Pia, turned up on the set and things really began to fall apart. Are you following all this?
Francesco Patierno's documentary of these escalating messes gets juicy and startling when it cross-cuts scenes from the pictures being filmed with real-life happenings that reveal how the two stars were behaving in their day-to-day lives. Sometimes it's difficult to tell whether we're watching a black-and-white movie clip or a black-and-white newsreel snippet. Magnani is long-suffering on-screen and off, and Bergman is burdened with morning sickness and her husband's growing awareness of the affair. Then the foreign press, joined by the American press, weighs in with the pregnancy, and a scandal is born.
Both films premiered in Rome on successive nights in 1950, and both tanked. The American version of Rossellini's Stromboli, as expected, experienced severe cuts by Hughes and RKO. Bergman was denounced on the floor of Congress. Magnani, undaunted and uninvolved in the scandal, went on to win the Oscar for best actress in 1955 for The Rose Tattoo. Bergman and Lindstrom divorced, she married Rossellini and had three children with him, taking a five-year leave of absence from filmmaking until she divorced Rossellini and returned to stardom in Anastasia in 1956. Bergman would eventually partner with a most interesting actress in 1978… Autumn Sonata with Liv Ullmann.
Liv & Ingmar: When Liv Ullmann appeared at Lincoln Center in 2005 to introduce her final film directed by Ingmar Bergman—the made-for-television Saraband and the one picture Bergman shot in digital—she reflected on how the new process changed both of them. "I always played scenes directly to Ingmar, who crouched right next to Sven [Nykist's] camera lens," she wistfully told a rapt audience. "But with digital, Ingmar had to be across the room, watching a little monitor. I had several different cameramen filming me, and no Ingmar. I was lost."
This feeling of irreplaceable loss permeates Dheeraj Akolkar's poignant and compassionate portrait of the Swedish director and his Norwegian leading lady, who he guided through nine films starting with the 1966 classic, Persona. Bergman and Ullmann lived together for five years and had one daughter, Linn, a novelist; he married a number of other women before and after, and was a widower when he died in 2007. On the last day of his life, Ullmann, knowing he was failing, visited him at his remote home on Faro Island in Sweden. She describes their final hours together, talking, with a loving and tender grace, and shares a final note the director wrote to her, tucked into a child's teddy bear, with a simple eloquence that is heartrending.
Documentarian Akolkar weaves us through a comprehensive resume of Ullmann's career, starting with her initial infatuation with her director (which is abundantly evident just in photos of her staring adoringly at him) on the Faro island sets of Persona). He provides helpful intertitles that divide Ullmann's decades in and out of Bergman's life into chapters: Love, Loneliness, Rage, Pain, Longing, Freedom. Ullmann is the sole narrator and on-camera presenter, and so everything is filtered through her recollections and sensibilities. Liv & Ingmar is a memoir in which the actress essentially orchestrates what we see.
We're reminded that Ullmann's own directorial skills are formidable. She shaped two decades of actors' performances, ranging from her long-time co-star Edland Josephson (in her 1992 film, Sofia) to Cate Blanchett in the 2009 Australian production of A Streetcar Named Desire, which eventually moved to New York and transfixed audiences at BAM. Ullmann is candid and forthcoming in describing her harsh times with Bergman—particularly through out-takes of her freezing in a boat with Max Von Sydow in The Passion of Anna—but scenes like this are balanced by pleasant memories of her book signings, magazine cover stories, and Hollywood movie roles (which included 40 Carets, Lost Horizon, A Bridge Too Far and Autumn Sonata).
Ullmann has fashioned a stellar later life for herself, not only writing and directing but as a traveling UNICEF goodwill ambassador, as the founder and co-chair of the Women's Refugee Commission, and as the recipient of an honorary PhD from the Norwegian University of Science And Technology. Unlike Ingrid Bergman, whose star was tarnished when she left a marriage for Rossellini, Ullmann's decision to leave her first husband for Bergman may have been lost in the mists of time; it seems unimportant to the actress now. But as Woody reminds us, hearts still want what hearts still want, whether in 1949, 1966, or today. Both Ingrid and Liv took their chances, with very different results.
Liv & Ingmar will show October 9th at 8:45 pm at the Elinor Bunin Monroe Film Center. The War of the Volcanoes will show October 3rd at 6:15 pm at the Monroe Film Center.
---