NYFF 2012 Critic's Choice – "Life of Pi"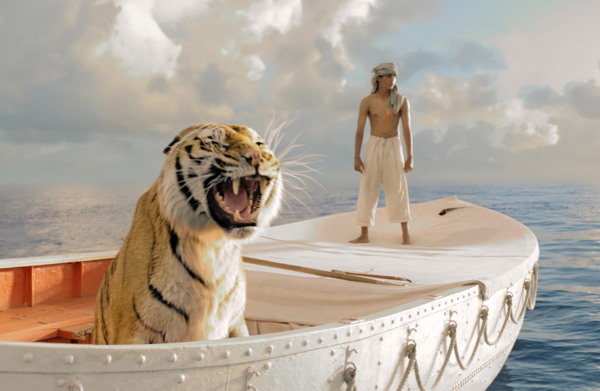 The Independent's senior film critic, Kurt Brokaw, is viewing the entire main slate (plus) of the 50th New York Film Festival, showing at Lincoln Center September 28-October 14th. Below is one of several critic's choices. A festival overview and complete list from 2012 is here.
Life of Pi
(Ang Lee. 2012. USA. 120 min.)
"Kids, animals, water, 3-D—all the vices are here," grinned director Ang Lee as he introduced the 50th NYFF's opening night film. And he's right: Life of Pi is the perfect 11-year-old's adventure epic, a goose-bumpy gallop with a resourceful Delhi, India teen hero (Suraj Sharma) in an exhaustingly god-awful struggle for survival at sea. It will trigger memories of your most awe-inspiring movie experiences—Moby Dick, Jaws, The Perfect Storm, The Old Man and the Sea, Castaway, Titanic, Avatar and more. (The two pictures Life of Pi most closely references are Harry Black and the Tiger, a middling Stewart Granger vehicle from 1958, with some of the finest non-manipulated tiger footage ever captured, and Jack Arnold's unforgettable Creature From the Black Lagoon (1954), which Manhattan's Film Forum will be reviving October 12-18 in all its original twin-projector 3-D glory.)
The technology triumphs are Lee's four Royal Bengal Tigers of various sizes and weights, with the largest topping out at 450 pounds, that served as Lee's mapping models for the "replicas and animatronics," as they're referred to in the credits, created by the director's army of visual effects wizards. The expertise here is spellbinding and flawless; your brain can't figure out what your eyes keep telling you can't be happening. (Sharma's on-camera weight drops from 167 to 130 actual pounds in his ordeal.) The only other visual magic experience in this festival that rivals Lee's tiger illusions are Ricky Jay's close-up card tricks on view in the pleasurable Deceptive Practices documentary. You might ask: Can the premiere magician's feats with 52 playing cards be as inexplicable and entertaining as the million-dollar effects Lee and his friends at Rhythm and Hues (and many other effects labs) have conjured up? Absolutely.
Like Hugo, The Black Stallion, and other seminal children's attractions, Life of Pi has strong literary roots. Author Yann Martel lived in India, and set the starting point for his novel in Pondicherry, a former French colony, 1977. There Piscine "Pi" Patel grows up in a loving and liberal family. "I was a practicing Hindu, Christian and Muslim," says the boy in the book, "and I challenge anyone to understand Islam, its spirit and how to love it; it is a beautiful religion of brotherhood and devotion." Pi's parents warily accept the boy's openness, suggesting Pi "is marching to a different drummer of progress." The one presence the boy is strongly warned against getting close to is the tiger (his dad is the zookeeper), which is named Richard Parker after a panther hunter in Bangladesh.
When financial decline forces the family to close the zoo, they load their belongings and the animals onto a Japanese cargo ship bound for Canada. In a fierce storm the ship founders and sinks—all are drowned except Pi, the tiger, a hyena, a zebra, an orangutan, and a rat, all of whom somehow manage to climb into a 26-foot lifeboat. And there Pi and Richard Parker remain (the other animals are quickly disposed of) for 227 days and nights.
This is the movie. The boy and the tiger avoid circling tiger sharks and stay alive by eating blue sharks and flying fish. As the tiger loses weight rapidly, Pi's clothes disintegrate into rags and his body grows salt-water boils—but the unlikely companions form an interdependency that's unexpected and disarming. Pi marshals all his dwindling resources to hold together their listless days. Richard Parker woofs, hisses, snarls, growls, moans, purrs, meows, and roars. As a computer-generated performance, Lee's tiger has no equal in cinema.
Life of Pi's happy ending and embrace of harmony among all creatures great and small brands it as the international goodwill ambassador of the 50th New York Film Festival. It's a responsibility that rests lightly on Ang Lee's shoulders. This film bookends a continuum of 3-D thrillers that began almost 60 years ago when an actor in a rubber suit—the Black Lagoon's Gill-man—swan along beneath Julia Adams, the dish in the white bathing suit, and carried her off to his private cove in the Amazon. Pi and Richard Parker never get that chummy, but it's not because the technology doesn't exist.
Life of Pi opened the festival September 28th.
---