Adam Cohen on the Marriage of Music and Film (he's for it)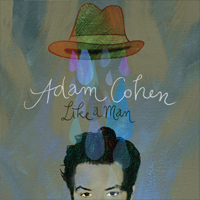 The Festival Music House set up camp at the 2012 Toronto International Film Festival for the third consecutive year. The invite-only three-night event lured in top Canadian indie musicians and put them in front of filmmakers, producers, and other film industry types. The intent is to introduce potential cinematic collaborations between musicians and filmmakers. After all, it's no secret that a great score or soundtrack can be the soul of a film.
The mood in the room depended on the musicians du jour. Adam Cohen (who happens to share the deep, gravelly voice of his father, Leonard Cohen) was one of the musicians being featured on a Monday night. His low-key, quiet approach was a considerable contrast to bands like Hey! Ocean and Dan Mangan who performed the following night. One could see how the varied fusion of sounds at the Festival Music House could easily become an inspiration for a filmmaker with a keen ear.
For some, it could even begin with a song and morph into a story.
"It's nice to be invited," said Cohen, who stopped in Toronto en route to Portugal. He doesn't mind the extra bit of attention that his performance might bring, particularly since he characterizes the early part of his career as "hustling and scrambling and not necessarily getting anywhere." So it's a nice change, he admitted: "It was the kind of invitation that made sense to me and my so-called brain trust."
No stranger to moving pictures, Cohen has composed for TV shows like Dilbert, Six Degrees, and Psych, and has most recently written the end track to Lullaby, an upcoming film starring Amy Adams, Garrett Hedlund, and Jennifer Hudson. He sees his song as the "last piece of dialogue" in the movie. And in a sense, that's exactly what it is.
"Outside of people who have suffered brain damage, everybody understands the magic between the marriage of film and sound," he said, "nobody within music doesn't wish for that marriage—I certainly do."
Cohen cited how Good Will Hunting and Closer launched the careers of Elliott Smith and Damien Rice (respectively) with just one film. That's what can happen when the right match is made. "If I can spark a note of empathy into someone's distracted mind and soul with my music tonight, I'll be very happy," he said.
Meanwhile, like a true musician, Cohen has been practically living on the road, touring non-stop. He is about to embark on a Canadian tour from Vancouver to Montreal. But before he can catch his breath, he will travel back to Europe for more concert dates. By the end of his tour, he will have been on the road for 15 months. "Yes, I'm exhausted!" he admitted. But you won't notice if you hear one of his songs in a movie you adore. You'll think you've heard wedding bells.
---
---
Regions: Canada