NYFF 2012 Critic's Choice – "Something In The Air" and "Not Fade Away"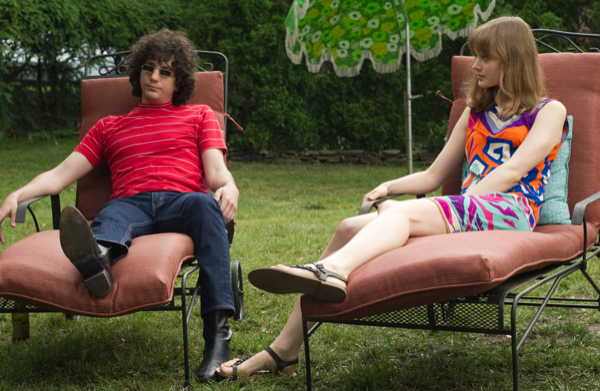 The Independent's senior film critic, Kurt Brokaw, is viewing the entire main slate (plus) of the 50th New York Film Festival, showing at Lincoln Center September 28-October 14th. Below is one of several critic's choices. A festival overview and complete list from 2012 is here.
Something In The Air
(Olivier Assayas. 2012. France. 122 min.)
Not Fade Away
(David Chase. 2012. USA. 112 min.)
These two highly likeable movies share opposite sides of the same guitar pick. Director David Chase, 67, once-upon-a-time played drums in a New Jersey basement band that never went anywhere. Director Olivier Assayas, 57, grew up in a Paris suburb and started his filmic life as third assistant on a Richard Fleischer movie. Both men have great knowledge and affection for the music (and movies) they grew up with.
Chase's film is built around rock music of the mid-60s. Assayas' film is built around folk ballads and rock songs and bands of the late 60s and early 70s.
The French teen painter/light-show designer and lead in Assayas' film, Clément Métayer (still in his teens) is a dead ringer for Todd Rundgren, a major rocker and guitar god of the era (check his LP cover on "Runt"). The American teen singer and lead in Chase's film, John Magaro (nearing 30 but looking much younger), is a dead ringer for Marc Bolan, another major rocker and guitar god of the era (check any T Rex cover).
Both films follow their protagonists, fellow rebels, band mates, and girlfriends up to but not in to what may or may not become successful careers and lives.
The youth in Chase's band know exactly what they want and become skilled musicians and singers as his movie progresses. The youth in Assayas' communal clan of lapsed demonstrators only know they don't want bourgeois careers but are slowly, inexorably pulled toward them as his movie progresses. We never know if either group succeeds.
Assayas told a Lincoln Center audience in a Q & A that his film is not autobiographical, but is highly personal. Chase told a Lincoln Center audience in a Q & A the same thing.
Both films in their messy, sprawling ways have annoying flaws, but both are redeemed by the exuberance and raw talent of their casts, their consistently inventive music scores, and the unflagging passion of their directors. Each is worth a separate, closer look.
Something in the Air: Assayas opens his film full-throttle, smack in the middle of an ultra-violent 1971 demonstration through Paris streets. Students are clubbed and bloodied by riot police on motorcycles with batons. The scurrying cameras are tracking fast, the editing is frenzied, and the ratcheted-up tension feels less like Assayas and more like director Costa-Gavras, the master of urban chaos. Political fever is rampant everywhere, and lead character Gilles is arrested and imprisoned for three months. We think, oh dear, this is going to be a teenage Carlos.
But it's not. As the leaders sit around, we learn that one demonstrator's father is crafting music for Soft Machine, which intrigues everyone. Shortly, without fanfare, the revolutionary posters on the walls begin to be replaced by rock bills headed by The Nice and Spooky Tooth. The dope pipes come out, clothes start coming off, and the soundtrack starts booming with "Green Onions" by Booker T and the MGs. Assayas smoothly transitions his ensemble cast of angry rebels into a counterculture collective in which Gilles and Laure (Carole Combs) connect (she's later replaced by Christine, played by Lola Créton) as their fellow rebels similarly peel off and pair up. The nesting instinct replaces the anarchy commitment. Assayas is at the top of his game here, and his period costumes, jewelry, props, and production design are spot-on. (His set decoration is as lushly laid back as Mat Whitecross's Sex & Drugs & Rock 'n Roll .) The kids may be marginalized, but they're inventing a fashion ethos that's defining a generation.
What's more, their pushback against traditional culture and authority can be rigorous. In one of the movie's most engagingly written scenes, Gilles and his dad, a well-educated editor, debate the merits of novelist Georges Simenon and his continuing character, Inspector Maigret. The boy finds the whole Maigret series insufferable and his father finds his non-linear son incomprehensible—the scene has confrontational bite and snap at a sophisticated level. And in Assayas' most delightfully comic sequence, Gilles wanders onto a studio movie set that's shooting a submarine and Nazi crew with a starlet styled like a Hammer Films scream queen who's being menaced by a gigantic dinosaur head and neck. Gilles stares at all this in stunned disbelief and wanders away… though much later we watch him approaching a movie theater showing a program of experimental shorts.
When Gilles gives up his painting for a job creating a Joshua-style light show behind live rock bands, Assayas stages a full-tilt re-creation of the French equivalent of Bill Graham's Fillmore East shows. The title of his movie, Something in the Air, references a soundtrack as well as a cultural shift, and Assayas' musical choices are tingling, from Phil Ochs, the Amazing Blondel, and Captain Beefheart and the Magic Band, to Robin Williamson, The Incredible String Band, and Tangerine Dream. Something in the Air sends you home humming a rock score that Assayas might have curated from your own vinyl collection.
Not Fade Away: The title of David Chase's movie is from the 1957 Buddy Holly song, covered by the Rolling Stones in 1964, which is about when Chase's film begins and when the musical references of the period—the Beatles, Stones, Kinks and Animals—emerge as major life changers for the New Jersey teens who'll form a band to learn and play all their songs. They first call themselves The Twylight Zones after Rod Serling's show. And they're terrible.
The behind-the-scenes artist doing the heavy lifting on Not Fade Away is its exec producer and music supervisor, Steven Van Zandt, who's becoming a multi-platform rock impresario like the industry has never seen. Van Zandt not only tours the world as Bruce Springsteen's front-line guitarist, he also played Silvio Dante on Chase's The Sopranos, is acting in a Netflix original (Lilyhammer), is co-producing The Rascals' reunion tour, hosts the international radio show "Little Steven's Underground Garage," and runs a foundation dedicated to the preservation of rock music. Van Zandt directed the actors playing the band—Magaro, Brahm Vaccarella, Jack Huston, Will Brill, none of whom were musicians—through R & R boot camp and made them a performing unit. "They learned in three months what it took me 10 years to get down," said Van Zandt. What's astonishing to watch is that they get better and better as Not Fade Away rolls along, ending up a group with genuine promise.
When they meet Jerry Ragovoy (well acted by an icily tough Brad Garrett), who was the songwriter/producer behind rock anthems like "Time Is On My Side" and "Stay With Me, " Ragovoy gives the kids timeless and accurate advice: keep practicing, start writing your own material, don't get stuck in your home base. It's just as well that Chase's movie stays focused tight on the musicians and the music; this is a boy-band movie, and the girlfriends (led by Bella Heathcote) are strictly supporting acts. (The parents, anchored by Sopranos star James Gandolfini, are, sorry to report, your archetypal Dumb Parents of the era, made of the same stiff cardboard that sunk Antonioni's Zabriskie Point.)
Chase's movie ends in 1968, four years before the start of the Assayas film. In the final moments we watch the lead singer Douglas (Magaro) late night on a nearly empty street, standing near Capitol Records in Hollywood; he's wandered out of a party where he spotted Charlie Watts getting into a limo. And he's wondering whether he and his band will ever achieve a sliver of Charlie's recognition and growing fame. He's like the Mexican keyboard player in the fest's Here and There, or the Lebanese lounge singer in the film Beirut Hotel (the latter from a recent Film Society Arabian fest), scratching out bare existences in places they know they've got to abandon. Douglas has abandoned New Jersey, but will he end up sitting in the boardroom of Capitol Records or forever standing on the street in its shadow? The movie won't tell us that.
Instead, Chase creates a different, far more surprising way to end his first feature film: Doug's little sister Evelyn (Meg Guzulescu), who's been quietly observing the turbulent events of her dysfunctional family on the Jersey sidelines, suddenly pops up out of nowhere and poses the 1968 question of her generation, directly to the audience: There's nuclear weapons, she tells us with a scowl, and there's rock 'n roll… which will you choose? As the rock soundtrack kicks in and shakes the theater, she dances down the street, having made her choice. If ever a film believed with all its beating little heart that rock 'n roll is an art form that won't fade away, it's this one.
Not Fade Away had its world premiere on October 6th. Something in the Air shows October 8th at 12 pm in Alice Tully Hall, and October 12th at 6:30 pm in the Elinor Bunin Monroe Film Center.
---