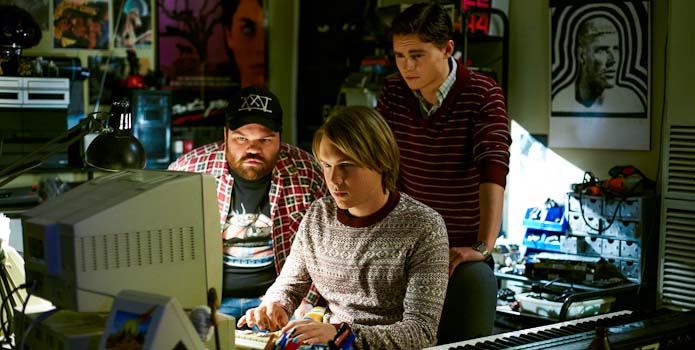 Hushed tones. Top-secret documents. Governments, pissed-off across the globe. Whether praised or demonized, few people can debate the significance of Australian-born Julian Assange, founder of the contentious WikiLeaks.
It was only a matter of time before a biopic would follow and so Robert Connolly's Underground: The Julian Assange Story made its world premiere at the Toronto International Film Festival.
As it happens, one afternoon hardly a year ago, Suelette Dreyfus' book Underground: Tales of Hacking, Madness and Obsession on the Electronic Frontier
 made its way to Connolly. Was there a film hidden in there, he asked?
There was.
"It was an amazing world of activism two years before the Internet," recalls Connolly, after reading the book. So he proceeded to write an outline for a film and just 12 months later, the film premiered. "My last film took six years," notes Connolly, "so it's been fantastic."
When asked about the budget for the film, Connolly responds with a laugh: "Not much." Around three million dollars, to be more precise.
Budget limitations, however, do not frighten him. "I think you make a virtue of them," he explains, "We had to shoot looser and faster with young [unknown] actors and get performances that were edgier, just pushing the material hard—I feel liberated by that."
With a bigger budget, the film would have taken much longer to finance, he says. Years, perhaps. "We're the first drama about Assange and everyone's trying to make them now," says Connolly, who like Assange, is a native Aussie.
Even with funding in place, finding the right actor to capture Assange was not an easy task. Not only did he have to physically resemble the real-life hacker-activist, but he also had to be believable as someone capable of forming as significant an entity as WikiLeaks. "You need someone who has this dry intelligence in their eyes," explains Connolly.
After an intensive auditioning process, Connolly had found his 'Assange' in a young newcomer, Alex Williams. "I really put him through the paces," says Connolly, "It was lucky for me to find him." This was also a most fortunate break for Williams since he was recruited straight out of acting school (which happens to be the same one that Hugh Jackman had attended years prior).
According Connolly, he made the film as a sort of a "call to arms for young people." He'd like audiences to see how activism is a sexy, cool thing to be involved with: "You, as an individual, can make a change."
We take for granted the technology we have, he says, pointing to a smartphone next to him. "I've got more computer power here than they had to land the first man on the moon—it's staggering."
Assange's story illustrates how technology can be used to pave the path of activism and the power that we all hold in our hands as result of developments like the Internet.
"What I loved about the story [is] the shift of a generation of young people who have computers in their bedrooms. [They're] on the cusp of a revolution, really. It's an incredible change," he says.
It is perhaps worth pointing out that Assange did not exactly obey the law in his pursuit of government transparency. After all, so-called secret records are often kept sealed for a reason.
"I tried to create it in a way where an audience has to make up their own mind. Is he a criminal or isn't he? Is it terrible what he's doing or…? It's a rich, complex sort of mash of scenarios," admits Connolly.
He is also quick to point out that despite breaking the law, Assange and his collaborators obeyed a strict list of self-imposed rules: Don't steal anything, don't destroy anything, look but don't touch…
"The idea, at 17, to have keys to the kingdom—he had access to practically everything—and to not steal anything is interesting," notes Connolly, admitting that his own moral compass didn't find such refinement until his mid 20s.
Meanwhile, he believes that when a "great nation" like the United States has lost its way so significantly, then a global movement of citizen demanding transparency from their government is inevitable. "So America can do all they want to crush Wikileaks," he says, "but they are missing the point."
Underground opens in Australia October 7th. For additional release info, check IMDb.
---