Outsider Writers: Four Not-in-LA Grad Programs in Screenwriting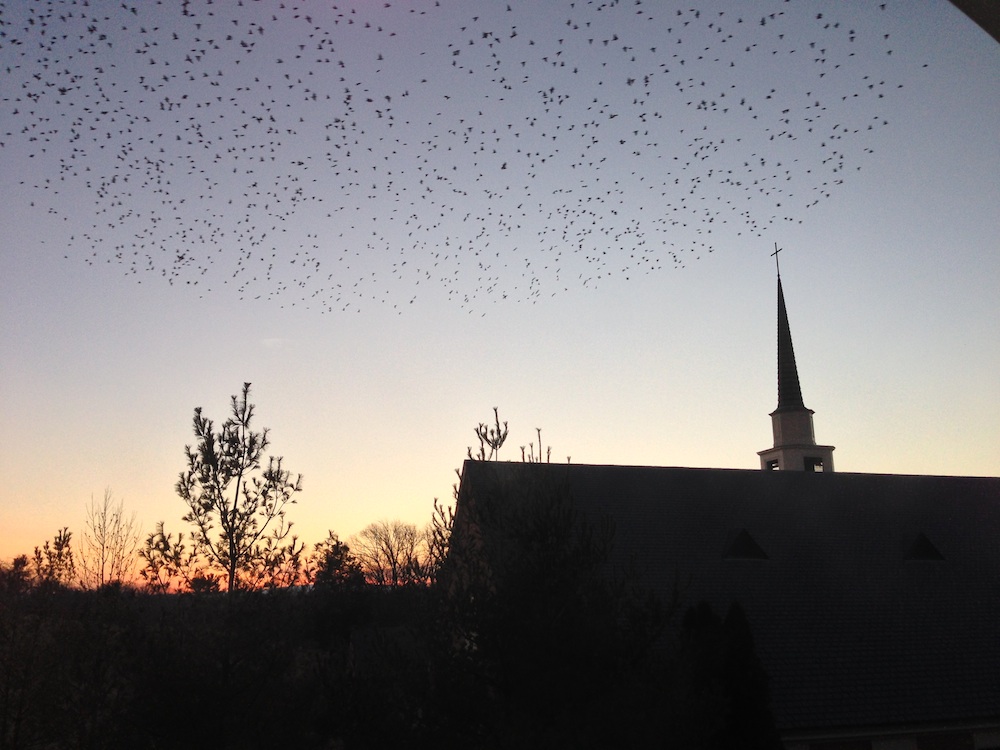 You don't have to spend your whole savings and attend a graduate program in Los Angeles or New York to learn screenwriting. In fact, could a program, unshackled from geographic proximity to Hollywood, actually be a unique and advantageous experience for its students? The programs at Carnegie Mellon University in Pennsylvania, Hollins University in Virginia, Northwestern University in Illinois, and the University of Nevada, Las Vegas, think so, and each has a variety of unique attributes and faculty to strengthen a student's chances for success.
From low-residency options to reduced tuition costs to access to accomplished faculty as well as creative and growing alumni communities, each of these schools offers a distinct set of advantages to students who choose to attend writing programs outside of Los Angeles. Why might they warrant your attention? "The Independent"'s Jared M. Gordon recently asked four directors to describe, in their own words, what sets their programs apart.
(Full disclosure, the author is a graduate of the graduate screenwriting program at Hollins University.)
Carnegie Mellon University (CMU) – Pittsburgh, Pennsylvania
Rob Handel is head of the dramatic writing program in the School of Drama at Carnegie Mellon University, a two-year, full-time MFA program. Handel is a founding member of the Obie-winning playwrights' collective 13P and resident playwright at New Dramatists.
Handel says, "The program offers an exceptional cross-genre experience for the writer interested in honing their skills in stage, film, and television. The program is one of only six leading institutions chosen to participate in the Alfred P. Sloan Foundation Film School Awards, which awards $35,000 in total prize money annually to two Carnegie Mellon students within the Dramatic Writing program."
As for what makes the CMU program unique, Handel says, "A focus on the realities of living as a professional writer is one of the distinguishing characteristics of this program. The School of Drama is interested in producing writers who will ultimately see their work produced. Upon graduating, MFA students benefit from the strong support of School of Drama alumni in the field, including Stephen Schwartz ("Godspell", "Wicked"), Stephen Bochco ("Hill Street Blues", "L.A. Law"), and John Wells ("ER", "Third Watch", "Shameless")."
Handel says that the many guests who visit from Hollywood each year place a strong focus on career-building in television and film, and the program's network of alumni are able to provide direct links to the industry. "An example of the former would be our next guest, visiting in April, Jason Grote, whose career took him from national recognition as an emerging playwright to the staffs of "Smash" and now "Mad Men". Examples of the latter include our three alumni who have worked at SyFy, who were able to assist each other in moving up through the ranks."
Other recent visiting faculty to the program have included screenwriters Richard Nelson ("Hyde Park on Hudson"), Aurorae Khoo ("JAG", "Nurse Jackie"), Eric Garcia and Leo Chu ("Supah Ninjas"), and Keith Bunin ("In Treatment" and "Ezekiel Moss", the 2011 Black List script to be directed by Philip Seymour Hoffman.
According to CMU graduate admissions coordinator and School of Drama associate head Dick Block, "Tuition this coming year is $32,840. Note that all of our graduate students receive a scholarship that covers a portion of the annual tuition, typically 50 percent for Dramatic Writing."
More information about CMU's graduate program in dramatic writing can be found at www.drama.cmu.edu/114.
Hollins University – Roanoke, Virginia
If an education from New York University (NYU) and the University of California, Los Angeles (UCLA) professors at a fraction of the cost appeal to you, then Hollins University deserves your attention. Nestled amidst the Blue Ridge Mountains, Hollins was founded in 1842 and has an all-female undergraduate population. Its graduate programs are coeducational.
Hollins screenwriting director Tim Albaugh says of the 15-year-old graduate screenwriting program, "Several things make Hollins unique. First, we're much cheaper than the larger programs. Additionally, we offer small class sizes and terrific faculty, who [hold faculty positions] at schools such as NYU, UCLA, Northwestern, Catholic University, Louisiana State, and Virginia Tech. We're also a low-residency program that meets for six weeks during the summer, so you don't have to completely give up your life, although you can work on independent studies during the year with faculty on a one-on-one basis."
The program's UCLA connections are of special note, Albaugh says, as he is also faculty there. He adds that UCLA screenwriting program co-chair Hal Ackerman is likewise "a huge friend of the [Hollins] program." Ackerman co-sponsors a scholarship in the name of Klaus Phillips, the program founder.
Of student work, Albaugh remarks, "Quite a few of our students have gone on to direct their own feature films. We've had students like Dan A. R. Kelly and Niam Itani have their films produced based on scripts they've written, and their work has screened at numerous festivals."
As for career guidance, Albaugh says, "My 20 years of experience in the business gives students direct access to someone who knows writers, directors, producers, and executives in Hollywood, so I can give them guidance in terms of what to do and where to go. The entire writing faculty in the program has major credits in TV or film, and they also provide guidance to the students based on their professional experience. We're putting together internship programs with various companies out in L.A. with the hope of our students making the transition from film students to professionals."
Albaugh touts the program as supportive and flexible. "It's a safe place to explore who you want to be as a writer. We'll give you the tools to succeed professionally, and also the freedom to explore other things you may want to do. Such as if you wanted to do experimental filmmaking or webisodes."
According to the Hollins website, "tuition for the 2013 summer term is $745 per credit hour" and the MFA degree is comprised of "10 four-credit courses and an eight-credit thesis project." At 48 credits total, this degree costs about $35,760.
Costs aside, Albaugh says, "One thing everyone should know about screenwriting: it's a marathon, not a sprint. You have to put in the time and the effort."
More details about the Hollins graduate screenwriting program can be found at www.hollins.edu/grad/film/index.shtml.
Northwestern University – Evanston, Illinois
Founded in 2005, Northwestern University's MFA track in writing for screen and stage is a two-year, full-time program that exposes its students to a variety of writing styles and methods. David Tolchinsky is the program's director.
"Our program isn't just screenwriting," Tolchinsky says, "It's also television writing and playwriting. And you can add improv to that. We're invested in teaching students not just to sell a screenplay but to understand the art and craft of screenwriting and how that might apply in different forms, whether it be a television play or a play, or even webisodes."
"Our alumni are very well-placed especially with television but also in playwriting. Some programs foster a sense of competition, and what we create here is: we accept 12 of you, you learn with these 12 students, they are your creative community, you help each other, and you might found a production company together, you might found a theatre—it's not about trying to scramble to the top."
According to the program's website, each student is given access to "a $5,000 grant to help you bring to life your play, screenplay, or teleplay." When awarded, Tolchinsky explains, "The money will continue to be available until one year after you graduate."
"As for the faculty you'll be working with, Thomas Bradshaw does indie plays in New York, but is also working on a series for HBO and adapting a novel for a production company. Zayd Dohrn started out as a playwright but has also worked for HBO and has movie deals. Bill Bleich is a longtime TV writer. Rebecca Gilman is a famous playwright who also had a movie that was made."
As for Tolchinsky, himself, "I've worked for a lot of studios in screenwriting and had a movie made on cable, but I also curate art shows, do experimental sound design, and am currently working on an independent movie."
In the matter of career guidance, Tolchinsky says, "As part of our curriculum, you're required to do an internship. A lot of our students go out to Los Angeles or New York during the summer between their first and second years. We also have a professional reads program. Within two years after you graduate, if you write a script that you like, we will find someone in the industry to read it for you. Our well-placed Northwestern alumni are always interested in connecting with our current students."
Regarding alumni work, Tolchinsky says, "Andy Miara wrote a pilot for Comedy Central and became the head writer for the Onion News Network. Erik Gernand is doing well in the film festival circuit… we have alums who've done amazing things in terms of plays and these days, to do well in playwriting can lead to an appointment as a screenwriter or TV writer. We also have alums who have gone to become tenure-track professors."
According to FAQs on Northwestern's Writing for Stage and Screen website, "Our tuition next year will be approximately $39,000. All of our MFAs receive $5,400 off of this price in the form of a scholarship. In the next year, tuition should increase a small amount. In this second year, all MFAs are guaranteed a one-quarter TAship. When you TAing, you do not pay tuition."
More information about Northwestern University's graduate program in writing for the screen and stage can be found at www.communication.northwestern.edu/programs/mfa_writing_screen_stage/.
University of Nevada, Las Vegas (UNLV)
Sean Clark is the head of the University of Nevada, Las Vegas (UNLV) graduate program in dramatic media, leading to a screenwriting MFA degree. The program was founded in 1999.
Clark says, "It's very competitive to gain entrance. I may have 35 applicants of which I'll take two, and our deadlines tend to be ahead of the brand-name film schools. I have eight enrolled grad students right now. We average about 25 applicants a year. I only pick you on the quality of your writing, and we're very, very diverse."
Of note is the fact that the UNLV program is three years. Clark says, "I take the term 'degree' very seriously and the rigor should match a Ph.D. rigor. It's three classes per semester for a total of 54 credits. In a lot of the two-year programs, a lot of these students come out without a fraction of what our students arrive with."
"When you leave our three-year program, you will have, on average, four full-length screenplays in some type of development, two or more TV scripts, short film scripts, and you may have made some shorts: not just one or two, but several. You will also write telenovelas, short plays, and full-length plays for the stage. You leave with a serious portfolio."
Clark is more than the program's graduate coordinator: "I designed and created the whole program. I worked in Los Angeles for 12 years, as a working writer and producer. I was as commercial mainstream as it gets. I was in the Iowa Playwrights Workshop at the University of Iowa, and was recruited out of there by Barry Kemp, the TV producer who created "Coach".
"Our students learn how to have a sales pitch, how to sell a script, how to work on a script in a writers' room… but once you're in, there is no competition with each other. You learn to support and take ownership of everyone else's work, as they do with yours.
"Our students have accomplished quite a bit. Everything from really nice primetime network credits such as "Burn Notice" and "Jericho" to many others who've been paid to write. We have two students in the editing union, using their story abilities. We're all about story. The number of them working in the business is remarkable. Like 90 percent."
With regards to career guidance, Clark says, "I do my best through either my past professional connections or through new current connections that the students are building and working on to connect these guys up as best as possible. We've had some really nice internships at places where students have stayed on, for both features and TV, and we've had students make their own shorts and get them into festivals. We do our best to hook our students into what they want to do."
"When I interviewed for this job in 1998, I told the dean, 'The way I see it, we are artistically and geographically halfway between Hollywood and Sundance.'"
Tuition at UNLV varies depending upon the number of credits for which a student registers as well as his or her in-state or out-of-state residency status. Information about tuition at UNLV can be found at http://cashiering.unlv.edu/Fall_fees.html.
More information about UNLV's screenwriting program can be found at www.unlv.edu/film/grad-program.
---
---
Regions: Illinois, Nevada, Pennsylvania, Virginia