Tribeca 2013: From Novel to Screen in "A Single Shot"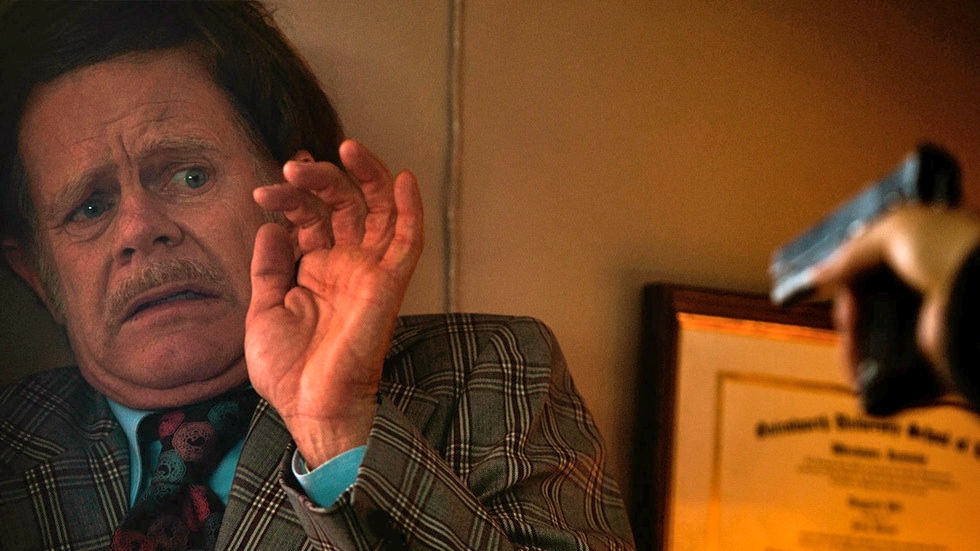 As indie filmmakers know, making a film is a long process that requires a passion that burns deeper than the holes is your pocket. There's a certain dedication that goes into bringing a story alive that is borderline obsessive compulsive. But without that commitment, most films will never make it onto celluloid, let alone into movie theatres.
A Single Shot, playing this week at Tribeca Film Festival, is no exception. According to one of its producers, Chris Coen (Wristcutters: A Love Story, Shadow Dancer), it took literally 15 years to make the leap from novel to screen.
Coen, who previously had worked with novelist Matthew F. Jones on another movie, had been tracking the status of the book's rights for many years, finally acquiring them about seven years ago. The script alone, which Jones also wrote, took nearly three years. Of course in that time there was tinkering, revisions, and a slew of actors and directors came and went.
Shot in Vancouver, the film about an accidental shooting and cover-up of that shooting is finally hitting film festivals and theatres. The cast includes Sam Rockwell, William H. Macy, Jeffrey Wright, and Melissa Leo and is helmed by David M. Rosenthal (Janie Jones). It took a long time to get there, but the passion for the story eventually paid off.
A risk that Coen took is having the book's author adapt his own material. That doesn't always tend to work out so well. "People thought I was mad at the time," he recalls, "It's a tough thing for an author to edit his own novel or book. I did it because his dialogue was so strong, and he did a great job. Now he's a screenwriter."
The film had even experienced "a false start," but in the world of indie filmmaking it is a given that things don't always work out as expected. Throughout the film's genesis, the cast changed substantially. "But we couldn't be happier with who's involved [now]," fellow producer, Aaron L. Gilbert is quick to remark, "So although there were frustrations with delays and challenges with the funding coming together, it all came together at the right time."
William H. Macy was the first choice for the eccentric character of "Pitt," and he has stuck with the project the longest. "He understands independent movies," says Coen, "he knows what it's like and he was just like: 'Hey guys, come by when you're ready!'"
The crucial piece of the puzzle was, of course, Sam Rockwell—the film's lead. When he came on board, it helped the remaining cast fall into place.
Even with Macy and Rockwell, the film's budget remained under $10 million, keeping it firmly in indie territory. When asked what he'd do differently if given a larger budget to work with, Coen responds: "We would pay ourselves more money. Pay the director more money. Pay the crew more. And I don't think there's much else we'd do differently. It will just be a bit more luxurious."
With more money, however, Coen concedes, you get more time. Also, he says, "With more money producers get paid! We're not getting paid anything. Literally. We've handed our money into the production."
When Rockwell signed on to play John Moon, he was committing to an intense schedule. And, given that he's in practically every scene, there's little room for any breaks. It's hard to tell if it's the gritty nature of his character or the grueling schedule, but it has taken a physical toll, which was obvious as he sat in his trailer generously sharing the little spare time he had.
"It's pretty exhausting. You just go, go, go, go, go, go. There's no break," Rockwell says, quickly adding, "but it's good." He liked shooting in Vancouver because it reminds him of where he's from, San Francisco.
"It's dark, it's dark," Rockwell says of the material. Turns out he had only read the book after becoming attached. "I listened to it on tape," he says, "I had to get very familiar with it."
Even though Rockwell's character has gone to bleak places, both in his actions and in his psyche, Rockwell figured he's not a bad guy. There lies the silver lining and entry point into the character. "He made a mistake and he has to deal with it," says Rockwell. "It's an interesting story how he comes to terms with this thing and his road to redemption, it's intense."
We have all made mistakes in our lives, though few of us have made such an extreme one. Still, Rockwell sympathized with his character very quickly. "It's as if a farmer became an action hero—it's a very odd part." Rockwell explains: "He's a very simple kind of guy. He's skilled with guns and stuff like that but he's not necessarily a tough guy. He's not like Clint Eastwood, he's just farmer who hunts a little."
To prepare for the part Rockwell's inner-rebel/dedicated-thespian was "perfectly willing" to go hunting, but it wasn't the right season and it would have been illegal. Instead, he turned to a prize-winning deer hunter from West Virginia who helped him master his lines and attitude.
For Rosenthal, the film's director, it was love at first read. "I like the sort of characters that are backed into a corner and that the everyman finds himself in the wrong situation, in this case, by accident," he explains. "The basis of a lot of great classical tragedies is making a bad choice and paying the price of that choice." The appeal for him was to bring a tale that's both a classic thriller, while also having the feel of a contemporary thriller/western.
And for Rosenthal, this story exemplifies a universal theme: "You have this sort of character who makes this horrible accident and hides it and makes another horrible decision and the world starts crashing down on him. There's something terrific about that to watch. Someone has to make those choices and try to set it right."
---
---
Regions: Canada