Tribeca 2013: Critic's Choice – Features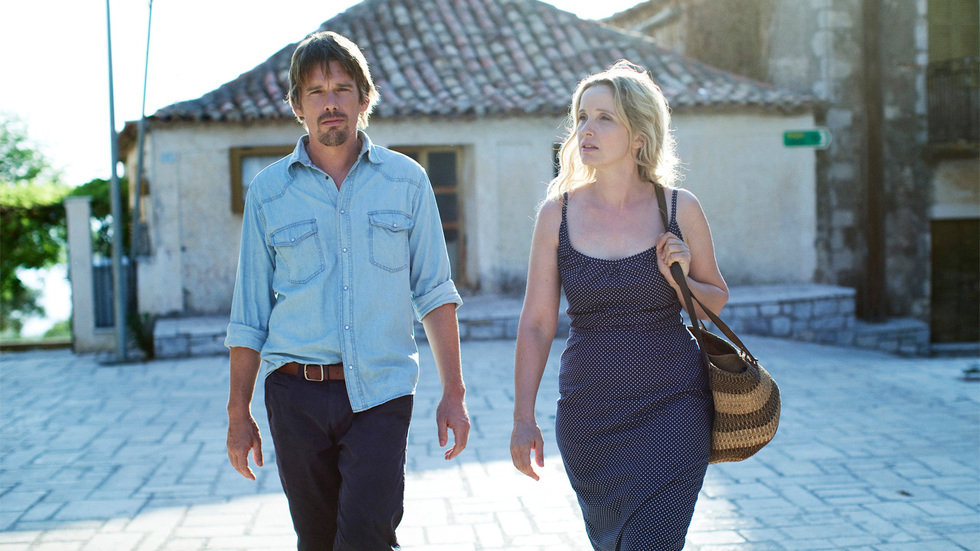 So what's new at New York's most ambitious gathering of all things cinematic? You could start with "a more stable and clear vision" as described by Geoff Gilmore, chief creative officer of Tribeca Enterprises, and one of the fests three primary curators. Gilmore, artistic director Frederic Boyer (a former French critic and Cannes program director), and programming director Genna Terranova (a veteran NYC indie distributor and former Tribeca programmer) are the core team choosing and approving what gets shown. Their menu is ever more global and unpredictable in search and impact, extending the reach initiated by Richad Peña in his 25-year stint uptown running the New York Film Festival.
Like the late Joe Papp in his arena of theater and experimental playwrights, Peña had a insatiable appetite for ferreting out and showcasing, even lionizing younger, bolder filmmakers, and Tribeca's team is following in their global footprints. Papp and Peña had no hesitation about giving untested playwrights and auteurs equal time and status with recognized masters. It's taken a while for many New Yorkers to accommodate that mind shift, both uptown and downtown. We walk into a TFF theater showing a documentary on world class Austrian director Michael Haneke, while the screen next door is rolling out a World War II horror movie, Frankenstein's Army, by a newcomer from The Netherlands. The Gilmore/Boyer/Terranova team has gotten us to relax into this more inclusive and surprising movie landscape.
What this 12th annual fest offers is a richer, deeper, often edgier and more uncertain immersion in world cinema. Very few films come in blessed with awards from other fests. The underpinning for Tribeca's vision is rooted in its unique dedication to shorts; no one in world cinema has worked longer, harder at this than Sharon Badal and her shorts curators. Shorts are taken seriously at Tribeca. Sonia Malfa prepared a 12-page handout for her 14-minute short, Close Your Eyes, about a girl losing her sight to a genetic eye disease. The 2012 Oscar-winning short, Curfew, by Shawn Christensen, had its New York premiere at Tribeca and was the fest's first short to migrate uptown into the 50th New York Film Festival. This year 60 shorts are being shown at Tribeca out of 2,800 submitted. The festival is screening seven more short subjects than feature films (53). And no less than three of these features (At Any Price, Bluebird, Deep Powder) are either produced or exec produced by the veteran Christine Vachon, co-founder of Killer Films.
Events abound, many of them free. Tribeca Film Institute continues its multiple programs to empower and develop filmmakers, especially underserved New York City students. Transmedia and interactive installations are in the nabe. Tribeca Film, the distribution arm of Tribeca Enterprises, is releasing Greetings from Tim Buckey, The English Teacher and two other films day-and-date with the festival, and releases other films on cable, digital VOD, and on DVD. The Tribeca Talks series includes conversations with Mira Nair, Clint Eastwood, Whoopi Goldberg, Elaine Stritch, Gloria Steinem and others. Multiple awards honor the work of Twyla Tharp and the late Nora Ephron. This year's live stream music series features Vampire Weekend, helmed by Steve Buscemi. Tribeca encourages free streaming of four shorts and three features including the heralded Alias Ruby Blade. The popular outdoor "drive-in" on the pier, the family festival street fair, and sports day have become familiar, inclusive institutions. Too-much-ain't-enough is the Tribeca fest's m.o., and the biggest challenge, as always, is how much you can wedge into your life.
Above all, Tribeca reflects the enduring commitment of its three founders—actor Robert De Niro, producer Jane Rosenthal, and real estate/media exec Craig Hatkoff—to "spur the economic and cultural revitalization of the lower Manhattan district through an annual celebration of film, music and culture." This was and remains the mission statement following the events of 9/11/2001. The festival's founding sponsor, American Express, continues the heaviest financial lifting, with the essential goal of healing a city's hurt. And so it feels right that TFF kicked off 2013 with a rock band mockumentary, Mistaken For Strangers, and is closing it with a retrospective showing of Marty Scorsese's The King of Comedy (1983), which starred De Niro as the celebrity stalker Rupert Pupkin.
De Niro and Rosenthal, longtime collaborative partners, didn't make that film together, but they made another picture that should be revisited anew at TFF. This writer remembers with crystal clarity a night in 2006 when Jane Rosenthal stood before a small audience gathered to watch a preview of The Good Shepherd, a CIA drama she produced with a cast headed by Matt Damon, Angeline Jolie, and De Niro.
Drained and exhausted, her makeup not quite right, Rosenthal told the audience that the color timing was a touch off and that the music score needed more tweaking, "but for better or worse, there's nine years of my life up on this screen." The lights went down and we settled in to watch what movies are all about: rich storytelling executed with artistry, passion and excellence. The Good Shepherd is an absorbing and under-appreciated film, one that it deserves a TFF encore.
This year's critic's choices include:
Before Midnight
(Richard Linklater. 2013. USA. 108 min.)
"Mom hates you so much!" laments the 13-year-old Hank (Seamus Davey-Fitzpatrick) to his father, Jesse (Ethan Hawke). Hank's been in Messenia, Greece, and is flying back to his Chicago home and alcoholic mom, having wrapped his twice-a-year visit with his dad, his step-mom Celine (Julie Delpy) and the couple's twin blonde daughters. Jesse dolefully walks back to the car and his family, where the third chapter of his continuing cinematic life with Celine will begin.
Richard Linklater's Before Sunrise (1995) and Before Sunset (2004) introduced us to this unlikely but exceedingly likable couple, and we're primed to watch how they're grown as parents and partners. Linklater's most knowing and affectionate follow-up, co-written with Hawke and Delpy, rolls out a relationship that we're relieved to see is built for the long haul, despite a few rough and even nasty patches that feel as uncertain as Greece's currency.
Jesse is a successful novelist who teaches at the American School in Paris, but he'd like to move to Chicago to be closer to his teenage son, who Celine sniffs "hasn't learned to shave or clean up after himself." For her part, Celine has been a stay-at-home mom shouldering the primary responsibility of raising their daughters, but is considering a government job. She's weary of Jesse hitting the road with his book tours and the occasional dalliance with some bookstore clerk (which he doesn't deny, though he accuses her of straying, too). Julie ruefully recalls surviving an assault in Paris—"the only upside to being over 35 is you don't get raped so often."
Hawke can be grumpy in his over-40 persona, but he can still unleash that boyish, impish Jesse from the earlier films. He's not about to give up being the swaggering kid "with a Trojan in my billfold and a rocket in my pocket." Though he loves his wife and daughters, he's mulling over Hank telling him longingly that being with his dad "was the best summer of my life." Jesse frets about sending Hank "back across enemy lines" and he mourns the passing of his earlier, romantic years with Celine "that aren't coming back."
At a lavish luncheon with Greek friends old and new, Jesse and Celine admire an attractive 20-somethng couple in love and listen with undisguised envy to tales of making virtual love on Skype. It's a new age of sexual frankness that Jesse and Celine don't seem to be part of. Like the real-life Brits who've aged up every seven years in Michael Apted's 7-Up documentary series, Celine and Jesse have also moved on and up in their lives. Watching Hawke, we can't help but think about how this irresistibly attractive stage and screen actor (and published novelist) has carved his own distinct path through several marriages and four children.
Linklater's direction is patient and relaxed. Most of Before Midnight is played out in half a dozen long scenes with the camera locked on the two principals. Their mood shifts are clearly bookmarked like pages in a well-thumbed novel. Jesse tells Celine to "stop trying to change me," and Celine tells Jesse he's "still the oldest guy I've ever slept with." After a long, angry argument (before midnight), they seem to make up, contemplating what their lives together will be like in 50 years. Linklater may be musing over what he'd call such a futuristic movie. Before Dying? 95-Up?
The series has a substantial fan base. Linklater, Hawke, and Delpy entertained a packed audience at the School of Visual Arts on April 23rd with shared memories of developing and scripting the three films. "Before Sunrise was the lowest-grossing film ever made that spawned a sequel," noted the director with a laugh, adding, "except for some Troma release."
For now, Before Midnight is the sweet spot of this Tribeca Festival.
Some Velvet Morning
(Neil LaBute. 2013. USA. 82 min.)
If you're game to explore the flip side of Linklater's "Before" series—the dark, darker, darkest side of adult relationships—do not hesitate to embrace Some Velvet Morning with all your id, ego and superego. Put aside your laundry list of complaints against LaBute, usually the cruelest, crudest assault artist on women in the history of the theater. This is the film in which LaBute the screenwriter/director asks for your forgiveness and absolution. And you'll grant it if you hold tight and attentively to his one-damn-surprise-after-another screenplay, acted with staggering precision by Stanley Tucci and Alice Eve.
Here's the bare-bones set-up on what we initially see and hear. Fred, a Maryland attorney (Tucci) arrives at the upscale Manhattan garden duplex of Velvet (Eve) with suitcases in hand, telling her he's just ended his marriage of 24 years. It seems Fred and Velvet were lovers before his marriage and he's decided he'll always love her and expects to move in. She's bewitched and bewildered by his audacity, for they haven't even spoken in years, though she's become friends with his grown son, who lives in New York and attends art school.
That's all a responsible critic dare reveal of a plot that unravels with an escalating series of unexpected surprises, the last of which you never see coming and will make you rethink the entire 82 minutes that preceded it.
As man and woman, Fred and Velvet are on a level playing field; they're equally strong characters, and they're equally gripping as their scenes move about her garden, downstairs and upstairs rooms.
Tucci, as always, has a coiled, unreadable intensity; he's a tall and physically imposing actor, much like Frank Langella today, and he's working here in that shape-shifting persona that was so memorable in Lovely Bones. Eve, an English actress we don't know well, plays Velvet as a compact, resilient uber-sophisticate blonde with a steel-trap mind who'll remind you at times of Nicole Kidman in full throttle. The movie's title, Some Velvet Morning, has nothing to do with the English band of the same name, though LaBute may have intended it to have thematic roots in the 1967 pop ballad "Some Velvet Morning," written by Lee Hazlewood and first recorded by Hazlewood and Nancy Sinatra.
LaBute has put together a honey of a mystery you dare not reveal to friends until you and they see it. How often do we go to the movies to discover and endlessly debate their hidden secrets? Not often enough. Some Velvet Morning richly deserves an Oscar nomination for best original screenplay.
Trust Me
(Clark Gregg. 2013. USA. 90 min.)
Remember how much you enjoyed Margin Call two years ago? You didn't have to understand how a barely disguised Lehman Brothers brokerage firm could crash and burn, because Zachary Quinto explained it all for you. He was the junior analyst who knew that leverage ratio (the relation of assets to owners' equity) can bring down an investment house if it takes a sudden dive without a swift recovery.
That same kind of simplification works like gangbusters in Clark Gregg's tale of a Hollywood agent who's destructing before your eyes at warp speed. In Trust Me Gregg gives us a running crash course in fixed and contingent grosses, disaffirmance of agreements, 'out' clauses, minors' rights to cancel contracts, et. al. It's like watching a Robert Altman film with big casts overlapping each other's lines; you never get it all, but you always get enough. Gregg's screenplay and direction deliver the sharpest critique of Hollywood backstabbing since Altman's The Player did 20 years ago. It's a tragicomedy as big and iconic as those H O L L Y W O O D letters.
Gregg plays Howard Holloway, a failed child star who's now a failing child star agent. A square-jawed, likable motor mouth, Howard still thinks he's the smartest guy in the room—and sometimes he is—as he discovers and steers the glamorous 13-year-old Lydia (a terrific Saxon Sharbino) toward the lead in a vampire fantasy to be directed by Ang Lee. Working against Howard are Lydia's boozing hayseed dad (Paul Sparks), the film's killer producer (Felicity Huffman), her scabrous casting director (Allison Janney), and Howard's real nemesis in the child agent world, Aldo (Sam Rockwell, blazingly brazen).
But Lydia seems to trust Howard's instincts in getting her the deal of her young lifetime, as does his tough-as-nails neighbor and potential romantic interest (Amanda Peet). We pull for Howard to get the win he desperately needs, and not evaporate like Lehman Brothers. Trust Me is not just this movie's title, it's Howard's plea, and it will resonate with any filmmaker who's ever tried to maneuver her or his way into the big time. It's a training manual in how to step around the quicksand pits of movie deal making, and it's god-awful funny.
Gregg carries his picture with bravado and courage, working without a safety net in many scenes as he schemes against a tinsel town accounting system where the front-dollar-gross is a long way from the last-dollar-gross after all the fixed and contingent costs have been filled in. If you know Gregg from his agent Coulson personas (starting in the 2008 Iron Man) you'll have to recalibrate this fine actor's range.
With his nonstop bluffing, cajoling, bowing and scraping—all framed on a face on which his stud earring looks like a mistake and his Bluetooth earpiece keeps falling on the floor—Howard seems destined for disaster. He's already half off the tracks. But he's an eccentric loner we keep trying to affirm. This film festival is full of these loose cannons, and many are female: Zoe Kazan in The Pretty One, Marin Ireland in Bottled-Up, Haley Bennett in Deep Powder, Gemma Arterton and Saoirse Ronan in Byzantium. Howard's the best of this imperiled breed, because he's educating us while demonstrating his keen survival skills. That's Howard, and that's entertainment.
The Reluctant Fundamentalist
(Mira Nair. 2013. India, Pakistan. 128 min.)
"Mohsin Hamid, a former brand consultant (and author of The Reluctant Fundamentalist) is poetic and deeply ironic. He grew up in Pakistan and America; he's alert to the dread and distrust with which America and the Muslim worlds regard each other. He's never merely telling a story, he's pitting his story against prevailing narratives about Pakistan, the roots of radicalism, the unevenness of economic growth."
–Parul Sehgal, New York Times Book Review (3/31/13)
The quote above centers on Hamid's new book, How To Get Filthy Rich In Rising Asia. But it applies to Mira Nair's spectacular political thriller, an easy call as this Tribeca fest's premiere narrative drama. Nair solidifies her place among A-list world class directors with this urgent and closely examined analysis of how a brilliant young Pakistani with militant tendencies rises to middle management in a top-of-the-line, McKinsey-style Wall Street consulting firm… only to shuck it all and return to his roots in Lahore, where he becomes the possible target of a CIA takedown.
From its supercharged opening in which an American professor is kidnapped into a waiting car in Lahore, while an elite dinner party is caught up in a mounting crescendo of Sufi music, Nair puts your stomach in a tight knot and she won't let go. It gets tighter as you observe that the guests, including the young scholar and lecturer Changez (Riz Ahmed) don't appear to notice (or care) that a prominent US guest is being hauled away for ransom. The year is 2001, just prior to 9/11.
The Reluctant Fundamentalist is densely layered, growing out of a series of flashbacks cued by the conversations between Changez and a CIA agent, Bobby (Liev Schreiber) who's posing as a journalist in Lahore. Changez and Bobby are wary friends representing opposing cultures, and their cross-cut scenes are essential in helping the viewer navigate through our shifting perceptions of the teacher.
We move back in time to observe this brilliant and promising academic finishing his final year at Princeton, straight onto the corporate fast track at Underwood Samson, a global hedge fund consultancy. The firm advises companies how to maximize value, usually by cutting homeland work forces to the bone. Changez shows a lightning grasp of this complex and merciless task, and he quickly catches the eye of the firm's managing director, Jim Cross (Kiefer Sutherland, cold and smooth as tempered steel).
Cross mentors and sponsors Changez, giving him a coveted company tiepin as the new recruit executes international assignments in his climb to becoming an associate. Cross also pilots the rising analyst into the New York social scene, introducing him to Erica, an unconventional artist who's working on political installations. (Kate Hudson, heavier and no longer burdened with her cute-kid looks, is a novel choice and works well as his lover.)
Changez' disillusionment with America is fueled by events small and large. Erica mounts an insensitive art exhibit that angers the busy numbers cruncher. The analyst is tasked to consolidate a publishing empire in his country, which will impact his own father, a recognized poet. And then we watch Changez as he sees the Twin Towers fall.
In Hamid's novel, Changez admits to being pleased by the terrorist attack. Nair mutes his reaction in the film to an expressionless stare—we're not sure what he's thinking. As the inevitable post-9/11 slights and indignities mount up (he's strip searched at the airport and his car tires are slashed), and his recommendations become more damaging to the lives of his clients' employees, Changez concludes he's in the wrong career and country, and returns to Lahore to teach…where we catch up his conversations with Bobby. In the street outside the café in which they've been speaking, anti-American hostility is about to burst, and both men are in critical peril.
Nair's film is produced by the veteran Lydia Dean Pilcher whose career has included crime stints of varying sizes like The Talented Mr. Ripley and Maggie Greenwald's adaptation of Jim Thompson's The Kill-Off. Pilcher knows how to give directors the atmospheres they need, and Nair's picture has a rich, sensual, of-the-moment feel in every location. The film's score by Michael Andrews is a lush mix of Lahore instrumentalists and vocalists, Urdu arrangements, and a composition by Peter Gabriel. The sound design and Declan Quinn's cinematography are similarly first-rate.
The breakthrough of The Reluctant Fundamentalist is Riz Ahmed, an Oxford graduate and music performer (as Riz MC). Supported by the estimable Schreiber, Ahmed captures the conflicting allegiances of a privileged elite trapped between cultures with aching authenticity. Nair has spoken of her goal of "creating a language for the phenomenon of globalization, which frees the energy of order and chaos to be viewed in the same frame." Her cinematic template is The Battle of Algiers, with its French and Algerian conflicts given equal weight in Pontecorvo's 1966 drama. Nair's work honors that distinguished picture in every way.
This concludes critic's choices for Tribeca features. A separate article on shorts will appear shortly.
---