Tribeca 2013: Critic's Choice – Shorts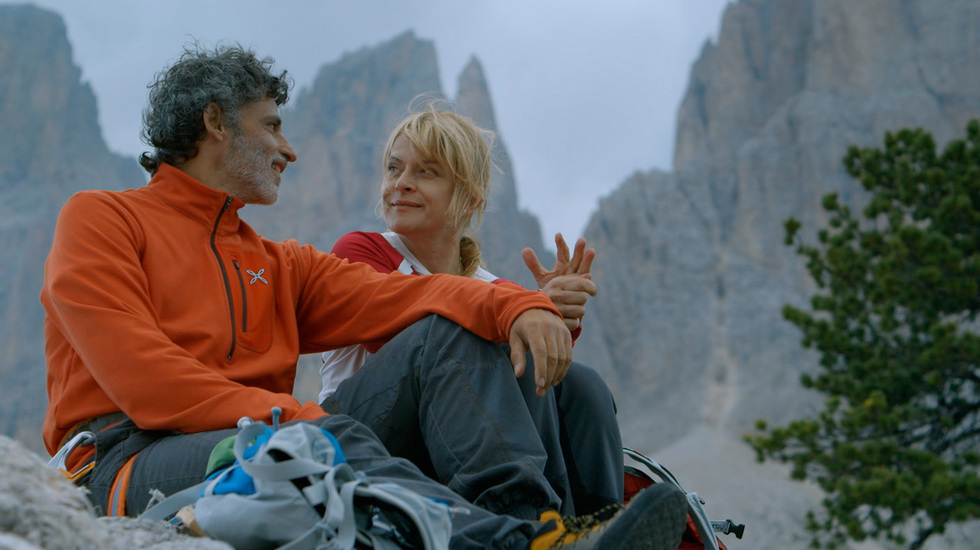 The Nightshift Belongs to the Stars
(Edoardo Ponti. 2012. Italy. 23 min.)
Think of it: More than 2,800 shorts were submitted to the 12th Tribeca Film Festival. Sixty made the cut. This one had more advance anticipation and comment than most TFF feature film selections. To no one's surprise, it's won the festival's best narrative short award and is a surefire contender for best short Oscar. It came in weighted with a proven, big name director; an acclaimed, world class screenwriter; and a cast headed by an internationally known and well liked female star. It's the kind of once-in-a-blue-moon short that really could be called a red carpet event.
As such it will be the envy of many indie filmmakers who've maxed out every credit card they own and worked their Kickstarter campaigns to the bone, trying against all odds to get a short film made that in all probability is infinitely more modest in scope and size, and is likely to end up playing to family and friends. Not every first-time filmmaker would be thrilled to be in competition with this picture. The Nightshift Belongs to the Stars might be called, with some justification, the 800-pound gorilla of TFF shorts.
All that said, this writer will assure you, after viewing all 60 selections in all eight TFF categories, that Ponti's film is indeed the one that best communicates an ineffable, elusive magic that finds a tiny place in our hearts and souls, and may stay securely there for the rest of our movie going years. More than any of its 59 companions, it demonstrates that one compelling concept—just one, an idea you could describe to someone in a 140-character tweet—can be more impactful and memorable than all its competition.
Would you like a demonstration? Here it is in less than 140 characters: Attractive married woman, 47, and attractive single man, 49, each facing open heart surgery, agree to climb together to the top of Italy's treacherous Dolomite cliffs after their surgeries.
Sonia (Nastassja Kinski, looking radiantly mature after a ten-year absence from the screen) undergoes heart surgery to receive a new mitral valve. Matteo (Enrico LoVerso) is receiving the donated heart of a young woman in a transplant operation. Mark (Julian Sands), an experienced mountain climber like Sonia and Matteo, is not at all comfortable with his wife scaling cliffs with another guy, let alone another heart patient. Mark sets out on an easier back trail to make his way up to the top and—ahem, meet and greet these two adventurers—if they make it to the top.
That's the dazzling setup, as conceived by Erri De Luca, one of Italy's bestselling authors. His slim screenplay is available for 99 cents online, one of the more shrewd marketing ploys of the season. And the director, Edoardo Ponti, has already made a feature (Between Strangers), starring Sophia Loren, the lifelong muse and partner of his late dad, the legendary Carlo Ponti. This is the younger Ponti's first Italian-language film.
Most of The Nightshift Belongs to the Stars' 23 minutes are on the climb, and they're as stirring and breathtaking and scary as you'd imagine, from a variety of perspectives including a circling helicopter. Whether the climbers' hearts hold out is yours to discover, and the moving literary close spoken by a character more than justifies your 99-cent investment in the screenplay. Is the picture Oscar worthy? This critic puts it on a level playing field with Sarah Shapiro's Sequin Raze, shown at the recent New Directors/New Films fest, an equally enthralling drama most definitely done on a shoestring Kickstarter budget.
Wilt Chamberlain: Borscht Belt Bellhop
(Caroline Laskow, Ian Rosenberg. 2013. USA. 8 min.)
Loping down the basketball courts of his 15-year career playing for the Lakers, 76ers, Warriors, and the Harlem Globetrotters, the 7'1" Wilt ("The Stilt") Chamberlain merely seemed the tallest of some very tall men. But in 1954, just before his senior year in high school, Wilt worked at the legendary Kutsher's resort in New York's upstate mountain region as a bellhop. Watching him unload the luggage of tiny Jewish ladies for $2 an hour in Wilt Chamberlain: Borscht Belt Bellhop is another story. This agile, fast-moving 8-minute doc by the creators of the longer Welcome to Kutsher's: The Last Catskills Resort tells it with delight and affection.
Chamberlain had a seven-foot wingspan, and we see him easily lifting a family's bags through Kutsher's second-story windows. Polite and easy-going, the young man quickly won the hearts of Mark and Carla Kutsher, and Mark reports that over the years, Wilt came to regard them as a second set of parents. We watch this already powerful athlete playing on Kutshers' team alongside Boston Celtics coach Arnold "Red" Auerbach, who was the resort's athletic director in those halcyon summers. Other talking heads include Tommy Kearns, who played opposite Chamberlain and later acted the basketball coach in Finding Forester, and sportscaster Ray Scott.
Wilt Chamberlain died in 1999. Kutsher's recently reopened and carries on a Catskills tradition known for its mash-up of sports celebs and chicken soup.
Snow in Paradise
(Justine Simei-Barton, Nikki Si'ulepa. 2012. New Zealand. 9 min.)
A simple visual metaphor can help a small film communicate a big idea. A timeless idea. Watch:
Tuakana (Michael Tatira), an 8-year-old on the sleepy little island of Aitutaki in the Cook Islands, pushes his boat on shore. It's a perfect day and there's a tiny, healthy sand crab also inching its way up the tranquil sandy beach. Tuakana brings his catch to his sister Inano (Mereana Bishop), his relaxed older sister who's about 11 and is cutting up a coconut.
We see Inano grate coconut shavings onto a papaya, and lovingly serve it to her grandmother, Mama Moe. The fruit with its white shavings looks as delicious as it must taste. A bit later we watch the children flying a kite at the island's highest point, overlooking the blue Pacific.
Then gradually, then suddenly, everything changes. The sky turns orange. A radio announcement tells the villagers that the French Ministry of Defence has detonated a nuclear device some miles offshore. Minutes later a snowy powder begins to fall on the children and Mama Moe. It covers them just as Inano's coconut shavings covered the fruit. Fade to black.
Snow in Paradise is, as they say, "inspired by true events" (over 40 thermonuclear atmospheric tests in the Pacific from 1968 to 1974) that forever changed the lives of countless Polynesians. The visual metaphor of the white shavings and the white powder shows us an island paradise transformed in seconds into—well, what would you call it? Paradise lost?
The Root of the Problem
(Ryan Spindell. 2012. USA. 14 min.)
Fool's Day
(Cody Blue Snider. 2013. USA. 19 min.)
Julia Louis-Dreyfus and her husband Brad Hall brought the devastatingly hilarious short, Picture Paris, to last year's Tribeca fest. Louis-Dreyfus played a California homemaker who's packing for a vacation in Paris, when her husband suddenly declares he's leaving her for the woman down the block with whom he's been having a long-time affair. Shattered and furious, she plunges a kitchen knife into his heart, then chops his bleeding corpse into bite-size pieces with a meat cleaver, then bakes him into a huge meat loaf and drops him off with her rival down the block…then boards her plane to Pare-ee where she finds true love with an adoring Frenchman.
This deft and daft Grand Guignol item (clearly influenced by the 50's EC shock comic, Tales From the Crypt) carved out extreme terrain just as two of Tribeca's eight shorts divisions, labeled "Deadbolt" and "Worse Day Ever" did this year. Using twisted humor in artful ways is a rare discipline, as these two midnight mini-movies gleefully demonstrate.
In The Root of His Problem, a young housewife (Brea Grant) visits her stylized dentist's office for some wisdom tooth extraction. The dentist (Ptolemy Slocum) is the loopiest loon since Steve Martin's crrrrrasy guy in Little Shop of Horrors. Even worse, he morphs into a slime-coated monster with eyes growing out of his cheeks. And his blonde assistant (Alison Gallaher) seems to have something terrible affixed to her back. This is your worst dental surgery nightmare writ large.
Just as imaginative is Cody Blue Snider's one-reel wonder, Fool's Day, which demonstrates a third grade class's April Fool's Day prank on their unsuspecting young teacher (Kathy Searle). They throw everything they can think of into the classroom coffee pot, then brew her a cup of coffee strong enough (as the old expression goes) "to take the top of your head off." And OMG, it does, it does—showering the entire stunned class with buckets of blood and viscera.
Daunted but inventive like the bright ten-year-olds they are, they wrap up her corpse and bury her in the school yard sandbox, then work like beavers cleaning up the classroom in time for the visit by the local cop who's coming in to chat about drugs. Naturally the unsuspecting officer pours himself a cup of coffee from the lethal brew, even though the class frantically tries to warn him away. And here we go again.
Fool's Day and The Root of the Problem give new meaning to what was once called "madcap comedy." In their era, the violence-drenched panels of other EC comics like The Vault of Horror and The Haunt of Fear enraged members of Congress enough to mount an investigation devoted to uncovering the root causes of juvenile delinquency. Giant blowups of EC panels were marched around a Senate chamber as elected officials mourned what came to be known as "the seduction of the innocent," (which became a 1954 sociological study by Fredric Wertham). EC comics never changed stride, but Signet books, which was also condemned for its paperback cover art for George Orwell's 1984 that illustrated a woman wearing an "anti-sex league" button, actually changed cover art. That kind of ominous government pressure isn't likely to happen today, because the lead stories on nightly news telecasts are often worse than anything in Tribeca's "Deadbolt" series. But one way to live healthy in a violence-prone society is to boldly and fearlessly satirize it, and TFF is leading the parade.
This concludes critic's choices on shorts.
---