TIFF 2013: When Movies Bring On and Offscreen Families Together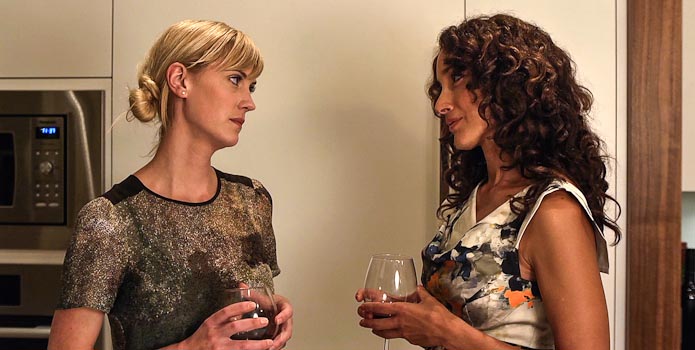 This may well be a cautionary tale of having good email etiquette. After wrapping Terry Miles's A Night for Dying Tigers (2010) actress Lauren Lee Smith sent Miles a note thanking him for the experience and saying how great it would be to work together again someday. Next thing she knew, she was the star of of his next project, Cinemanovels, which premiered at the 2013 Toronto International Film Festival.
Cinemanovels centers on a young woman who prepares a memorial film retrospective for her late estranged father, whose work begins to influence her life in strange and significant ways. The film also stars Jennifer Beals, who worked on Dying Tigers too, so it's a reunion of sorts. Miles, Smith, and Beals met with The Independent a day after their premiere in a busy hotel lobby, still bubbling from a collaboration that exists because they want to work AND play together.
Dying Tigers featured an ensemble cast, which Miles says he enjoys because he gets to work with so many different actors, whereas Cinemanovels follows a single female protagonist. Miles says he wanted an opportunity to explore new terrain with this type of narrative.
Smith found her character Grace's journey and the many types of relationships she's had in her life most appealing. "That's what I was really interested in," she explains about playing the lead role. "That's what I think Terry is genius at—writing these complicated, intricate characters with a lot of baggage."
What appealed to Beals, who plays Grace's best friend Clementine, was her character's internal tension. "She's incredibly selfish and self-referential and yet she's trying to be supportive to her friend," says Beals.
These complicated characters first made their way into Miles' script (and head) nearly six years ago. Once Miles began casting, he realized that he wanted to expand the supporting roles, so he continued writing.
This admission caused Beals to ask him, "But the script you sent me was pretty much what we ended up using. Did you know that you were sending it to me, and then wrote more?"
"Pretty much," he laughs.
To make Cinemanovels, Miles and Smith ended up breaking the number one rule of show business: Never put your own money in the picture. Around this time last year, Smith explains, "We'd been trying to get this film off the ground, trying to find the right producers and money people and not having any luck so we had coffee and said, 'We can do this, we can do this for very little money and we can make it happen.'"
Miles and Smith put in their own money and raised another $17,000 or so through Indiegogo. Their budget was "officially under $1.5 million," jokes Miles.
Without having to answer to financiers, there was a lot of creative freedom on set, explains Miles. "There [was] nobody telling me how long it has to be or who has to be in it."
It also meant that Miles had to wear a lot of hats as producer, director, and cinematographer, just to name a few. Beals points out that what makes a good producer is "if the director doesn't just get what they ask for, it's if you anticipate their needs, so that [they] don't have to ask."
She turns to Miles: "So if you're the producer, director, and you put your own money into it, how difficult is it to let that purely creative part of your brain run free when you're having to wear this other hat?"
Without missing a beat, Miles responds: "Pretty free, I think. The hats go on and off, so during the writing process it's completely free, and I try to do most of the work there. Then that hat comes off [and I think], 'What kind of camera do I need?' I would love to have a producer that just brings money."
Beals likewise wishes for Miles to have a producer that would free him from thinking about details like craft service (is it coming?). "Someone else truly taking care of all that other stuff," she says, so that he can focus only on the creative.
Regarding the script, Smith says that to a certain degree, she felt able to experiment and explore, but she also wanted to stick to what was written.
Beals believes that there isn't much of a difference between working on major TV series or movies and independent projects. "The director is really is the captain of the ship and whether I trust them [or not depends on] how they treat the crew and how they run the set."
"Some directors," starts Beals, "there's no way in hell you'll give them that alternative take because you know that they will use it, and if you instinctively feel that it's wrong, you don't want to give them that opportunity." But with Miles, she was willing to say, "Okay, I will dive into whatever pool of water you want… [and trusting that] maybe I have to open myself up to the potential experience that I may be missing."
She recalls working on The Book of Eli, a much bigger production. She says she had complete trust in the Hughes brothers, so it felt like a very intimate set. While working on Night for Dying Tigers and Cinemanovels, she had the same trust in Miles, "so it's similar in that way."
In terms of the physical differences, however, she feels that lower-budget productions have more "lightness" and "mobility." She recalls stealing a shot outside of University of British Columbia, something you couldn't do with a big production. "Although certainly with a big production you could afford to [just pay to shoot there]," she adds. "But when I worked on other independent films, it would be like 'It's so beautiful, let's go get a shot outside,' which makes you present to what can add to the story right now."
So what is Miles like as a captain? "So super focused," says Smith. "It's crazy to watch him, I can't begin to understand how he's seeing everything he sees. His directing style is very open but he also knows exactly what he wants."
Beyond just the story, for Beals, the attraction to Cinemanovels was the second chance to work with both Smith and Miles. "I wanted to come play," she admits. "I wanted to go back and be part of the Terry Miles family and work with Lauren again in one-on-one scenes."
Now that the family is together again, they don't seem to want to leave, and already have another script they'd like to collaborate on. "Get the band back together," jokes Miles. But it looks like this band never broke apart in the first place.
---