TIFF 2013: "Visitors" and Experimentation on a Grand Scale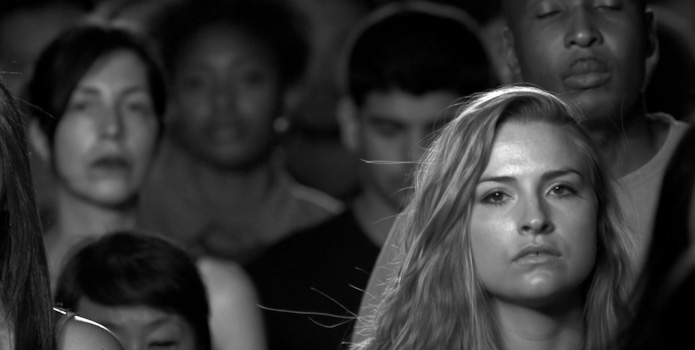 Although it certainly offers some degree of diversity, over the years the Toronto International Film Festival (TIFF) has become known for its glitzy premieres of star-studded films that vie for Oscars.
Godfrey Reggio's experimental film, Visitors is nothing like the rest, making for an especially delicate, unique, and welcome treat. Those familiar
with Reggio's work, know of his QATSI trilogy Koyaanisqatsi (1982), Powaqqatsi (1988), and Naqoyqatsi (2002). Those who are not, enter a whole new brave world with Visitors.
More than just a movie, Visitors is a one-of-a-kind cinematic experience. Accompanied by 66 members of the Toronto Symphony Orchestra, the film premiered at the Elgin Theatre, with Reggio, composer Philip Glass, editor/associate director Jon Kane, and presenter Steven Soderbergh in attendance.
"How does one describe in words a film that does not include a single one?," Soderbergh posed to the audience. The beauty of this film, according to Soderbergh, is, "If you show this movie to a hundred people, you get a hundred different responses."
And so Visitors begins with a black and white image of Triska, a female gorilla from the Bronx Zoo, presented in stunning digital 4K projection. Then other faces—human ones—begin to appear. First, their movements are so subtle that they appear to only be photographs, but even the slightest movement becomes powerful.
There are many expressions. Some seem lost, others happy, frustrated, angry, or sad. It's hard to tell exactly what these expressions are and how they relate to each other. The camera lingers on them so long that we have time to take in even the most minute detail and it all suddenly becomes significant. Occasionally, there are locations thrown in: An empty amusement park, a warehouse, a tall empty building. Philip Glass's beautiful score weaves the images together and sets the mood perfectly.
There's a real mystery to the purpose of the expressions. Why are they responding in such a way and how did they get there? (Turns out that they were filmed with hidden cameras). Ultimately it becomes clear, that the audience members, too, are visitors.
Cinedigm will release Visitors early in 2014, but this isn't a straightforward film to show; it is intended to be seen on a different scale than other films. The producers hope that the film would continue to be shown as an "experience," accompanied by a live orchestra, presented in 4K. Later, they suspect the sound will be pre-recorded, which will no doubt alter the experience.
In the press notes Soderbergh wrote, "If, 500 years ago, monks could sit at a bench and make a movie, this is what it would look like." It turns out that Reggio is a former catholic monk.
Reggio says his film is about the audience but that the audience is not merely a voyeur. We are also the subject of the gaze. The reciprocal gaze.
Visitors looks back at you. It requires patience, yet leaves you transfixed.
---