TIFF 2013: President of the Club of Romantics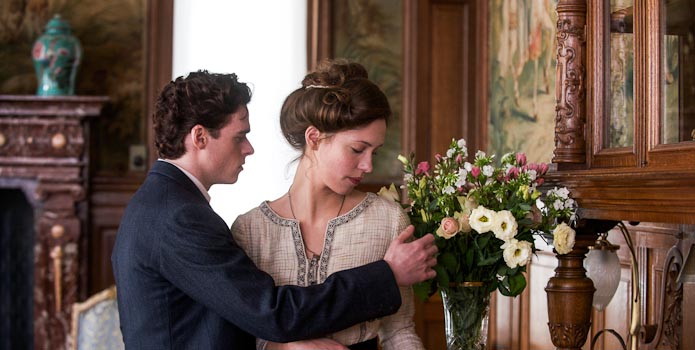 A Promise is a romantic drama filled with silent glances, small gestures, and hidden emotions. It is set in Germany, just before WWI, and revolves around a married woman (Rebecca Hall) who falls in love with her husband's (Alan Rickman) protégé (Richard Madden).
The film had its North American premiere at the 2013 Toronto International Film Festival and is French director Patrice Leconte's first English-language film. A prolific filmmaker in France and well-known to English-speaking audiences with a keen interest in foreign language films, some of his past films include Girl on the Bridge, The Widow of Saint-Pierre, Man on the Train, Intimate Strangers, and, most recently, The Suicide Shop.
Leconte spoke with The Independent through an interpreter, after apologizing for not being able to conduct the interview in English.
When asked about shooting in English, a language he doesn't speak, Leconte explains that A Promise was originally intended to be shot in German, as a co-production with Germany, but that deal fell through. In some ways, he says he felt relieved. First of all, he speaks no German at all. Second, he confesses, being a "French filmmaker filming in Germany is something that feels a little strange."
But that opened the door for him to try something new at age 65. Leconte considers English to be a universal language that is capable of reaching a wider market. It also allowed him to work with English actors, which he admits "is something I have been dreaming of for a long time."
Leconte didn't find language to be a roadblock on set. "Actually it was very easy and very harmonious," he insists. He credits his actors for being very professional, extremely talented, and attentive. "I was actually very straight forward and I would explain to them that I was not bilingual and sometimes I would be totally lost so they were very patient with me," he explains, "but it didn't end up being that complicated." He says that he still found a way to precisely express himself.
When it came to casting, decisions were quick. After all, Leconte knew exactly what he wanted. Rebecca Hall not only fit within her character's social status, but she also reflected a certain lightness, happiness, and joy. With Alan Rickman, Leconte found someone who was a "little impressive, someone you might fear a little bit, and would respect."
A Promise is based on Stefan Zweig's novel, Journey Into the Past. A very close friend of Leconte's told him he thought that Leconte would find a movie within its pages. "Actually, I really got into that universe," Leconte recalls about picking up the book. "It's me. It's things that are interesting for me. It's a network of feelings and emotions, of looks, things not said." He pauses then adds, "I'm actually quite certain that I'm very much enchanted just to talk about love stories, to tell love stories."
Love triangles are nothing new, but the idea of a man and a woman who are in love but do not dare say so—that was something that touched Leconte immensely. "It's something that is kind of floating above their heads," he explains. "What I found really interesting is that promise—that pact that they make with one another—with the woman saying that 'I'll be yours, I'll belong to you later on' and those two years became six because of the war and is it possible [for this love to survive]? I found that very original."
To say that the story and relationship unfolds as a bit of a slow burn is an understatement. The "promise" doesn't come until quite late in the film. "The idea of this gave me a sense of vertigo," says Leconte. "I hope I managed this. It was not easy having all these feelings being withheld during the filming without [ending up with a] sense of dryness, of coldness. I still wanted, beyond the withholding of the feelings, to have the feeling of some warmth."
Although the movie is set in an historical time period, for Leconte, "the role of a movie is to dream about things that we may not live, and this I feel is relevant because even if it's a story about the past, it calls those feelings that are not out of fashion at all. It is something that we would want to live, we might dream of living."
Ultimately, Leconte himself is a dreamer, a romantic. "We live in a society where very little space is given to feelings and I feel that this is a sad thing. I'm the president of the Club of the Romantics. Even if that club does not exist, I'm absolutely not ashamed to say that it's really important for me. It's thanks to that that I feel alive, it's thanks to that that I get up every morning."
It can be said that Leconte lives in a state of perpetual dreaming, going from one movie to the next. "I realize that my life, day after day, is totally turned to focus on movies and I'm not sure whether it's good or not that I let myself be invaded to that point," he offers. "I try to take a breather, I try to take some space but I don't seem to manage do it."
Life itself becomes an extension of a movie for him. "Wherever I go, whatever people I see, I'm always kind of looking and observing as if I had a camera in my eye all the time—I'm always seeing things as if a movie is to be made, as if almost everything I see is seen through the filter of making movies," he reveals.
When asked if he believes that movies are able to change people's lives, Leconte offers this experience: "I remember years back there was a movie I did called The Hairdresser's Husband and a friend of mine who is also a director saw the movie during a private screening. When he came out of the room he was in tears. He said that this movie made him realize that he was not in love enough with his wife. And I found this was just such an amazing reward to be able to communicate such strong emotions like this."
---