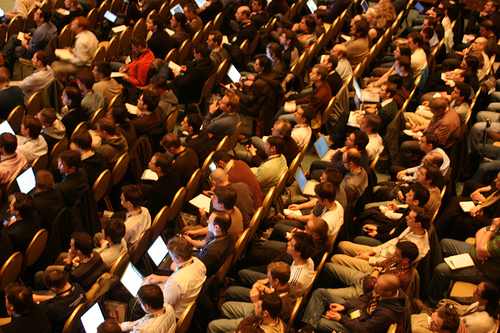 In addition to attending film festivals to screen or network on behalf of an independent film, a diverse array of industry professionals attend film markets. At film markets, the focus is on commerce. The goal of attending can be to make production and distribution deals, learn about new products or segments of the industry, or to meet experts within the field. Film markets are sometimes held in conjunction or association with film festivals, but this is not always the case. Filmmakers can also attend film markets for research: they come to see the films and meet the production and distribution companies behind them.
The activities at film markets can include film screenings, workshops, seminars, panel discussions, networking sessions, trade shows, and pitch opportunities. Many different types of professionals attend film markets, including distributors, acquisition and development executives, festival directors, funders, agents, attorneys, press, governmental agency representatives, directors, producers, and writers.
For filmmakers with a project in its early stages, film markets often present opportunities to to screen works-in-progress or to pitch films in either a one-on-one or competitive, public setting. Like festivals, there are deadlines and fees associated with applying to present projects.
Film markets often sell three different kinds of passes to 1) exhibitors 2) buyers and 3) attendees. Exhibitors are entertainment companies, especially production and distribution companies, that rent space at the conference (often paying anywhere from $2,000 to $10,000, and sometimes purchasing screen time) and come to sell their films (or "content," if the market is not exclusively for films). Buyers are often pre-screened and accredited industry professionals who come to the market with the intent to buy the rights to one or more films. Anyone can attend a film market (though there are closed markets), as long as they are able to cover their own travel, accommodations, and attendee pass costs.
Most film markets run annually over several days (usually around one week). Often film markets address not only films, but also television content, and other multi- or transmedia content. Film markets can be broad or specialized in scope (i.e. a film market for only documentaries vs. a general film market). The following is a list of the most popular film markets in the world, in alphabetical order.
American Film Market (AFM)
Where: Santa Monica, CA
When: November
Cost of Attendance: $250 – $1,500
Learn more at http://www.americanfilmmarket.com
CineMart
Where: Rotterdam, Netherlands
When: January
Cost of Attendance: No fees if selected (this is a application-only, project-based, co-production market. Filmmakers apply in September)
Learn more at http://www.filmfestivalrotterdam.com/en/cinemart/
European Film Market (EFM, associated with the Berlin International Film Festival)
Where: Berlin, Germany
When: February
Cost of Attendance: € 60 – € 350 (Approx. $80 – $500)
Learn more at http://www.efm-berlinale.de
Hong Kong International Film & TV Market (FILMART)
Where: Hong Kong
When: March
Cost of Attendance: $285
Learn more at www.hkfilmart.com/hkfilmart/ ‎
Hot Docs
Where: Toronto, Canada
When: April/May
Cost of Attendance: $345 – $845
Learn more at www.hotdocs.ca/conference/market_and_forum/
Independent Film Week / Project Forum (formerly known as IFP Market)
Where: New York, New York
When: September
Cost of Attendance: $60 – $300
Learn more at http://www.ifp.org
INPUT (International Public Service Television Screening Conference)
Where: International location changes every year
When: May
Cost of Attendance: $60 for delegates, no fees if selected (filmmakers and producers apply in November)
Learn more at www.input-tv.org
Marché du Film (associated with Cannes International Film Festival)
Where: Cannes, France
When: May
Cost of Attendance: € 275 – € 375 (Approx. $375 – $500)
Learn more at http://www.marchedufilm.com
MIPCOM
Where: Cannes, France
When: October
Cost of Attendance: €1,000 – €1,500 (Approx. $1,400 – $2,000)
Learn more at http://www.mipcom.com
MIPTV
Where: Cannes, France
When: April
Cost of Attendance: €675 – €2,200 (Approx. $900 – $3,000)
Learn more at http://www.miptv.com
National Media Market (NMM)
Where: Charlestown, South Carolina
When: November
Cost of Attendance: $225
Learn more at http://www.nmm.net
NATPE
Where: Miami, Florida
When: January
Cost of Attendance: $925
Learn more at https://www.natpe.com
Sunny Side of the Doc
Where: La Rochelle, France
When: June
Cost of Attendance: $550
Learn more at http://www.sunnysideofthedoc.com
TIFFCOM (Content Market at the Tokyo International Film Festival)
Where: Tokyo, Japan
When: October
Cost of Attendance: JPY 10,000 – JPY 20,000 (Approx. $100 – $200)
Learn more at https://www.tiffcom.jp
Editor's Note: we added NMM on 10/29/13 and Hot Docs on 1/2/14
---