New Directors/New Films 2014 – Critic's Choice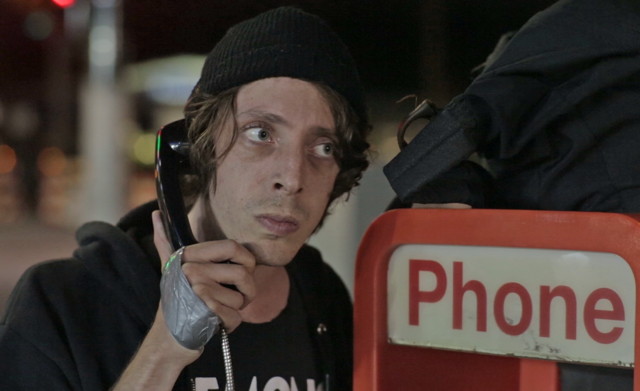 New Directors/New Films showcases emerging international cinema in New York from March 19-30, 2014.
Senior film critic Kurt Brokaw is viewing the 42nd annual New Directors/New Films (all 27 features plus 11 shorts) and presents his critic's choices below.
Quod Erat Demonstrandum
(Andrei Gruzsniczki. 2013. Romania. 107 min.)
This lead review is dedicated to the living memory of Quod Erat Demonstrandum, possibly the worst title in the history of Romanian cinema. What marquee could physically support it? Even if you managed to hammer it up, who could pronounce it? And who besides a math or Latin major could tell you what it means?
You're certainly aware of the crop of talented young Romanian auteurs, because they keep making movies that lament the evils their parents endured under the crippling Communist regime of Nicholas Ceausescu. But those titles! The Death of Mr. Lazarescu skewered the country's broken hospital system… Four Months, Three Weeks and Two Days examined the back room abortion racket… Police, Adjective laid bare the craziness of a precinct captain's law-and-order obsessions… Beyond the Hills tackled the Orthodox Church and its condemnation of lesbian relations. The consistent bottom line of all these brave and thoughtful films has been "never again." Romanian filmmakers pledge never to live under the kind of dictatorships and institutions that cruelly crushed the hopes of their ancestors, but they keep sticking titles on their movies that almost guarantee they'll languish in indie hell forever.
Let's shorten Quod Erat Demonstrandum to QED, a phrase you may be more familiar with, along with its common meaning: something-that-had-to-be-demonstrated. It's been part of the language forever, and was commonly used by the mystery writer Ellery Queen back in the 1930s as Queen's Elementary Deduction. The mystery heritage has some bearing on Gruzsniczki's eloquently somber probing of Romanian high-tech academic life circa 1984. His film places its theorists and mathematicians under the tightening scrutiny of Ceausescu's top-secret Securitate agency. Modestly filmed in black-and-white and blissfully free of the slower-than-molasses pacing that often hobbles Romanian cinema, QED harkens back to a more traditional form of espionage moviemaking—there are distant echoes of 40s American films like OSS, The Iron Curtain and The House on 92nd Street. Betrayals are afoot.
The director quickly introduces the grim and humorless Alexandru (Florin Piersic Jr.) as the lead Securitate agent. He's 45, divorced and alone in his manicured Bucharest flat, about to start surveillance (phone tap and apartment search) on a math teacher. Sorin (Sorin Leoveanu), who teaches second and fourth year university students, lives with his mother and is just shy of the PhD that he'd like to finish; his goal is sharing a new theorem with the world through publication. But since he's not a Communist party member, Sorin is viewed only with suspicion by the state, and his doctoral progress is on permanent hold.
The intersecting female is Elena (Ofelia Popii), a computer expert and friend of Sorin's who works in an office where the primitive, boxy systems have keyboards that clack away like 30s Underwood portables. Elena's goal is gaining government permission to rejoin her husband who went to France to give a paper and decided to stay, urging his wife and their son to leave Romania. Sorin is drawn to Elena both professionally and personally, and works on persuading her to smuggle out his research paper. Naturally she also becomes an object of intense interest to the ominous Alexandru. It's a clean, accessible story.
Gruzsniczki's detailing of everyday frustrations under the Ceausescu regime is QED's most memorable demonstration: Gas lines clog the streets for blocks. The lights go out all over the city at night for hours. People wait for bananas almost as long as for the few expensive TV sets produced by state-run enterprises. Sorin must redeem empties for pennies; Elena's dad puts aside bootleg cartons of Kents to resell. We watch this and understand why Elena's husband wants her to choose freedom over this dispiriting quality of life. Will Elena and her son get on that plane?
Convincingly acted and confidently produced, this is a worthy addition to the ongoing tales of a nation that spent generations in quiet, desperate turmoil.
Quod Erat Demonstrandum shows March 20th at 9 pm at The Film Society of Lincoln Center, and March 22nd at 3:30 pm at The Museum of Modern Art
Afronauts
(Frances Bodomo. 2014. USA. 14 min.)
Inventive creators of shorts can sometimes compress very big ideas into very small packages.
If you were alive in July 1969, you probably remember watching astronauts Neil Armstrong and Buzz Aldrin land on the moon and hop around in grainy slo-mo televised images, anchored by CBS-TV newscaster Walter ("old iron pants") Cronkite's warm and admiring commentary.
That same year, in Zambia, to celebrate the country's newly won independence, a grade-school science teacher, Edward Makuka Nkoloso, decided to start a Zambian space program that would launch a rocket to Mars with an astronaut space girl—a 17-year-old named Matha—and her cats onboard. Nkoloso applied to UNESCO for a huge grant he never received, but he cobbled together costumes, flags, a homemade rocket, and training apparatus. He set up a science facility near Lusaka and brought in rope swings and other props to simulate weightlessness. His own African desert certainly doubled as a Martian landscape. Nkoloso didn't have the equipment or money to make a movie of any of this.
Fast-forward to 2012. Cristina De Middel, a Spanish documentary photographer, published her book The Afronauts
, a re-creation of Nkoloso's 1969 dream with photos, drawings and sculptures. Spacesuits were woven from African fabrics, a streetlamp globe doubled as a space helmet—De Middel's book is a gorgeous, respectful tribute to Nkoloso's vision.
This intrigued writer/director Frances Bodomo, an NYU student in the Tisch School of the Arts Graduate Film Program, who needed a film idea for a pre-thesis project. De Middel's book and Bodomo's short film are different re-creations of the 1969 events, and De Middel has been an informal adviser to Bodomo.
The short briskly condenses the events described above. The Jersey shore doubles nicely for the African desert. Bodomo's teenage astronaut is portrayed by the albino model Diandra Forrest; encased in a glass helmet, she packs authority and allure. The spacecraft looks like papier-mâché and would have delighted the Zambian science teacher—Walter Cronkite never knew what he was missing.
Afronauts (part of Shorts Program #1) shows March 22nd at 1 pm at MoMA, and March 23rd at 1:15 pm at the Film Society of Lincoln Center.
Buzzard
(Joel Potrykus. 2014. USA. 97 min.)
You can tell Michigan-based writer/director Joel Potrykus was a former film critic by the way he describes his first feature: "If you dig on junk food, heavy metal and angry young men, then come party with Buzzard. It's an art film disguised as a violent, slacker black comedy nightmare. Anti-mumblecore. It's like Albert Camus meets Freddy Krueger." That's as vivid and accurate as anything you'll read here.
Buzzard takes us on a close-up downward spiral in the dreary, increasingly volatile life of Marty Jackitansky (Joshua Burge, also seen in Potrykus' Ape and Coyote) a $10-an-hour back office temp in a mortgage firm. People assume he's Polish though he says he's a White Russian—a tall, skinny, slinky-but-not-quite-skanky dude who seems constitutionally incapable of telling the truth about anything. Wearing a shirt and tie, he can pull off gaming the system from the opening scene in which he closes his $250 checking account at his bank, then re-opens a new account to get the $50 lure the bank is offering to new customers. This is Marty, and this is the punk, dime store edition of American Hustle and The Wolf of Wall Street.
One critical difference is that Marty never has the price of a drink, let alone a drug. He's too busy hauling those out-of-date mortgage firm giveaways back into stores for refunds, or carrying small-amount customer refund checks to the bank for cashing (having endorsed them over to himself). Marty's a nickel-and-dime hustler who's barely making enough to maintain his spinner-rack collection of E.C. comics and death metal LPs. His room is decorated with horror movie posters, and his pride-and-joy is a Nintendo glove he's refashioned into a Freddie Krueger killing machine with metal blades and armature fingertips. When he starts filing away on those blades, we begin to see Marty's potential as a Freddie wannabe, a 21st century version of Travis Bickle. And when Marty finally loses it and becomes a new millennial Travis/Freddie, we find ourselves suddenly squirming in a movie that's crossed genres and ambushed our emotions.
Potrykus is enormously shrewd in how he foreshadows this creep. One moment Marty's on the phone with his parents, patiently and respectfully telling them how well he's doing in his corporate job and how he cherishes his independent lifestyle. The next moment he's badgering a co-worker into letting him crash in his cellar bedroom, eating the chap's food and taking over his sofa bed. Later there's a long scene we watch with fascination of Marty in a motel room, staring at some mindless movie, shoveling in and devouring a gigantic plate of spaghetti and meatballs without a cut. We're thinking about this inert, gangly train wreck and wondering how many post-college grads stuck in unpaid internships and unemployment lines will be drawn to Buzzard as a perfect portrait of how life has failed them.
Buzzard's writer/director lives in Grand Rapids and comes across as thrilled to have his movie debuting at SXSW and showing in New York in ND/NF, at the prestigious Museum of Modern Art. He'd love to have it shown in Alpena, Michigan, his hometown, except that "the theater is owned by an organization full of buttholes who are delusional about ticket sales and don't care one bit about supporting the arts or hometown kids." Right now Potrykus is an uncompromising and sassy artist. He's a culture jammer, a cinematic version of Banksy. Keep biting asses, Joel.
Buzzard will be shown March 23rd at 6:15 pm at the Film Society of Lincoln Center and March 24th at 8:30 pm at MoMA.
The Babadook
(Jennifer Kent. 2014. Australia. 94 min.)
On the theory that Buzzard may have whetted your appetite for a real horror film, New Directors/New Films has a beauty. This first feature by Australian writer/director Jennifer Kent is the best monster-on-premises movie since Ti West's singular The House of the Devil (2009), a film so true to its 70s roots that a special VHS edition was issued in a plastic shell for collectors who keep their VCR heads cleaned and in good working order.
The Babadook starts as a familiar one-trick thriller—a patient, widowed, and lonely mom and her nasty, hysterical son is being manipulated by a spooky children's book. But it gradually transforms into a two-trick thriller as mom brandishes the butcher knife and starts going bonkers under the influence of whatever's driving the book, and her child becomes the innocent sufferer and victim. This is a role reversal so deft and unnerving, it whirls The Babadook into the realm of a minor horror classic, while you're practically crawling under your seat.
The mother, Amelia (Tasmanian actress Essie Davis), is still grieving over the death of her husband in a crash while driving her to hospital to deliver their son, Sam (Noah Wiseman). Now she must cope with a six-year-old under the influence of the storybook, Mister Babadook (illustrated with pop-ups by Alex Judhasz) that's found its way onto his bookshelf. Sam is dismissed from school for bringing in a crossbow loaded with darts; then pushes his cousin out of a tree house, and ends up having a panic attack and convulsions. Through all this, shards of glass are turning up in Amelia's soup and their house lights are flickering as the Babadook's sandpapery voice and image (tinged with Nosferatu-like expressionism) are poised over her bed. The good mom/bad child relationship is primed to reverse.
Sam's prescribed medications stabilize the boy, but the film suggests that Amelia's meds may be the gateway drugs that let the Babadook book (which Amelia has hidden, cut up and finally burned) and its monster re-manifest themselves. Bugs crawl out of Amelia's kitchen wall and up her dress as she's driving. She tries to report the Babadook stalking to the police, but spots its evil black cloak hanging on a precinct hook. This is the film's transition phase as Amelia starts to visualize her dead husband (and a whole lot else) in the basement. A slew of frightening twists follow, and several—like the fate of the family dog—are gruesome, stretching the boundaries of myth making into harder horror that's a whisker away from slice-and-dice.
Davis and Wiseman are a splendid mom and son match, and both are pitch-perfect screamers. The Babadook is an ideal fit for IFC Midnight, where at some future point it surely should be partnered with West's The House of the Devil for every New York terror cineaste who's a double-dipper.
The Babadook shows March 22nd at 9:30 pm at the Film Society of Lincoln Center and March 23rd at 9 pm at MoMA
Greenland Unrealized
(Dania Reymond. 2012. France/Taiwan. 10 min.)
Afronauts built on and from historical events that impacted the world. Another creative route worth paying attention to is the short Greenland Unrealized that amplifies a vision, realized or unrealized, by a master filmmaker.
Michelangelo Antonioni began his career in the 1930s writing for Italian journals. One article contained his treatment for a feature film (based on the story Terra Verde by Guido Piovene) to be set on an island undergoing massive climate change, from mild weather to freezing Arctic blasts; its inhabitants were unable to cope and had to move.
Antonioni was intrigued with how screen color could change to match the shifting environment. He wrote of "landscape taking on the totality of an impossible palette [with] the sea made up of the most beautiful of colors, like minerals collated in a museum… the sun which lightly touches the water without setting or remains in a wait a little beneath the burning horizon, tinting over the hanging clouds red, while the sea is of the purest steel making one dizzy: these are truly apocalyptic scenes."
The director never made this film, though Antonioni's obsession with landscape and color fills Red Desert and The Passenger. Zabriskie Point would become his apocalyptic desert tale.
Dania Reymond's ten-minute essay tribute is divided into two sections: a black-and-white montage of computerized images of land and sea masses that dissolve into a long, low helicopter move across pristine glaciers in stunning widescreen color. Narration and music honor Antonioni's vision, at once suggesting that global warming is reversing Greenland's glacial landscape as well as Antonioni's vision, which the director could never have foreseen 80 years ago. As a short, it's an ecological wake-up call framed as a tiny cinematic wonder.
Greenland Unrealized shows as part of Shorts Program #2 March 29th at 12:30 pm at FSLC and March 30th at 2 pm at MoMA.
20,000 Days On Earth
(Iain Forsyth & Jane Pollard. 2014. Great Britain. 95 min.)
Nick Cave is deep in the memories that inform his 30-plus year career as the musician New Music Express calls "the grand lord of gothic lushness." Here's just one:
Cave is describing a concert at which he introduced Nina Simone (1933-2003), the moody, volatile blues singer whose RCA Records ads headlined her as "The First Liberated Woman." In Cave's story, Simone demands she be introduced as "Dr. Nina Simone," and for this show, as usual, she strides to the footlights and angrily stares the audience into the total silence she demands before she performs. Then she walks back to her piano, removes a large wad of gum from her mouth and sticks it onto the piano. And then she delivers a magnificent, fully realized set, gradually warming to and bathing in the crowd's respectful attention and applause. She reaches out at the end and touches hands in the front rows. Back in her dressing room, exhausted, she orders champagne, cocaine, and sausage, and devours it all—Cave, a born storyteller, loves this one.
The directors of 20,000 Days On Earth, Iain Forsyth and Jane Pollard are British visual artists whose avant-garde projects have involved David Bowie and The Cramps, and whose work has included audiobooks and subliminal insertions of musical bits. As filmmakers they've steadily committed themselves to translating and promoting Cave's later albums.
The 20,000 days of the title are how long this rock God has been on earth, and the three minutes that summarize the highlights of his life (frequently a bad-boy life, leading a drug-and-violence-prone Australian band called The Birthday Party) accompany the opening title credits as a dazzling flash-cut montage. Those three minutes encapsulate a life he's survived and transcended. Most of the remaining 92 minutes are Nick Cave today; this is not a biopic doc in any conventional sense. Rather, it's an immersion in the mysterious creative process of songwriting, composition, and recording—easily the most innovative and completely realized work of art in this entire ND/NF festival.
"I love the feeling of a song years after you've made it, when you know the song's still in charge," Cave muses. We watch him pecking away in his handsome study on a portable typewriter—"it's a world I'm creating," he narrates over his typing, "a world full of monsters and heroes, good guys and bad guys, an absurd, crazy, violent world where people rage away and God really exists." In addition to "thinking up the ideas that find their way into three verses," he's scored several major movies including The Road, written a book of lyrics and poems, King Ink
, plus two novels.
He ticks off his influences: Orpheus, Nabokov's Lolita, Lionel Ritchie's "All Night Long," the unending rain in Brighton where he lives with his wife and children, Stagger Lee (Cave's version is nasty bawdy). One of Cave's novels, The Death of Bunny Munro: A Novel
, has strong shadings of the neo-noir crime maestro, Jim Thompson; both of Thompson's biographers, Robert Polito and Michael McCauley, have recognized the 1950s writer's influence on Cave. McCauley's bio reprints Cave's "Prayers on Fire" lyric up front: "This place is hell to me / With the Devil in my bed / And the Devil in this bottle / And the Devil in my head / l'll meet you in Heaven again / If you wear that dress again / I'll have one more drink my friend."
Throughout this burrowing, bruising, self-analysis of his work, Cave has stylized conversations with friends like singer Kylie Minogue, who appears magically in his Jaguar, and author Darian Leader who sits in as the singer's psychiatrist. We get to eavesdrop on Cave's recording session with the Bad Seeds, his band since 1984, of his 15th album Push the Sky Away. Cave has his own studio, La Fabrique, in a fabulist 18th century manor in southern France.
But the longing and need for true audience contact remains uppermost in this singer's thoughts. The Nina Simone anecdote stresses the intimate contact—the touching of fingers—she made with the front row. That urge seems to be a key motivation for Cave's exhausting, sold-out tours as much as his obvious affection for Warren Ellis, his primary music collaborator and violinist/guitarist, and his other bandmates. Their fond recall of Jerry Lee Lewis and Lewis's band defines this vividly—how Jerry Lee's sidemen aimlessly plowed through an intro set until "The Killer" vaulted on, when they suddenly snapped-to like a well-oiled machine, even physically assisting Lewis in getting a leg-up as he crawled on top of his piano.
In the mesmerizing concert footage from The Sydney Opera House that closes this portrait, we watch Cave, backed by his full-tilt band plus a string section and even a children's chorus, work an audience with a stalking savagery that's almost primeval. Rail-thin in a black suit, strutting and posturing and aiming leg-kicks to the heavens, he's full of fever dream and sexual swagger, a more tightly wound and rigidly controlled blend of Iggy Pop and Jon Spencer, both of whom he physically resembles.
Cave works perilously close to the crowd, bending and reaching to touch the fingers and foreheads of young women oozing sweat in that front row, who nearly melt before his eyes. With Lou Reed gone, Cave may be inheriting the mantle of the lone Phantom of Rock (as Patricia Kennealy-Morrison once described Reed in the RCA ad welcoming Reed as a solo artist). Think of it—Nick Cave as rock's enduring Phantom.
If you were going to make a narrative drama on Cave's life—and you watch, someday some crazy director will—the actor you'd want to see play him is Jeremy Irons, 20,000 days on earth ago.
20,000 Days on Earth shows March 30th at 7 pm and 9:30 pm at the Film Society of Lincoln Center. Note: Read Sundance 2014 coverage by The Independent on 20,000 Days on Earth here.
This concludes critic's choices. Next up will be the Tribeca Film Festival, April 16-27, in New York City.
Originally published March 12, 2014 with additions made on March 17, 2014..
---