Cinematic Lessons From a Cold War Era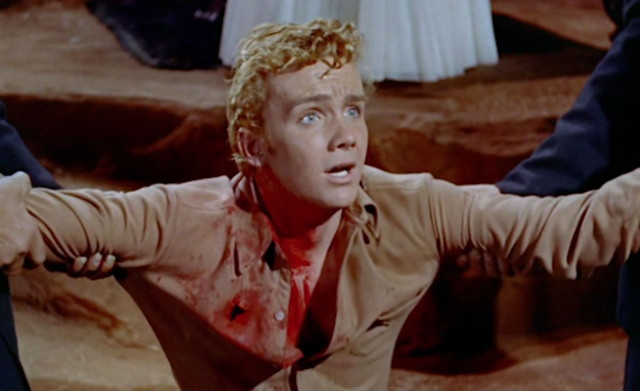 Senior film critic Kurt Brokaw revisits the reissued 1995 doc, "Red Hollywood."
Red Hollywood
(Thom Andersen, Noël Burch. 1995. USA. 119 min.)
With Russian President Vladimir Putin's annexation of Crimea and deepening incursions into Ukraine, US relations with the Kremlin have taken on an ominous chill. Not that Congress is likely to fall into the anti-communist hysteria of the 1950s, when Senator Joseph McCarthy's efforts succeeded in blacklisting major Hollywood directors, screenwriters, and other fellow workers who were communists, communist party sympathizers, or far-reaching leftists who reached too far for reactionary politicians.
But the re-issue of Thom Andersen, Noël Burch's unprecedented compilation of 53 clips from 30s, 40s, and 50s Hollywood films—many rarely seen and nearly all prescient in their views of class, patriotism, business, and morality—is cause for celebration. If you're in New York August 15-21, 2014, seize the opportunity to see Red Hollywood on a big screen with a live audience; and if you're reading this online anywhere else, simply click here—the original 119-minute doc has been uploaded onto YouTube, humankind's universal viewing platform. Even watching this encompassing doc on a small home screen (assuming it hasn't been taken down), your patience will be richly rewarded.
Red Hollywood establishes its premise with a vivid clip from Nicholas Ray's Johnny Guitar (1954), at the moment when Ward Bond advises a frightened young Ben Cooper who's facing execution, to "tell the truth, that's all we want. Just tell us she was one of you, and you'll go free." "What'll I do?" cries the boy—"I don't want to die!" "Save yourself," murmurs Joan Crawford, another accused. "What'll you do to her?" anguishes the boy. "The law will take its course," smirks an evil Mercedes McCambridge. The boy drops his head in shame, nodding.
That's the drill. There are differing accounts on whether this defining cinematic metaphor was devised by Philip Yordan, the credited screenwriter, or by the versatile Ben Maddow, uncredited, or by Ray himself, also a partial collaborator. (The setup in Johnny Guitar is very similar to another 1954 western not included in the compilation, Silver Lode, in which John Payne's wedding to Lizabeth Scott is interrupted by the arrival of Marshal McCarty (Dan Duryea's shadow reference to Senator McCarthy) who claims Payne murdered his brother).
The premise of both these westerns sets the agenda for Red Hollywood's seven chapter exploration—Myths, War, Class, Sexes, Hate, Crime, Death. Some of these movie scenes are muted, muffled pleas for understanding; other clips are warnings not to crush lawful and democratic dissent; still others reflect the perils of unchecked capitalistic greed; and a few astounding scenes reveal important screen explorations on human rights violations, which American theater owners were discouraged by major studios from even showing. Here are some highlights:
In Myths, we watch screenwriter John Howard Lawson defying questions put to him by the House Un-American Activities Committee (HUAC), intercut with scenes of John Wayne and James Arness in Big Jim McLain (1952) as HUAC investigators frown on an uncooperative witness. In Song of Russia (1944), writer Paul Jarrico, a key talking head throughout the doc, points out that Ayn Rand's HUAC testimony on the war propaganda images of Russian peasants celebrate their deliriously happy lives ("I've never watched so much smiling in my life"). Actor Lionel Stander whistles a few bars of the communist "Internationale" anthem in No Time To Marry (1938, scripted by Jarrico) and is later blacklisted.Eric Johnson, then head of the Motion Picture Association of America (MPAA), grimly narrates footage of the real-life "Hollywood Ten," the most mainstream industry names fingered by HUAC (prompting director Billy Wilder to cynically comment "of the ten, two had talent, the others were just unfriendly"). Writers Alfred Levitt and the better known Abraham Polonsky weigh in, commenting that the most telling screen scenes reflected profound beliefs of the writer and were not just attempts to "slip something past" the studio and the MPAA. An example given is Clifford Odets' work in The General Died At Dawn (1936), with American mercenary Gary Cooper slugging a ne'er-do-well for admonishing natives who pay no taxes, as Coop sternly explains that "they're poor and don't have the money to pay taxes."
The War section is extensive and varied. Henry Fonda decries "the murder of innocent people" in the Spanish Civil War shown in Blockade (1938, scripted by Lawson and Odets). Walter Huston travels to Russia to learn the Soviet system and becomes an admirer of Stalin in Mission to Moscow (1943). Spencer Tracy (scripted by Ring Lardner, Jr. and Michael Kanin) demos US prejudice against foreigners in Woman Of The Year (1941), as he ribs a turban-wearing gentleman at a cocktail party whose only English is a smiling "yes" to everything. In The Man I Married (1940), Joan Bennett, unknowingly married to a Nazi, is strongly advised to buy a VW auto, then selling for just $400.In Pride of the Marines (1945, adapted by Albert Maltz and Marvin Borowsky), John Garfield's family is so disbelieving of the news of the Japanese attack on Pearl Harbor that they keep repeating "dinner is waiting and the roast will get cold." MGM's 1943 musical, Thousands Cheer, scripted by Jarrico, highlights a song, "United Nations," two years before the UN was officially formed. The Iron Curtain (1948) with Dana Andrews and Gene Tierney, scripted by Milton Krims and based on Igor Gouzenko's personal story, was distributed by 20th Century Fox and became the first (and only) major Hollywood film to posit the threat of a war-weary world dominated by communism. And Joseph Losey's The Boy With Green Hair (1948, scripted by Levitt and Ben Barzman) shows a child so scared by adults' talk about being prepared for war that he shatters a bottle of milk.
The third section, Class, demonstrates Red Hollywood on the side of the destitute. John Garfield and Priscilla Lane, starting out broke in Dust Be My Destiny (1939, scripted by Robert Rossen) get a free quart of milk from an understanding milkman. The President's Mystery (1936, by Nathanael West and others from an idea by President Franklin Roosevelt) wonders whether a rich man with five million dollars can start life over as a poor man. Spencer Tracy sides with labor in Riffraff (1932), and Richard Dix leads a chain-gang revolt in Hell's Highway (1940). An aviation engineer and a government secretary spark in Government Girl (1943). Humphrey Bogart defends a seaman (Dane Clark) in Action in the North Atlantic (1945, scripted by Lawson and others). Mark Stevens and Joan Fontaine suffer unemployment and worse in From This Day Forward (1946, contributions by Odets). In Nick Ray's first picture, They Live By Night (1948), Farley Granger and Cathy O'Donnell settle for a no-frills $20 marriage (sans organ and flowers) from a smiling minister who's happy to "give folks what they want."One of the most telling clips in the Class section is from Body and Soul (1947, directed by Rossen, written by Polansky), the first major US drama on boxing. John Garfield's impoverished working class roots are revealed in a raw scene in which an unfeeling social worker cruelly digs into his mother's financial secrets, shaming her in front of her son. Another scene which has an eerie ring of truth today is from Saturday's Hero (1951, scripted by Sidney Buchman) in which college football star John Derek, wearing a sweatshirt labeled "Property of Jackson U" ironically finds himself exactly that; even with a badly injured shoulder, he's told he has to play because "this is a business."
Sexes. As you might suspect, this starts in a light vein and quickly darkens. Society gal Genevieve Tobin flirts with office boy Douglas Fairbanks, Jr. in Success At Any Price (1934, Lawson adapted his play), telling him "I could teach you a few things." Eventually they marry and, sitting morose at opposite ends of a 30-foot, drop-dead dining room table, discover money can't buy happiness. In Marked Woman (1937, scripted by Rossen), Bette Davis is an exhausted nightclub hostess, exploited by her male bosses, who comes home "all fagged out" on her $12.50 weekly salary. Dalton Trumbo's Sorority House (1939) finds Anne Shirley arriving late to college and being ignored by the sororities on campus. Ginger Rogers enters a stylized marriage with a fantasy playhouse in Tom Dick and Harry (1941, Jarrico's screenplay). In We Who Are Young (1940, Trumbo's screenplay), Lana Turner loses her corporate job because her new husband is employed at the same firm, and she "may be taking away a job from a man." The Magnificent Rogue (1946, directed by Albert Rogell) there's ex-GI Warren Douglas telling his wife Lynne Roberts, who's started her own advertising business while he was overseas, "back to bed, darling, your working days are over."Life toughens up. The strong alcoholism drama, Smashup: The Story Of A Woman (1947, scripted by Lawson and Dorothy Parker), stars Susan Hayward, who's persuaded to give up a singing career to become a stay-at-home drunk, eventually dropping a lit cigarette that burns down the house. Hayward returns in I Can Get It For You Wholesale (1951, adapted by Polonsky and Vera Caspary from Jerome Weidman's novel), as a stymied fashion designer who resists being tied down to her top salesman (Dan Dailey) because "I want to belong to myself." Jarrico and fledgling director Ida Lupino tackle the taboo subject of unwed mothers in Not Wanted (1949) in which Sally Forrest gives up her baby for adoption, then, unable to bear her loss, kidnaps another baby. Finally, Salt of the Earth (1954) posits the original concept of a striking picket line of female Chicano women, one of whose members is killed by a speeding car hired by strikebreaker Will Geer. Jarrico produced, with script by Michael Wilson and direction by Herbert Biberman—all three were victims of the blacklist. Despite positive reviews and brisk business in Manhattan, exhibitors nationwide were warned by the major studios not to play the film, and most did not.
Hate. Lester Cole, Alfred Neumann, and Joseph Than fashioned the screenplay for None Shall Escape (1944) in which Polish Jews, oppressed but united even on a killing ground, are executed by Nazi troops. This scene is in stark but no less compelling contrast to Albert Maltz's ten-minute 1945 short with Frank Sinatra, The House I Live In; Sinatra is shown breaking up a kid gang pursuing a Jewish youngster, then singing the inspiring title song (the short received an honorary Oscar). In Home of the Brave (1949, adapted by Carl Foreman from Arthur Laurents' play) black GI James Edwards survives and recovers from extreme prejudice plus a grievous combat wound through intervention by a trained psychiatrist. And in Ben Maddow's adaptation of William Faulkner's novel, Intruder in the Dust (1949) newcomer Juano Hernandez enacts a Mississippi farmer unjustly accused of killing a white man.
All of the clips selected for the Crime section are films noir, and they're among the best of this genre. Force of Evil (1948, adapted and directed by Polonsky) was one of John Garfield's last films before his sudden death in 1952 at age 39. His refusal to name names shut down his career and may have brought on his heart attack. In Force of Evil, Garfield is a corrupt Wall Street lawyer drawn to save his older brother (Thomas Gomez) from "dying while he's living."
Try And Get Me (1950) is Cy Endfield's ferocious tale, based on a 1934 true incident, of two murderers (Lloyd Bridges plays a stylish but vicious punk, and Frank Lovejoy acts a dirt-poor family man dragged into the killing) who are hauled from their jail cells and lynched by an angry mob. In Quicksand (1950), the desire for a mink coat in a show window lures Jeanne Cagney into the clutches of two-bit auto mechanic Mickey Rooney. And in John Huston's essential heist drama, The Asphalt Jungle (1950, screenplay by Ben Maddow with assists from Huston and novelist W.R. Burnett), a gang works out all the details of blasting open a safe. Though it won an Oscar, spawned a television series, and became the archetypal caper film, the studio disliked Huston's Jungle, as it barely broke even at the box office.
The final section is Death. Brief additional scenes from Iron Curtain and Force of Evil are shown, as well as quick clips from The Red Menace and Walk East on Beacon! In 1949, RKO czar Howard Hughes offered the script of I Married A Communist a/k/a The Woman on Pier 13 to over a dozen directors as a chance to affirm their patriotism; all turned it down, and the film with Robert Ryan and Laraine Day, not a memorable noir, was helmed by a British director.
Several of the final clips grimly reflect fears and frustrations before and after the blacklist: On the Waterfront (1954, directed by Elia Kazan and adapted by Budd Schulberg from his own novel), stands among the most debated films of the 20th century. It's recognized (both pro and con) as Kazan's bitter response to those who attacked him for naming names before HUAC. Marlon Brando is the dockworker whose brother (Rod Steiger) is murdered by Lee J. Cobb's waterfront mob and finds himself nearly beaten senseless by Cobb's thugs. But the rank-and-file won't go back to work unless Brando, the battered ex-prizefighter, leads them in and so, bloodied but standing, he does.
He Ran All The Way (1951, screenplay by Trumbo, credited to Guy Endore and Hugo Butler, from Sam Ross'
novel) was Garfield's last film. Like The Asphalt Jungle, it's another heist that falls apart, and Garfield takes a family hostage (Shelley Winters is the daughter and bakery girl)…but he's shot and dies fleeing down a rain-soaked street. The 1947 drama Body and Soul also starred Canada Lee with Garfield; Lee played a black prizefighter who dies in the ring. The actor, who like Garfield was caught in the blacklist, died within two weeks of Garfield at the age of 45.
Tell Them Willie Boy Is Here (1969, written and directed by Polonsky), is the writer/director's post-blacklist triumph, a drama of a Paiute outlaw (Robert Blake) who's wanted for murder and pursued by a sheriff (Robert Redford) who shoots him without realizing the Paiute's gun wasn't loaded. "They'll all know I was here," says Willie Boy, summing up Polonsky's own credo.
The cumulative takeaway of two hours of these clips suggests that far from advocating an alternative political life, most of "Red Hollywood's" writers and directors were trying in sporadic and sometimes awkward ways to address societal wrongs and injustices. For the most part they championed underdogs, as did many studio films of the 30s, 40s and 50s. They inserted indie-style scenes—sometimes only a line or two, a suggested action, a fleeting look—into the most conventional mass-market product. They were independent film artists before there were independent films. Chances are Vladimir Putin wouldn't understand what they were doing any more than Hollywood's studio czars did at mid century. But in incremental ways they began to change how movies were perceived as a mass medium that could inform and educate, as well as entertain. If you watch Red Hollywood carefully, you'll know and remember they were there.
Editor's Note: Screenwriting credits are included more frequently because there were more communist screenwriters than directors. A lot of the films included in Red Hollywood were written by the four screenwriters who are talking heads throughout the doc. Most directors of those same films had nothing to do with the movement.
Red Hollywood screened as part of the Film Society of Lincoln Center's Art of the Real series on April 12-13, 2014 at the Elinor Bunin Monroe Film Center.
It screens again in New York at the Elinor Bunin Monroe Film Center August 15-21, 2014.
---