Michael Apted Talks "Bending the Light" and the Move from Film to Digital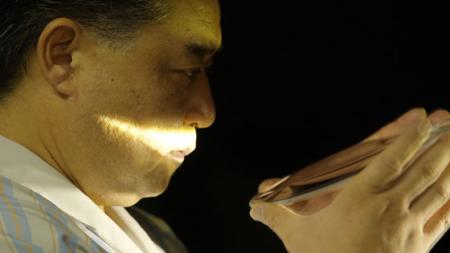 Staff writer Rebecca Reynolds gets a video interview with the famed documentary director at the 10th Traverse City Film Festival.
At this year's Traverse City Film Festival, Independent staff writer Rebecca Reynolds sat down with award-winning director/producer Michael Apted (The Up Series, Masters of Sex, The Chronicles of Narnia: The Voyage of the Dawn Treader, Nell). Apted discussed his latest film, Bending the Light, a 60-minute documentary interweaving interviews with the artisans who create Canon lenses and the cinematographers and photographers from around the world who use them.
In a never-before-seen look inside Canon's Japanese lens factory, Apted shows the professional passion of the dedicated craftsmen who make these lenses; then he gets them to open up personally by sharing a special photo each was asked to bring with them to the interview session.
When asked how he chose the cinematographers and photographers featured in the film, Apted said it was "a daunting prospect," because he "wanted as much variety as I could get." The film includes interviews with renowned celebrity portrait photographer Greg Gorman, Egyptian photojournalist Laura El-Tantawy, New York-based photographer/visual artist Richard Barnes and twice Oscar-nominated cinematographer Stephen Goldblatt, whose films range in visual style from The Help to Lethal Weapon to Batman Forever.
One thing Apted made very clear was that he did not want this to be an "Us and Them" film: He wanted to create character stories, treating both the artisans and the artists with equal respect.
In the video interview Apted also discussed how the Bending the Light project began, the overlap between the artisans and the artists, and his experience moving from film to digital. His indie film work has been in documentaries, so his advice for filmmakers stresses the importance of narrative structure in documentaries: "You have to smell the story. You have to smell the story in one line."
For the complete interview with Michael Apted: Michael Apted Interview at Traverse City Film Festival (TCFF 2014)from Caroline Schaefer-Hills on Vimeo.
Interviewer: Rebecca Reynolds
TCFF10 Videographer: Caroline Schaefer-Hills
---
---
Regions: Japan