We are inching closer and closer to preserving The Independent's print history for you and future generations!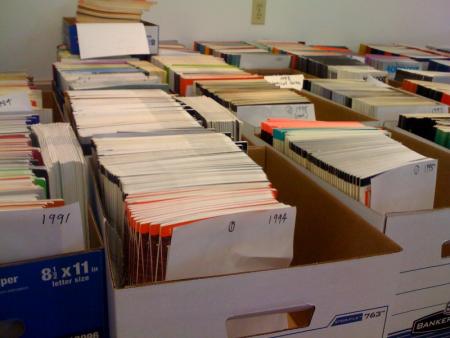 Boxes of the print magazine line the floor of Zingerplatz Pictures' office.
Getting Ready to LAUNCH!
YOU'RE INVITED – Thursday October 30, 2014
Join The Independent and our archiving partner, UMass Amherst Libraries, for a celebration of the launch of our new website and digitized archive. Hosted by UMass Boston Film Series, the FREE evening includes a reception, screening of Captivated: The Trials of Pamela Smart, and panel discussion. Open to all. Starts at 6pm.
Background & Phase One
When AIVF ceased operations in 2006, a new nonprofit, Independent Media Publications (IMP), acquired its assets and made the commitment to carry on the publication aspect of AIVF's mission. What once was The Independent Film & Video Monthly (a coveted and collected print magazine by indie filmmakers in the US and beyond), became the now online Independent in October 2007 and the fate of the print magazine remained a bit of a mystery. We kept paying the bills to a storage unit but had no clear idea of its contents. A hefty extraction fee made it impossible to simply view what belonged to us and the film scholars and devotees of the future.
After research revealed that no single library housed a complete print collection of the magazine, in November 2010 IMP raised enough cash for Phase One: Rescue and Retrieval. Those funds allowed us to have 106 boxes sprung from the New Jersey warehouse and shipped to Salem, MA where one incredibly generous filmmaker (and former AIVF member) loaned a side of his office to The Independent. In that time, we saw Joe Cultrera's moving personal documentary, Hand of God, and felt extra grateful to share space with a guy who really knows his filmmaking. We thought we could accomplish Phase Two in a month, but had to ask for, in true indie fashion, an extension. And another one. And more coffee.
What's Phase Two?
Phase Two started out as Phase Two: Preservation and Digitization and sputtered into neutral. So we dialed back to Preservation. Unloading, examining, and inventorying the boxed contents required enormous concentration, not to mention strong backs, and could not have been accomplished without the help of architectural historian Christine Finn and former MIT archivist and filmmaker John Melczer. They helped create a system to count and organize 4,000+ pounds of magazines, only stopping on occasion to ooh and ahh at past covers and eat the pickle-of-the-month at A & J King.
In between the heavy lifting, we gathered points of wisdom from Harvard Film Archive, and supportive librarians at Harvard College Libraries, the Library of Congress, Northeastern University, Pacific Film Archive, UMass Amherst, Harvard Business School–all shared interest in the project and razor-sharp advice. And then David Rowntree, a film archivist with expertise perfectly suited to our project, happened to relocate to Boston and offered to guide us through the unfamiliar, and ever-changing terrain of archive management.
Then, as leaves took bud and pants took leave in spring 2011, again with help from librarians, we successfully completed the print collections of The Independent at Harvard College Library, Library of Congress, and Pacific Film Archive. Later in 2011 we were thrilled to add the Margaret Herrick Library at The Academy of Motion Pictures Arts and Sciences to that list. What a relief to know that such fine institutions house and protect our shared history of independent storytelling. With the most vital part of Preservation complete, we breathed a sigh of relief. At least the magazine is safe.
Do I have to visit one of the above mentioned libraries to read back issues or request an article?
Until we complete Phase Three: Digitization, which we are about to unveil, you have the option to work directly with those libraries within their lending policies. To give you an idea, in a given year, The Independent fields half a dozen or more requests for articles that we cannot access or digitally retrieve, mostly from 2003 and prior. Members of our staff, or devoted readers, have been known to hand scan and email articles to grad students and professors throughout the world. Articles from both our print and online versions of the magazine are regularly featured in professors' course packets.
What's the hold up with digitization?
Our thought has always been to scan the print archive into digital, character-searchable files, for future generations of film scholars and web crawlers (by the way we learned about crawling here). We also learned that digitization is a major undertaking and requires a long-term commitment from a sustainable organization.
A light in the clouds came in May 2012 with news that we received a grant from The Academy of Motion Picture Arts and Sciences in support of our Archive Preservation Project. This gave our staff time for additional research. We put feelers out to a number of institutions as advisers and potential collaborators and found UMass Amherst Libraries to have the expertise and enthusiasm we needed to forge ahead. Over many months of discussions, at the close of 2012 we came to an agreement with UMass Amherst to house the organizational archive of AIVF and to oversee the digitization of the entire print magazine. The digital files will be processed and made accessible, via a Creative Commons license, in 2014 through UMass, Internet Archive, the Media History Digital Library, and of course, here with us. In so many ways this exceeds our hopes for providing accessibility to this important history.
We're celebrating our partnership with UMass Amherst Libraries on October 30, 2014. Without their help, digitization would NOT HAVE BEEN POSSIBLE.
Rumor has it you've added a Fourth Phase?
Indeed. At this moment let's call it Phase Four: Transmedia Access. We do not want the digitized magazines to sit on Internet shelves, untouched, unread. We know we need to style up and re-package what we're doing for readers to pay attention. As such, we want a newly designed site that will integrate access to the past with cross-media, cross-discipline, cross-decade conversation about today's independent film. Do you know how to design such a site? Do you have examples of sites that know what we're even talking about? We need to get in touch with the savviest people you know. And to be clear, Phase Four will only happen if it's the will of our supporters. Can we count on you?
How You Can Help
In addition to pointing us to resources in the transmedia design department, you can donate to the cause. Every tax-deductible contribution gets us one step closer to fulfilling the goals we laid out for you almost three years ago.
Contribute now via PayPal or mail us a check.
Archive Preservation Project Special Thanks, In Order of Appearance:
Michele Meek, IMP board president and former AIVF board member
Katie Ryan and Greg Lawrence
Joe Cultrera, filmmaker and former AIVF member
Christine Finn
John Melczer
David Rowntree, Archival Media Consultants
Haden Guest, Harvard Film Archive
Robert Sennett, Harvard College Libraries
Zoran Sinobad, Library of Congress
Joan Krizack, Northeastern University
Nancy Goldman, Pacific Film Archive
Rob Cox, UMass Amherst Libraries
Lydia Peterson, Harvard Business School Library
Lea Whittington, Margaret Herrick Library at The Academy of Motion Pictures Arts and Sciences
The Academy of Motion Pictures Arts and Sciences
Liz Canner, filmmaker and former AIVF board member
Dee Dee Halleck, AIVF founding member
Patricia Aufderheide, American University
Eric Hoyt, Media History Digital Library
David Pierce, Media History Digital Library
Lyda Kuth, LEF Foundation executive director
Anne Marie Stein, former Boston Film and Video Foundation executive director
Ruby Lerner, former AIVF executive director
Kate Lee, web developer
Many other donors of time, advice, finances, and goods
This story was originally published in November 2010 and was updated several times since, substantially in September 2011, June 2012, December 2012, September 2014, and October 2014.