DOC NYC 2014, November 13th – 20th – Critic's Choice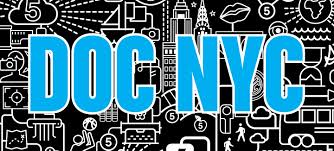 Senior film critic Kurt Brokaw selects 5th year favorites from "America's largest documentary festival."
"Too much ain't enough" might be the cry-of-the-night heard throughout the recent 52nd New York Film Festival and this past spring's Tribeca film fest now in its 12th year.  Not to be outdone in a town where nothing succeeds like excess, DOC NYC  has burst out of its five-screen IFC Center and twin-screen SVA theater in lower Manhattan and added the nine-screen Bow Tie Chelsea Cinemas on West 23rd St.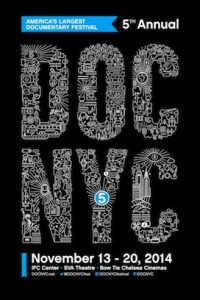 Following the lead of NYFF—which has pretty much adapted the "silo-ing" concept carved out by Tribeca in its first decade—DOC NYC offers opening/closing night galas;  seven 'special event' showings; a 'visionaries' tribute day; ten 'viewfinders' selections; nine 'metropolis' features; nine 'American perspectives' features; eight 'international perspectives' features; four 'centerstage' arts films; five 'jock docs;' six 'fight-the-power' social issues films; six 'sonic cinema' music docs; seven favorite 'docs redux'; three 'midnight' haunters; six 'short list'  individually-themed programs encompassing over two dozen short subjects; and fifteen 'short list' feature docs that may carry home an Oscar, including four (Red Army, Merchants of Doubt, Tales of the Grim Sleeper and this critic's choice Citizenfour) migrating down from the New York Film Festival.  Whew!
If you're more interested in making a film than just watching one, DOC NYC also offers a "Doc-A-Thon" of panels: for the first-time filmmaker (Nov. 13), on shorts (Nov. 14), on shooting (Nov. 17); on finishing (Nov. 18); on funding (Nov. 19); and on reaching your audience (Nov. 20).  Tickets for each day's Doc-A-Thon run $12 (adults) and $9 (students). Film tickets are $17 except opening/closing nights.  IFC Center members, seniors and children pay less, and there are all-access, insider and Doc-A-Thon packages available as the IFC Center box office, and online.
Unlike NYFF, but like its Tribeca and New Directors/New Films festival neighbors, most of the selections curated at DOC NYC are arriving unblessed by other festivals.  Many outside of the 'short list' and 'docs redux' selects are having their world premieres, chosen by a six-member IFC screening committee.  The 86-page, four-color booklet can be intimidating.  But doc makers aren't intimidated by anything — so dig in.  The following films from 20 upfront press screenings — admittedly only a fraction of what goes on when the lights go down — are this critic's choices:
Do I Sound Gay?
(David Thorpe. 2014. USA. 77 min)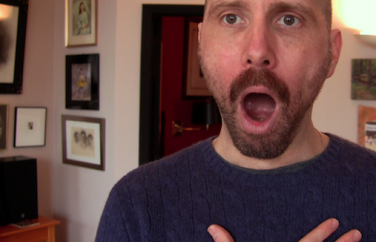 Each semester just blocks from the IFC Center, Daryl Presgraves visits The New School to talk with university advertising classes about Gay, Lesbian, Straight Education Network (GLSEN) ThinkB4YouSpeak campaign.  Presgraves is the Director of Communications at GLSEN, and the television commercials, newspaper ads and educational materials he shares are designed to sensitize teens to derogatory and hurtful language often hurled at LGBTQ boys and girls, starting with "that's so-o-o gay" and including "faggot" and "dyke."  
The campaign, a part of the Advertising Council's public service arm, is now handled by the giant Leo Burnett agency in Chicago, and research studies indicate the campaign is producing a healthy mind shift in both urban and rural high school boys and girls.
David Thorpe's opening night film is a wonderful filmic zeitgeist to Presgraves' brave and pioneering work in nationwide classrooms. Thorpe shrewdly describes it on his Kickstarter site as "reappropriating the strategy," and it surely does that in fresh, disarming and touching new ways; it's the quintessential doc for right now that informs and enlightens a personal story that's also a burning social issue.
Thorpe conceives it as his own life—he's an advocacy journalist in his mid-40s, a gay man who grew up in South Carolina, came out in 1989, identifies strongly as an AIDS activist and LGBTQ supporter. Bald, tall and thin with a trimmed beard and a neat, casually conservative wardrobe, Thorpe lives alone in Brooklyn with two cats, memories of a recent sad breakup with a boyfriend, and a gnawing suspicion that it's his high, nasal speaking voice that's making him "unsatisfied with the person I am." One woman describes him as a typical metrosexual, but to a speech therapist he sounds "educated, cosmopolitan and refined, and to most people that means gay." So, David embarks on an investigative journey into what he perceives as the major stumbling block in his life: his voice.
He visits professional therapists including Susan Sankin, a local speech pathologist who quickly identifies his nasal up-speak, and university speech professors from Toronto and Minnesota. The latter men detail gay micro-variations in the pronunciation of vowels and letters like S's that can cause lisps and voices that are heavy on treble, light on bass.  David's two best friends, Sam and Alberto, pooh-pooh his discomfort; one proudly calls his own voice "one shade lighter than yours" though he admits he's careful to maintain a neutral, undemonstrative voice in the corporate world.  Thorpe's family and growing-up friends recall David's voice got higher in his freshman year in college, the year he came out.
What becomes apparent is that voice quality greatly influences perceptions of one's sexuality. Author David Sederis acknowledges that hotel room service constantly mistakes him on the phone for a female, because of his high voice.  Comedian Margaret Cho laments the lengths her father went to, trying to disguise his Korean voice.  Advice columnist Dan Savage observes that "you police yourself for any evidence that might betray you" to a straight world, including your voice.  Do I Sound Gay? doesn't flinch at being, at moments, a portrait of what Thorpe's gay friend calls his own "generic self-loathing."
Indeed, the director's journey darkens when he talks with an Ohio teenager, Zach, who's been savagely kicked and beaten right in his own school classroom by bullies.  Zach is exactly the designated victim in GLSEN's national advertising, an assertive young man who fantasizes himself as a diva.  Another scene captures the comedian Louis C.K. in full throttle on stage, endlessly manipulating "faggot" as the ultimate bullet of hate.  Clips of Strom Thermond and Jesse Helms capture these U.S. senators condemning male sex.  There's a quick sampling of rough trade hardcore sex scenes from XXX-rated movies, with lower anatomies blurred out.
Thorpe's understanding of his own vocal drawbacks broadens when he flies to Hollywood and learns how casting really works.   At Bob Corff's voice studio, he's told that a gay voice is just like any other accent—except it leads to an actor's frozen Siberia, forever being cast as "the bitter queen."
Film historian Richard Barrios instructs Thorpe on the movie industry's evolution of gay stereotypes—from 1930s mincing, foppish comedies and cartoons into a far more sinister set of grotesques in the 40s, led by Clifton Webb's portrayal of the "snide, supercilious and superior" killer in Laura.  
Webb's mainstreaming of gay-sounding characters on the screen translated into television as performers like Paul Lynde and Liberace made their stereotypes friendlier for a home viewing audience.  And those larger-than-life personalities eventually migrated down into a slew of Disney animated villains with "gay-sounding" voices like Captain Hook in Peter Pan, Jafar in Aladdin, and Scar in The Lion King.  
David assimilates all this knowledge into his own daily vocal exercises and readings, and one can hear his voice leveling out into a more assured, modulated register.  Not everyone agrees; one close friend says David's voice sounds no different, but at least "it's raised your spirits."  And maybe that's enough.  Star Trek actor George Takai is adamant that "there's no such thing as sounding straight."  CNN anchor Don Lemon is comfortable with a honed announcer's voice that sounds neither African American nor gay.  Whereas fashion mentor Tim Gunn—as elegant a member of New York's gay night life as one could imagine—is fiercely proud of his robust gay tonality.  David internalizes all of this, along with a telling comment from a lesbian friend who tells him one of her first liberated purchases was a black leather jacket—which Thorpe reflects was part of her 'new voice'.
Do I Sound Gay? is a gem of a gift to kick off America's largest doc festival.  It premieres Thursday, Nov. 17 at 7:00pm at the SVA Theatre.
Above and Beyond
(Roberta Grossman. 2014. USA. 87 min)
Most people understand the expression "above and beyond" in its military context, as a criterion for a medal for individual service "above and behind the call of duty."  Film buffs remember MGM's 1952 aviation drama, Above and Beyond, with Robert Taylor (playing opposite Eleanor Parker) acting the pilot who dropped the atomic bomb on Hiroshima.
But few recall that in its first hours following its Declaration of Statehood in 1948, Israel could have been crushed by Egypt and other Arab armies from Syria, Trans-Jordan, Iraq and Lebanon who attacked the fledging nation by land and air.   Their troops and tanks were poised 20 miles from Tel Aviv, which had already been bombed by air; the city and perhaps Israel itself might have perished without the invaluable help of Machal ("volunteers from abroad").  All told there were nearly 5,000 volunteers from 56 countries, including 150 pilots, mostly Jewish, who'd flown fighter planes for the U.S. Air Force, Marines and Navy during World War II.  Talk about above-and-beyond—these men, many scattered across a post-war America, answered an emergency call from their homeland without a moment's hesitation.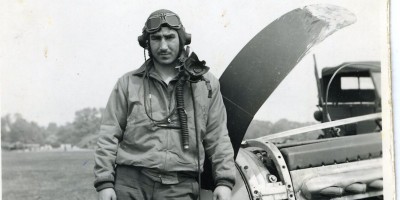 At one time Steven Spielberg (whose father had fought with the 490th 'Burma Brothers Squadron' in the Pacific) considered making a documentary of the hastily recruited and trained Machal pilots, but instead elected to direct other war dramas.  So, the opportunity to produce the Machal project passed to Spielberg's youngest sister, Nancy, 58, who's seized an all-too-fleeting moment to assemble a stirring portrait of this band-of-brothers called Machalniks.  A half dozen in their 80s and 90s are the main subjects of Above and Beyond.  
They and their fallen comrades flew the surplus aircraft and transport planes (mainly rickety Avia S-199s, Spitfires and Messerschmitts) that bombed the Arab advance and led Israel to victory in the 1948-49 War of Independence. This Israeli Air Squadron, known as "The 101," was the nucleus and glue that grew the first-generation Israeli Air Force.
Above and Beyond was filmed for a reported $1.3 million, which is surely more than the vast majority of documentaries showing in DOC NYC.  Most docs in this fest will be lucky to see a million dollar gross in their filmmakers' lifetimes.   But Above and Beyond is "enhanced"  by dazzling aerial dogfights and other combat scenes created by (and donated pro-bono) by Industrial Light and Magic. These use state-of-the-art CGI techniques, matched to a knockout, heraldic music score composed by Hans Zimmer studios and composer Lorne Balfe.  Ms. Spielberg's site, Playmount Productions, indicates a feature film version is being planned.   So Above and Beyond, briskly directed by Roberta Grossman (Hava Nagila and Blessed is the Match: The Life and Death of Hannah Senesh), will have its New York premiere already looking and feeling like a big-studio release.
The original wrangler of the pilots as well as many of the aircraft smuggled into Israel was Al Schwimmer (1917-2011), an American-born flight engineer who worked for TWA and the U.S. Air Transport Command during WWII. Schwimmer was aware he was breaking the U.S. Neutrality Act but viewed his actions as valid civil disobedience, eventually becoming a close friend and adviser to President Shimon Peres, who appears as Above and Beyond's narrator.
Schwimmer and his on-camera pilots readily display what  Spielberg proudly tweets as "moxie galore." Army Air Force pilot George Lichter (1921-2014) was the Brooklyn-born founder of the Force. He was the most adept at flying the Avia S-199s, built in Czechoslovakia  with German engines and air frames.  Harold Livingston, another Army Air Force pilot, flew needed supplies and weapons from Czechoslovakia to Israel; "the idea that Jews were going to fight I found exciting—it's about time," says Livingston, who went on to write the screenplay for Star Trek.  
Lou Lenart, now 95 and a veteran movie producer who worked on Thunderball, admits "we didn't know if we could use these planes…we didn't even know if they would start."  He's also interested in a possible dramatic movie version of his Machal service, adding that rather than being played by Brad Pitt, "I hope they'll pick someone more Jewish looking."
Leon Frankel, a former U.S.Navy bomber pilot,  recalls having been trained in secret, sitting in the cockpit of his worn aircraft, wearing a German uniform, helmet and parachute, and wondering "what's a nice Jewish boy from St. Paul doing here?" At the end of the conflict,  after flying 25 successful missions, he speaks of watching Jewish  refugees from death camps coming into Tel Aviv, "getting down and kissing the ground,"and realizing without question why he joined the team.  In the 1948-49 war zones,  123 Machal members gave their lives.
The recollections are simple and heartfelt.  Former defense minster David Ben-Gurion has called the Machal "the Diaspora's most important contribution to the survival of the State of Israel."  And as Spielberg told an audience recently gathered in Frankel's home town to watch Above and Beyond at the Twin Cities Jewish Film Festival, "Steven doesn't get all the credit in this family."
Roberta Grossman and Nancy Spielberg have crafted a honey of a history, a real keeper.
Above and Beyond premieres Sunday, Nov. 16 at 3:30pm at SVA Theatre.
HANGAR B
(Thomas Beug. 2014. USA. 7 min)
Once in a blue moon the ideal complementary short turns up languishing in the long shadow of a feature film.  Out in Brooklyn's Floyd Bennett Field—the original 1931 site of New York's first municipal airport—a piece of Above and Beyond's generous heart beats on.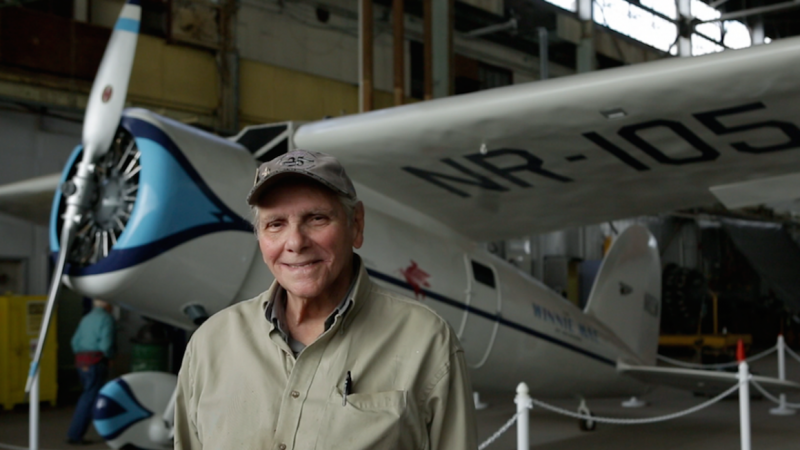 HANGAR B, which became part of U.S. Naval Air Station-New York in 1941, readied ground crews and pilots for service overseas during the Korean War and Vietnam War. It has been transformed into the home of the Historic Aircraft Restoration Project (HARP), sort of an under-the-radar second cousin to the Smithsonian's National Air and Space Museum with its stupendous displays of resurrected aircraft. Planes are replicated here from scratch by a cadre of sprightly volunteers, many in their 80s and 90s like Spielberg's Machalniks.  They love airplanes and love reproducing them lifesize; they've made this retreat their retirement headquarters as well as their late-life passion.
Beug's camera glides along these silent, gleaming behemoths, looking for all the world like they're ready to soar into the wild blue yonder.  Dante DiMille and Hank Iken, both "on the rainy side of 80," point out HARP's pride-and-joy, a full-size recreation of the "Winnie Mae," a Lockheed Vega that circled the globe in 1933.  It was piloted by Wiley Post, the first pilot to fly over the North Pole, and took eight years to build.  "We do this to keep the lights from going out up here," smiles one volunteer, pointing to his head. HANGAR B is open to the public Tuesdays, Thursdays and Saturdays from 9:00am to 3:00pm.
HANGAR B shows as part of the Shorts Program: Lost + Found Wednesday, November 19 at 9:30 pm at the IFC Center.  It includes a meditative and stately piano accompaniment by music professor Seth Fruiterman that can stand alongside Above and Beyond's music score from the Hans Zimmer Studios.
Anatomy Of A Snow Day
(Zachary Maxwell. 2014.USA. 41 min)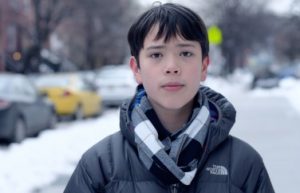 Like any 12-year-old in New York City, Zachary Maxwell would love to see a snowy day turn into a snow day.  So when NYC's new mayor, Bill de Blasio, made the controversial call to keep public schools open this past February 14 (despite a forecast of up to 14 inches of snow), Zachary determined to find out why.  He'd already made two student films, but this would become the doc that's made him the youngest writer/ director in DOC NYC.  "It's funny to edit a project that was shot over six months when your voice is changing," he notes, unknowingly echoing opening night director David Thorpe.
Zachary doesn't get very far trying to walk in to City Hall to interview city officials, so he hand-writes a comprehensive proposal politely requesting a one-on-one educational Q&A. Through a combination of mail, email, phone calls and and a video pitch, the intrepid young helmer snags on-camera interviews with New York's heavy weather hitters: WABC-TV's senior meteorologist  Bill Evans explains blizzards, strong winds and accumulations, and the differences between rain, freezing rain, sleet and snow.  Department of Sanitation Assistant Chief Edward Grayson instructs Zachary on the stages of preparation for primary, secondary and tertiary streets, and the 475 million pounds of salt ready for the city's 365 salt spreaders.  Three key people in the Office of Emergency Management including Commissioner Joseph Bruno (to whom Zachary dedicates this doc) weigh in on how all the city's key weather decision makers unify their winter weather emergency plans in the formidable Situation Room.  And Mayor de Blasio comes through, giving an exceptionally relaxed and friendly interview on how the safety of the city's children (including his own son Dante) is paramount in determining whether to call or not call a snow day. Makes sense to me, says Zach.
This breezy 41-minute film, shot and edited by CJ Maxwell (Zachary's dad), is buoyed by smooth cutting, expert animation sequences and a lively but unobtrusive music score.  Anatomy of a Snow Day marks the fest debut of a born storyteller.  It shows Saturday, November 15 at 11:45 am at SVA as part of the Shorts Program: Show + Tell.
Banksy Does New York
(Chris Moukarbel. 2014. USA. 75 min)
"Running up to someone's property or public property and defacing it is not my definition of art. Or it may be art, but it shouldn't be permitted and I think that's exactly what the law says." So grumped former mayor Michael J. Bloomberg to The New York Post  last October 16 about the Bristol artist Banksy, who was paying New York City a 31-day fall visit.
Calling Banksy a vandal and not an artist, Bloomberg and NYPD's vandal squad never quite caught up with the elusive culture jammer, even though his truck rolled slowly through the city's boroughs, displaying everything from a sylvan, tropical waterfall and glade (stunning in its detailed sensuousness),  to a Siren of the Lambs featuring fabricated little animal heads peering out of a slot in the truck's side,  twisting and bleating away to protest inhumane animal slaughter.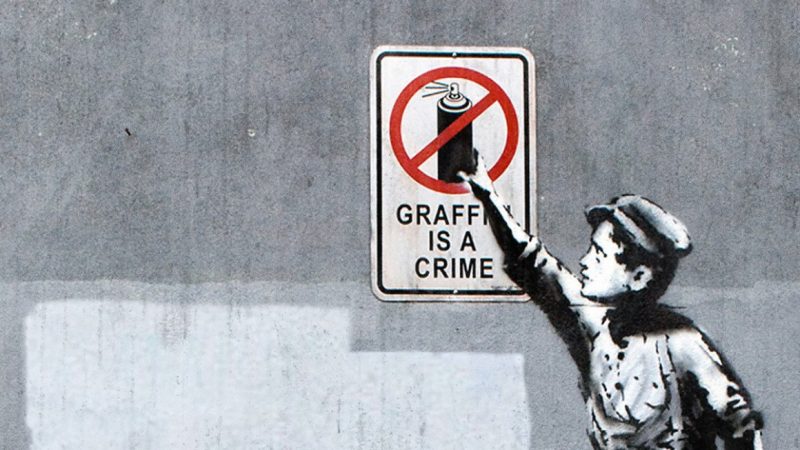 The month-long event, titled Better Out than In by the stealth artist, has been gloriously preserved in Chris Moukarbel's full-tilt record of Banksy's daily doings and leave-behinds.  Their mix of somber seriousness and surrealistic humor — all conceived with a brash blend of misdirection, gritty-graphic impact and the genius of surprise —  gave New Yorkers a fresh look at our cultural vistas.  Morning after morning, people woke to alternative realities to the daily high-rise construction that bangs away at Manhattan's soul, sheathed in block after block of monotonous chain banks, even more monotonous chain drug stores, and the ever-present Citi Bikes that continue to privatize outrageous amounts of public space.  The gee-whiz-look-at-this factor is a hallmark of Banksy's fresh musings.
The artist observes our noisy, violated cityscape, and "his" responses, sometimes in stencil but often in other traditional and non-traditional media, are thrust at corporate America with anger and shame.  "He" says "trademarks, intellectual property rights and copyright law mean advertisers can say what they like whenever they like with total impunity. You owe the companies nothing…they owe you.  They have rearranged the world to put themselves in front of you. They never asked for your permission, don't even start asking for theirs."
And so a transmogrified fiberglass Ronald McDonald with his size 50 shoes and a face sculpted into the Greek god Hermes, is lifted off the Banksy truck and plopped down in front of different McDonalds' outlets; a kid dutifully polishes Ronald's super sized sneakers for hours on end, all day long.  What does it mean?  That marketers must forever keep buffing their exaggerated imagery?  Something like that.  As a billionaire businessman, Mike Bloomberg understands the concept, but he doesn't like it shoved in his face. Banksy's M.O. calls into question the corporate ethos we've come to take for granted; "he's" the ultimate "question authority" everyman.
At the Housing Works shop on East 23rd Street, Banksy performs a giant good deed to help combat HIV and AIDS. A nondescript landscape painting is purchased for $50. Several days later it's returned to the store, now with a seated soldier wearing a Nazi armband peering out at the view. Banksy has titled the painting The Banality of The Banality of Evil, a reference to New School professor Hannah Arendt's theory that the concentration camp transportation expert, Adolf Eichmann, was no more than a minion doing an assigned job — leading to her controversial belief that the extermination of Jews during World War II was the ultimate banality of evil.  Housing Works is invited to put the repurposed painting into its auction, where it sells for $615,000 (actually somewhat less when the original winning bidder drops out).
Director Moukarbel's archival approach to Banksy's ever-changing treasure hunt of daily events is helped along by oblique but subtle clues posted by the artist on Instagram, Vine, Facebook and Twitter; by two Banksy commandos who continuously tweet their frantic searches for his work @twowaytraffic; and by a barrage of smartphone content creators.
Some of the displays involve a continuing story, like the Sphinx of Giza recreated in cinder blocks in a mud puddle in Willets Point, which is hauled away to a private garage by young workers who then contact Stephen Keszler's Southampton gallery, which specializes in Banksy art; Keszler shows up to examine the work and cuts a deal with the scavengers, eventually showcasing the work in his gleaming gallery for hundreds of thousands of dollars.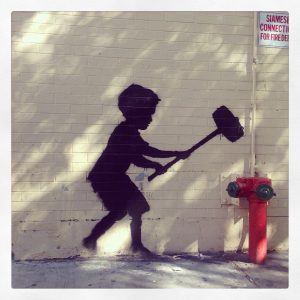 The impression created throughout this month of commentary is that Banksy's ingenuity never flags, even as "his" moods unpredictably lighten and darken. "His" throw-ups range from hammer boy— a deft, simple stencil of a child about to strike a fire hydrant next to a building at 79th and Broadway (now protected by plexiglass thanks to Zabars)— to an extraordinary video posted on YouTube showing jihad extremists launching a rocket that downs an animated Dumbo the elephant. Poor Dumbo may or may not be intended to represent Brooklyn's DUMBO neighborhood, but the weary little elephant expires before our eyes.  "This is my New York accent," Banksy sprays boldly on merchant gates on Allen Street, penning neatly underneath in small letters, "normally I write like this."  Can anyone ever get a realistic handle on Banksy?    
Perhaps the most striking example of Banksy's perceptiveness of New Yorkers' fascination with the work, mingled with typical Manhattanite indifference, is seen in a one-day pop-up sidewalk art display on Fifth Avenue next to Central Park.  For an entire morning and afternoon, thousands of pedestrians stream by a table loaded with anonymous Banksy art priced at $60 a painting, presided over by a frumpy old guy who pretends to be barely awake.  One lady finally buys one painting … then another is sold … as the helper is about to pack up, a chap moving to Chicago buys four paintings on impulse, just to cover a wall.  Banksy's total take for the day: $360.  Total value of works displayed — dare we say "priceless"?
On day 31, six huge B-A-N-K-S-Y balloons spelling his name are affixed to a high wall on a warehouse visible from the Long Island Expressway in Queens, signaling "his" farewell to New York.  It takes only minutes for scavengers to climb ladders and pull the balloons down, but this time NYPD is waiting too, and Banksy's farewell balloon fling is stuffed into a paddy wagon.  Who wins? Why, New Yorkers with their sharp elbows and soft hearts win this one … was there ever a moment's doubt?
Banksy Does New York has its New York premiere Friday, Nov. 14 at 7:00 pm at SVA.   It will also be shown Monday, Nov. 17 at 9:00pm on HBO
The Silly Bastard Next to the Bed
(Scott Calonico. 2014. USA. 8 min)
Nothing quite humanizes historical figures more vividly than a short documentary that startles us with language we never imagined.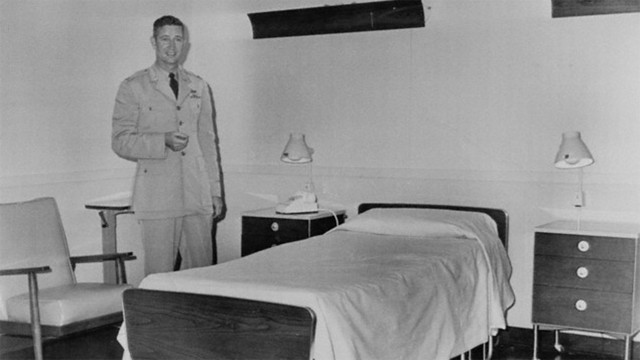 In the summer of 1963, President John Kennedy flies to visit his eight-month pregnant wife Jacqueline at Hyannis Port, Mass. At nearby Otis Air Force Base, the plain hospital room is reserved for Mrs. Kennedy, if needed.  The Air Force public relations officer, Captain Ernest Clayton, also a liaison with the Kennedy White House, is pictured next to the bed.
Somewhere up the line, $5,000 (a lot of money in '63) gets approved to upgrade the First Lady's quarters into a first class suite with wall-to-wall carpeting, plush sofas — the whole nine yards — purchased from Boston's upscale department store Jordan Marsh.  When the story and photo of the luxurious quarters are leaked to The Washington Post by a medical officer captain, the President is fit to be tied and calls Arthur Sylvester, Assistant Secretary of Defense. Scott Calonico's doc lets us eavesdrop:
The President (TP): Let's find out where that money came from, if the bills have been paid, 'cause a lot of this stuff we can ship back today…
Sec'y Sylvester (SS): Right — I'll get right on it.
TP: I'd love to send it back to Jordan Marsh in an Air Force truck this afternoon, with that captain on it.  What about transferring his ass out of here in about a month? For incompetence, not for screwing us.  
SS: Exactly.
TP: And that silly fella who had his picture taken next to the bed, have him go up to Alaska, too.
President Kennedy, warming to the task, then calls General Godfrey McHugh, his Air Force liaison. Excerpts follow:
TP: That Air Force has caused itself more grief with that silly bastard…did you see The Post this morning?
Gen. McHugh (GM): Yes sir, I'm looking at it now.
TP: You see that fella's picture by the bed?  And you see that furniture they bought from Jordan Marsh? What the hell did they let the reporters in there for? Are they crazy up there?  Any congressman's gonna get up and say, "Christ, if they can throw $5,000 away on this, let's cut 'em another billion dollars!"  You just sank the Air Force budget!  That silly bastard with his picture next to the bed…
GM: Sir, I'm appalled…
TP: I'm appalled too. I wanna find out if we paid for that.
GM: All right, sir.
TP: Then I want that fellow that is incompetent who had his picture taken next to Mrs. Kennedy's bed, if that's what it is … he's a silly bastard, I wouldn't have him running a cathouse.…Christ, they're not all incompetent? Is that the way they're throwing money around over there?  You'd better look into it, especially when you told me they hadn't spent a cent!
GM: Well sir this is obvious —
TP: Well this is obviously a fuck-up.  
Captain Clayton went on to fly 35 missions over Vietnam.  He earned a Ph.D. and served as Dean of Business at Texas A&M College-Texarkana.  He's 84 and allows he's pretty sure he could run a cathouse if he had to.
Calonico's neat short is part of the Shorts Program:  Lost + Found, which is being shown Wednesday, Nov. 19 at 9:30pm at IFC.
This concludes critic's choices for DOC NYC 2014.
---
---
Regions: New York