Step Inside the Film House: Filmmaker360's New Home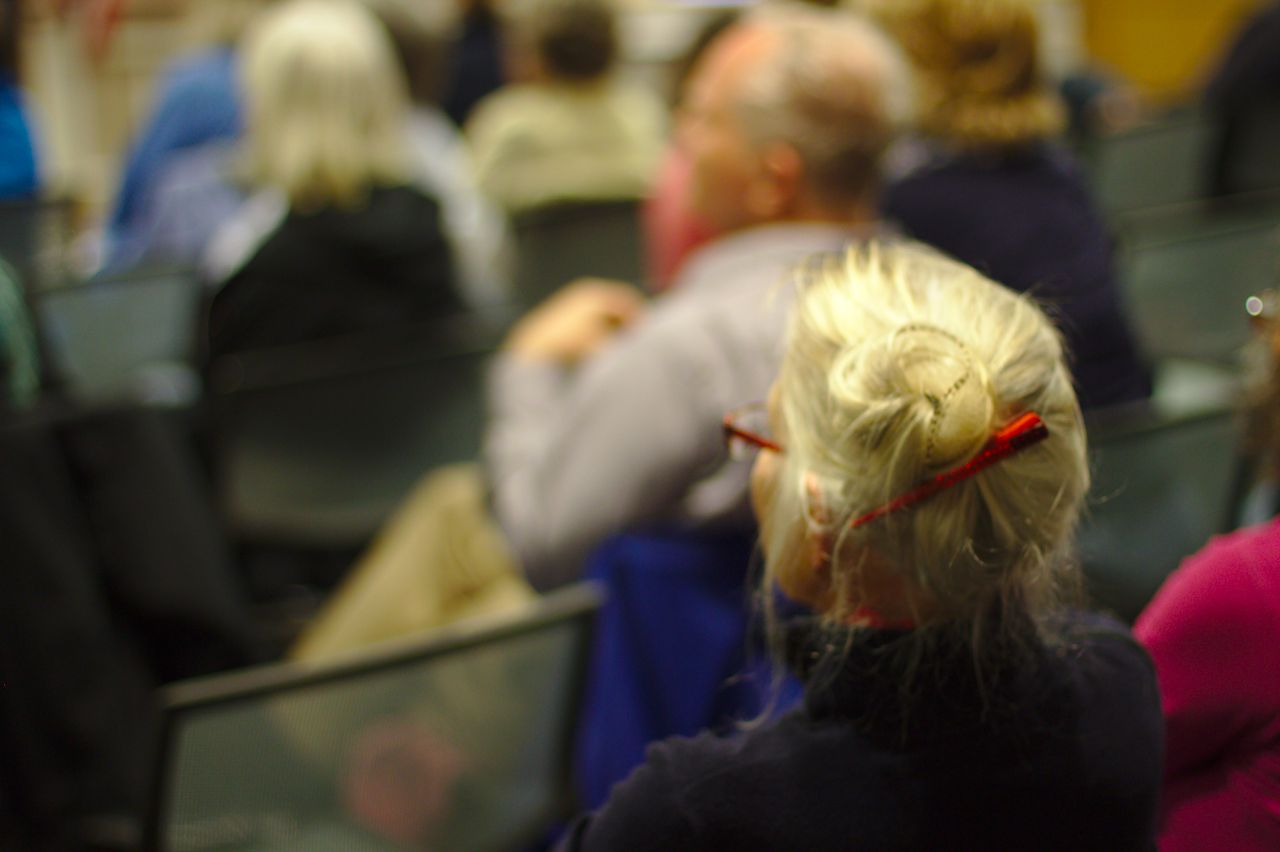 The Independent's senior producer, Maddy Kadish, takes us on a tour of San Francisco Film Society's latest expansion.
At the corner of Chinatown and North Beach sits a deceptively small white door, leading to the huge space – and vision – of FilmHouse, the San Francisco Film Society's new home for Filmmaker360. The building opened this September and, other than FilmHouse, it is still under construction.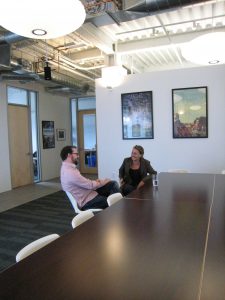 The FilmHouse space is modern and full of light with views of the bay. It was designed specifically to be the center of all Filmmaker360's programs, after moving from the former office in Japantown. The space includes offices around a central community area. Practicalities, like bike racks, lockers, and smaller rooms for phone calls, exist, of course, but the sum of them are greater than the whole. "At first we thought filmmakers only wanted office space," says Michele Turnure-Salleo, director of Filmmaker360. "But we learned that filmmakers want a community." Turnure-Salleo has been its director since its inception in 2009. She's not only Filmmaker360's high-energy leader, with her keen eye on its clear goals and purpose, she is also good listener.
Filmmaker360 expands SFFS from exhibition and festivals into filmmaker services and support. Filmmaker360 is one of the (if not, the) largest film grant programs in the US, providing over $1 million annually to support new film talent in both narrative and documentary. The community, in addition to the sponsorship that Turnure-Salleo describes, comes in the form of consultation, mentorships, workshops, training, and connections to a growing network of filmmakers.
The goal of Filmmaker360 is to foster the Bay Area filmmaking community, whether it is supporting local filmmakers or bringing in new talent. "This area is often unrecognized for the arts and we want to shine a light on the work and opportunities here," says Turnure-Salleo." We bring new artists to the city, adding to the diversity and showing their work, through things like artist talks and screenings." Rather than the short intensive labs of Sundance and IFP, she says that "Filmmaker360 is about sustainable careers and long-term relationships." At 58, the SFFS's festival is the oldest film festival in the US. "There's so much going on now outside the festival. It's become a greater entity."
Filmmaker360 includes a wide range of programs – all run by four people, two full-time and two part-time – and, consequently, attracts a wide range of talent. The flagship grant is the SFFS/Kenneth Rainin Foundation Filmmaking Grant, which funds narratives like Short Term 12, from director/writer Destin Cretton and producer Asher Goldstein, in 2012; Ryan Coogler's Fruitvale Station also in 2012, and Benh Zeitlin's Beasts of the Southern Wild in 2011. (Note: Destin Cretton was on our 10 to Watch list in 2012.) Applicants and/or projects must not only have a connection with the Bay Area filmmaking community, but uplift the community in a professional or economic way. At the end of November, SFFS announced the six projects to receive a total of $300,000 in funding in the latest round of SFFS / KRF Filmmaking Grants. Among the recipients are Dark Forest from writer/director, Elena Greenlee, awarded $35,000 for screenwriting, and Mediterranea from writer/director Jonas Carpignano, awarded $60,000 for postproduction.
Since 2011, SFFS's Documentary Film Fund (DFF) has awarded over $375,000 to documentary filmmakers nationwide. Grantees must be in post-production with work that drives engaging characters and stories in an innovative way. "We received a huge boost in our film's credentials by winning the grant," says Jimmy Goldblum, of his DFF grant for Tomorrow We Disappear. "Having their seal of approval meant a lot for the film, both financially and from a marketing positioning perspective. We came out to SFFS to hang with the incredible staff there. They've helped introduce us to buyers and people who can help influence our film's trajectory. They take pride in seeing their films achieve their potential." Past DFF winners include Street Fighting Man in 2014 from director Andrew James (one of our 10 to Watch in 2013); American Promise in 2013, from directors Joseph Brewster and Michèle Stephenson; and Cutie and the Boxer, also in 2013, from Director Zachary Heinzerling. (Read about their 2013 Sundance premieres.)
The SFFS/ KRF Producers Fellowship, new in 2013, supports independent producers currently working on narrative films. The fellowship funds people, not projects. So, fellows are working on multiple projects at a time. "An independent producer assumes the risk upfront and we are trying to alleviate that," says Turnure-Salleo of the funding strategy. Not all projects make it to production. "It can be as important to know when not to do a project as when to do a project," she says. "We care about the success of our filmmakers – in helping them make the right decisions about their work – and we seek out applicants who can appreciate that."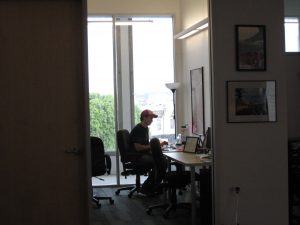 Producer Fellow Jonathan Duffy describes the FilmHouse community as "swimming with a school of fish." He is one of the 30 filmmakers using the space. "It's always nice to have someone else to talk with about your work. There are filmmakers here of different levels of experience with different projects," he says. "We have hiking meetings in the Precidio." (I can't tell if he's kidding about that one or not.) Duffy moved to San Francisco from Austin to participate in the KRF Producer Fellows and FilmHouse Residency programs. He produced Hellion (director Kat Candler), a 2014 Sundance Film Festival selection, and Pit Stop (director Yen Tan), a 2013 Sundance winner, both of which were supported by the SFFS/Kenneth Rainin Foundation Filmmaking Grant.
FilmHouse Residencies provide office space to independent narrative feature filmmakers actively engaged in various stages of film production. FilmHouse residents are not necessarily recipients of another SFFS program, but can be, such as Duffy."To be accepted into the FilmHouse Residency meant we could immediately tap into a new filmmaker community and network," says Priya Giri Desai, whose documentary (along with filmmaker Ann S. Kim) Lovesick received a grant in 2011. "We screened cuts at the FilmHouse, learned names of local editors, composers, post houses, etc… to compare prices and styles. And most importantly, we made friends who were going through what we were going through. That is invaluable when you work as an independent."
Duffy calls the application "a competitive, but honest process." Each application round typically draws over 200 applicants for about five to seven slots.
FilmHouse bears some similarities to an incubator lab for filmmakers – but that comparison reduces filmmakers and tech entrepreneurs to their stereotypes. Of course, since Filmmaker360 recipients reside in the biggest high-tech area in the US, they have up-close access to digital tools and resources, etcetera, etcetera… (an area which I written a lot about). But, at its core, says Turnure-Salleo, Filmmaker360 is about filmmakers with "first, a great story, and, second, a strong desire to build a long-term relationship with the film community here. This area has a long history of literature, art, political activism, creativity, and culture." That foundation will serve the Bay Area's film community well.
---
---
Regions: California, San Francisco