Tribeca 2015: Critic's Choice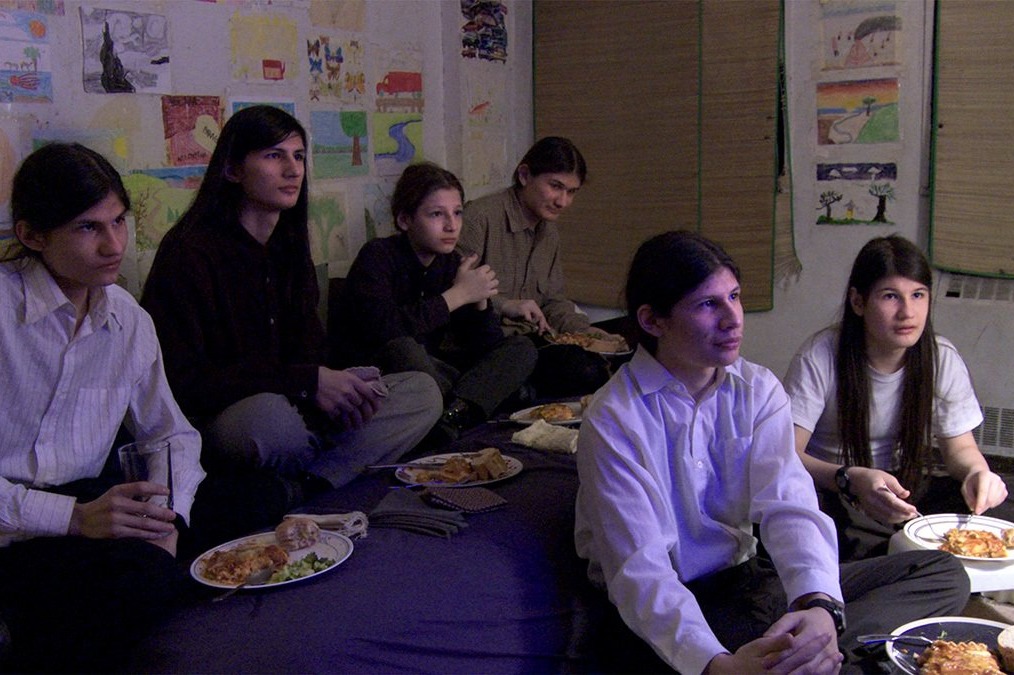 Senior film critic Kurt Brokaw offers up top picks from Tribeca's 14th annual festival.
The Wolfpack
(Crystal Moselle. 2015. USA. 84 min.)
Tribeca's uptown neighbor, the Walter Reade Theater in Lincoln Center, recently displayed a poster in its lobby, promoting the Film Society's many offerings. It was a photo of a woebegone 20-something in typical New York fashionista black, staring out and looking oh-so-forlorn. It wasn't the girl that stopped people, it was her quote: "He says if I see any more movies here, I might as well move in."
Ah yes, the significant-other rejection… that familiar all-you-do-is-go-to-the-movies resentment. If you're smiling in recognition, you'll be right at home in Crystal Moselle's The Wolfpack, an ethnographic mash-up of a Lower East Side family that's been having its own home viewing marathon through much of the Tribeca Film Festival's first 14 years.
The husband and wife are Oscar and Susanne Angulo, who moved into a Delancey Street housing project in 1995 after bouncing around the country in a van, thinking Oscar might become a rock star like his favorite band, AC/DC. As a couple they believed their children would be safer in New York City if they didn't venture outdoors. And so they almost never did. Only the father had a key to their locked front door.
The Angulos raised and home-schooled six sons and a daughter, now in their teens and early 20s, who watched the world go by through high-rise windows (with strong safety bars) through most of their childhoods and adolescence. While the annual Tribeca Film Festivals were rolling on spring after spring, just blocks away, the Angulos were watching their own slates of movies on video and DVD, day and night, season after season, year after year. Hundreds, perhaps up to 5,000 feature films, from Gone With The Wind and Casablanca through Reservoir Dogs and Halloween, which Mrs. Angulo carted home from the library and discount video stores on 14th Street.
The children learned to love movies because outside of mom's teaching, that was their existence—plus, like the reasonably bright kids they seem to be, acting out scenes through elaborately plotted charades from their own script adaptations and repurposed costumes from the Salvation Army. Director Moselle spotted the six boys on one of their few outside forays in 2010, and followed them home. ("I felt like I'd discovered a long-lost tribe from the Amazon," she's said.) Winning their confidence and the cooperation of their mother, Moselle gained access to their four-bedroom fortress and began filming with a grant from the Tribeca Film Institute.
Though they eat a lot of lasagna and one son cheerfully admits to being "in a prison," there's an undeniable domestic harmony in their daily lives. Several of the boys voice muted resentments toward their strict Hare Krishna father, who's less than forthcoming, and there are anecdotes of friction in the parents' lives. One son recalls an entire year when none of his brothers or sister ever stepped outside the apartment.
Still, in the Naked City where there are eight million stories side by side between walls that are mostly too thin, the Angulo children seem to have gotten along on their day and night viewings. As they mature into adulthood, one or more may be moving out. And a final scene, shot in an outdoor park (perhaps their first visit as a family) shows the boys' undisguised glee at running through grass at last.
Moselle's doc has a first feature, ragged-edge continuity, but its rough filmic execution is quickly forgiven. What The Wolfpack yields is the same kind of rich, only-in-New-York viewing rewards as Phillip Warnell's feature length-doc, Ming of Harlem: 21 Storeys In The Air, which premiered last fall at The New York Film Festival. In that heart-stopper, a Harlem projects resident known in his neighborhood as "Dr. Doolittle" kept a 450-pound Bengal-Siberian tiger (Ming) and a 7-foot Caiman alligator (Al) in his apartment for years.
After Ming and Al were evicted by NYPD and transported to a Midwestern zoo, Warnell, an innovative documentarian, replicated the owner's apartment in an England zoo and moved in a similar tiger and alligator to study how they'd domesticate. Animals aren't children, but unnatural confinement is unnatural confinement—until it becomes something else. The stand-in tiger for Ming and the stand-in alligator for Al cozied into their kitchen, bathroom, and bunk bed/platform sleeping quarters far removed from New York City. And imagine—they didn't have a library of movies to keep them company.
Early Sunday Morning
(Yoonha Park. 2015. USA. 7 min.)
The camera in Early Sunday Morning is prowling through an empty, clean-as-a-whistle multiplex—it's a 24 screen theater and the only sounds are the escalators' quiet humming and the vacuum cleaner being run by one pretty, neatly uniformed usherette (Isabella Boylston). Maybe she's giving the lobby a last minute touch-up. Though the setting is today and the twisty, cavernous hallways with their numbered theater entrances are a far cry from Edward Hopper's classic 1939 painting of a blue-uniformed usherette at night, the mood is pensive and waiting. It's likely you've never explored a giant, deserted multiplex on a Sunday morning.
The young woman enters one of the empty theaters, bathed in dim red side lighting. Except it's not quite empty—a handsome young man in street clothes seems to have been forgotten and is asleep in the front row. She crosses to him and escorts him out of the darkened auditorium.
At which point Sufjan Stevens' playfully esoteric score segues into a more classical mode and the two strangers suddenly become ballet performers. What a nifty surprise—dancin' at the multiplex! (It happens Boylston and James Whiteside are both principal dancers with the American Ballet Theatre. They are choreographed by Justin Peck, resident choreographer with the New York City Ballet and the subject of Ballet 422 shown at last year's Tribeca fest.)
The duo whirls about down the colorful carpets, past the concession stands and illuminated theater entrances. It's a magical concept, gracious and graceful and glorious—just one of 60 shorts in nine program categories being shown at this fest (out of 3,076 submissions from l8 countries). Sharon Badal's peerless curating has become one of TFF's most anticipated annual gifts to New Yorkers. 
Kurt Cobain: Montage Of Heck
(Brett Morgen. 2015. USA. 136 min.)
Late in 1993, five months before Cobain's death at age 27, Nirvana played the one acoustic set shown in Brett Morgen's unsettling, bone-rattling documentary of the singer/songwriter/guitarist's life. It's sequenced in the film shortly after Cobain's wife, Courtney Love, admits to almost—but not quite—starting an affair with another man. The final song in this Nirvana set and Morgen's film, Kurt Cobain: Montage Of Heck, played in the round before a small MTV Unplugged studio audience, is "Where Did You Sleep Last Night?" Over the years, it's been viewed nearly 63 million times on YouTube.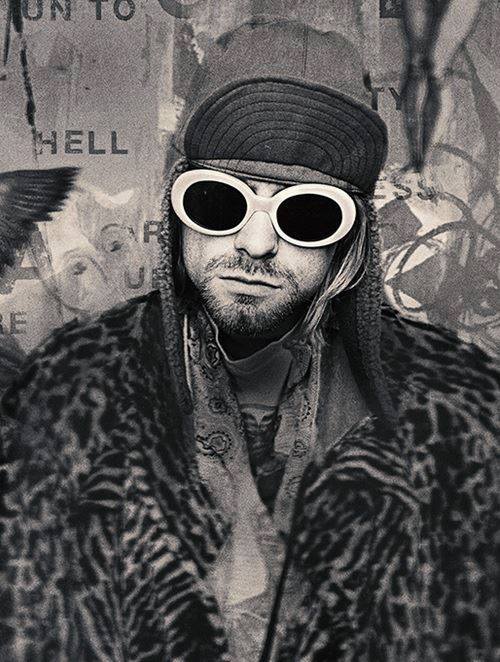 If you're not familiar with it, you may think it's Cobain referencing his wife's near adultery. But the tune is an old, old traditional blues about a girl without either a home or much hope—a favorite of Lead Belly, the 12-string guitar virtuoso and a major Cobain influence. Cobain first recorded it backing up Mark Lanegan (from Screaming Trees) in 1990, and here he renders a six-minute seated version, demonstrating his startling and corrosive talent as a haunting (and haunted) balladeer.
He's in charge of this seminal song of loss as memorably as Bette Midler channeling Joplin in "The Rose," or Jennifer Jason Leigh deconstructing Van Morrison's "Take Me Back" for eight breathless minutes in Georgia, or the equally addicted Townes Van Zandt performing almost anything. What Jennifer's movie barroom singer, Janis, Townes, Courtney, and Kurt had in common is they were all junkies or cross-addicted alcoholics.
Maybe Kurt is thinking about life without Courtney and their infant Frances Bean, or what their lives will be like without him. You anticipate Morgen's doc will go there—denying or disproving the conspiracy theories that have flanked his suicide and floated his possible murder for two decades—but it doesn't. Shortly after Cobain concludes this aching number, shaken but looking deeply satisfied with his performance, the film announces his passing in April '94 on a black title card. The coda is Neil Young's line, "It's better to burn out than fade away."
Montage of Heck (the title comes from a 1986 Cobain mixtape of artists ranging from Kiss to Sammy Davis, Jr.) is a "fully authorized" treatment of Cobain's life, and one of its exec producers is Frances Bean Cobain, who is described in scrapbook clippings as a methadone baby. Excavating nuggets from 200 hours of unreleased music and audio, 4,000 pages of Cobain's angrily primitive drawings, plus home movies and art projects makes a mighty haul for Nirvana fans.
Cobain leisurely morphs from a darling youngster with a play guitar growing up in Aberdeen, California to an alienated pot-smoking teen, to a punk rocker building a ferocious power trio in which he smashes guitars, pushes over amplifiers and dives with abandon into seething mosh pits and entire drum kits. This from a kid who suffered with acute stomach pains much of his life, while selling 75 million albums worldwide. On the other hand, can you imagine a louder, brasher way to amplify and brand "Smells Like Teen Spirit"?
Morgen makes a daring directorial decision to severely limit the talking heads to family members (mom, dad, sister, step-parents) plus one early girlfriend, one band mate (bassist Krist Novoselic), and Courtney Love. Nearly everyone in this tight circle laments the early warning signals that circled the pained, easily humiliated artist, who's sometimes shown live and sometimes as an angst-driven animated figure (styled by Stefan Nadelman) that may remind you of the rotoscoped "coating" Richard Linklater gave Robert Downey, Jr. in A Scanner Darkly.
Frankly, the animated Cobain is often more fun to watch than his human self because his ennui, unease, discomfort, and agitation register faster. Morgen wisely resists any temptation to have the drawn figure interact with his human self. (Linklater's Downey couldn't, because he was the actor's filmic image dipped in ink.) The live action scene of a glassy-eyed Kurt trying to give baby Frances her first haircut is, well, a little nervewracking.
If Cobain was a frenetic train wreck of a punk guitarist, he also had the saving grace of being able to parody himself as well as his heroes. We watch a clip of him being carted onstage in a wheelchair, wearing a fright wig, staggering to the microphone and gasping out the opening lyrics of Amanda McBroom's "The Rose," then falling flat on his back. He says without guile or regret that his life's goal is "making three million dollars and becoming a full-time junkie," though he was completely comfortable shopping in thrift stores and devouring Hungry-Man TV dinners. He was hooked through his last seven years, and though Courtney gave him the child he seemed to so desperately want, he also asked David Geffen (for whom he recorded) to give him $500,000 to buy Lead Belly's guitar. Geffen passed.
This writer asked a musician who was near Kurt Cobain on the final Nirvana tour to recall any memories:
"He became several things in one year: a rock star, a millionaire, a husband, a father, a very serious addict, and 'a spokesman for a generation.' It was a lot to absorb, the last thing probably the hardest. Like most people, he was complicated. I think he wanted success very badly, and I think he also wanted escape and death. And mixing heroin and benzos can lead to poor choices."
Rock docs don't sell 75 million tickets. Super Duper Alice Cooper (2014 Tribeca fest) and God Bless Ozzy Ozborne (2011 Tribeca) are both formidable but have struggled along. Celine Danhier's Blank City and Mandy Stein's Burning Down The House: The Story of CBGB (both 2009 Tribeca fest) are even better but will always be searching out audiences. P. David Ebersole's Hit So Hard may be the happiest doc of the lot, following rock drummer Patty Schemel's addicted life in Courtney Love's band, Hole, through her eventual recovery, marriage, and parenthood. (And it has a distributor!) Other extraordinary chronicles of the indie music scene like Steven Saporito/Zach Shaffer's Squeezebox (on New York's seminal LGBT rock club, screened at 2008 Tribeca), Jon Savage's Joy Division, and Roddy Bogawa's Taken by Storm (on Storm Thorgerson's indelible record covers for Hipgnosis) will earn their seats in retrospectives.
Like the rock chronicles above, Montage of Heck is a big screen, big sound movie. HBO Documentary Films and Universal are distributing it, and will air on HBO on May 4th.
Big Boy
(Bryan Campbell. 2015. USA. 5 min.)
A touch of midnight comedy relief is needed. The title character in Big Boy is perky 9-year-old Dustin, who's riding in the backseat with mom and dad, and desperately needs a bathroom after all that soda pop. So dad pulls off a Seattle/Tacoma highway into a solitary rest stop with a public bathroom. It looks okay from the outside and dad thinks Dustin's old enough to take care of business without him tagging along. Bouncing a red rubber ball, the kid strides manfully from the family car and into the men's room.
Oh my God. If you've ever been in the infamous New York hellhole that was the legendary restroom at CBGBs, or stared into the LaBrea tar pits in Los Angeles where the elephants perished, you're prepared for what greets Dustin. It's a dungeon and the graffiti is crusted deep enough to scrap off with a knife—plus there's two snarly dudes tagging more layers onto the walls. Dustin cheerily does his business as these guys stare him down and then take off.
The kid drops his red rubber ball, which rolls under a toilet stall. Dustin starts to crawl under it when a giant fellow in rags—looking like the crypt-keeper from the old E.C. comics—comes vaulting out of the stall. The ball rolls under the next stall. There's a peephole carved out of that stall's wall into the adjoining toilet and Dustin peers through, politely asking whoever (or whatever) is seated to kindly hand his ball back through the hole. So what happens?
Director Bryan Campbell has described his concept as "childhood innocence [having] power." And so it does. Dustin returns to the family car with his ball, relieved and pleased, to parents who've been paying little attention. The car pulls out—there's a quick surprise Campbell tucks in as a wake-up call to all helicopter parents. The final credits play over during-and-after shots of how Campbell transformed a highway rest stop into a nightmare, made his film and totally restored the location to its original cleanliness, all in 72 hours. Nice job, Bryan.
A Mighty Nice Man
(Jonathan Dee. 2015. USA. 12 min.)
The introduction to The Highsmith Reader by Joan Schenkar summarizes Patricia Highsmith's chilling literary career as always containing "something wounding, something disorienting, something deeply damaging to the reader. Few authors have been as willing to bite the hand that feeds them."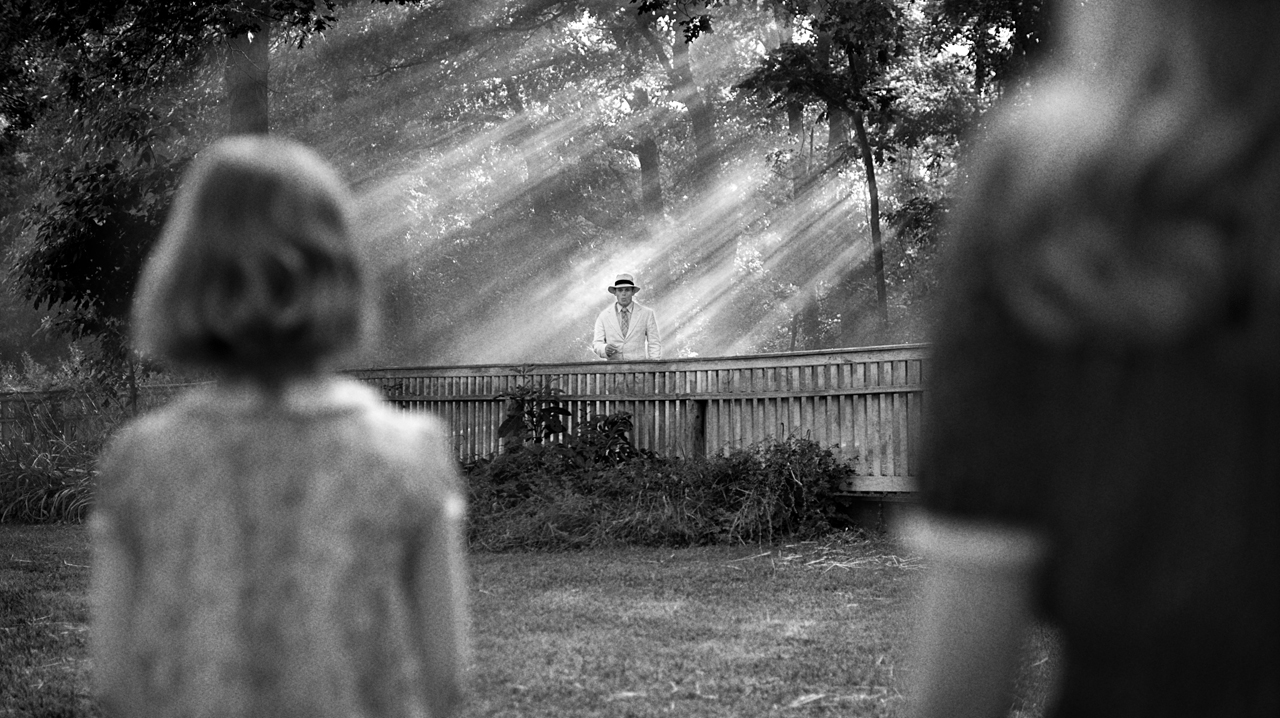 Highsmith's very short story, A Mighty Nice Man, written when she was 19, was published in the Barnard Review in 1940. The film adaptation, set outside and around a post-Depression rural farm, is recreated in Old Bethpage with supple authenticity by director Jonathan Dee, who stays glued to the disturbing tone and events of a children's world touched by a pedophile. Shooting in black-and-white CinemaScope with the 35mm Leica MP camera, Dee quickly etches the empty, lackadaisical afternoons of the teenage Emily (Jacqueline Baum) and her younger sister Charlotte (Kylie McVey); their mother (Kristen Connolly) tends a baby indoors. The music score, sweet and reassuring, echoes the opening minutes of To Kill A Mockingbird.
Into this storybook setting with its lazy, dappled sunlight strides the adult "Robbie" (Billy Magnussen). Whistling away like Robert Mitchum playing the crazy preacher in Night of the Hunter, Robbie is resplendent in a white suit and tie, wears a winning smile and is drawn to the younger eight-year-old, who he brings licorice. He also promises her a ride in his open-top touring car. She accepts and they speed away, as he slaps the child's hand off the radio button—but turns around when he realizes Charlotte's mom has spotted them. Charlotte is scared but knows she's trumped her older sister, who didn't get invited along.
A Mighty Nice Man is the flip side of Campbell's Big Boy, which posits the power of childhood innocence. Here, sheer luck has saved a child from the clutches of evil in an era when strangers were more easily welcomed and trusted. Highsmith's story ends with this description of Charlotte's little hand: "One blade of grass Charlotte caught convulsively and the edges jerked through her fingers. As she looked at her thumb, two thin red lines came out of the flesh." Dee substitutes a studied shot of the girl's face—a mix of satisfaction, suspicion, and, yes, fear. A splendid adaptation. Beautifully acted by all.
Grandma
(Paul Weitz. 2015. USA. 80 min.)
Lily Tomlin is back with a vengeance. In Grandma she's playing a 75-year-old lesbian bohemian feminist poet and the owner of a 1955 Dodge Royal—all of which she is in real life—except life in this movie is not going well.
Here's what's happened: Lily's character Elle, a former academic writer-in-residence at an unnamed LA university, now unemployed, is still grieving over the loss of her 38-year partner who died 18 months ago. She's also just booted out her younger lesbian lover of four months, cleaned up her debts and has $48 in available cash. Finally, she's cut up her one credit card, which hangs on a wind mobile outside her bungalow. Like her antique Dodge, Elle's not running on empty, but she's not hitting on all eight cylinders, either.
Who breezes in but her cute 18-year-old granddaughter, Sage (Julia Garner), a high school senior who's 10 weeks pregnant and has scheduled an abortion that afternoon that will cost $630. Of course the kid is flat broke but figures she'll hit up grandma for a loan—fat chance of that. Garner's character functions like Mia Wasikowska's sassy airhead teen in Only Lovers Left Alive, playing opposite Tilda Swinton, who was her 3000-year-old vampire mother. Wasikowska woke up that film, just as Sage motivates Elle to hit the road in her wheezy Dodge to rustle up the cash for Sage's abortion.
This is a sad and rueful premise for a wise and knowing, and at times very funny movie. Tomlin plays the veteran academic with all her master comedic skills and verve intact—she won't suffer fools and she takes no prisoners. When she's told to leave a coffee bar because she's too obstreperous, she saunters out pouring her hot coffee all over the polished floor. When Sage's stoner boyfriend (the lout who knocked her up) threatens to throw Elle out of his parents' house, the spry lady whacks him with a hockey stick where the sun don't shine. Then she grabs $50 and his stash of weed on her way out. (Make no mistake—here's a woman who takes as well as she gives, and later outside the abortion clinic, she'll get socked in the face by the young daughter of an abortion-protesting mom.)
Elle has a lot of potential givers on her hit list. She hauls some first editions of The Feminine Mystique and The Female Eunuch—which are worth very little—to a lesbian shopkeeper friend, Carla (the late Elizabeth Pena)—no sale. At the tattoo parlor, Elle's trans pal Deathy (Laverne Cox) contributes $65 and a new tat for her friend's shoulder.
Elle visits her old once-upon-a-time husband, Karl (Sam Elliott, now a jaunty 70). She left him shortly after realizing the terrible sexual mistake she'd made, and through the decades Karl's remarried often but still has eyes for her. The sly Karl says he'll advance her the money if she'll share a kiss. She agrees to the kiss and offers to share a joint too. They do—but when he's told what the money is for, he refuses to donate a nickel, remembering an abortion Elle had that she didn't tell him about. Back on the road, the woozy Elle almost wrecks her Dodge and the car has to be towed. Elle and Sage start thumbing rides. Some road trip.
As you sense, these encounters can be prickly, especially their last desperate visit to Sage's mother and Elle's only daughter, Judy (Marcia Gay Harden). Judy's the result of what '70s lovers once called 'misplaced confidence' (i.e., a one-night stand without protection); she's a steely lawyer in her 50s, and she grumpily covers most of the abortion cost. The procedure—not shown—takes place in a crisp, professional clinic, and mom belatedly shows up and drives the subdued Sage home…leaving Elle to take a long, slow, solitary walk away from the camera and toward the rest of her life. Mission accomplished.
Grandma is a shrewdly scripted and directed triumph, not only for Lily Tomlin, but for older lesbians everywhere. It acknowledges and gives recognition to countless thousands of same-sex women who endured marriages or closeted, lonely lives in the second half of the 20th century. It's the first Hollywood drama to explore this phenomenon, and its wry acceptance and acute aesthetic are both startling and moving. Everyone in a cast selected with care is on point, working to support and sculpt Tomlin's brave and assured work. The actress is giving you not just everything she's got, but everything she is. She has no safety net in this film, but she trusts your sensibility. And she's won it.
Nostradamus
(Thomas Ikimi. 2015. USA. 25 min.)
The festival's 105-minute narrative drama, Good Kill, posits Ethan Hawke as a former F-16 pilot, now a drone pilot, who works in a small, cramped trailer at a US military base outside Las Vegas. Hawke spends his day requesting "permission to prosecute" and destroying Taliban sites in Southeast Asia. Good Kill strongly echoes the 2011 short, Unmanned (made with assistance from Tribeca Film Institute Sloan Filmmaker Fund) in which a similar Air Force drone pilot was conflicted between his duty to country and to his suburban family.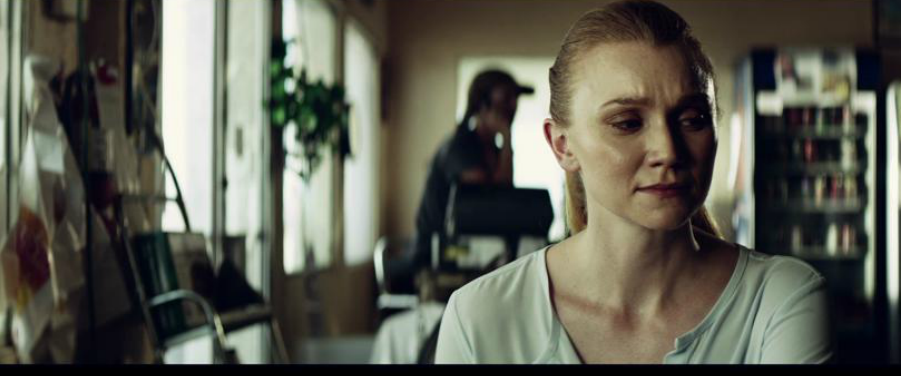 Both Unmanned and Good Kill give penetrating dramatizations of remote control warfare. But they're standing in the shadow of Thomas Ikimi's Nostradamus, which minute-for-minute forms the most powerhouse narrative drama of this entire festival. It was Kickstarter-funded by 111 contributors who pledged $16,000. The film looks like a cool million or more. Its structure resembles Ikimi's favorite film, Strangers On A Train, in which Robert Walker and Farley Granger discuss how to plan a murder.
Only the film's feverish setup will be revealed here. The setting is a diner in the California desert near Amboy. A mix of types are having an ordinary lunch; a small television is playing standard fare. Captain Harry Tyler (Austin Nichols) enters in civilian clothes and orders breakfast. He brings up a headshot of Colonel Groves (Joe Holt), who we'll learn is the officer he's come to meet over breakfast. He chats with his wife Lane (Chloe Bennet) on his cell; their first baby, due soon, is doing fine.
An attractive woman slides in opposite Harry and introduces herself as Silas (Amy Sloan, pictured). She sells insurance but knows Harry's last name from his military uniform folded on the chair next to him. But she also knows Harry's first name. And she also knows—oh oh—his wife's due date.
She knows Harry has been chosen for America's drone program, Nostradamus, and wants to know details. Under the table, she quietly produces a loaded Glock, pointed at Harry, who's sitting silent, starting to sweat. As the television suddenly goes to black, a radio announces a government alert urging people in Los Angeles to take shelter immediately because of an explosive ordnance just discovered.
Silas reveals what's locked in a broom closet next to the diner: a nuclear device set to detonate in 10 minutes. She tells Harry to go see for himself, because she knows he'll come back. He walks outside and unlocks the closet —there's this squat object that looks something like R2D2, all wired up with its timer ticking down. She's a terrorist.
Harry sits back down facing Silas. She explains she can disarm this bomb—which, unlike the blast device in LA, which will evaporate a downtown area, will spread exponentially through California—with a touch on her phone. She tells Harry in exchange for this favor, he must kill Colonel Groves, because she was once embedded with the CIA in Pakistan and witnessed innocent people being killed in a drone strike ordered by the Colonel.
She hands Harry the Glock under the table. Just then Lane, his wife, enters the diner, very pregnant, smiles and sits at the counter, not wanting to interrupt whomever her husband's talking with. Then the diner door opens and Colonel Groves walks in.
Nostradamus—which has Oscar potential written all over it— would be the perfect complementary short to Good Kill in the feature's theatrical release, and/or its eventual DVD. Its four primary cast members (plus Tessa Auberjonois, daughter of Rene, as a waitress) are spot-on. Joe Kraemer's pulsing score is as good as anything by Trent Reznor. Editing and cinematography are, as grips used to say, Academy-all-the-way. This is one hell of a 25-minute movie.
The Diplomat
(David Holbrooke. 2015. USA. 104 min.)
How to describe the quintessential government strategist and peacemaker, Richard Holbrooke? Kati Marton, his third wife from 1995 until his death in 2010 (following hours of surgery for a sudden aortic dissection), got his essence: "He exploded into a room with a thousand ideas and observations and turned life into a Technicolor movie." To which Newsweek editor Jonathan Alter knowingly adds: "He was all bright colors, even when forced into diplo-speak."
David Holbrooke's documentary, The Diplomat, about his father's nearly half century in Washington and far-flung theaters of war, captures some of these colorful essences, though it takes a while. The filmmaker's agenda is peppered with a laundry list of boldface names—Bill and Hillary Clinton, John Kerry, Al Gore, Generals Wesley Clarke and David Petraeus, Secretaries of State Madeleine Albright and Henry Kissinger, UN Ambassador Samantha Power, ABC-TV's Diane Sawyer (who Holbrooke dated between marriages), top journalists like Arthur Gelb, Roger Cohen, and Dexter Filkins—the list goes on and on. Many of these heavyweights are bunched together in a red-carpet-style opening, all trumpeting the "unquiet American's" unconventional style, sharp elbows, and uppity nature.
We're told about goofs like Holbrooke instructing President Obama to call him Richard and not Dick—accompanied by a still of the President glaring sulkily at his older adviser—and being so locked in conversation with Hillary Rodham Clinton that he followed her into a woman's restroom in Pakistan (as remembered by Secretary of State Clinton, to whom he reported).
General Petraeus refers to Holbrooke as his "diplomatic wingman," after the envoy made over a dozen trips to that region, but Holbrooke was quoted remarking that rather than the diplomat becoming the general's wingman, "it should be the other way around!" (It's not in the doc, but Holbrook's last half-serious command to a Pakistani surgeon at George Washington University hospital, where he was rushed with his torn aorta, reportedly was "you've got to get us out of this war in Afghanistan.")
As a filmmaker, the younger Holbrooke isn't the most ingratiating interviewer, and he hogs too much screen time; we fear we're being set up for that all too familiar doc format: the-child's-search-for-the-absentee-father. But then the director steps back, letting the film concentrate on his dad's most enduring achievements, and The Diplomat starts coming to stirring screen life.
Holbrook was a Renaissance man, a term you rarely hear applied to anyone anymore. He'd managed successful careers as a scholarly journalist and a Wall Street master-of-the-world after a six-year baptism of fire in Vietnam, from the Mekong Delta to participation in the first direct talks with the North Vietnamese. He wove a political life as part of the team that helped integrate West and East Germany, as a Peace Corps director, as the youngest assistant Secretary of State, as ambassador to Germany and later as the US ambassador to the United Nations. Long before he played the key role in crafting a peace agreement among warring Croatians, Serbs and Muslims in Bosnia, he knew the risks of partnering with corrupt governments spilling over indefensible borders into even more corrupt countries.
But like Ishmael in his favorite novel (Melville's Moby Dick), Holbrooke was forever "tormented with an everlasting itch for things remote. I love to sail forbidden seas, and land on barbarous coasts." He had a heightened sense of drama and staging, warning a Bosnian leader that "you're shooting craps with your nation's destiny," and using a clever psychological ploy of leaving his negotiating team's luggage sitting outside on the hotel curb, so his adversaries would think Holbrooke and his entourage were about to abandon their talks. Holbrooke told Serbian leader Slobodan Milosevic all bets were off unless an American journalist from the Christian Science Monitor, David Rohde, being held in a Bosnian Serb jail, was freed (he was). Even with all that, Holbrooke didn't hesitate to use heavy air strikes by NATO forces to force the Serbs into negotiations.
The doc's photos of a dinner at the remodeled Wright-Patterson Air Force base in Dayton, Ohio (which included Packys All-Sports Bar, with photos of Bob Hope entertaining American troops in four wars covering the walls) are triumphs of social engineering. Delegations from nine Balkan countries were seated at tables in the world's largest air museum—some under an enormous B-2 bomber suspended from the ceiling. The local Air Force band played World War II songs in the style of Glenn Miller, and three black female sergeants performed as The Andrews Sisters, singing "Boogie Woogie Bugle Boy" (Milosevic sang along.) Pure Holbrooke. Twenty days of intense back-and-forth diplomacy there produced the historic Dayton peace accord. This is more fully chronicled in Holbrooke's excellent 1998 book, To End A War, some of which has the suspense tonality of Nostradamus (reviewed above).
Throughout his career, the peacemaker was teased as "the bulldozer" by admirers as well as critics, and his aides both before and after Bosnia would announce, "the ego has landed" whenever his plane touched down from some distant empire. But he could be remarkably modest around students and anyone else whose opinion he valued closely (this writer's copy of To End A War is inscribed by Holbrook to the late New York labor leader Victor Gotbaum "with admiration from a novice negotiator to the old pro").
The final significant chapter of Holbrook's life, which the film covers vividly, shows his service to the President Obama as special envoy to Pakistan and Afghanistan. During five months of that service in 2010, he kept a secret audio diary of his White House meetings, described extensively by The New York Times on April 22, 2015, the day before The Diplomat had its world premiere at Tribeca. Holbrooke was convinced sending more troops to Afghanistan would not end the war; he wanted to negotiate a deal with Pakistan, Iran and the Taliban. There was a generation gap—the President was seven years old when Holbrooke was tending to the Vietnam peace process. Holbrooke's loyalty to both Secretary Clinton and Obama was unquestioned, but he felt he never got the trust he needed from the administration.
His widow, Kati Marton, amplifies that in a letter to the Times on April 28, 2015, noting that "highly calibrated planning, strategy and a deep sense of our nation's interests drove Richard's negotiations. It is true that Richard believed in using any available tool to advance diplomacy." She writes that he was convinced President Obama would have to turn to him to find a peaceful end to the Afghan war—but Holbrooke's heart gave out before that might have happened.
Over the closing credits of this fine portrait of the most "undiplomatic" of our great diplomats, an ice cream dispute on the Colbert Report between Stephen Colbert and Willie Nelson has been settled amicably by Richard Holbrooke. The country legend is ripping through "On the Road Again," and who saunters in to take a verse, right on the beat, but Holbrooke himself. An example of what you could call shuffle—not shuttle—diplomacy, at its down-home best.
This concludes critic's choices for Tribeca 2015.
---
---
Regions: New York City