10 Filmmakers to Watch in 2015: Navid Khonsari and Vassiliki Khonsari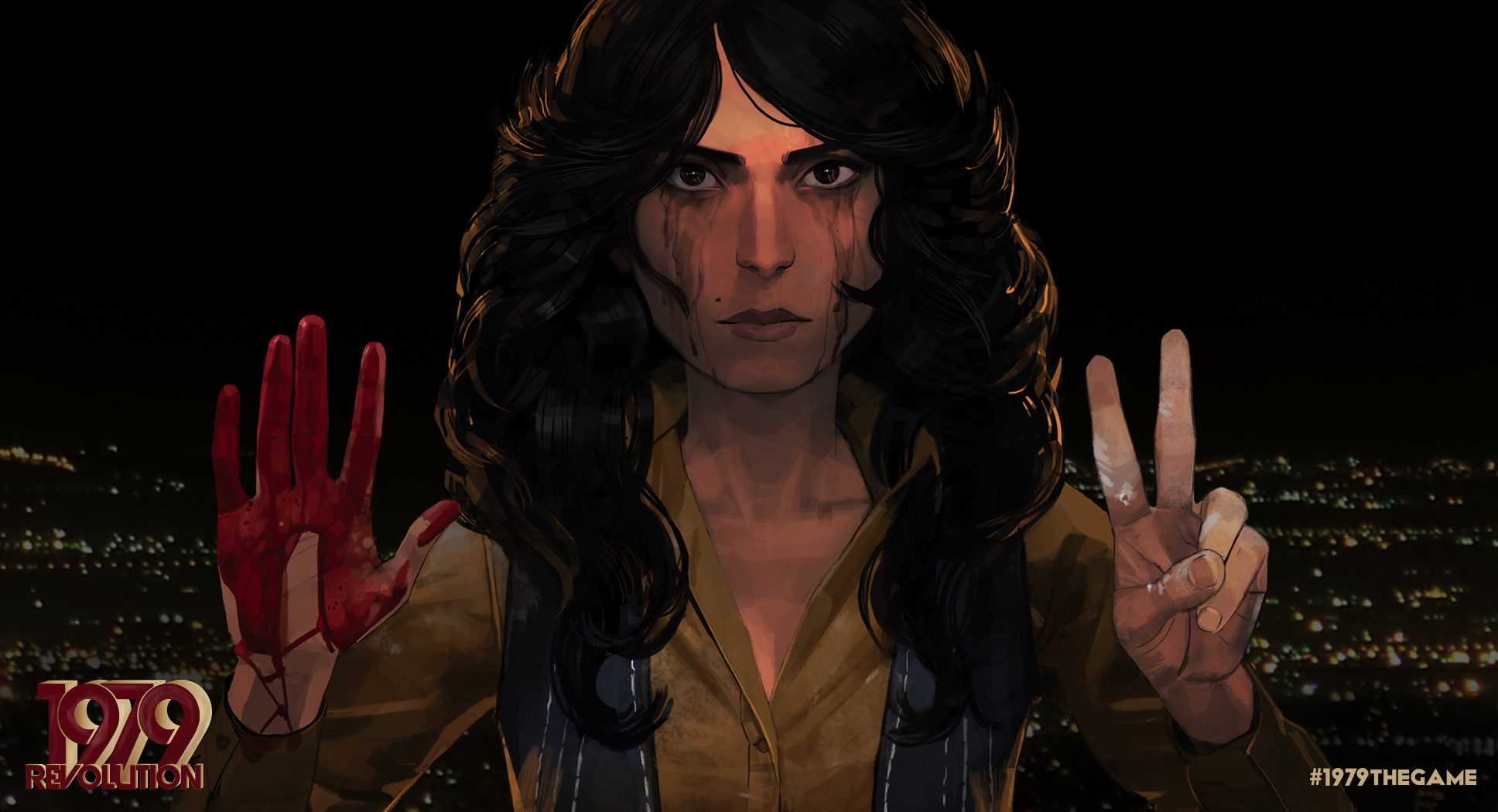 Game developer Navid Khonsari and filmmaker Vassiliki Khonsari join our 10 to Watch list for 1979 Revolution, a video game that aims for something new.
The late, great film critic Roger Ebert sparked a furor in 2005 when he claimed video games were not, and would never be, art. The Internet erupted in howls and he was engaged in a spirited (to say the least) debate for years. He eventually retracted this sentiment. I think both the outrage and his change of heart were due mainly to a poor choice of words. Given the creativity involved, games are surely an art form. Yet, the most fervent gamer would concede video games tread within a fairly narrow emotional range. Death is less a cause of grief than it is, often, the object of the game. And if there is a video game that can induce tears, I haven't heard of it. Ebert also famously said of film that it is "an empathy generating machine." Games can allow you to pretend to be a soldier, but no amount of Call of Duty will make you feel like one as much as a couple of hours with Saving Private Ryan.
Despite the heated debate, movies and video games share commonalities. Both have lengthy, costly, and necessarily collaborative development processes. Many games have scripts and actors, utilize storyboards, and include animation. All of which suggests an opportunity, that a space exists where the virtues of both mediums can be preserved and merged into something new, where the interactivity of a game could enhance, rather than avoid, the empathy of film.
This is the challenge Navid and Vassiliki (or Bessie) Khonsari, a husband and wife team, of InkStories, chose to pursue when they began work on 1979 Revolution, a video game unlike any other. As a partnership, they are also a merging of genres. Navid is a game developer, having contributed to Rockstar Games' titles including Grand Theft Auto, Max Payne, and Red Dead Revolver. Bessie's background is in Visual Anthropology and documentaries, as a cinematographer, producer, and editor, on projects including Pindemonium, which played on the Sundance Channel, Our House, winner of over 20 film festivals, and directed Pulling John, which premiered at SXSW in 2009 and was broadcasted in over 12 countries.
1979 Revolution refers to the Iranian revolution that toppled the American-backed Shah and led to the rise of the theocratic regime still in power today. The "game" puts the participant in the role of an ordinary person trying to navigate the increasingly dangerous situation as one government disintegrates and another rises up to replace it. The player is not asked to pick a side and fight, and there is no score or leveling up. As Bessie says, "You don't win a revolution, you survive one."
The game is expected to be released for a variety of gaming platforms within the next few months, but it is already creating a buzz in the gaming world and beyond. An art installation based on the game premiered at the 2015 Sundance Film Festival, in New Frontier, and continues to exhibit at film festivals and museums around the world including, Museum of the Moving Image (NYC), SXSW, IndieBo, FoST and more.
The Independent's David Pierotti talked with Navid and Bessie Khonsari about their work.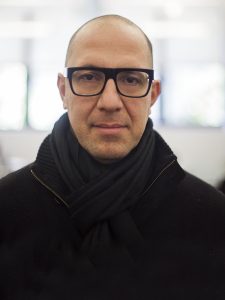 David Pierotti: How would you describe what you've created?
Navid Khonsari: We draw from things people are already familiar with, but I do think we're creating something quite new. At its core, it's an interactive experience that draws heavily from game design, but the game design is drawing heavily from narrative storytelling, and because it's based on real events, the story is leaning heavily on documentaries. It is inclusive of all these different realms of storytelling. We're calling it verité games.
DP: Was that your intention from the beginning? To create something new?
Navid Khonsari: What got us excited was the idea of a revolution as an environment, as a world to engage in. And as we started delving into it, we realized most games have not based their story around real events. It might be too sensitive or too serious. Other games have used historical eras as references or for aesthetics, but they don't embrace the actual events. So we thought it was an amazing opportunity to push into a new genre. I don't think any of us at InkStories were interested in making just another game. And we also recognized that no one had really nailed down making a narrative game. How do we get you emotionally involved in this world and how to get you to possibly understand a little bit more about that world? That was the challenge.
DP: How is this different from games that people are familiar with?
Bessie Khonsari: Firstly, it's based on real events. We're looking to emphasize the authenticity of real events, and through that, reveal the greater truth of these historical events. Our characters are based on interviews with real people and each was meant to represent the actual, on-the-ground experiences of people who lived through it. The real events never change during gameplay, only the character-paths based on the player's choices. And the characters do not fall into the typical good guy/bad guy, but everyone is a shade of gray. We're departing from the norm to show the complexity of history. By making this branching narrative where you get to choose what these characters do, it's inciting empathy.
Also, we've collaborated with photographers and photojournalists who were there at the time. One of the gameplay features is taking photographs and then you can reference the real versions. Within the world, you can also collect these audio tapes. These were illegal tapes of speeches and news reports that were passed around. So the player can access the actual key points of influence that helped shape events.
DP: What is the conclusion for the player? It doesn't sound like you can win, right?
Bessie Khonsari: That's right. It's more akin to episodic television. We think episodic consumption lends itself to this kind of story. Each episode will be a two-hour experience. And we're looking at nine episodes for 1979 Revolution.
DP: I imagine something like this takes a long time and the skills and talents of lots of different people. What was the process like?
Bessie Khonsari: Yes, this idea first started four years ago. First, we had to create a prototype to show people what we had in mind. That includes writing a script, storyboard, concept art, game design and implementation within the Unity engine. Then the whole animation process starts, incorporating art and photography references for the world and characters. We also used motion capture, which is normally used only for blockbusters games. So, that means casting for voices and the motion capture work.
This project is totally independent, which is so unique for video games. It [a failed Kickstarter campaign] also helped us get a lot of amazing partners, like the New Frontier Story Lab at Sundance in 2014. The lab led to the creation of an installation at the New Frontier Exhibition space during the 2015 Sundance festival and then later at SXSW. It is now playing at the Museum of the Moving Image in New York. We also received a partnership with Doris Duke Foundation that provided us a grant for bridging cultures through the Middle Eastern studies program.
DP: All nine episodes will take place within the 1979 Revolution?
Bessie Khonsari: Yes, it actually starts in 1978. The first episode starts on what is called Black Friday, when Iranian soldiers fired on protesters and was a turning point. And it will go through the ouster of the Shah, through the hostage crisis all the way to the Iran-Iraq War.
DP: What do you see in the future for this form?
Bessie Khonsari: A lot of this will be trial and error. I think it may blend into virtual reality, but we also want to make sure we reach a wide audience, so that means tablets and mobile. We want to deepen the experience and deepen the possibility for empathy and make it more exciting, engaging, entertaining. We think gaming is in its infancy and so we think it's important for the industry to push on these boundaries and make sure it keeps going in all directions.
1979 Revolution will be released summer 2015.
Check out two behind the scenes video clips, exclusive for The Independent's 10 to Watch, on our Facebook page. One is a clip from the cast's read-through of 1979 Revolution. The other is of the cast suited up and ready for video capture.
---
---
Regions: Middle East