NYFF 2015: Laszlo Nemes on Recreating Auschwitz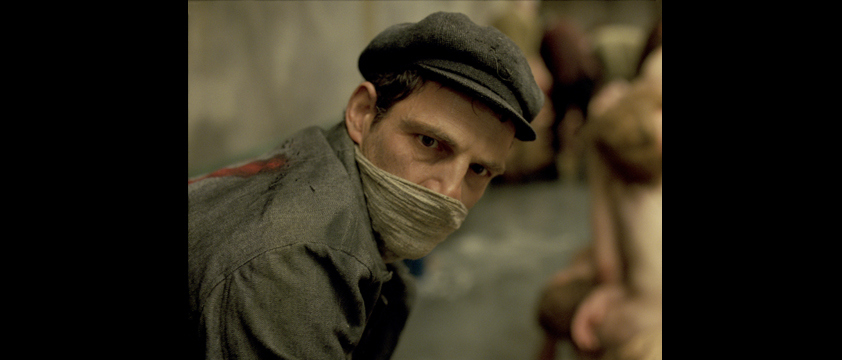 Son of Saul plays NYFF after its explosive debut at Cannes earlier in the year.
Dana Knight sat down with Laszlo Nemes to discuss Son of Saul at the Sarajevo Film Festival 2015.
Dana Knight: This film had a tremendous impact on me. It is a Holocaust film but the focus is so narrow that the historical setting is not the most defining factor in the story, it is prominently about the moral dilemmas of the protagonist. What interests me here is the way a human being reacts to an extremely horrific situation.
Laszlo Nemes: Yes, that was the intention. And the narrowness of the approach was there from the beginning, as well as the directorial approach which could not have been separated from the script. The narrowness of it comes from the obligation to tell something that is closer in essence, or at least that's what we think, to what it might have been like to be caught in the middle of a concentration camp.
DK:  This is a fictional story but I know you did a lot of research for this film. How was this process and how did the story take shape?
Nemes: The basic storyline is something I came up with. Then I went to see Clara [Royer] who's a co-writer and we started working on expanding the idea, based on what we were reading at the time, the written testimonies of those who witnessed the Holocaust. We wanted the film to be as well documented as possible and to know everything about the background of the situation.
DK: Did you go through many versions of the script?
Nemes: We didn't have that many versions. We didn't have radical changes in the approach. We had reorganisations, some scenes were taken out and less dialogue, and things like that. But in the first draft, everything was already there.
DK: I was also very impressed with the camerawork, especially the use of shallow focus. This is another indication that the intention was to focus narrowly on the story of an individual.
Nemes: Yes, it's a portrait, it's a very reduced scope of an image and it actually corresponds to the limitations of a human being: you see very little, you know very little in a concentration camp. And the human experience, with hindsight, is different but the people who were there knew much less. I wanted to convey how limited we could be in this kind of situation.
DK: That's also how we experience life in reality, the background is always a bit blurred.
Nemes: Exactly. And that's the other thing: we wanted to have something very human as an experience. So these limitations don't apply solely to the concentration camp. I think cinema nowadays goes too far in showing. We were against that, we tried to find ways that were more at the human level.
DK: This is your first feature and it's as if you came out of nowhere and took Cannes by storm and amazed everyone. But you must have worked hard towards this for a long time, what has been your trajectory before Son of Saul? Did you study film?
Nemes: I studied International Relations and Political Science in Paris where I grew up. I wanted to go to film school but couldn't, I took some classes in film theory at university and I learnt by myself, I read a lot and watched films. Then I went back to Hungary and worked as an assistant director, then I went to film school in New York but I quit before finishing.
DK: Why?
Nemes: I did not like it.
DK: Too conventional?
Nemes: Yes, it's a long story but film school was not my cup of tea. Then I'd already started making short films and continued doing that and developing them into features.
DK: How many short films have you made?
Nemes: Three. Interestingly, none of them were accepted in the shorts competition in Sarajevo.
DK: I suppose this film opened many doors for you and you're already working on your next project.
Nemes: It did, yes. Our next project is a Hungarian film, the story takes place in Budapest in 1910. It's the story of a young woman, it's something between a coming-of-age film and a thriller.
NYFF hosted a discussion with Nemes and his collaborator, Géza Röhrig,  about the creation of Son of Saul on Wednesday, Oct. 7th at 7 pm at the Film Center Amphitheater. Son of Saul screens Sunday, Oct. 11th at 9 pm. 
---
---
Regions: Europe