10 Filmmakers to Watch in 2016: Sophie-Anne Beaudry & Stéphan Beaudoin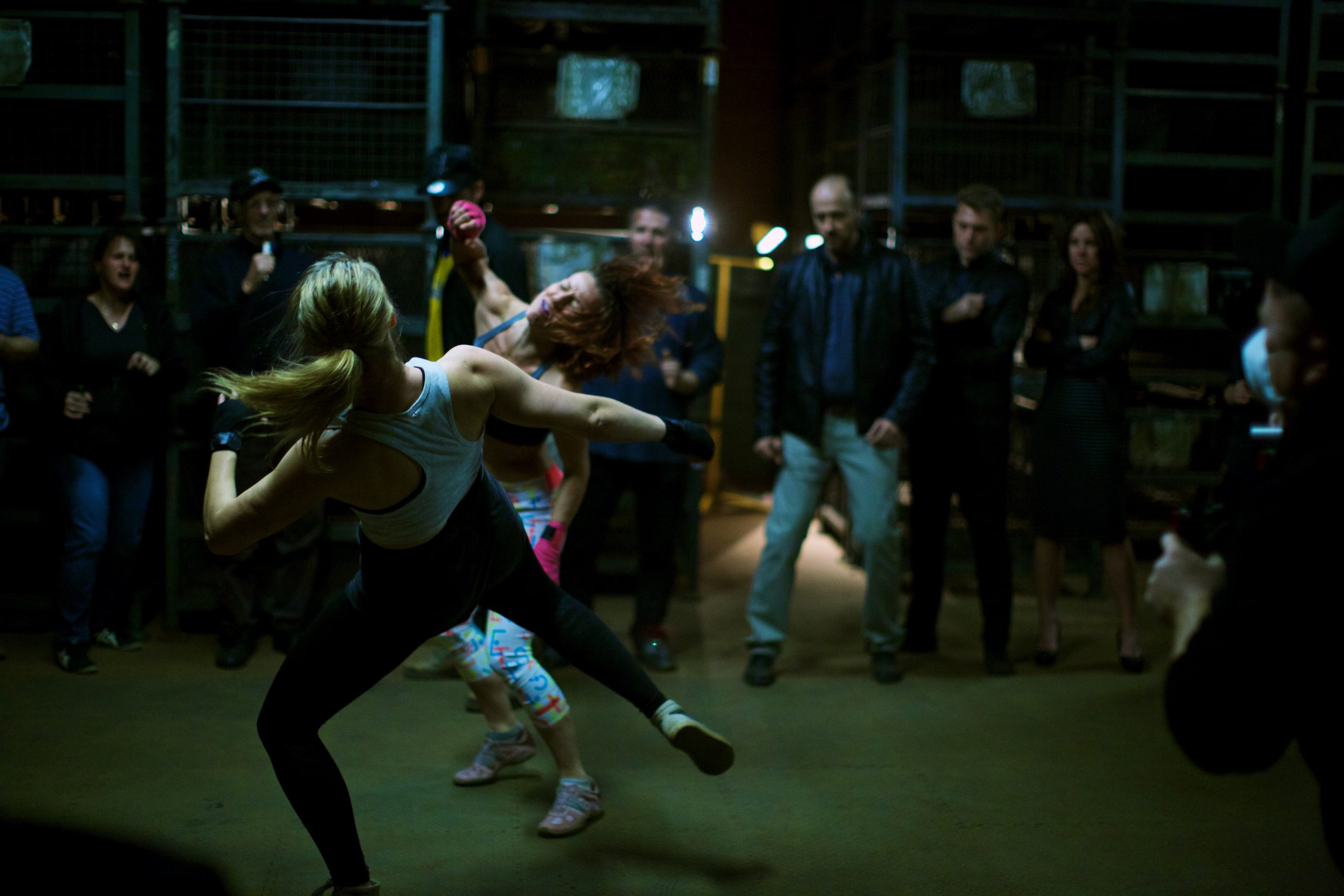 Sophie-Anne Beaudry and director Stéphan Beaudoin make our 10 to Watch for their upcoming feature film Yankee.
The days when the female lead would stand by helpless, offering only an occasional scream, while the tough guys fought over her is fast receding. Today's heroines can take care of themselves, thank you very much, as Jenifer Lawrence, Charlize Theron and others have aptly demonstrated. This goes for real life as the female MMA routinely garners equivalent attention as the men. This line is about to get even blurrier as Rhoda Rousey is set to do both.
Collaborators in life and work, the husband/wife team of Stéphan Beaudoin and Sophie-Anne Beaudry decided to explore the idea of a woman entering traditionally male-dominated domains of violence in their upcoming feature Yankee. Featuring the talents of real life stuntwoman/actress Devon Slack, Yankee leverages this cultural shift to ask important questions about contemporary violence. The film is currently in post-production and scheduled to be completed later this year.
Beaudoin and Beaudry join The Independent's 10 Filmmakers to Watch in 2016, and here they talk about Yankee, self-financing a film, and shooting on location.
David Pierotti: What has been some of your prior work leading up to this film?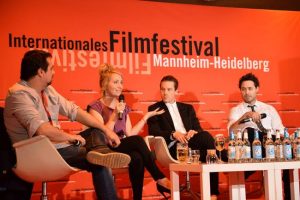 Sophie-Anne Beaudry: After graduating as a writer from l'INIS (a film and television institute in Montreal), I worked for television. It made me understand the importance of creative boundaries which I found essential while writing our films. Yankee is my second screenplay. It was directed and co-produced by my husband Stephan Beaudoin who also directed and co-produced my first screenplay The Lion's Path which recently received an Honorable Mention in the "Dark Matters" category at the Austin Film Festival in the Fall of 2015.
Stéphan Beaudoin: After travelling the festival circuit in Europe, the United States, and parts of Canada, The Lion's Path is coming out in theatres at the end of March 2016. We are thrilled to have distribution for this project and really hope it will connect with audiences. I have also directed over 70 hours of fiction for different television series here in Canada. I love television and its long-form storytelling arc.
DP: Tell us about Yankee, and what inspired the film?
Beaudoin: The film follows Skylar, a young 19 year old girl in distress. After committing an irreparable crime in her home state of Massachusetts, she flees to Canada where a distant cousin hides her. The only means by which she can get by clandestinely is by participating in illicit fights, for which she has aptitudes and technique. She goes by the fighter name of Yankee. Through these fights, she will try to break the spiral of violence in which she finds herself.
Beaudry: Yankee was a very particular and complex film to write. I had the talent and skills of our main actress/stuntgirl Devon Slack in mind and a huge textile plant as a location. It then became very clear to me that my screenplay was going to be about the underground fighting world and the human emotions hidden in those dark corners. To create a strong female character in a very male environment was a great motivation and a cool challenge!
Beaudoin: The film is a social drama, exploring themes related to violence. The one we suffer, the one that is perpetrated, the one we hold back, the one that we inflict. The violence that we watch from a distance. And the one we participate in. Why is there so much violence around us? What does this say about us as human beings?
DP: How did you fund your project?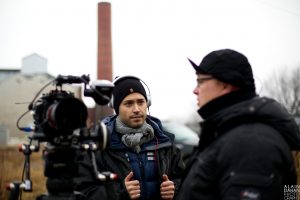 Beaudoin: We are completely self-funding this project! I direct a television series here in Montreal, as well as doing commercial work in advertising. I am using the money to fund our projects, in order to have creative control while being keen on keeping tabs as to the production costs. My good friend Thomas Liccioni, who works in stunts, co-produced the film with me and acted as our stunt coordinator on Yankee. Thomas is Leonardo DiCaprio's stunt double in The Revenant as well Michael Fassbender's double in the X-MEN films. Hail Magneto! So he has awesome experience and a great eye for action and fight scenes.
If the first cut works out, we will submit the film for special post-financing at Telefilm Canada and its provincial counterpart the SODEC. This should provide us the necessary means to carry out quality postproduction for the film.
Beaudry: As it is still in the making, the film has not been shown yet. But there is a bit of a "buzz" and a lot of curiosity around the project because of its raw subject matter.
DP: You mentioned there is already a 'buzz' for the film. How did you build that awareness for a small project?
Beaudoin: Social media has been great in helping us get attention here in Quebec. The film, being in English and in French, made our social network even greater. We capitalized on this when shooting fights scenes involving dozens of extras. We were able to get over 50 extras in a few days notice.
Beaudry: The movie was shot in Drummondville, Quebec. A great number of residents and college students of that small town accepted our invitation to take part as extras on our set. Local and national media also covered the film shoot and did interviews with the cast and the producers.
DP: What did you shoot on? What kind of look were you going for?
Beaudoin: We shot digital. Using the Sony F55, with film lenses and photos lenses that have a great aperture. We wanted a short depth of field to isolate our main character. Also this camera allowed for rapid change of lenses between primes and zooms. We shot in an aspect ratio of 2.35 in 2K RAW format. We wanted to have maximum flexibility in post, while creating an already filmic look at the source. The great dynamic range of this camera allowed us to shoot the entire film with natural and available light. It worked great for the night scenes in low-light, will being versatile for the quicker cut scenes shot in broad daylight.
DP: How did you work with actors on the film?
Beaudoin: As Woody Allen says: casting the right actors accounts for 50% of my directing them! As much as it can be unnerving for some directors, I love directing actors. They are at the core of the story's believability.
Even if a scene is well framed, well lit, looking gorgeous, but the actors are off or are badly directed, then the scene doesn't work. I am not believing the scene. And if the audience doesn't connect to the characters, then nothing else matters. My work with actors is at the heart of my directing approach.
DP: How did you chose locations?
Beaudoin: Well, the reality with indie filmmaking is that even though you have these great locations in mind, it all comes down to what is available and how much it costs! To offset this, Sophie-Anne and I usually develop the script around an existing location that we know we can shoot in for next to nothing (albeit taking in account production insurances, of course). We define the limits of our creative sandbox before starting to build our castle.
That being said, for Yankee, we scouted these amazing locations in and around an old textile plant, and had municipal film permits in order to shoot in different spots located throughout the industrial town of Drummondville. We also mixed in a bit of guerilla filming! Whatever it takes for the shot. Pain is temporary. Film is forever.
---
---
Regions: Canada