Tribeca 2016: Critic's Choice
Senior film critic Kurt Brokaw offers up top picks from Tribeca's Film festival, April 13th - 24th
First Monday in May   
(Andrew Rossi. 2016. USA. 91 min.)
Jane Rosenthal, Robert De Niro and Anna Wintour are more than acquaintances in the arts. They're now neighbors: Tribeca Film's offices on Greenwich Street are a spring stroll away from Vogue's spanking new offices in One World Trade Center.  This gives the festival's Opening Night selection of First Monday in May a real legitimacy, kicking off New York's largest and something-for-everyone film festival.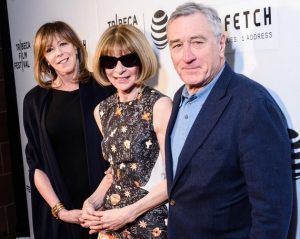 Andrew Rossi's documentary of the Metropolitan Museum of Art's annual fundraising gala—intercut with the creation and opening of last year's stunning China exhibition—is as viewer-friendly and accessible a gala party and exhibit as any New Yorker could desire. First Monday in May has much in common with another Tribeca fest selection two years ago, Dior and I (reviewed for The Independent here), the meticulously rendered deconstruction of Raf Simon's inaugural show for his Paris fashion house (which he's since left). Both features are race-against-the-clock countdowns of art being assembled under acute time pressures.
Simon's solo journey was finding his footing, his inspiration and his staging concept in the most traditional of haute couture showplaces. By contrast, Andrew Bolton, the lanky curator of the Met's Costume Institute and the tireless hero of this film, must swiftly navigate his way through a labyrinth of boldface names and talents, constantly juggling how to fill 50 standing galleries of Chinese art with 150 costumes representing centuries of Chinese culture.
Both Simon and Bolton find their sweet spots in flowers— Simon's 30-foot hedgerows of flowers that frame his runway, Bolton with 250,000 roses decorating a two-story Chinese vase inside the Met entrance. Rossi's doc has more inherent tension because it shows Bolton as a quicksilver curator who knows he has to play well with others to make his deadline.
Bolton has the patience and stamina to play well with everyone, starting with New York's fashion powerbroker, Anna Wintour. She weighs in as editor-in-chief of American Vogue, artistic director of Conde Nast (Vogue's publisher), Met trustee, director of the Met's Anna Wintour Costume Collection, and Bolton's planning partner. With her large black glasses and ever-present coffee cup, she describes herself as decisive and the key advocate of fashion's place in a museum. No one in Rossi's film disputes her and we bear silent witness to her decisiveness, starting with the designer of Vogue's lobby furniture and wall murals ("get rid of it all, it makes me violently ill"). In discussions where Bolton takes a refined lead, Wintour often rewords his recommendations with an edge that subtly defies disagreement.
The documentary clearly reveals that Bolton's dream of "China: Through A Looking Glass" was first seeded by John Galliano's 1998 and 2003 collections for Dior, which were steeped in neo-romanticism and Hollywood-flavored mystery and danger. Bolton's presentation of Alexander McQueen's "Savage Beauty," in 2011, following the designer's suicide, intensified what Bolton describes as "deep romance fused with ugliness, beauty and terror." McQueen's daring cemented Bolton's agenda of clothing-as-artwork, and he gets full backing from his mentor and curator-in-charge, Harold Koda (who Bolton will succeed).
Movies swirl around in Bolton's mind: Raise the Red Dragon, The Last Emperor, Farewell My Concubine, most importantly Wong Kar-wai's In the Mood for Love. The latter director will become Bolton's culture ally in conversations with Chinese officialdom and journalists.  He'll also advise Bolton on how to properly integrate the iconic "dragon lady" actress Anna May Wong and early 40's films noir like the Colonialism-tinged Shanghai Gesture with Gene Tierney. Three other key advisers inputting to Bolton are film director Baz Luhrmann, designer Jean Paul Goutier, and Wintour's 30-year partner at Vogue, the effusive Andre Leon Talley. Bolton has no end of voices offering him advice and direction, which First Monday in May delights in sharing. Everyone on Wintour's team is on the same page that high fashion plus celebrity culture can yield something bigger than both. There's a universal belief that the China exhibit will be the defining link between costume art and museum art, and that New Yorkers will buy into both.
When the dynamic young designer Guo Pei quietly tells us her design goal is to integrate history with aesthetics "As if I am making a wedding cake for my country, with love in my heart." You know the Bolton/Wintour vision is going to work.
And so, it does. Even though the crush of down-to-the-wire installations forces the Met to briefly close off part of its public space, the opening night is a spectacular success.  Pei's opulent "Queen of the Night" dress worn by Rihanna seems to trail from the red carpet halfway up a long flight of stairs, staggering even the resplendent Mr. Talley. Rihanna kills it onstage and gets all the curvy ladies lip-syncing with her. New York's movers and shakers look satisfied with their tables that Wintour has micro-managed every seat at, day after day. Times photographer Bill Cunningham gives the whole nine yards his blessing.
Wintour's gala opening will raise $12.5 million. 800,000 visitors will walk through China's looking glass—It becomes the 5th most successful show in Met history.  If there are eight million stories in the Naked City, First Monday in May right now is the glamour winner.
Elvis & Nixon
(Liza Johnson. 2016. USA. 87 min.)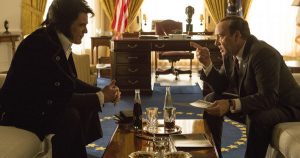 In one of Tribeca Talk's most eagerly anticipated interviews, Ethan Hawke is in dialogue with Patti Smith in a packed School of Visual Arts auditorium on West 23rd Street. Actually, Patti is lavishing praise galore on Hawke's performance as jazzman Chet Baker in Born to Be Blue, and Hawke has never looked happier.
Smith says the movie has a rhythm like a river, and then—searching for a deeper comparison—spreads her arms wide and murmurs to a rapt audience, "it moved like methadone."  There's a deep, knowing sigh from the crowd and several people actually gasp.  Hawke is floored—you don't hear poetry like this in everyday conversation. He concludes their chat looking exhausted and says when he feels this way after playing Hamlet on stage for three hours, he'll go home and watch an Elvis Presley movie. The audience likes that, too.
That afternoon at SVA comes to mind thinking about the semi-serious and weirdly fascinating Elvis & Nixon, a dramatic re-creation of the real-life 1970 conversation at the White House between President Richard Nixon and RCA recording superstar Elvis Presley. "The King," as he was known to the world then as now, had delivered a handwritten letter to the White House gate, requesting a private audience with the president. The letter proposed that Elvis go underground as a deputized federal agent-at-large in the Bureau of Narcotics and Dangerous Drugs. His mission would be to weed out drug dealers and users, thus helping the government curb the rising tide of juvenile delinquency and crime.  The singer was dead serious about volunteering, and he'd picked the ultimate U.S. authoritarian to cultivate.
Presley had starred in nearly 30 Hollywood movies and had just finished 29 nights of sold-out shows in Las Vegas. He wouldn't have had any use for the heroin-addicted Baker, and he probably won't have cared much for Patti Smith, either, whose first live shows at the Bottom Line (with bass player John Cale, a better-known performer with a following) had spread like lightning through lower Manhattan. Presley didn't like the Beatles, and he was keenly aware (as was his RCA label, where this writer was churning out Elvis ads and promotions as creative director) that the British invasion, Baker's West Coast cool jazz, and New York indie startups like Patti Smith were each taking popular music into uncharted waters that might not include him.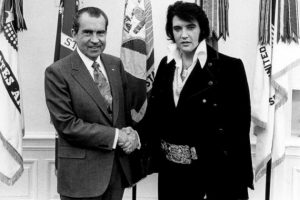 Presley understood the power of costume as well as anyone in the Met's Costume Institute. He was a proud Army veteran who liked weapons and believed in licensed open carry.  As embodied by one of the screen's slyest shapeshifters, Michael Shannon, Presley is shown here as a strange amalgam of cool dude and right-wing nut. You don't know whether to chuckle in admiration or hide under your seat, and it's Shannon's job to hold the movie together without singing a note for 87 minutes, which is roughly the playing time of three Elvis albums plus a stack of 45 rpm singles.  
Fortunately, Shannon gets delicious support from Kevin Spacey, wagging his jowls and lumbering about as POTUS. Like Shannon— not to mention William H. Macy and Willem Dafoe— Spacey is another gifted chameleon who can play just about anyone with absolute conviction. Hunched over and foul-mouthed, he lets his awe-struck aides convince him to grant The King an audience. And of course, the two men hit it off instantly.
Elvis drinks the president's sacrosanct bottle of Dr. Pepper and munches down his private bowl of candies. Nixon orders Secret Service to deliver the confiscated gift Presley has brought the chief executive— a Colt 45 boxed with a clip of live ammunition. Whether The King will realize his dream of becoming a true-blue narc is yours to discover.
On its surface, Elvis & Nixon is little more than a novelty stunt. It's a 20-minute short enlarged to a feature that sometimes feels like a wax museum full of animatronics, and its pacing, editing and music score are rudimentary. But in this most extreme of political seasons, it earns its place as Tribeca's centerpiece and a critic's choice. The picture is a vivid cautionary tale, and its timing makes it the right movie at the right moment. Elvis & Nixon warns that who you boost to the top of the Billboard charts can mirror who you elect to the highest office in the land.   
Entertainers and politicians have always been an uneasy mix, and occasionally they get what they deserve: each other. One thing is certain, Elvis & Nixon doesn't flow like methadone. Castor oil would be more like it.
Auschwitz         
(James Moll. 2016. USA/Poland. 15 min.)
Among the world's leading filmmakers, Steven Spielberg is unsurpassed in giving his time, talent and financial support to helping ensure the world will "never forget" the Holocaust. Collaborating with director James Moll, who established the non-profit USC Shoah Foundation to record and preserve over 50,000 visual histories of Holocaust survivors, Spielberg has produced a definitive history, compact yet painfully comprehensive in its 15-minute running time, of the World War II death camp. It's a mark of Moll and Spielberg's unassuming modesty that they submitted their short along with over 3,000 others. The fest's peerless director of short film programming for 15 years, Sharon Badal, has included Auschwitz among just 72 selections.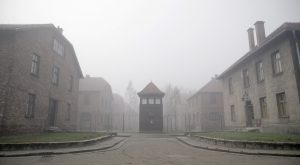 The film, narrated by the familiar voice of Meryl Streep, traces how Nazi Germany invaded Poland in 1939, building an initial barracks in Oświęcim- a town near Krakow, to house guards and staff, but quickly changing to imprisoning fleeing populations.  These concentration camps herded political prisoners of many nationalities, along with gypsies, gays, resistance youth and the handicapped into detention centers. During the war, Chancellor Hitler, believing a "Jewish problem" could only be solved with the extermination of all Jews, expanded the facilities into 40 slave labor sub camps with crematoriums and gas chambers. These repurposed Third Reich death camps murdered 1.1 million prisoners, mostly Jews, near a front-gate sign declaring "Work Makes You Free."  
Spielberg gives Moll every cinematic tool: historical photos, live action moves through the preserved structures, blueprints and animated graphics of construction, survivors' voice-overs, inmates' pencil and charcoal drawings of resolute faces that won't be broken. The script by Lorna Graham concludes that "Humanity itself cannot be extinguished.  It endures, sometimes quietly…it triumphs, eventually."  
The blending of techniques maintains a seamless integrity— if there's one movie maker you'd put your trust in here, it is Mr. Spielberg.  The score, produced by Hans Zimmer (who composed Moll's 1998 Last Days documentary) was composed by Benjamin Wallfisch. His 90-year-old grandmother survived Auschwitz by playing cello in a prison orchestra… and here, again she contributes her cello part on the soundtrack.
The Long and Short of Female Excellence
Custody              
(James Lapine. 2016. USA. 104 min.) 
You Can Go       
(Christine Turner. 2016. USA. 9 min.)
Is it fair to compare/contrast a 109-minute performance by Viola Davis against a 9-minute performance by S. Epatha Merkerson? Oh, yes. When you have actresses of similar dramatic stature and expertise playing roughly matched roles of women who've shed their husbands and are pouring their lives into responsible work they love, whether you're riveted for an hour and three quarters, or less than ten minutes, is beside the point. Davis and Merkerson share twin relevance in a fest that keeps proving year after year that shorts can be just as original, jarring and substantive as feature films.
In Custody, Davis is a New York family court judge with an exhausting backlog of cases.  This movie's case involves a feisty but devoted single mom (Catalina Sandino Moreno) with two kids, one of whom she's accidentally pushed into a glass coffee table, causing a mild concussion.  This brings in school authorities and the Administration for Children's Services, and the kids are whisked into protective custody, leading to more complex and tear-filled courtroom scenes.      
In a conventional drama Davis would simply preside as the disciplined but fair authority figure who runs a tight courtroom and takes no lip from public defenders or social services folks. Davis is that, but we also witness her 23-year marriage collapsing when her husband takes up with a younger gal. (The movie's lean concept is that nearly everyone on the justice side of the bench is falling apart with one malady or another.)  
So, Davis essentially plays a dual role as a sternly moralistic judge with a complicated private life- the ousted husband, the aging parent, the beginnings of a drinking problem. The actress is aces— betrayed, weary, resigned, but totally committed to finding a redemptive path for that mom and her kids. Lapine's drama demands every ounce of Davis' ironclad credibility, and she's the heart and soul of Custody.
In You Can Go, Merkerson is a high school administrator. She describes herself as "the lady who tallies who's there and who's skipping and who comes back smelling like cigarettes."  She's called the surly, short-fused Billy (Charlie Tahan, a modern-day Vic Morrow) into her office because it seems he's obsessed with wrapping the family silver into their microwave every night, hoping it will explode. He waves two containers of prescription meds in front of the administrator's eyes but says he doesn't take them anymore.
To Charlie's surprise, Merkerson opens her drawer and waves a tube of her meds in the air.  She tells the boy her husband of 22 years ran off with someone else some time ago… and that for months (as we briefly flash back to her inert at home) she "did a lot of sightseeing from my sofa."
Charlie interrupts this reverie, picking up a short-barrel shotgun, which he cocks and vaguely points at the administrator. He tells her another boy at school committed suicide because nobody loved him.  "I love you," quietly intones Merkerson, "maybe not because you deserve it, but because you need it."  Will this be a tipping point in the boy's life?   
Merkerson is a decade-plus older than Davis and is a respected veteran of Law & Order.  She's etched vivid roles on Broadway, most memorably reprising Shirley Booth's tour-de-force as Doc's wife in Come Back, Little Sheba.  She gives Daniel Sole's script a measured, aching authority, under the assured direction of Christine Turner.
The Kids' Corner
Balcony          
(Toby Fell-Holden. 2015. U.K. 17 min.)
Shok
(Jamie Donoughue. 2015. Kosovo/U.K. 21 min.)
In theory, two films about friendships between a pair of preteen boys from Albania and a pair of teen girls from Afghanistan and England— each of which ends in tragedy for one boy and for one girl— ought to cancel each other out.  Especially in the same festival program.  Different curators might have selected only one entry, to keep the misery index down. But Sharon Badal and company have wisely decided each earns its place as a distinctive and compelling work of art. Both stories reflect the terrible prejudices of adults and many older teens that still stain the world, while a few children remain (as Lou Reed once observed) as "the only ones who blush." And only one youth here really blushes.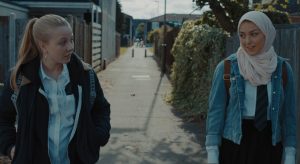 The newly migrated girl from Afghanistan, Dana (Genevieve Dunne) is greeted from her Barnet balcony in North London by jeers below of "Hey, Taliban!" The notes passed around her single-sex classroom are as mean as the lipstick scrawls on the bathroom mirror, telling her to go back where she came from. Dana is pelted outdoors with water balloons.  But she's befriended by another student, Tina (Charlotte Beaumont), a salty-mouthed, sharp-elbowed girl who's attracted to this delicate, quiet foreigner who reads Afghan poems by women.
Tina hangs with a sexually aggressive crowd of males, just as Dana's house is filled with suspicious and wary elders, especially her father. But the two girls find moments of innocence together— none more touching than when Tina delicately reddens her friend's lips for the first time, showing her how to blot her lipstick.  They shoot selfies together. Then one day on Dana's 5th floor balcony, Tina impulsively kisses her friend on the mouth. Dana recoils—and something horrible occurs.
In Shok, which means 'friend,' two 12-year-old boys, Oki (Andi Bajgova) and Petrit (Lum Veseli) are caught in the late 1990s war in Kosovo.  Their village is being decimated by Serbian forces on a deadly mission of ethnic cleansing.  Oki has secretly stored a loaded automatic for protection. The boys survive by selling almonds and cigarette rolling papers to Serbian soldiers. They team as "business partners" in a precarious zone of "supply and demand." When one soldier calls the boys "Albanian scum" and seizes Oki's bike for his own nephew, the partnership almost ends.  Both boys give up their stealth business but cling to their friendship.
It is too late. Their village (Shok was filmed in the Kosovo city of Mitrovica) is overrun by invading Serbs, who order all residents to pack up and leave. When a soldier threatens to shoot Petrit, his loyal friend Oki draws his gun on the soldier, who bats the weapon away. The boys join the townspeople in silent retreat, thinking they will at least walk away with their friendship. But this, too, will be shattered.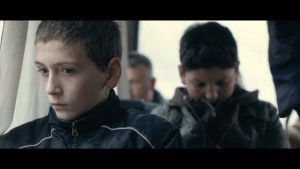 Shok and Balcony weigh in to Tribeca carrying significant acclaim. Toby Fell-Holden's drama was a BIFA nominee for Best British Short, while Jamie Donoughue's film was Kosovo's first Oscar nominee as Best Live Short Subject. Both productions gleam with careful casting, superb production design and technical credits, and four vibrantly persuasive juvenile leads. Like Auschwitz, these are not easy pictures to watch, but the dramatic excellence achieved here is no less heartrending than the Moll/Spielberg documentary.
A Hologram for the King     
(Tom Tykwer. 2016. USA/Germany. 97 min.)
"Obama to visit a Saudi Arabia deep in turmoil," announced a The New York Times headline on April 19.  The story cites an endless list of issues facing the president, including "a costly military offense," "suspension of billions of dollars in promised aid," and "executions of dozens of men on terrorism charges." If you read the story and then walked into Tom Hanks' new movie, you'd think Tom's mission is much more of a fool's errand. For Hanks is playing a 54-year-old divorced and downsized dad who's trying to sell a 3-D teleconferencing system into the King's Metropolis of Economy and Trade—which doesn't yet exist in the middle of a 110-degree Saudi dessert.   
You also might wonder why a whip-smart, ultra-experienced actor like Hanks (who's 59) would take on the role of Alan Clay, the Boston I.T. sales guy who's broke and mired in debt from other failed ventures. Alan has his unsold house on the market, can't pay his daughter's college tuition, and (just to add injury to insult) keeps jabbing at a tumor the size of a steely marble growing on his back, thinking he may have cancer.
Dave Eggers' wickedly knowing and shrewdly inventive 2012 novel stacks everything against Clay, and the movie wisely sticks like Elmer's Glue to most of Eggers' inventive and cagey plot. Clay's in a Hilton hotel in Jeddah, where a local driver, Yousef (Alexander Black), shuttles him every morning out to the "presentation tent," in which three much younger employees from the company's Boston headquarters sit melting day after day without Wi-Fi, air conditioning or food.  
Everyone is waiting for the king who's delayed here, there and elsewhere. Clay can't get a straight answer from anyone in the desert city's only finished building, its administration quarters. He can't even get a drink in a culture where alcohol is forbidden, though a frisky Danish officer (Sidse Babett Knudsen) smuggles him a bottle of local spirits that result in the mother-of-all-hangovers. He's beset by flashback images of his angry ex-wife (Jane Perry), his forlorn and disappointed daughter (Tracey Fairaway) and even his retired dad (Tom Skerritt), who can't stop reminding Clay that outsourcing jobs to places like Saudi Arabia is what's killing the U.S. economy. Dad won't let Alan forget he was an active participant when he ordered the manufacture of bicycles abroad in a former job, causing the company's bankruptcy. Even when the weary, grumpy Clay sits down to rest in the boiling heat, the local furniture breaks and collapses under him.  This movie won't stop piling it on.
Until, interestingly, it does— when Clay is examined by a female Saudi physician, Zahra (Sarita Choudhury) who surgically removes the tumor. It turns out to be a simple, benign lipoma. And it happens the doctor is an attractive, sensitive and divorced mom with two teens. Very gradually, A Hologram for the King shows a possible new life sputtering into gear for the American I.T. specialist. Does the king finally arrive and view Clay's 3-D hologram presentation?  Yes! And which event will take on more importance— the king possibly buying into Clay's 3-D imaging system, or the salesman's life possibly opening up a more significant future when he and his doctor share their first underwater kiss?  
The movie's credibility primarily hinges on Tykwer's surgical ability to extract everything that works from Eggers' clever novel, discarding scenes that don't contribute.  Mostly the film holds onto the novelist's hard, cynical view of how corporate outsourcing has betrayed a domestic labor force— Tykwer correctly bets that Tom Hanks can leverage the guilty, fallen salesman with the same brilliant (and affable) skill set once used by Jack Lemmon in films like The Apartment, Save the Tiger and Glengarry Glen Ross.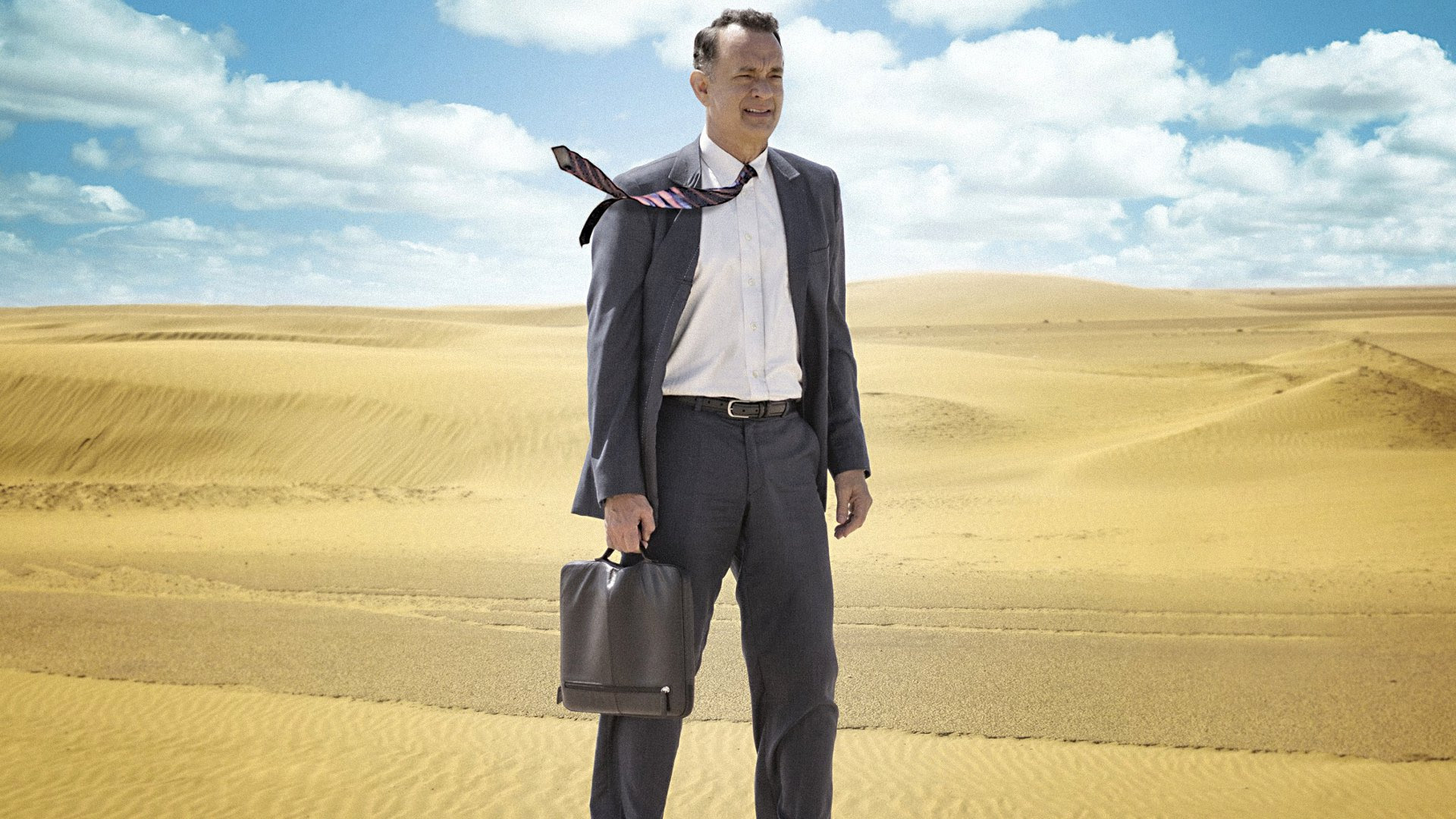 A fair number of episodes in the novel explore how Alan Clay is drawn, almost mystically, to the solitary vastness of the desert, existing next to a bustling skyscraper economy that's beckoning global businesses.  The film lets Hanks touch on this, but carefully truncates a long series of sketches where Clay spends a night with desert hosts hunting a wolf pack and nearly shoots a native boy by accident.   The film also removes a sexual episode in which Clay pleasures the Danish gal.  And Tykwer adds a much-talked about opening shout-out with Hanks performing the Talking Heads' "Once in a Lifetime" as his car, his house and his wife go up in fantasized puffs of smoke. Don't let this mislead you into assuming the movie will be a rollicking satiric comedy; it's a subtle, stealth lesson in repurposing your life before it's too late.  
Tykwer makes Hologram jittery with surprises and unexpected twists, and all of them are stitched together by Hanks' rock-solid, hit-the-ground-running zest and enthusiasm.  The supporting cast including Ms. Choudhury (known for "Homeland" and her film work with Mira Nair) is exemplary, and one of Hanks' most endearing qualities is his willingness to gracefully yield the screen to fellow actors. Tom Hanks still personifies the American Dream updated in a startling, multicultural light that's as fresh as anything in this festival.  
NYC:  All You Need Is Love & A Phone Booth
 Dead Ringer
(Alex Kliment, Michael Tucker, Dana O'Keefe. 2016. USA. 2016. 4 min.)
A Subway Story
(Eugene Kolb. 2016. USA. 5 min.)
The most famous New York short to transfix Tribeca audiences was Shawn Christenson's 19-minute Curfew in 2012. The Independent first saluted its gritty, gutsy, good-hearted artistry downtown (read the review here) and again when it moved uptown into the New York Film Festival's curated shorts (read this review here). Then it was nominated for an Oscar for Best Live Action Short. Then it won the Oscar.  Christenson expanded Curfew into his first feature film, Before I Disappear. Dead Ringer and A Subway Story are much shorter, barely five minutes each.  But one captures how the city's landscape is being transformed in ways mourned by many, while the other animates the sudden power of young love celebrated by all.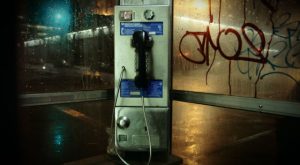 In Dead Ringer, one of the four working phone booths still in New York City bears witness to what's happened, in a working man's New York voice that is royally pissed off,  
"We used to run this town. For decades we handled all of your drug deals, love affairs, runaways, pimps, crime tips, crimes, heavy breathers, emergencies. You name it, we heard it all. On a good night we'd get 4,000, maybe 5,000 ears."
We're looking at empty booths and abandoned phones in very noir-ish night scenes. Then we're riffing through iconic movie scenes with stars huddling and talking in phone booths, like Tippi Hedren in The Birds, Robert De Niro in Goodfellas, Christopher Reeve in Superman.   
"We're the last chance for any privacy on the streets… but a simple second of silence today, you can't stand it, from the first thing in the morning to the last thing before bed." 
More shots of non-working phones.  Some are stickered with the usual message: No Dial Tone. In the day of the phone— says the phone— 'text' was just a noun. The phone says there's nothing smart about smartphones. 
"You want authenticity? You want that old New York the kids say they miss today? Do you?" The phone says the city's getting rid of phones for good. Says old phone booths don't die, they just fade away.  The phone bids us all goodbye with a sigh of resignation: "So long… we'll be waiting for your call."  
Director Alex Kliment penned Dead Ringer's spot-on script. You can picture him writing it not with a pen but with a stubby pencil, on the back of old Ma Bell envelopes, in the back booth of some falling-down watering hole in Hell's Kitchen, just before last call. 
Eugene Kolb's A Subway Story is another of eight million stories in the Naked City, and this one bubbles with happiness. Eugene and his partner Clara Lee Flaherty are telling us how they first eyed each other on a Manhattan-bound subway. The visuals are clean, vigorous pen-and-ink animated drawings… supplemented with lettered titles of narrative comments… with occasional filmic windows of the subway plodding along above and below ground. Sound effects are nicely blended with a playfully tentative music track. Everything flows with extraordinary fluidity.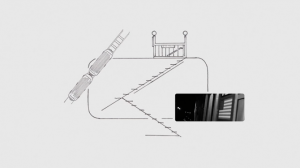 Clara: "I was playing music, sharing ear buds with my friend, and looked up across the car and I saw you. You were writing or drawing in a notebook.  We made eye contact and my heart started racing."
Eugene: "I don't know what it was, I couldn't look away. I wasn't super confident, and I kept going back and forth, whether you were interested or not interested in me.  There was a lot of inner monologue and the stations were rolling past—Canal… DeKalb… Atlantic… 7th Avenue… what do I say, what do I do? We kept making eye contact, I'm thinking maybe this girl really likes me…"
Clara: "I was getting off at my station, I wanted to look at you, sort of as a goodbye… We didn't say anything to each other."
Eugene writes a quick note to Clara's friend, who gives it to Clara that night.
Clara: "She says that guy wrote you a note. I said whaaatt? He signed it 'The guy in the blue hoodie.' And I started dancing up the hallway of my house. I was really smitten. I was 20, and shy, and nervous. I called you five days later, I said I'm Clara, the girl from the train…"
They agree to meet for coffee or tea.
Eugene: "Three years have passed… and we're still together. That's pretty cool."
Clara: "That's pretty cool."  
A Subway Story is the five-minute sweet spot of Tribeca's 15th fest.
The Man Who Knew Infinity   
(Matthew Brown. 2015. U.K. 108 min.)
Matthew Brown has crafted a fully absorbing and, for a lay person, remarkably accessible biopic of the early 20th century master mathematician Srinivasa Ramanujan. His theories, found in lost notebooks in the 1970s, tell scientists today how "black holes" actually behave in outer space. Think of Ramanujan as the king of number theory. To demonstrate what that means, consider a scene deep into the movie that reminds this viewer of what jazz musicians used to call a "cutting session."  
Shortly after the turn of the century, when this movie is set, two tenor saxophonists, usually in an up-tempo jam session, began trading improvised solos, trying to blow each other off the bandstand. Norman Granz' touring Jazz at the Philharmonic reinstated cutting sessions in the 50s, led by an ebullient honker like Illinois Jacquet, who'd take on all challengers.  The one movie with a similar competition is Robert Altman's Kansas City (1996), set in KC's Hey Hey Club, in which Joshua Redman and James Carter replicate a sizzling tenor duel between Lester Young and Coleman Hawkins, both masters of their instruments.  It ends in a stand-off.  
In Brown's drama, Major P.A. MacMahon (Kevin McNally), a math ace at Trinity College, Cambridge, and acknowledged as the world's fastest calculator, takes on the brash newcomer Ramanujan (Dev Patel).  This young man from India has shaken up the entire institution with his intuitive genius for correctly "partitioning" numbers. MacMahon thinks he'll teach the upstart a lesson, challenging him to give the square root of 58,639. Ramanujan ponders the task about five seconds and announces the correct answer. Ramanujan then challenges MacMahon to square the original number, which the major does even faster, without paper or abacus.
MacMahon has a quicker mind than the genius Ramanujan, and it's a defining moment of credibility for the movie. It shows that while the whiz kid knows and can compute numbers to infinity, without bothering to figure them out or even verifying his answers, a senior colleague's trained mind can compute them faster.    
Brown's chronology of Ramanujan's early years of humble beginnings and lost scholarships in Madras in 1913, shifting to the hallowed academic halls of England, works hard to earn your curiosity and interest. Brown's screenplay, co-authored with Robert Kanigel, never leaves you stymied. The picture benefits greatly from being shot in Trinity's hushed and erudite halls, studies, offices and libraries that retain their stately aura.   
Patel is ideal in a role that must be played without a trace of guile. The actor, immensely likeable, has instant charisma. The camera loves him— so does his wife Janiki (Devika Bhise, winsome and subdued). It doesn't take long before we're rooting for Trinity's superiors to recognize the lad's towering talent that keeps getting oppressed and crushed.    
As G.H. Hardy, the esteemed math expert who mentors Ramanujan, Jeremy Irons is the quintessential chain-smoking, pipe-smoking academic who carries umbrellas in broad daylight.  Irons is reversing his portrayal of Richard Fuld, the beleaguered chairman of Lehman Bros in Margin Call. Recall the scene in that film as Fuld's Wall Street firm is leveraging itself out of existence in 2011, when Irons sits down with Zachary Quinto's brilliant junior analyst and begs him to "explain all this to me like I'm a child." This time, in The Man Who Saw Infinity, Irons is the teacher— well, most of the time he is.
Through the years Irons has kept pace with a handful of actors who were once matinee idols and have aged into far more intriguing character pros, unsurpassed at playing men of substance. Frank Langella is another. Here, as the bachelor Hardy who's married to his work, Irons becomes the lead protector and advocate for the marginalized foreigner. "He wasn't my discovery," Hardy tells us, but concedes Ramanujan invented himself…developing a profound and invincible originality.
That he was an outlier humiliated through his brief lifetime (1888-1920) by intense prejudice, gives the movie its heft and relevance. Ramanujan is degraded by Trinity's most rigid academic don, played with arch savagery by Anthony Calf. He's kicked and beaten by fellow students as war breaks out and his classmates go off to fight, and as Trinity itself is bombed by the Germans. Ramanujan was a vegetarian, finding precious little to sustain him in World War I Britain. He was often weak from fasting— which may have led to his contracting tuberculosis, which ended his life at 32.     
Ramanujan also maintained a steadfast refusal to deny what he believed to be divine inspiration. His prayers were always directed to his family goddess, Mahalakshmi of Namakkal; she may be the small carved statue he lovingly arranges on his desk. Except for Hardy, the pacifist Bertrand Russell (an able Jeremy Northam) and one supportive don (the excellent Toby Jones), Ramanujan is surrounded by disapproving and hostile math faculty who live by scientific logic and laws of irrefutable proof.
Thus, the core of the movie is a man railing against a prejudice born of colonial supremacy, holding desperately onto his belief in spiritual guidance. "An equation for me has no meaning, unless it represents a thought of God," he said. The movie and Hardy, an avowed and unapologetic atheist, dicker with how you can be a lover of infinity, pursuing absolute perfection, while denying a relationship with God.  
This is pretty heady stuff for a narrative drama in 2016, and it's a wonder Brown finally found backers and a distributor (IFC) who believe the film will find a global audience. The Man Who Knew Infinity is the stellar must-see drama of this festival, in part because of its sumptuous and commanding production. In the Q&A following its New York premiere at Tribeca, recognition was warmly given to Ed Pressman; the veteran producer wasn't spotlighted with the director, stars and various math experts, but he should have been. Pressman has given a lifetime of movies the same kind of meticulous production that Steven Spielberg infuses into Auschwitz and that Christine Vachon seeds into another fest presentation, the Highsmith thriller A Kind of Murder. Pressman adds value that echoes not just the English heritage of Merchant Ivory Productions but spins back into the 1940s and 50s when audiences were lavished with the impeccably made movies of Powell and Pressburger. Infinity's ominous overhead shot of a German dirigible hovering over Trinity just before the grounds are bombed lasts a mere two seconds, and the picture could have played without it, but that's not Pressman's way.      
In the stirring conclusion, after Ramanujan becomes an elected fellow of the Royal Society and a fellow of Trinity College, Hardy expresses the picture's abiding philosophy that the world was wrong in questioning the mystery of this mathematician's phenomenal gifts, just as Hardy erred in stubbornly resisting Ramanujan's adherence to a higher power. Hardy is never converted, but his absolutism bends, and when it does it's a moment of grace the film freely offers for your consideration.
This concludes critic's choices.  
---
---
Regions: New York City