New Directors/New Films 2017: "Quest"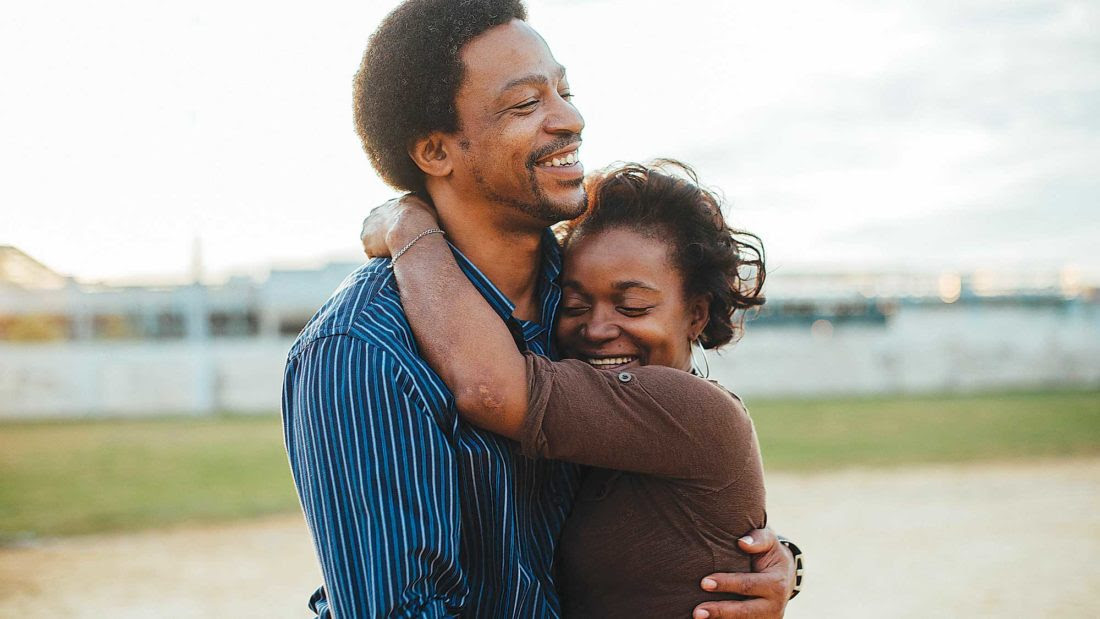 Kurt Brokaw selects his favorites from the 46th edition (29 features, 9 shorts) at Lincoln Center and MoMA (March 15-26)
Quest                
Jonathan Olshefski, USA, 2017, 105 min.
Sometimes when a documentary goes more wrong than the filmmaker could ever have predicted, it turns out more right than the filmmaker could ever have dreamed.
A recent example of this paradox was Barbara Kopple's Miss Sharon Jones, which became The Independent's lead review out of 104 documentary features shown at the 2015 DOC NYC.  Kopple set out to show-and-tell the recording and touring life of soul singer Sharon Jones, who founded a Brooklyn band, the Daptones, in 2000.  On paper it looked like your standard rags-to-a-thin-slice-of-riches biographical essay.  But then Jones contracted stage two pancreatic cancer plus a bile duct cancer that required extensive surgery, chemotherapy and rest.  
Rather than halt the filming, Kopple, one of America's most respected, Oscar-winning documentarians (Harlan County USA, American Dream), elected to keep on shooting and reshape the trajectory of Jones' struggle to overcome her disease. The singer, her family, her band and her closest associates—trusting Kopple's integrity and discretion—agreed.  
And so Miss Sharon Jones shifted gears into a journey through trial, doubt  and pain—a master class in cross-cutting the emotional ups and downs of Jones' resolve never, ever to give up. Her triumphal comeback in a sold-out concert at Manhattan's Beacon theater, with Jones chugging onstage like a hell-bound locomotive, is one of the most affirming returns-to-artistic-form ever captured on film.  
You wouldn't think something so unexpected, and unexpectedly moving,  would happen again so soon. But Quest, a journal from 2008 through 2015 in the life of a North Philadelphia black family, has a similarly long arc with a parallel incident of terrible injury.  
Jonathan Olshefski has made a debut documentary that's easily the most memorable and accomplished feature in this 2017 New Directors/New Films—lean on your critic here, who viewed all 29 docs and narrative dramas, plus shorts. More importantly, it's a film that can stand head-and-shoulders alongside Kopple's lifetime achievements.
This is cause for genuine celebration, because Olshefski didn't start Quest as a film documentary, but as a photo essay on the Rainey family, a closely knit, hardworking couple with two children. Olshefski was drawn to Christopher "Quest" Rainey through his multiple jobs as a hip-hop record producer and promoter who's run a  basement studio (Everquest) embedded in their Philly neighborhood for 13 years.  It's not unlike the Daptones' home operation in Brooklyn, before Sharon Jones' passing last November.      
Significantly, Olshefski stayed with the Raineys for over a year, clicking away and sleeping on their sofa, day-by-day blending himself into the lives of the father; his wife Christine'a (known as "Ma Rainey") who's employed in a domestic violence women's shelter;  their teen daughter Patricia ("PJ"); and a son William, 21, a cancer survivor who's about to become a first-time father as filming begins.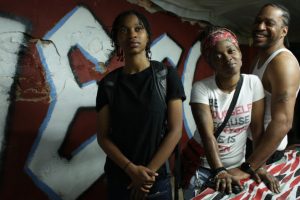 We view any number of defining lifestyle factors, small and large, that would have attracted Olshefski into the lives of the Raineys. There's Christopher's belief that his basement studio at 23rd and Norris should be open to all rappers who want a place for artistic expression, and that it should also be a safe space for youngsters. We observe his self-sufficiency in repairing his leaking living-room ceiling, and note he earns extra income delivering newspapers with a wicked, over-the-shoulder, dead-accurate toss. A tiny but telling detail shows him riding PJ to school on his bike in the rain.  He attends a peaceful community rally that argues for love and against violence.  A big influence seems to be the film's growing reality that the Raineys are a frontline family making a hardscrabble life work in a tough, less stable neighborhood with more than its share of drinkers and drug abusers including one of Rainey's key slip-sliding rappers, Price.  
In the Rainey household, when we see the television on, it's tuned to news programs. The family views President Obama's strength-and-hope messages in 2008 as well as a grave, prophetic warning he gives concerning mass shootings across the country.  Much later in 2016,  the parents watch candidate Trump's "what-the-hell-have-you-got-to-lose?" appeal, followed by a quiet comment by Christine'a to the television screen:  "You don't know how we live."
Once he decided to start filming, Olshefski made himself the cinematographer because, "I was the only camera operator I could afford."
The vast majority of the 300 hours captured was shot handheld on a Canon 5D Mark 2 and Mark 3. Although the cameras are on a monopad with no stabilizing devices, Quest is as smoothly fashioned and confidently edited as much of Barbara Kopple's work.  Credit Quest editor Lindsay Utz, who was also responsible for the expert assembly of Bully, the teen bullying doc.  
Another key partner added by the director (who's white) is producer Sabrina Schmidt Gordon, a 30-year-old African American documentarian who also teaches doc story structure at the CUNY Graduate School of Journalism and is co-chair of the Black Documentary Collective. Probably she taught stuff to Jonathan (who's now an assistant communications arts professor at Rowan University) that he put to good use. A MacArthur grant helped seed the production as well.  
The turning point in Quest occurs in 2013 when PJ, a charming and affable teen who loves basketball, is suddenly caught in a drive-by shooting just blocks from her home and suffers a catastrophic wound.  
As in Miss Sharon Jones, it's not just the subject's life that's forever altered, but the shape and context of the project. Here, too, the family's trust for the filmmaker—and perhaps by then, the documentation process itself—takes hold, and we observe PJ in the emergency room, coming out of surgery, wearing heavy bandages through a long healing process.
The constant love and support of  P.J.'s parents never falters—there are scenes in the recovery process that can break your heart, but they can also lift you up through veils of tears in ways that movies almost never do.  When this brave young woman, at last, has her picture proudly taken for high school graduation, the cumulative impact is like  Sharon Jones barreling onto the Beacon theater stage and getting a New York welcome that must have carried down to Times Square.  
Quest is a film that affirms the dignity and worth of the human soul, in multiple ways: the daughter's adjustment and resolves to move forward; the son William's apparent recovery from cancer and his pride in moving into his own assisted living apartment to raise his son, Isaiah; Price the rapper's getting clean and reestablishing his music career.  
"Quest" and "Ma Quest" age nearly a decade in 105 minutes, and they show the accumulated skill sets of the juggler who balances all those pie plates up on sticks. They're still weary parents (and now grandparents) working too many hours to put food on the table. Patricia'a holds a patient conversation with PJ about her sexuality (which the girl is questioning), and both parents follow up with their reasoned takes. Some of this may remind you of the scene in Moonlight when Mahershala Ali counsels Chiron and affirms his sexuality however he chooses to define it. PJ's Mom and Dad aren't fully there yet, but the subject is open for discussion.     
The Raineys are as rock-solid a parenting couple as you'll want to meet, and Quest shows their conscience—and their ultimate wisdom—in welcoming  Jonathan Olshefski to their home as the boarder who became their witness.
Quest shows Sat. March 18 at 6:30pm at the Walter Reade and Sun. March 19 at 4:00pm at MoMA.  
This concludes critic's choices.
Read More: Critic's Choice Part 1: "Patti Cake$" and "Menasche"

Watch for Brokaw's picks at the 16th annual Tribeca Film Festival, April 19-30.  
---
---
Regions: New York