10 Filmmakers to Watch in 2017: Lily Baldwin and Saschka Unseld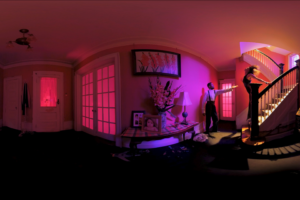 Filmmakers Lily Baldwin and Saschka Unseld combine their talents with their VR work Through You on 10 Filmmakers to Watch, 2017
Virtual Reality—or VR—has grown in recent years and finally come in to its own, with ambitious filmmakers experimenting in the medium. Through You, the VR creation of directors Lily Baldwin and Saschka Unseld, sits at the forefront of this new storytelling medium. It premiered at the 2017 Sundance Film Festival in the New Frontier VR Experiences program.
Through You is the first live action VR experience co-created by the German-born Unseld, who co-founded Oculus Story Studio, where he serves as creative director and explores the future of VR storytelling. Unseld also wrote and directed the Pixar short The Blue Umbrella and the VR films Lost and Dear Angelica, which premiered at Sundance as well.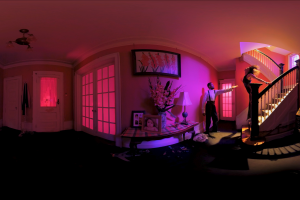 Baldwin is a filmmaker and dancer, known for her visceral movies that combine dance and stylized dreamscapes. Her work has appeared at SXSW Film Festival, Lincoln Center, Carnegie Hall, the Victoria and Albert Museum London, and Art Basel Miami. Her collaboration with Unseld on a dance short called Lawrence set the stage for their work on Through You, a live-action VR experience that uses dance to depict the experience of love and memory across decades of time.
The Independent's David Pierotti connected with Unseld and Baldwin about the exciting new opportunities that VR affords creative expression and about their experience making Through You.
David Pierotti: Tell me about Through You. What inspired your work on it?
Unseld: I had always been fascinated by how we always carry our memories. How even when we sit in an empty room, all of our past sits there with us. I was fascinated by the thought that VR could allow us to tell a story about what it must be like for one of those memories. How the life of a person would look like from the point of view of one of those memories that we always carry with us.
Baldwin: In VR the viewer is inherently implicated—culpable in an intriguing way—by being placed at the center of a 360-degree world. I've always wanted to ignite the viewer's physicality with my films, and this felt like an amazing opportunity to further explore body engagement and intimacy.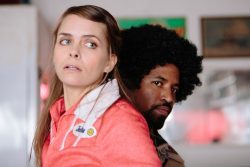 DP: What did you see as your main goal of Through You?
Unseld: To me VR is audiovisual poetry. It can encompass and elevate all the existing art forms into something uniquely new.
Baldwin: Through You is an esoteric poem and is meant to have multiple interpretations. For me, this experience is ultimately about a woman who sets herself free. It was also important to me to feature a bold older woman in VR. Technically, we wanted to start more conversations around cutting in VR and pushing the proximity to a subject — it's perfect in its imperfections.
DP: How did you get this project off the ground?
Baldwin: This project has taken a village of effort to make, that started with Sundance's New Frontier's fellowship with Jaunt, and continued with our producers Shruti Ganguly and Elliott Whitton, to our cinematographer Dagmar Weaver-Madsen with VR supervisor Brooke Chapman and in post, our composer Mark De Gli Antoni in conjunction with sonic artist and mixer Drazen Bosnjak from Mach 1.
Unseld: It was funded through a combination of the Sundance & Jaunt Residency and Oculus Studios.
DP: How did you build awareness for this project?
Unseld: We both come from different worlds, me animation, tech and VR—Lily from dance and the arts. We combined our networks.
Baldwin: Saschka and I each had our own audience before we teamed up—and I think, in part, the convergence of our differences has generated some potent chatter around the project.
DP: Tell me about the technology involved in your project and what you were trying to achieve.
Unseld: We shot with the Jaunt One Camera (a VR camera) – it uses a set of lenses that are comparable to the lenses we have in our eyes. We worked extensively to create the feeling that we are passing through decades of time, starting in the 70s and ending in the future.
Baldwin: We wanted to push the technology for increased clarity of resolution, less truncated and stiff camera movement, and most importantly, for more intimacy for the viewer inside their environment. We moved the camera loads onset by hand and did over 240 edits within 14 minutes. It's a kinetic and dense creature with rough edges, and that's what we were going for.
DP: What was your approach to working with the performers in the piece?
Baldwin:  In VR (and after years of performing myself and watching performers) anything that's not authentic, feels garish to me. So in this production it was paramount to me that I create real worlds for the performers to inhabit. I worked with performers to source movement from real elements in their own lives. Essentially, I see my actors as playing extreme versions of themselves, inside of certain stakes and imposed choices. Once we were on a solid page of understanding and trust around the characters, there is improvisation and intense repetition that amps up strength and builds fatigue. Both are "real" things occurring inside of a constructed environment. Our takes lasted up to 30 minutes.
Unseld: As half of our actors were dancers, Lily did the on-set direction. While I observed the moments and reacted to it with the way I wanted the camera, or rather – the Visitor as we often say in VR – to move. Lily directing the dancers and me reacting to it became a fascinating kind of dance in and of itself.
DP: Where has Through You screened or where is it expected to screen?
Baldwin: We had our world premiere at Sundance 2017 and have continued to screen internationally at festivals from Berlinale's EFM and The World VR Forum in Switzerland and Watershed in Bristol England, to more local festivals in Minneapolis and Nantucket. For us generating discourse in as many environments is primary, which is why we did a pop-up public installation of Through You at Tribeca Film Festival, where it was projected inside of a large crystal ball. We want to create an experience where people can watch VR communally, and we are in conversations with galleries and museums to make that happen.
DP: What's next for you? Any upcoming project you can talk about?
Unseld: Lily and I are already working on our next collaboration. While I have a few personal projects I am working on, the most immediate is a VR film based on my mother's short stories.
Baldwin: Independently I am working in multiple platforms. Jane, a scripted dance feature about Jane Fonda's unexpected aerobic revolution, and Underaged, a raw feature film staring the real lives of NYC teens, are just two of them.
See more information on directors Lily Baldwin at http://www.lilybaldwin.com and Saschka Unseld at http://www.saschkaunseld.com.
---