Harry Assouline on the Award Winning, Futuristic Sci-Fi Thriller New York 2150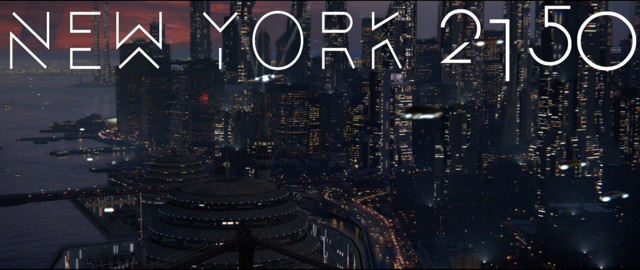 Writer, Director, Producer Harry Assouline Discusses Award Winning, Futuristic Sci-Fi Thriller New York 2150
New York 2150 is the latest sci-fi thriller by Writer, Director, and Producer Harry Assouline. The film stars Kalen J Hall as intergalactic bounty hunter Jayden Jaxon. When Jayden partners with Mac Cole (played by Marcus Brandon) to apprehend a psycho-killer, the two face a variety of haunts, surreal and actual, in the futuristic terror-world of New Manhattan.
New York 2150 has featured at a wide range of festivals including the Los Angeles Independent Film Festival (where it won Best Editing, Best V.F.X., and Best Trailer), Top Shorts Online Film Festival (where it earned a range honors including Best Actor and Best Director), and Festigious Film Festival, Los Angeles (where it won for Best Cinematography, Best Sound Design, Best Narrative Short, among many other prizes). The film has also won Best Editing by L.A. Shorts Awards, Best Sci-fi by Los Angeles Film Awards, Best Actor in a Sci-fi by Actors Awards Los Angeles, and much more. Readers can find a full listing of the film's festival participation and honors at www.newyork2150.com.
The Independent spoke with Harry Assouline about the aesthetic style, special effects, and unique challenges of the film.
What was your goal with New York 2150? What drew you to sci-fi as a genre?
With New York 2150, I wanted to tell a story I connected with and build a realistic sci-fi world that mirrored my own aesthetic style. I have always been intrigued with sci-fi as a mode, notably its ability to express a realistic vision of a universe. Despite the fact that New York 2150 takes place in the future, most of the situations relate to the actual, present-day world; technology doesn't bring people closer, we keep our emotions to ourselves and try to move on with our lives.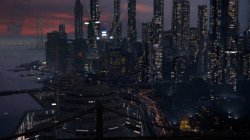 Can you say more about what you mean by the aesthetic style of the film? What were you trying to achieve?
Although there are some limitations I encountered with creating an indie film, I managed to get the results I intended to have from the storyboard. My goal was to maintain a certain visual unity along all the shots.
There are fantastic special effects throughout the film. Tell me about the technology used in the project.
With my background in 3d animation and visual special effects artist, I knew the type of realism I wanted to reach. Strongly influenced by Cowboy Bebop, my vision was to bring an original content into live action which has been determined from the storyboard. After the shooting, I edited the film to prepare all shots that required VFX. I used, mostly, Autodesk Smoke to edit and do the compositing.
How did you get this project off the ground?
New York 2150 is the first film I've taken from start to finish. Right after my graduation in screenwriting, I worked for almost 2 years on it out of my savings. It takes a lot of determination to finish a project of this scale.
You've said that you worked with artists from all around the world in creating your vision for the film. Can you say more about the scope of this project?
For timing purposes, I couldn't do everything alone, I had to hire artists to assist me with VFX ranging from 1 day to 4 months depending on the task and their skills. Through the platform Upwork, I was able to hire people from all over the world (France, England, Italy, Germany, Iran, India, China). I was exchanging directly with each of them from the execution of task, checking the renders, giving feedback, to finally validating when the work was completed. The post production lasted over a year.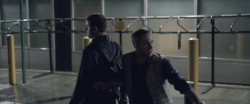 What were some specific challenges you faced in creating the film, and what were the ways you were able to work around these?
The shooting part was definitely the most exciting as well as very challenging. It suddenly started to rain during the fight scene, which included 5 characters. Quickly, I took the decision to keep shooting and use this to our advantage. Unfortunately the rain was not consistent, so when the rain stopped, we had to shoot the close up shots and I added the rain in post-production.
Issues like this slowed down the production, but I ended up adding in an important element to the futuristic world; the city could control the weather to clean the streets. The key is to adapt yourself to the situation.
Through the entire process from pre- to post- production the biggest challenge when you do your own film is to keep alive the original passion that animated you.
What was your approach to working with cast and crew on this film?
As in every pre-production, selecting the team is a crucial element in the making of a film. After rehearsing dialogues and choreography with the actors, we became close which made shooting really easy. I hired a prestigious production company HDNY to shoot the short-film version, so I could focus more on the creation rather than the technical aspect. It was a choice to be closer to the actors, so I could help them convey the best emotion. During the shoot, I was driving the actors to each scene as well as the D.P. to explain how the next shot will turn out. The Director's notebook and the shot list were my strong ally.
How have you developed an audience for New York 2150?
Social media is very cost effective for an indie filmmaker. I started last year through different platforms of social media. You can find all the links on the official site www.newyork2150.com. Of course, there was the festival run: we featured at over 20 events. And so, this helped to gain attention for the film.
What are your plans moving forward, for this film or for another project?
This short film has been well received to many festivals and the journey has just started. This story is also the pilot for an original scripted TV series that could spin for 3 seasons, 8 episodes each. It could be perfect for streaming platforms and / or broadcast channels. I am also developing other projects that I can't share any details for now.
---
---
Regions: New York