New Doc about Charter Schools Exposes Insidious Effects on Education Equity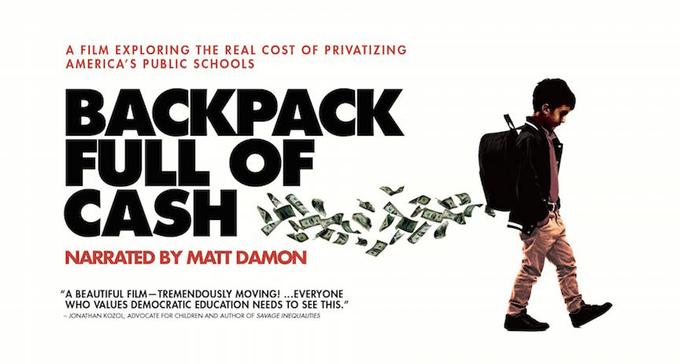 Marie-Emmanuelle Hartness Talks with the Filmmaking Team Behind Backpack Full of Cash at a Film Screening in Boston
Backpack Full of Cash goes deep into the scheme of charter schools in America to demonstrate its disastrous impact on public education today. Director and Producer Sarah Mondale highlights three public schools (in Philadelphia, New Orleans, and Nashville) over the 2013-14 academic year, documenting the struggles faculty and students face as charter schools develop nearby and funnel public money to the private sector. Striking images include empty libraries and ghost concert halls: kids who don't have music teachers, any instruments, or bands for graduation. The film reveals a budgetary decline that eventually leads to the closing of neighborhood public schools.
For Mondale, privatization has a dramatic consequence on education. It is not merely that some charter schools, as her documentary shows, have financial advantages (the charter schools where she films have brand-new, state-of-the-art facilities with the best available technology), it is that they are run by corporations with agendas quite different from traditional public schools. Mondale's film argues that some charter schools are not inclusive. Because certain schools have been shown to put up barriers to entry for less advantaged students, they can end up providing elite educational opportunities for easier to educate young people, while more vulnerable children are left behind in a public system increasingly devoid of adequate funding. And the achievement gap grows.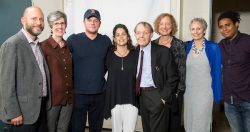 I was invited by a board member of The Campaign for Commercial Free Childhood, one of the co-hosts of the film screening at the Wheelock Theater in Boston. I was curious to hear about how this activist film had been developed and produced.  Mondale previously directed the PBS series School: The Story of American Public Education, narrated by Meryl Streep. It was this work that inspired her involvement in Backpack Full of Cash. Mondale partnered with longtime collaborator Vera Aronow, who produced and edited the film. The two received advising support from Nancy Carlsson-Paige, a leading advocate for early childhood education. She brought her son, superstar actor and activist, Matt Damon, on board to narrate the film. I had a chance to discuss the film with Mondale and Aronow after the screening.
MEH: How did you decide to work on this project?
 SM: After I finished the PBS series, I was familiar with the whole importance of public education and the history of it in this country, and I decided to become a high school teacher. I started to hear a lot about how public schools are "broken, so bad, need to be thrown out" and that we "need to start with something new, something run by the private sector because businessmen would know better how to educate kids…" I was upset about this; I knew it was not true. Then I saw Waiting for Superman, which I felt was a propaganda piece from privately-run charter schools. My Dad, a history professor, got a hold of Diane Ravitch's book. I knew her from doing School, and she was on the other side of the argument at the time. She had switched sides.
VA: Which is meaningful for a lot of people, they remember that.
SM: I called Diane, she said: "You have to do something, it's much worse now than when you made School."
VA: This could be the end of public education in America, how can that be? Look at New Orleans, look at Philadelphia. We had to do something.
MEH: How did you find your subjects?
 SM: We knew we needed to focus on real life people, and I didn't know Philadelphia or anything about their schools. But Vera has family there.
VA: Finding people was a collaborative effort, with the help of friends and family and also our advisors. That's how we met the school Principal, Otis Hackney.
SM: When we talked to him, he invited us to come film the first day of school. And eventually we were able to go in the classrooms, meet the students. A lot of people knew of School; my being a teacher helped a lot too.
VA: The school may have been taking a risk by showing the effects of inadequate funding, but as a public institution, they have an obligation to be open. And they want the public to be aware of the crisis.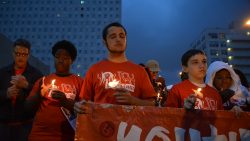 SM: And the counselor of that school, who works with Otis since they don't have enough staff, told me that he had some kids in mind that I should meet. He introduced us to the kids, and they all agreed to do it. I was amazed to see that each one of them had a unique and incredible story.
MEH: Tell me about the voice over.
 VA: We wrote it together during the editing. And my husband Roger Grange, who is the cinematographer, was a scratch narrator. He did a million versions of the scratch narration. We drafted, put it in, revised, and so on.
SM: We had a lot of help from Marian Hunter, who is a senior editor. She helped us with the writing also. It was a group effort.
VA: We also had help, especially in the earlier stages of the project, in terms of concept and of language. Writing a narration is difficult and language with this topic is so coded, the word "choice," the word "reform".
 MEH: Matt Damon and his mom, Nancy Carlsson-Paige, are great supporters of public education. How did you come to work with them?
 VA: Nancy is an expert on early childhood education. We were introduced to her by another adviser at the proposal stage. We told her what we were planning to do, and she has been a wonderful support ever since. It was her idea to involve Matt. Matt is so busy; we are very grateful that he could do it. And that's why we did the screening with him here in Boston. It was a convenient time and place for him.
SM: He was just in between screenings after promoting his two new films in Toronto.
MEH: You did a Kickstarter Campaign; how did it impact your film? Did it help you build a broader audience?
 SM: We sent proposals to a number of foundations, and we received grant support from several of them. That's how we got started with the Ford Foundation, for example.
VA: Then we went back to these foundations again for support during production.
SM: Some supported, some didn't.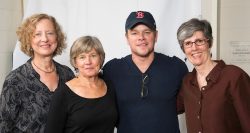 VA: We needed money for post-production, so ultimately the Kickstarter helped us finish the film and definitely raised its profile. We've had a lot of publicity, and other funds came in indirectly. It was also the basis for the self-distribution we are doing now.
MEH: How did the public respond to the film?
 SM: We have discovered in all the cities where we have screened around the country and in Canada that every region has its own activists fighting for public schools. Many of them are teachers but many of them are also parents. We have been very impressed to see how many groups there are around the countries who understand these issues.
MEH: Will you have a theatrical release? Are you planning any broadcast?
 SM: We are following up with some leads but we are not in a hurry because we are doing this Community Screening Campaign.
VA: That's what we are focusing on now.
SM: We have always wanted to do DIY distribution. We have consulted with filmmakers who've had success self-distributing; they have been very generous with their time and their advice. I think the film is a good discussion starter. That's what we've seen when we've showed it so far. So, on our website, we have a "Host a Screening" page. We've had fantastic results: by the time we showed up at the Nashville Film Festival, we already had a couple of hundred requests.
SM: Some people can afford our fees, some people cannot. But the real idea is to fund this work, so we can afford to keep going. The screening campaign costs money, but thankfully a lot of people understand this.
VA: Our calendar is filling up with screenings, so we don't want to undercut this momentum. Still, we will have a digital release at some point.
SM: For now, it's all about the audience. Backpack Full of Cash is such a timely film; we want to focus on finding our audience and connecting with them. And so far the response has been amazingly positive.
---
---
Regions: Boston, Nashville, New Orleans, Philadelphia