New York Jewish Film Festival – January 10-23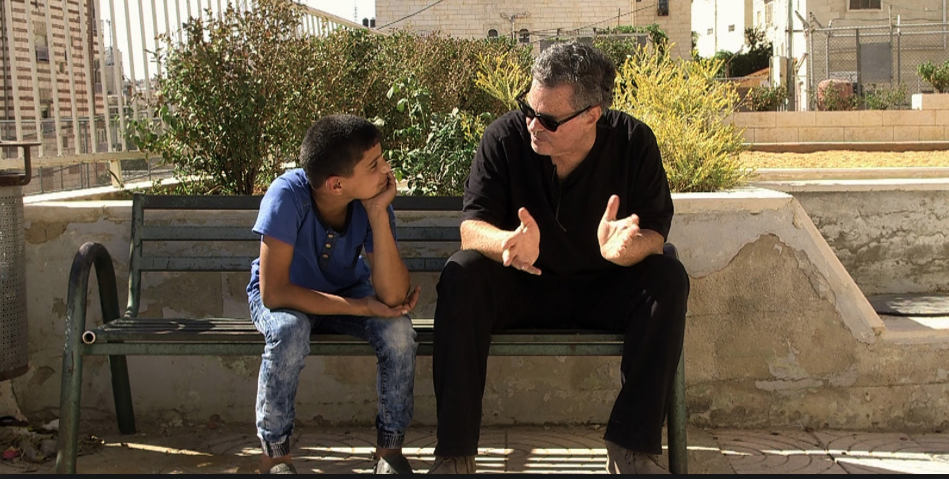 Senior Film Critic Kurt Brokaw Picks Favorites from the 27th Annual Fest Co-sponsored by the Jewish Museum and the Film Society of Lincoln Center
West of the Jordan River; Amos Gital; Israel/France 2017; 87 min.
Two years ago the 25th NYJFF screened Gital's Rabin, The Last Day, a riveting critic's choice that reenacted the Shambar Commission (Israel's Supreme Court) spending four months examining the "functional failure" of security surrounding Prime Minister's Yitzhak Rabin's assassination in 1995. The commission was looking for places to assign blame, and found plenty: Neither the police, the General Security Service (GSS) nor the elite Shin Bet (the equivalent of the U.S. Secret Service) were able to stop a 25-year-old in a supposedly 'sterile zone' from getting close enough to the prime minister to shoot him twice, fatally, with a semi-automatic pistol.
These impeccably acted hearings, taken word-for-word from the commission protocols, occupy much of 153 minutes. But then Gital shifts focus to a straight documentary summary of hate and confrontation incidents that started immediately after Rabin's Oslo peace accords surrendered territories that were sacrosanct to settlers.
The position of Gital's docudrama then becomes crystal clear:  What the commission should have been studying was how his country's religious fundamentalists had spent five years growing and grooming every variety of militant and extremist, one of whom (Yigal Amir, a radicalized zealot) would inevitably attempt the ultimate act of revenge.  Gital draws his own conclusion when he states "I don't think there was a conspiracy.  I think it was written on the wall."
Gital has become Israel's restless, roaming cinematic conscience.  Long before Rabin, The Last Day, the filmmaker went on the road in 1996 to document grieving responses to Rabin's slaying. That film, Arena of Murder, is updated through his new West of the Jordan River, the fest's 2018 selection for its coveted Closing Night position. In many festivals, the Closing Night (especially if it's a U.S. premiere like Gital's doc) is the film that curators want you to watch most closely and think about the longest. West of the Jordan River certainly does that.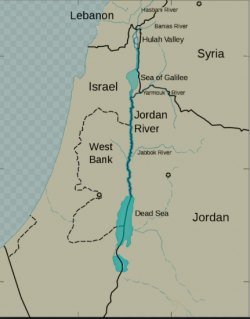 Again the filmmaker is making a travel diary, this time investigating the relations between Israelis and Palestinians—accompanied on the soundtrack by a melancholy theme, a musical transition device that repeats itself like an endless loop. Gital casts himself as an archeologist whose mission is "to scratch layer after layer to the substance of the matter." His scope of inquiry has expanded to include a variety of talking heads from governmental, media and activist coalitions, as well as a cross-section of female and male citizens of varying ages and stations. The youngest is the 5th grade Palestinian boy above telling Gital why he wants to die as a martyr fighting the Israelis.
As writer/producer/director, Gital gives himself a major presence and weight on camera.  He's the narrator and interviewer, and you'll be conscious  how much he's on-camera and how frequently he intercuts his subject with his own reactions—listening intently, nodding with understanding, sometimes agreeing, sometimes disagreeing, occasionally interrupting. To be sure, the filmmaker is well-spoken, serious, never less than respectful of everyone he encounters—but Gital's facial language tells you immediately who he's on board with and who's way off his radar screen. We're watching a subtle form of advocacy journalism, because the director consciously wants to cue our reactions.
There's nothing especially unusual or wrong about this; Michael Moore's done it for years in a bloated fashion that's totally transparent. Werner Herzog does it, too, but he's witty, cagey and supremely erudite.  Most documentarians, like lawyers, advocate fiercely for their positions, and what the most articulate talking heads among Gital's 87 sharply edited minutes are telling us is that if Israel's settlement population grows to 750,000 in the next ten years—as most experts believe it can and will— the country may not survive its growing internal strife.
Some of Gital's subjects push back against that dire prediction. Tzipi Hotovely, Deputy Minister of Foreign Affairs, is clearly proud of the settlements and the "pioneering spirit" of families in Galilee and the Negev.  She's a builder who believes "the occupation story has absolutely no legal basis," and she's sharp with Gital when he starts to protest. "Interview me, Amos," she snaps.
Gital begins gathering evidence for and against the settlements. An unnamed female organizer of "Breaking the Silence," a non-governmental operation monitor (NGO) based in Jerusalem that monitors the activities and feelings of Israeli soldiers occupying cities like Hebron, complains of the government's spying and filming their work, "silencing the debate…eating away at the base of a democratic and pluralistic society."
Another human rights organization, B'tselem, which monitors human rights violations in occupied territories, trains women in Hebron in safely filming dangerous situations by using zoom lenses. "The military usually don't attack women," says one. "The camera gives me confidence, it's like a weapon," states another.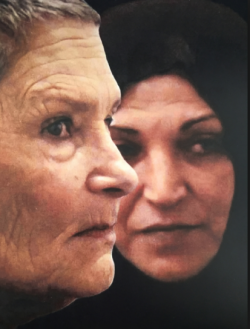 Gitai includes interviews with key journalists including Haaretz newspaper's Ari Shavit, Aluf Benn, and Giden Levy. Shavit tells us the country's post-Rabin society hasn't found a political, intellectual and spiritual elite. He warns of "Israel's suicide" unless the settlements are halted. Shavit says Israel's two options are giving Palestinians full citizenship or revoking their rights altogether and thus ending a democracy—"bringing us back to the point when Rabin was assassinated." Benn agrees with Gital that president Benjamin Natanyahu is primarily an ideologist most interested in securing territories, that the conflict is a century-old dilemma based on a feeling of existential threat, and that that the settlements won't end the Palestinian fear of injustice or the Israeli fear of annihilation.
Levy does portraits of Palestinians in Hebron as individuals—Gital gets into a vigorous debate with a circle of local merchants, one of whom has had a teen son killed by soldiers; the filmmaker is trying to contrast the youth's death at the hands of an occupying Israeli soldier with Rabin's assassination by an extremist Jew. The comparison is not taken—no one seems to get the contrast, and to Gital's credit he includes that scene.
The centerpiece of the doc is a parents' circle of Israeli and Palestinian women (note the two pictured) who've lost a family member, mostly children. National identities are shed because "our tears are the same." Gital asks the older Jewish woman shown who migrated from Baghdad in 1942, if there's a Jewish flaw. "Our flaw is that we don't let go of anything, we are the fairest and the smartest, and we know what's right for others," she replies. "The truth is we don't know."
Tzipi Livni former minister of foreign affairs, seems to agree. She points out that the issue isn't about who has the most Biblical, legal or historical rights to this land, but that "every people has its own narrative, and we're not obliged to tell the same story. But we need two leaders who understand that a small group which represents a whole other vision—greater Israel and the pursuit of the settlements—will actually bring us to the point of no return."
A young settlement wife and mother, who survived a knife attack by a terrorist that left her with a punctured lung and broken rib, weighs in with a measured, righteous air:   "This land belongs to no one. It belongs to God. History brought us here. History brought Arabs here, too.  We're here together. We must stop blaming and learn to live together. That's why we must tell fear: 'You did your job. Now move on to something else.'"
That and a final scene in West of the Jordan River demonstrate the director's affirming if wary hope for a peaceful coexistence. It's a backgammon tournament in Jerusalem between Israelis and Palestinians, encircled by musicians and singers of both cultures, beside a beautiful, slowly circling carousel. The imagery is gorgeous and the carousel is a welcoming respite from the director's wearying travels. On Closing Night, Gital is opening the dialogue anew.
West of the Jordan River shows Tues. Jan. 23 at 12:30 and 6:00pm at the Walter Reade Theater in Lincoln Center.
The Red House; Tamar Tal Anati; Israel, 2016; 21 min.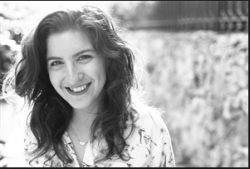 The short subjects at this year's NYJFF are unusually fine, and several have been attached to feature film showings—a pleasant return to an era when the Film Society partnered features and shorts with complementary themes at its annual New York Film Festivals.  One with a history that braids Israeli and Palestinian cultures is The Red House, a delightful blend of animation, live action interviews plus archival stills and found footage that trace the remarkable history of this red-hued industrial colossus in Tel Aviv from 1924 through 2015.
Beginning as the Lodzia textile factory and the city's first industrial operation, The Red House provided employment to barefoot Ashkenazi workers who turned out hosiery and underwear. When that didn't generate enough profit, the factory moved away and the city denied applications that would have turned it into a cinema or a tobacco warehouse.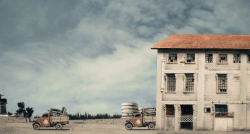 A synagogue was then permitted to take residence, along with a few photo studios—women worshipped behind curtains on a colorless industrial floor, while the photographers shared space with "700 square meters of metal shelves with a billion screws." In the late 80s, artisans like the photographer Eitan Hillel—who shot advertising and fashion including a very young  Ronit Elkabetz (Gett) as a model—and Asim Abu-Shakra ( known as a painter of the potted cactus), forged a multi-ethnic art community that attracted Tel Aviv's monied class.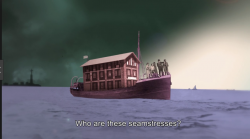 Shakra died in 1990 and the building's miniature art world once again faltered, but was temporarily revived by a 50-member dance troupe, the Batsheva Ensemble, whose phantasmagoric video is included.  Then the city's municipal planning committee decided to landmark and meticulously restore its reddish exterior and windows.  A local artisan concludes "everything about it, every neighbor, every place, every cat, every window, touched me." Tal Anati sculps all this with considerable affection, aided at every turn by Yoav Brill's playful animation and Alberto Shwartz' buoyant music score.
 The Red House shows Thurs. Jan 11 at 1:00pm and Sun. Jan 14 at 6:30pm at the Walter Reade.
 Mr. and Mrs. Adelman; Nicholas Bedos; France, 2017; 120 min.
Do you recall the last truly memorable drama you watched about a longterm or lifetime marriage? Haneke's Amour?  Maiwenn's My King? Heigh's 45 Years? How about the last memorable marriage drama in which one or both partners were Jewish?  Is it possible a young actress and actor could together write a first film (in which they'd star and that he'd direct) about a 45-year marriage between a secular author and his Jewish muse?  And that you might love it?
 Victor de Richemont (Nicholas Bedos) and Sarah Adelman (Doria Tillier) meet cute in "the seediest nightclub in Paris" in 1971. It's the first of 11 inter titled chapters that Sarah narrates. He's a fledging author who drinks too much; she's taking a Ph.D in classics. She's instantly attracted to him, but he hardly knows what to make of her marking up and editing his latest rejected manuscript ("he really wrote crap").  Victor's suspicious of an academic who quotes Kafka and Dostoyevsky, even when she admires traces of Sartre's Nausea as well as Camus in his work. "I'm not sure I could manages a decent erection with a girl who edits out my adjectives and present participles," he confides to his psychiatrist.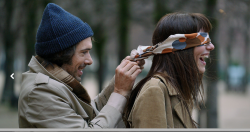 Victor brings Sarah along to meet his wealthy, boring parents and his rightwing bourgeois brother over Christmas.  They go to Woody Allen's new movie. He blindfolds her and teases her out into dangerously close traffic.  It's a whirlwind romance and he proposes with a fake ring. And then she reveals she's Jewish (he hadn't even thought to ask) and takes him home to meet her family "whose kindness was inversely proportional to their income."
Director Bedos is rocketing his debut movie along at warp speed, when its first upending surprise is revealed in her parents' warm and welcoming household:  An entire wall of books by great contemporary Jewish authors: Singer, Malamud, Cohen, Bellow.  "Jewish writers are funny and intelligent," proclaims Sarah's father, handing him a copy of Philip Roth's Portnoy's Complaint and vividly describing a masturbation scene.
It's a eureka moment for Victor, who wakes up the next morning and exclaims "I think I'm Jewish!" He's in love with "the humor, the despair, the sense of family, the conviviality, the self-expression." Victor decides to change his name to Adelman.  Sarah's reply: "That's not equality, that's theft."  But when the newly oriented author turns out a novel based on Sarah's grandparents' lives, he wins the Prix Goncourt, France's highest literary award. The couple marry.
This is the film's sunny start.  From here on until the last 20 minutes, covering 25 years, the marriage suffers career decline, infidelities, suicides, a child with extreme mental challenges, parental neglect, alcoholism, drug addiction, incest, and divorce. Just when you think things can't get any worse, they suddenly turn better. At least for a while.  Through the last two titled chapters and an even more revealing epilogue, Mr. Bedos and Ms. Tillier lock you in the grip of their remarkable acting prowess, aided by lavish production design, of-the-moment costuming and makeup magic that's aging them from 1975 through 2000 and into this century. Plot twists galore fill their last seasons and years—this is the kind of movie that wins audience awards, as the picture has already done at the Hamptons International Film Festival.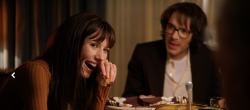 Sarah sums up the essence of their four decades as a couple: "People only think of fame and what others think.They have no secrets. I love secrets. With a little humor and imagination, what goes on b etween two people can be worth all honors." The film's last empathetic frame is the cover of one of Victor's novels bearing the title A Man Under the Influence.
 Mr. and Mrs. Adelman shows Tues. Jan.23 at 3:00pm and 8:30pm.
 Heaven Is A Traffic Jam On The 405; Frank Stiefel; USA 2016; 40 min.
Making one's way through this fest, you encounter familiar names and faces, some from years past or even other media.  Look! There's Suzzy Roche, one of the three original folk-singing Roche sisters, playing a conflicted mom in the tightly drawn short, The Law of Averages.  And wait—is the Peter Suschitzky in the documentary Tracking Edith about Edith Tudor-Hart, the photographer/spy for the KGB, the same Suschitzky who shot Rocky Horror and The Empire Strikes Back?  Ha! It is!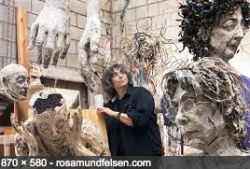 So what's with Mindy Alper?  Isn't she the LA artist who does those bizarre sculptures made of paper mache all wired together?  Whoa.  Heaven Is A Traffic Jam On The 405 is the one film that brings this NYJFF to a skidding halt.  We have to sit back and take this one in, one sterling minute at a time.  Mindy is a 58-year-old Brooklyn-born artisan who's battled through a lifetime of mental disorders, acute anxiety and devastating depression.  She explains it all in tight closeups, intercut with dozens of astounding sculptures and paintings—nightmare art that on closer inspection reveals a redemptive and almost ethereal sensitivity.  You can't imagine anyone else pulling this much beauty out of this much darkness and despair.
Alper's life is revealed as the bad dream she's partly escaped through her work.  The family migrated to LA when she was four, being raised by an abusive, sternly unyielding father and an unstable mother she desperately wanted to please.  Alper began what would become a 36-year apprenticeship under the legendary Dorothy Cannon (1909-1999) at her art studio in Studio City, learning oils, watercolor, acrylics, pencil, pen, pastels, crayon, charcoal, ceramics, enamel and other media. Cannon taught her how to collage in paper, glass and wire. Alper also studied puppetry with Harry Burnett at the Turnabout theater, and sculpture with Leonard Schwartz.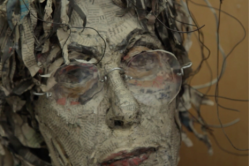 Mostly, though, she collapsed and was often hospitalized, where she was given electroshock treatments.  For a decade she never spoke.  Today she's dependent on a carefully prescribed regimen of prozac, valium, zyprexa and a host of other stabilizing medications.  She speaks clearly but slowly and haltingly.  It's a wonder she can safely drive at all, let alone handle a car on California's Highway 405, but she does.  "I love being stuck in slow traffic, as long as I'm not running late or have to pee," she tells us.
Her massive sculpture of her psychiatrist is a masterpiece of paper mache and wire, made from The Wall Street Journal and New York Times whose paper stock Alper prefers over The LA Times.  One of her most influential teachers, Tom Wudl, calls it "a statement of authority."  Mindy looks and sounds optimistic: "I'd like to have a partner one day," she says wistfully, adding "but one one who lives next door."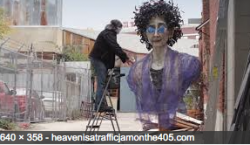 Heaven is a traffic jam on the 405 can serve as an ideal lesson for every documentarian who's ever had to decide whether to make a long short film or a short feature film.  Too many filmmakers go for the latter, stretching what might have been a terrific 20 or 30 minute short into a padded, interminable 90 minute feature. They do this because features can play in theaters forever, while only a tiny percentage of shorts even make it into one-time festival showings.  Frank Stiefel, who once ran a tv commercial production company in Manhattan, knows better than most that less can always be more. This doc was originally an 84-minute cut—feature-length. Stiefel trimmed it to 40 minutes, deliberately.  "I cut out what doesn't propel the story and just left what powers the narrative forward," he says.  Tape that line to your Avid.
Heaven Is a Traffic Jam on the 405 shows as part of the Shorts Program, Sun. Jan.21 at 8:30pm.
Razzia; Nabil Ayouche; France/ Belgium/Morocco, 2017; 120 min.
 When Richard Peña took over as program director at the Film Society and artistic chief of the New York Film Festival in 1988, world cinema expanded. Pena succeeded Richard Roud, who'd championed the French New Wave since 1963, traveling and living in Europe much of his life. Roud lionized Jean-Luc Godard as well as the founder of the Cinematheque Francois, Henri Langlois. He was a Francophile through and through.
Peña was more interested in what was playing in places like downtown Addis Ababa. (That's Ethiopia's capital.)   Over Peña's 25 year stewardship, the festivals and Walter Reade Theatre began showing more of what was going on in cities, towns and backwater villages all over the world. Peña's expansive views have been carried on by FSLC's new leadership and its NYJFF partner, The Jewish Museum.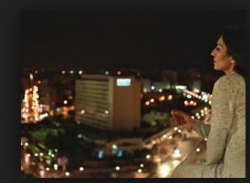 And so this NYJFF's Opening Night gala is centered around what may or may not be the burning question of the cinematic new year: what's doing in downtown Casablanca?   Well, in Nabil Ayouche's punchy round robin of fictional tales encompassing decades of change in Morocco (1982 through 2015), one downtown restaurant, Chez Jacques, sports a luscious color poster of Bogart and Bergman in Warner Brothers' iconic tearjerker, Casablanca.
 The restaurant is owned and headed by Mr. Joe (Arieh Worthalter), an eager-to-please secular Jew who's caught between generations as well as between cultures. Joe knows the movie was a Hollywood product but is happy the locals believe it was shot down the street from his restaurant. Joe's elderly dad is bemoaning the death of an old friend in Tangier, whose burial was difficult because the family couldn't find enough Jews in the city for a minyun and had to import friends.   Joe comforts his father and assures him "in Casablanca there will always be enough Jews to bury us and our children." But the most eligible saucy single at Chez Jacques doesn't want to get serious with him, and the local Arab sex workers won't sleep in his bed, either.
The other major characters whose lives are cross-cut  include the sultry Salima (co-screenwriter Maryam Touzani) who's pregnant but still turns heads walking through downtown in tight skirts;  the millennial Hakim (Abdelilah Rachim)  who's trying to learn upscale French and can't get enough of Queen's "We Are The Champions"; the wealthy 10th grader Ines (Dournia Binebine) whose pals are dying to explore life's mysteries (tampons, Kerouac, cutting), and the modest Berber teacher, Abdallah (Amine Ennaji) who left a job he loved in the Atlas Mountains back in the 80s when the local magistrate mandated he teach in Arabic (and with a religious orientation) which none of the rural children understood.  Abdallah has migrated to Casablanca, heartbroken, leaving behind a widow he'd fallen in love with and a stuttering child to whom he'd given loving attention.  The widow will turn up again.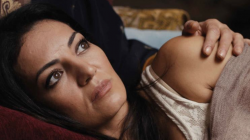 Razzia (which means raid)  is a classy, mostly contemporary take on a city undergoing the anguish of major social change and violent political upheaval—not unlike Moon in the 11th Quarter, which opened this fest two years ago with its unvarnished, unflattering portrait of druggy night life in today's Tel Aviv.  Nocturama, which opened last year's Rendezvous with French Cinema fest, was a shattering drama on young Paris terrorists, nearly all students, who lay siege to the city's landmarks and take refuge in a high-end downtown department store, where they're hunted down and shot dead.  New York got off easy a few years ago with Philippe Petit's high-wire cross between the World Trade Center's Twin Towers in the NYFF's opening night, The Walk.
 You've watched movies formatted exactly like Razzia, but you've never watched one set in Casablanca, which is director Ayouche's calling card for this festival. In some ways his movie resembles  Mira Nair's The Reluctant Fundamentalist, and while it doesn't have that drama's credibility or high-voltage intensity, it's alive with the kind of peeking-over-the-fence novelty that mark a lot of Lincoln Center imports.
Hakim plays lead guitar in a local band with an anthem tune, "Casablanca," that lays out all their fears of assimilation and rampant unemployment; the boy sees himself as the Moroccan Freddy Mercury. Ines sneaks over to visit Habiba, and clings to her, jealous and afraid that she may lose her best friend to 15-year-old Omar, who's going to propose marriage; later that night, returning home, Ines lets herself be cradled in the lap of the family's older Arab nanny and housekeeper.   Mr. Joe caters a party that starts elegant and quickly turns ugly, morphing into an apocalyptic bloodbath as rioters storm the streets and burn storefronts.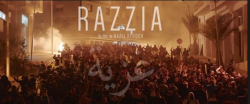 As you may sense, Razzia explores and occasionally exploits a slew of straight-from-the-headlines touch points.  It boasts a gleaming production, thoughtful casting, exemplary acting, and polished editing that doesn't want to let go of Abdellah's interminable bus ride away from his innocent mountains into a wicked metropolis that he calls Tomb City. A waiter from Chez Joseph quietly lip-syncs "As Time Goes By" from Casablanca, then tells Mr. Joe he believes the movie's final scene was shot at the old Anfa airport outside the city.  Much later, Mr. Joe decides to admit to his employee that "Not a single scene in Casablanca was shot in Morocco," as together they watch the unbearable party carnage from a safe distance. You never know where Jewish culture will turn up, or fall apart.
Razzia shows Wed. Jan. 10 at 7:30pm and Thurs. Jan.11 at 3:30pm.
This concludes critic's choices.  Watch for Brokaw's pics at Rendezvous With French Cinema, March 8-18.
---
---
Regions: New York