Rendez-vous With French Cinema – March 8-18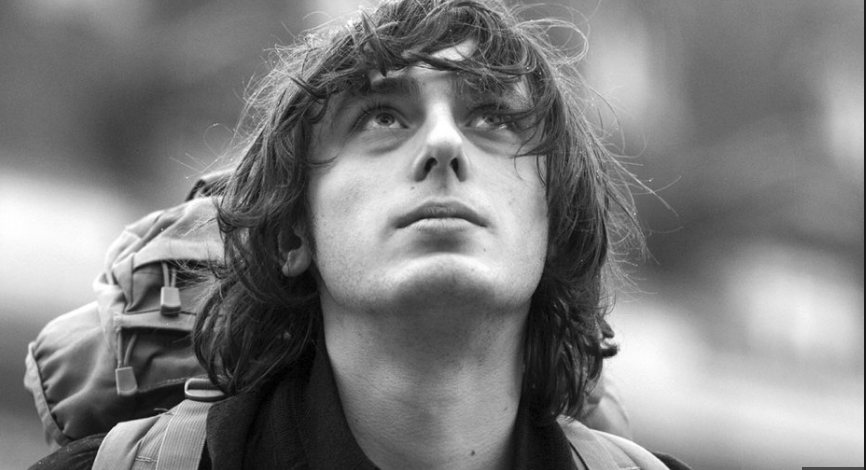 Senior Film Critic Kurt Brokaw Offers Top Favorites from Lincoln Center
A Paris Education; Jean-Paul Clveyrac; France, 2018; 137 min.
 Movie directors are rarely big-name academics.  And academics are almost never recognized movie directors.  But Clveyrac, is both: he co-led the Department of Film in La Femis (the French state film school) in Paris for a decade, and has taught film at Paris 8 University in Saint-Denis since 2011.  Plus he boasts a handsome 20-year filmography with stops at Venice, Berlin, Locarno, Toronto and Directors' Fortnight.  His last feature, My Friend Victoria (2015), an enthralling racial drama based on a seminal Doris Lessing story, was saluted here as a critic's choice in the 20th annual edition of Rendez-vous with French Cinema.
Now Clyeyrac, 53, is back, this time writing and directing an immersive narrative drama about—what else?—a class of film students struggling to conceive and make their first short.  A Paris Education is a master class in movies and the French youth who come to Paris to make them.  Though it takes place in an of-the-moment Paris whose landscape is despoiled with construction cranes, Clyeyrac films in black-and-white CinemaScope, a popular style in international 60s cinema, and adds a persistent Bach-flavored soundtrack.  This has the immediate effect of rolling everything back in time.  It's modern-day, but the first class we sit in is a whirlwind history of Italian cinema, and which directors have stood the test of time.  In this passionate movie about movie making, the present keeps pulling us back into the past.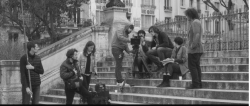 Clveyrac's device of insulating the viewer in a cocooned world—one  in which calendar time feels suspended and sometimes even frozen— is heightened by his leading male actor, Andranic Manet (above). Manet plays Etienne, who's obviously studied philosophy before migrating from Lyon.  The actor is a 22-year-old dreamboat who resembles Evan Dando in the late 80s and talks in whole paragraphs like Noah Baumbach today. The camera loves this kid—Etienne never has to hit on girls in his cluttered rooming house, because when when they're not fixated on "the tracking shots in Kapo," or showing Etienne the building Robert Bresson once lived in, they're all over him.
Etienne devours young women while thinking about his loyal Lyon girlfriend (Diane Rouxel); she Skypes and visits him with mom and dad once in a while. It's little wonder Etienne titles his first film script "The Cheater." He's also eyeing a biography on Pier Paolo Pasolini given to him by Mathias (the terrific Corintin Fila, son of African filmmaker David Pierre Fila), who plays the class antagonist. Mathias is strident, arrogant and rude in the best New Wave tradition, though the one student's work this firecracker likes is by a no-nonsense woman who doesn't sit around deconstructing old movies.
There's a white/black tension and dynamism between the laid-back Etienne and the locked-and-loaded Mathias, and Clveyrac maneuvers their wary friendship with ease. It forms the core of A Paris Education, with some moments of occasional comic relief contributed by Etienne's bouncy wingman, Jean-Noel (a welcome Gonzage Van Bervesseles). But even Jean-Noel's major contribution is serious: he sings a long, poignant version of Erik Satie's "Sylvie," which precedes the silent-film era.  (At 136 minutes, A Paris Education, which is played in four inter titled parts plus an epilogue, can occasionally feel like eight semesters without a spring break.)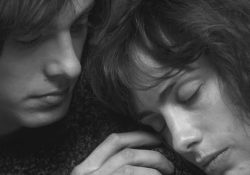 Nonetheless, Clveyrac's educational journey wins the viewer's respect and applause.  As a veteran film teacher, this filmmaker knows not every student is going to become a Bresson, or even make a promising first film, or finish a first film at all. Annabelle (a visceral Sophie Verbeeck), a feisty feminist who's rejected Mathias and has zero interest in seducing the always-compliant Etianne, may choose to remain an outsider, an activist who regards work, even film work, as cheap exploitation. Clveyrac knows firsthand that because a millennial memorizes every tracking shot in early Russian cinema, there's no assurance the student will come up with an original idea for a movie.  The film hints at this in its one-sheet poster quote by the German poet and philosopher Novalis: "I live by day full of courage and faith, and by night die in holy fire."
Clveyrac rolls out multiple surprises in the last chapter and epilogue, some of which are as dark and dispiriting as the neighborhood construction crane that hangs over the closing title credits. This writer/director has given us a serious reality check on film schools in 2018, and how they serve students who may have a mindful of movies and fire in the belly, but less than a fully developed imagination.  Which is why A Paris Education is worth signing up for without delay.
A Paris Education has its North American premiere Mon.March 12 at 3:30 pm and Sat.March 17 at 6:00 pm at the Walter Reade Theater.
Number One; Tonie Marshall; France, 2017; 110 min.
 Jean-Paul Clveyrac isn't the only returning French artisan dear to this viewer's heart. In 2016, Emmanuelle Devos played Simone Veil, the French Minister of Health who legalized abortion in France in 1974, working against all odds and opponents. That film, The Law, was a critic's choice's in The New York Jewish Film Festival, curated by The Film Society of Lincoln Center and its presenting partner, The Jewish Museum. Devos had a one-of-a-kind blend of iron resolve and chain-smoking determinism, yet she was not without her moments of vulnerability and exhaustion.  She was perfect as Veil, who was voted France's most admired woman in 2015.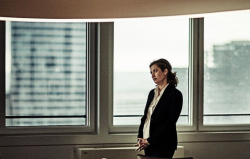 In Number One, chosen here by The Film Society and its co-presenter, Gaumont, Devos shoulders a mirror-like role. She plays Emmanuelle Blachey, a top energy exec who's tapped to become CEO of France's national water company—again against all odds and opponents.This time her enemies are corporate France and its powerful, male-dominated executive suites. And this time the actress is even better, working under Tonie Marshall's taut direction, knowing script and a first-rate supporting ensemble (equally female and male) that frame Devos' tour-de-force in chillingly believable ways.
The mood is ominous from the get-go, as Emmanuelle arrives at a Paris feminist convention from Nantes, and witnesses a drowned woman being pulled from the sea, and then intercepts an obscene phone message on her mobile.  She's flattered by the officers' (Francine Berge and Suzanne Clement, both stellar)  offer to become their candidate to replace the ailing leader of the nation's water company,  She'd be the first woman to lead a CAC-40 company—France's equivalent of America's Dow Jones. But she's skittish about embracing female solidarity, in part because she's become the #4 exec in an exclusively male corporate hierarchy, and has a shot at becoming number three.  She manages Chinese operations (speaking fluid Mandarin), which is rapidly expanding offshore wind turbines that are proving cheaper than nuclear power.
We observe that Emmanuelle has navigated a complicated and delicate life balance.  She's close with her two children and a loyal husband (John Lynch, another neat pick who mixes English and French in every sentence) who's far down his own corporate chain.  She has a talented male protege she's pushing for promotion. But she's also logging a lot of visits to her bedridden father (the beloved Sami Frey), a philosophy professor who realizes his daughter has bargained her youth if not her soul to become part of the one percent.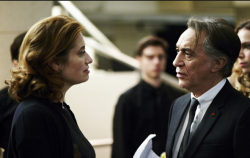 Emmanuelle is conflicted by this and it's revealed she took a six-month leave at a psychiatric clinic. Worse, she's forever haunted by her mother's long ago drowning in a storm-tossed sea, alone in a rowboat—her body was never found, but director Marshall inserts one of the most profound surprises you'll ever experience in a contemporary drama. (It's an iconic moment you'll recognize from a classic movie of the 1950s, which we'll return to shortly.)
Number One quickly sets up the forces supporting and opposing Emmanuelle's ascendency. In these corporate canyons, backbiting like the obscene phone message is just a prelude to a mix of sexual harassment, a daughter captured live in drug disarray, and 600 million Euro embezzlements. Marshall's script—co-written with Marion Doussot and Raphaelle Bacquel—is a delicious blend of corner office soap opera and torn-from-the-headlines financial scandals we're witnessing every day.
Richard Berry and Benjamin Biolay contribute engrossingly disgusting portrayals of the power, money and sex-hungry bad actors in the tower suites. They offer Emmanuelle friendship and loyalty in exchange for her allegiance, patience and "maternal honor."  "You'll no longer have a private life," a PR maven warns her. Plus the boss extends a veiled hint that it might not hurt her prospects if she slept with him. How can you not root for Devos in this one?
Whether Emmanuelle becomes France's first female water company head is yours to discover. But there's no question where Tonie Marshall's sensibilities lie:  In a scene in which Emmanuelle watches her young daughter frolicking on a beach, she voice-overs a mother's wish that her daughter "becomes her best."  But that doesn't mean beating everyone else, because she's come to understand "being number one will be banal."    Marshall's using "banal" the same way Hannah Arendt used it in 1963 writing about "the banality of evil."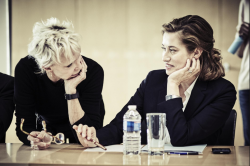 Suddenly we realize why Marshall may have inserted those quick moments from a certain 50s movie, symbolizing the death of Emmanuelle's mom. That movie today is a timeless and enduring classic, but at the time of its release was a commercial and critical failure. It broke the heart of its director, a distinguished actor who never helmed a film again. Being number one ain't for everyone.
Number One shows Sat. March 10 at 6:30 pm and Sat. March 17 at 9:15 pm.
The Lion Sleeps Tonight; Nobuhiro Suwa; France/Japan 2017; 103 min.
 Every aging Francophile grew up in the dark with (in alphabetical order), Claude Chabrol, Jean-Luc Godard, Jacques Rivette, Eric Rohmer, Francois Truffaut and Agnes Varda. For this viewer, it was Truffaut and Jean Pierre Leaud's childhood-into-adulthood screen creation, Antoine Doinel, that became a youth-into-midcareer companion, a measuring stick against reel life and real life's gains and losses, victories and defeats.
Truffant had placed an open-audition ad in 1958, seeking a youthful version of himself to star in his debut feature, The 400 Blows. Maybe the 14-year-old Leaud wanted the role the most—he's said that his natural fear "made him give, almost with exuberance," ever disguising his shyness with a bold, eagerly collaborative confidence.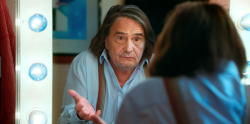 Through the next 20 years Leaud would grow Doinel partly as himself and partly as Truffaut's surrogate son—Stolen Kisses, Bed and Board, Love on the Run, plus the short Antoine and Colette.  (Leaud also became Truffaut's assistant director as well as working as assistant director to Godard on four films plus acting in five more. He's called Jean-Luc his uncle and Francois his father, and Truffaut has said "he's part of me, I'm part of him…I see myself in him when I was his age."  And then Truffaut spun the adult Leaud into two more non-Doinel leads in Two English Girls and Day For Night, and had planned to star him in a third in 1984, when cancer took him. "Truffaut made me an actor," said Leaud in tribute.
Fast-forward three decades and innumerable films later—Leaud at 72 acted a royal monarch coughing and gasping through his final painful hours in The Death of Louis XIV, shown at last fall's New York Film Festival.  Watching Leaud take nearly two hours to die, bewigged and bedridden in a hushed, low-lit 18th century pile of blankets, ointments and body sores was simply too painful to write about. And anyway, who would go to see such a moribund masterpiece?  When New York Times critic Manohla Dargis declared Leaud should have been one of the five nominees for Best Actor Oscar, the pain only got worse.
Nobuhiro Suwa, the Japanese director with a leaning toward French film, has jumped in to save the day. In The Lion Sleeps Tonight, Jean is playing an actor named Jean, who's sitting up in silk pajamas outdoors on a clear sunny day, trying to figure how to say his closing line to an attentive director and movie crew. His line is "I don't know how to play my death," and you can't imagine how much better this premise works.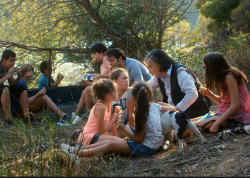 Suwa's new film is partly a tribute to Leaud's indelible portrayal of the dying monarch Louis XIV, and partly a ghost story with a cozy kinship to Olivier Assayas' Personal Shopper. Mostly, though, it's a reworking of the Antoine Doinel legend in which a group of youngsters, age 7 to about 14, headed by a tossel hair redhead named Jules  (Jules Langlade) make a movie starring the irascible Jean-Pierre Leaud as, well, himself. He's going to play to the boy who's playing him as a boy, of course.
When the pre-death scene described above is halted because the lead actress is moping around in her trailer, refusing to come out, the shoot is delayed. So Jean retreats to his own trailer, telling himself in the mirror that "death is the encounter you prepare for between 70 and 80." (Suwa uses almost as many mirror images of Leaud posing for himself as Sirk or Fassbinder once put on screen.)
Jean-Pierre wanders off the set and around a pleasant, seaside town. He visits the grave of his long-deceased love, Juliette (1949-1972), and lays flowers. He makes his way to a seemingly deserted, furnished mansion and falls asleep on the bed. A group of youngsters from the community, armed with video camera and stick microphone, looking for a location for a film they haven't yet conceived, wake him up. He scares the off. Then Juliette (Pauline Etienne, a picture-perfect ingénue) walks in and they playfully recall their happy years together before her passing, which is acknowledged but not shown until later. "You were my one love, the others ran away," murmurs Leaud, delicately and respectfully embracing his exquisite young ghost of a sweetheart.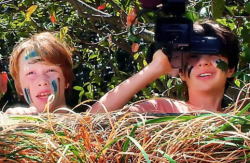 The Lion Sleeps Tonight will remind you, as you sink deeper into its sly spell, of old chestnuts like Rivette's Celine and Julie Go Boating and new chestnuts like Varda's Faces Places:  the girls took you down Rivette's rabbit hole, just as JR and Agnes  guided you through the French countryside looking for spots to make some art. Suwa lets Leaud and his lover muse through scenes about mortality, reminding us of the doctors fretting endlessly over Louis XIV slipping away in Albert Sarra's bleak drama.  "Death is life. You have to walk hand in hand with death through life," offers Leaud. "But you're an actor. You can die as many times as you like," replies Juliette."I can't play my death," complains the actor, though in real life interviews he's insisted he was performing his own death as Louis XIV. Suwa politely invites you to consider all this.
Fortunately, the kids shoot and edit  their seven-minute movie, The House of Horror, which one of the dads (a projectionist) thoughtfully screens for the assembled cast.  Jean likes it. You will, too. (It's a real student film, something we never saw in A Paris Education.)  Jean leads the class in The Tokens' 2012 song, "The Lion Sleeps Tonight."  Suwa has a number of other gentle tricks up his sleeve before Jean gets back to the set to play his death scene, which he does not once, but twice for good measure. There's really nothing like a French film festival, and these three achievements are the ones to seek out.
The Lion Sleeps Tonight shows Fri. March 9 at 4:00 pm and Thurs. March 15 at 9:15 pm. This concludes critics' choices. Watch for Brokaw's picks in New Directors/New Films March 28-April 8.
---
---
Regions: New York City