New Directors/New Films 2018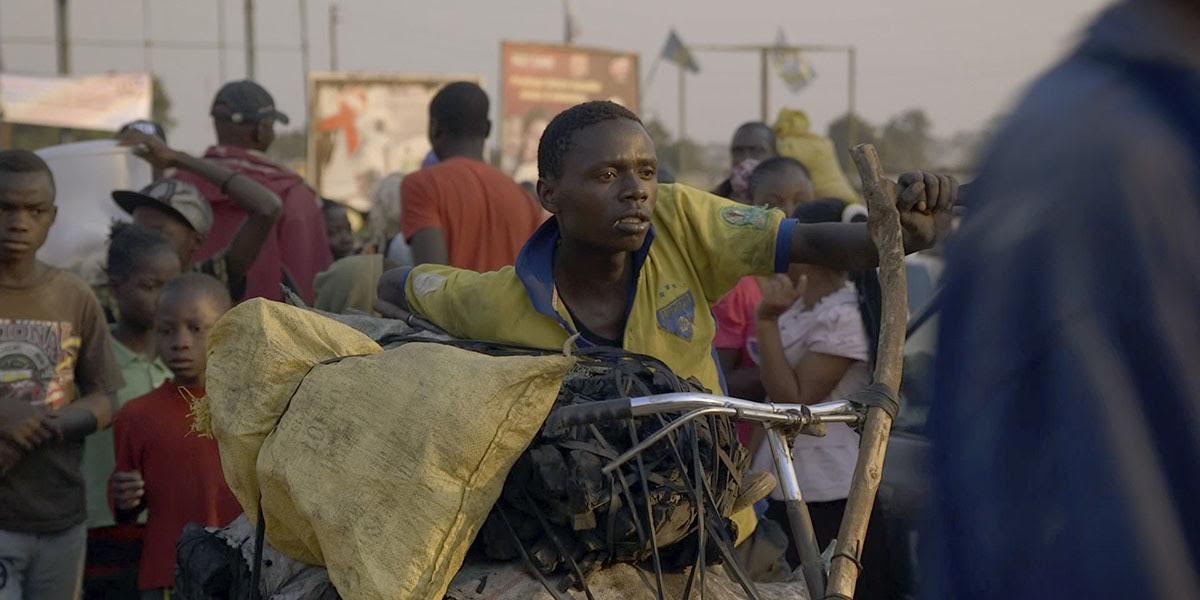 Kurt Brokaw selects his favorites from the 47th edition (25 features, 9 shorts) at Lincoln Center and MoMA (March 28-April 8)
Makala; Emmanuel Gras; France 2017; 96min.
 If you've been longing for the kind of edge-of-the-world documentary Werner Herzog used to provide in regular cliffhanger doses (Into the Inferno, Grizzly Man), as well as in indelible edge-of-your-seat narrative adventures (Fitzcaraldo, Aguirre The Wrath of God), ND/NF's spring slate has just the ticket for you.
Look at the still above. It's the kind of photo that once stopped you in dog-eared copies of National Geographic.The 28-year-old Congolese man steering his bike is Kablita Kasongo.  He's been pushing that bike 50 miles along a dusty excuse for a road that's clogged with cars, busses and other weighted down bikes, day and night. Mostly his bike was stacked higher than he stands, with wrapped packages of charcoal briquettes.  "Malaya" is "charcoal" in Swahili.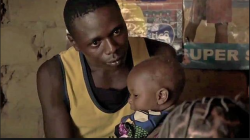 Here's the process: Kablita chops and strips wood blocks off a massive tree that he fells, then burns them in an open pit mine. Then he wraps the charcoal and piles as many packages as possible onto his bike. He offers them for 2,000-3,000 francs each in an open market in the Ketanga Province in the Democratic Republic of the Congo. The money helps buy metal sheets for a roof for a home he shares with his wife, Lydie, and their three children in Kolwezi. (He also needs to find a diarrhea medicine for a child.)  Kablita dreams of one day planting a mango tree and adding a front porch.
This is the modest but boldly preemptive three-day journey that writer/cinematographer/ director Emmanuel Gras invites you to join. The Film Society calls it "a documentary that resembles a neorealist parable," but that's too precious — it's more of a cinematic memoir, because Kasongo is acting and reenacting his own perilous life-on-the-road. The subject is a keen and willing collaborator with the filmmaker. Gras scouted a multitude of  bikers balancing these staggering charcoal loads before choosing Kasongo, whose face ages with exhaustion,  resolve, determination and—here's the grace note—an affable twinkle of humor when he's gently arguing prices with the pretty ladies he plays up to in the marketplace.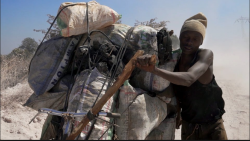 Makala's 7th-wonder-of-the-world is that dirt bike, which meanders, wobbles, twists, jerks and shakes along the African trail. At one point a bus sideswipes it into a ditch, upending everything.  It takes Kablita, (helped by three other men and several boys), hours to get it lifted back onto the road. Gras used two cameras—a handheld (occasionally), and a photo camera with a small stabilization system that gives a Steadicam look.  As DP, Gras has an uncanny ability to hold Kablita as an ethnographic center of attention even in his busiest, most dust-filled scenes of hurly burly. The  photographic quality is on a par with front-line National Geo photographers.
Gras has also conceived his 96-minute running time with enough plausible moments—a run-in with bandits demanding cash or charcoal, a brief visit with Kablita's sister-in-law, a sing-along religious service—that the movie never feels padded. Each of these interludes provides Kablita and the viewer with a welcome respite from the grueling human traffic. A lengthy prologue with Kablita selecting and taking down a mighty tree with his own ax has its own expository grandeur. Gaspar Claus' music, which features the composer on cello, is suave and supple, perfectly matching mood to scene.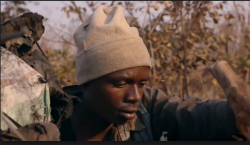 At his best, in inspired docs like Caves of Lost Dreams, Encounters At The End of The World and Lessons of Darkness, Werner Herzog immersed us in faraway places with strange-sounding names, and we emerged informed, educated…and richly entertained.   Gras, a French documentarian barely in his 40s and the winner of last year's Critics' Week Grand Prize at Cannes, has vaulted into Herzog's league.
Makala shows Sun. April 1 at 2:00pm at The Film Society of Lincoln Center's Walter Reade Theater and Mon. April 2 at 8:45pm at The Museum of Modern Art.
An Elephant Sitting Still; Hu Bo; China; 234 min.
 We have to talk about the first and final film of Hu Bo (1988-2017), because it's already the 800-pound gorilla of this ND/NF.
Partly it's the 234 minute running time, though 2016's Happy Hour, about the marital and social travails of four bright, sophisticated Kobe women clocked in at 317 minutes and was a far less contentious critic's choice. Partly it's because Hu's film is the latest cinematic lesson in what happens when a promising young director thinks he's been given the money and creative freedom to make and edit the movie he wants, only to discover a producer who thinks his film is a mess and needs cutting by half.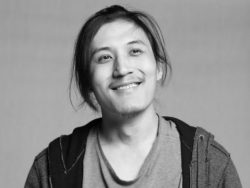 And partly it's because the elephant in An Elephant Sitting Still is beyond question a unique framing device, ever hanging over this tale of three suffering teens and one aging Chinese pensioner. You can view this quartet as either a director's cry for help or, perhaps, a cinematic suicide note. Or both.
Hu graduated from the Beijing Film Academy in 2014. This debut feature derives from a story he cherished in one of his two published novels, Huge Crack. His screen adaptation was originally titled Golden Fleece and derived from the 8th century BC legend of Jason and the Argonauts and their journey to find a golden fleece. Hu's script was backed by the distinguished producer Wang Xizoshuai, though the closing end titles note that Hu's parents now own the movie.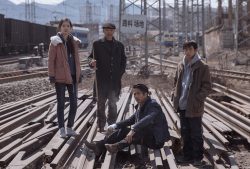 Its world revolves around a teen who's watched his best friend jump to his death from a low-rent housing project in an unnamed industrial city. The boy admits to sleeping with his friend's wife, and his current classmate/girlfriend tells him she's willfully slipping into the arms of her school's dean (though she's panicked they've been outed on social media). The boy pushes a teen gang leader down a flight of stairs. And the family of the old pensioner down the hall wants to warehouse him in a nursing home. Those are the meager pieces Hu sets in motion—whatever your age, "life will not get better" is the building and the movie's m.o.
In this dreary world there's not much heat, the garbage pickup is problematic, lamps are in short supply, food is delivered because gas and electricity are spotty, the carpeting smells.  Hu shoots very tight, lighting in a consistent monotone or a bluish gray, and faces are sometimes not visible at all. In this movie the misery index starts at 10 and climbs by the hour. Expect more violence. Prepare yourself for an achingly slow traveling shot peeking into the unlit and silent rooms of decrepit elders abandoned in a facility that has to be the most depressing scene in this festival.
But then there's that elephant. Director Hu wastes no time dropping his penny of hope: In the opening minute we're told there's an elephant sitting in a carnival in Manzhouli, an Inner Mongolian city on the Russian border, reachable by train (if it's running) or bus.  The elephants sits all day, unmoving, even if visitors shout or poke at it.  Nothing phases the elephant. The teens and their elder senior will all eventually make their way toward this iconic image. Hu dangles the hope that they and we will discover something magical.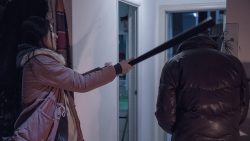 In the Greek mythology on which the director builds his tale, Jason and his heroic adventurers set sail on a near-impossible mission beyond the edge of a known world. It is the longest journey every attempted in ancient Greece.  The hardships and dangers they experience (dragons, fire-breathing bulls, vicious harpies, storms at sea) are reflected in the movie's many cruel realities. The Argonauts' goal was to acquire a ram's golden fleece that once belonged to Zeus, king of the gods—a powerful and tactile symbol.
The elephant stands in for that fleece—a live, towering presence that can, perhaps, ease the torments and bring some serenity into the lives of these tortured souls. (Note the exploratory poster image with the quartet looking up at a ghosted pachyderm.)  Except this elephant is, as the title says, "sitting still." Will it stay still when the new visitors finally catch up to it in Manzhouli?
Though Jason found the golden fleece, he never made it back, dying at sea. Perhaps Hu trusted the elephant to start his career, but he never saw that happen, either. It remains for Hu's parents to protect his vision and make sure their son's director's cut is released to the world. And this, to be sure, is a hope worth honoring.
An Elephant Sitting Still shows Sun. April 1 at 6:30pm at MoMA, and Sun. April 8 at 6:00pm at The Film Society of Lincoln Center's Walter Reade Theater.
Good Manners; Marco Dutra & Juliana Rojas; Brazil/France; 2017; 135 min
                 "Even a man who is pure in heart
                  and says his prayers by night
                  may become a wolf when the wolf bane blooms
                  and the autumn moon is bright"
Raise your hand if you believed a movie about a mute cleaning woman who falls in love with a cross between Hellboy and The Creature From the Black Lagoon could win the Oscar as Best Picture of 2017. As we've watched with believing or non-believing eyes, monsters are alive and well and prospering in global cinema. Universal was the Hollywood studio that birthed the 1930s, 40s and 50s legends of cinematic terror, and Curt Siodmak's rhyme above from The Wolf Man, murmured by Maria Ouspenskala to a suffering Lon Chaney, Jr. in 1941, may have been the first verse some of us learned as children in a darkened theater.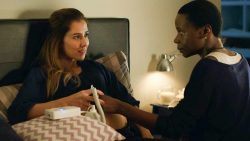 In a current adjoining article in The Independent, scholar Isaac Rooks analyses horror cinema's "killer animal trope." Rooks' territory is on South Korean soil and reflections on migration, urban/rural divisions and the "ecological fallout of modernization." Here in Manhattan's ND/NF festival, Marco Dutra and Juliana Rojas are busy planting the werewolf curse in a luxury Sao Paulo highrise. Their shudder shocker, deceptively titled Good Manners, often exceeds the artsy jolts and nasty twists of Guillermo del Toro's The Shape of Water. It's a first-rate blood bath that ought to have Fangoria readers howling at the moon.
Ana (Marjorie Estiano) is a privileged and 28-weeks pregnant country girl whose father's money is sustaining her upscale life. She hires Clara (Isabel Zuaa), a young Portuguese black woman, to be her cook, housekeeper, handy woman for the baby's room, and eventual caregiver. Ana's your usual spoiled white girl with unresolved daddy issues; she got herself pregnant in a one-night stand with a wolf-masquerading-as-a-priest that's shown in an unusual sequence using graphic-novel illustrations, the first of this picture's string of surprises.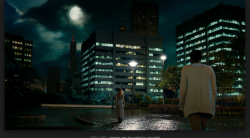 Clara's a severe, uneasy hire living one step above poverty. Initially she'll remind you of the cleaning woman portrayed by Octavia Spencer in del Toro's movie, who functioned as a wing woman to Sally Hawkins and was the film's one normal center-of-gravity. But their employer/employee relationship changes dramatically when Ana finds herself drawn emotionally and then physically to Clara. In bed they're suddenly passionate equals.
And when Ana's baby boy is born, he's not raised by the person you think. This is where Dutra and Rojas turn the page and continue what becomes a genuine werewolf movie—a sort of sequel to Good Manners. Maybe it should carry an inter title like Son of Good Manners. Joel the monster baby (looking like a canine version of the baby in David Lynch's Eraserhead) grows up into a button-cute school boy, a swell kid when he's not shackled to a wall in his steel-doored bedroom or brushing his chest hair in the bathtub.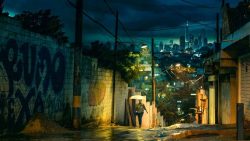 At the same time Ms. Zua changes her entire look and personality, and assumes unwavering command of the movie. She pulls off this magical metamorphosis using nothing but a trunk load of acting craft, while Joel's growth is totally dependent on the animatronics and computer whizzes who activate his teeth, nails and ears. It's hardly a fair competition because effects-driven monsters have dominated Saturday matinees forever, while this is the first time you've watched an actress confidently mothering a lycanthrope.
Good Manners has a gleeful arsenal of pop-up surprises: a street singer who bursts into a sung commentary that wouldn't feel out of place in Three Penny Opera…elaborate matte paintings that divide this vibrant Brazilian city into quadrants of luxe and favelas…an unruly mob advancing on the killer of a popular village son, just as Universal's extras, hoisting their britches and waving their torches, once stormed the castles of Frankenstein and Dracula. Dutra and Rojas have fashioned the new shape of horror—as well as the new lesbian mom—of 2018.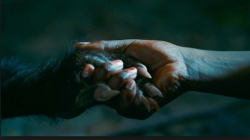 Good Manners shows Thurs. April 5 at 8:30pm at MoMA and Fri. April 6 at 8:45pm at The Film Society of Lincoln Center's Walter Reade Theater.
This concludes critic's choices. Watch for Brokaw's picks in the Tribeca Film Festival April 18-29.
---
---
Regions: New York City