10 To Watch Filmmakers in 2018: Gabriel Silverman, and Fiona Dawson, and Jamie Coughlin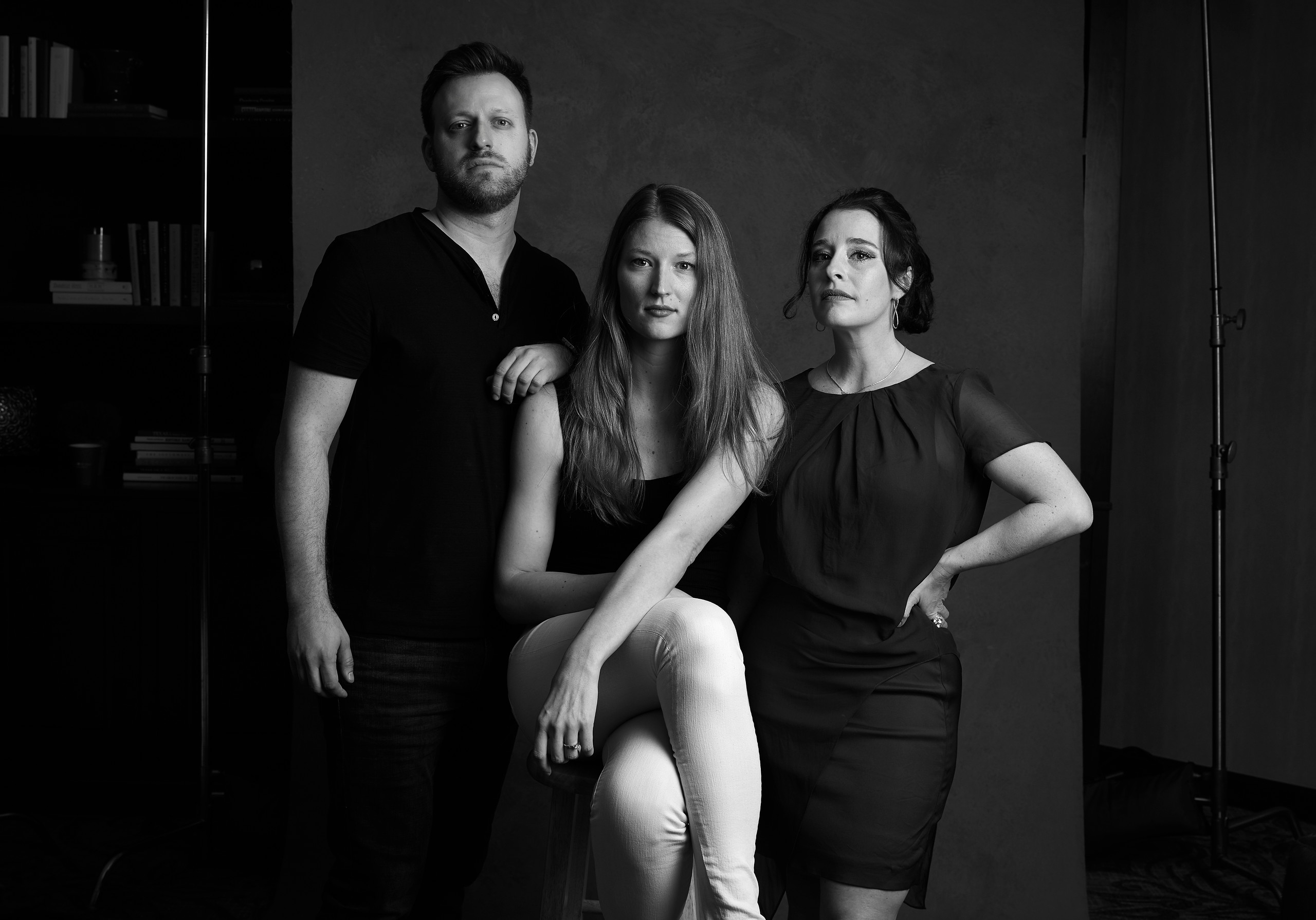 Gabriel Silverman, Fiona Dawson, and Jamie Coughlin Make Our 10 to Watch List for TransMilitary.
Being that filmmaking is highly collaborative work, this year we are including the production team of the TransMilitary on our 2018 10 to watch list. Gabriel Silverman (writer/director), Fiona Dawson (co-director), and Jamie Coughlin (writer/producer) produced TransMilitary. They blended their backgrounds in journalism and advocacy to shed light on trans people serving in the military.
TransMilitary premiered last March at SXSW where it won the Audience Award in the Documentary Competition. Next, the film screened at the Florida Film Festival, where it won the Grand Jury Award, and at Minneapolis Saint Paul IFF, Boston IFF, and Martha's Vineyard Spectrum. Upcoming screenings include Frameline in San Francisco, where it will open the festival, Human Rights Watch Festival, AFI Docs, and Outfest.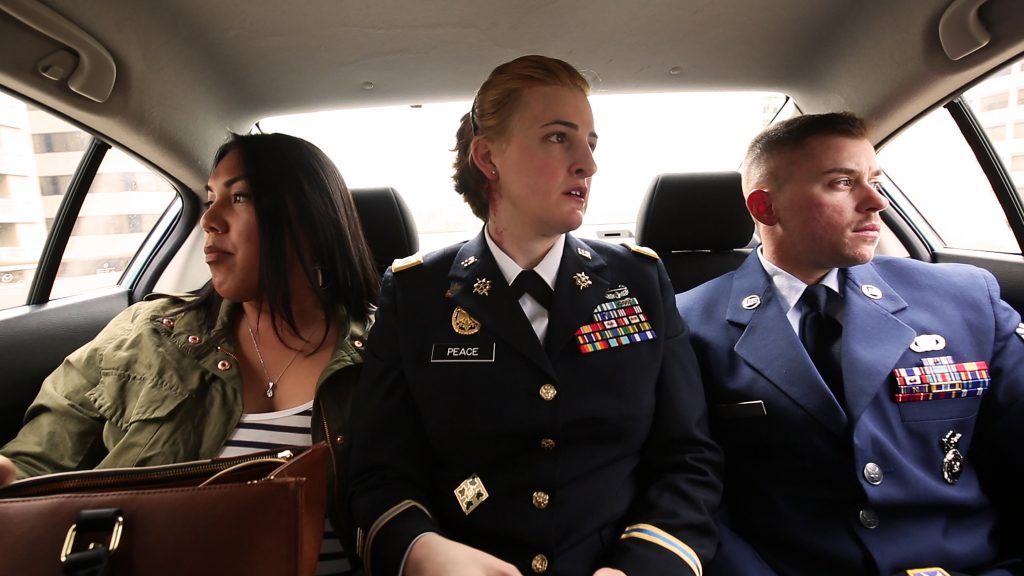 Tell us about your doc TransMilitary. What inspired you to work on this project?
Fiona Dawson: As one of the many advocates for The Don't Ask, Don't Tell (DADT) Repeal Act of 2010, I was not only angry, but also ashamed when I became aware in 2012 that while lesbian, gay, and bisexual people could now serve openly in the military, transgender people were still banned.
We had waxed lyrical about the strength of authenticity, ensuring unit cohesion, and the plethora of ways our country's safety would benefit if we allowed LGBT people to serve openly. But how could we have said "LGBT" and at the same time believed that we were living up to the American values we were lauding? We could not call ourselves a united community if we were prepared to leave our transgender service members behind. I would not walk away. This was a battle I chose to join.
At the same time, as an aspiring filmmaker, I realized that the lives of some 15,500 transgender troops were not being told. I already had friends who were trans service members. So it was easy to grow our relationships and meet more people. My friends Brynn Tannehill, Sue Fulton, and Allyson Robinson of SPARTA and Aaron Belkin of the Palm Center were already doing the advocacy and research. So I decided to create media content to share the reality of our transgender troops. This was a unique opportunity that energized me to document an unfolding, precarious, and underground mission whose aim was to change the largest fighting force in the world — the U.S. military.
But further to the tale of ending the ban, I saw how our characters could be a catalyst for change in how people perceive gender. Theirs is the most gender binary workplace we can find. So as they transition, they move from one set of dress and appearance standards to another. When we break down definitions of gender and sex to such a base level, we can call into question why these standards exist at all. Finally, I passionately want to help advance human rights and throughout history the military has led the way. African Americans could serve before the 1964 Civil Rights Act, the repeal of DADT came before marriage equality, and women in the military already have equal pay. Surely if transgender people are acknowledged as qualified to serve, there's no reason why it should remain legal to fire someone for being transgender in 29 of our 50 states. My hope is that TransMilitary will spur national championing for transgender equality.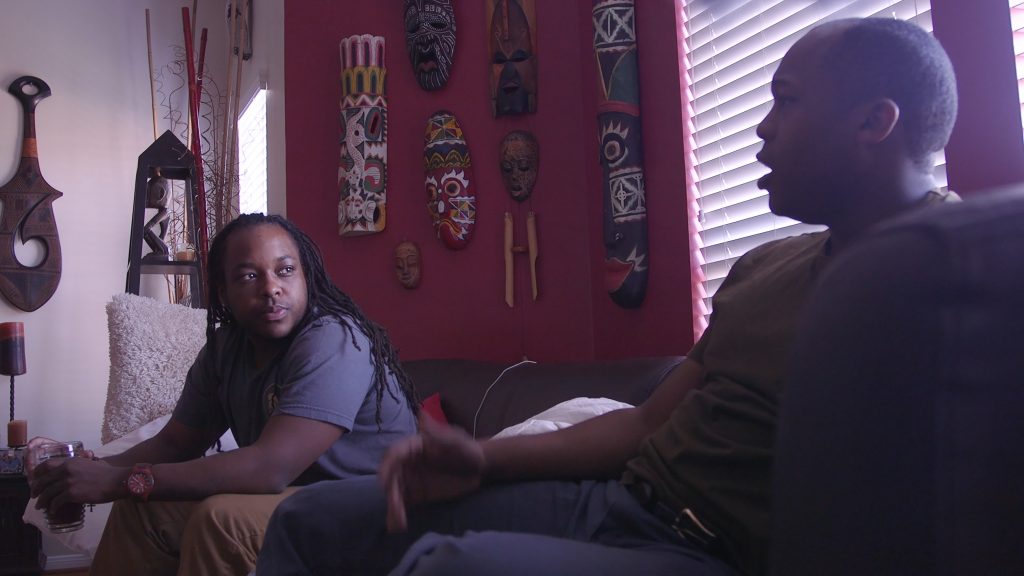 Gabriel Silverman & Jamie Coughlin: Our motivation for this film came from meeting Staff Sergeant Logan Ireland, Corporal Laila Ireland, Captain Jennifer Peace and Captain El Cook. TransMilitary is a film that explores a central irony. Logan, Laila, Jenn, and El represent the best among us. They have risked death to defend the ideals of our country. Yet at same time, they are denied equal protection under our law. It was an injustice worth exploring in depth.
As journalists, we strive to tell nuanced and emotionally relatable stories. It's why most of us join the ranks of the fourth estate — to make our world a smaller and better understood place. But unfortunately, the best of the media finds itself competing with the loudest voices who anchor the extremes of hysteria and self-righteousness. This has certainly been the case in the last several years as the debate around transgender rights has made its way to Main Street America. TransMilitary was an opportunity to help cut through the noise and show people that while the country discusses these topics, there are real lives and families that hang in the balance — a class of people who have already sacrificed so much for our nation.
How did you fund this film?
JC: We self-financed a large portion of the project, particularly in the beginning. Throughout the process, we've received a number of small donations from generous individuals. In 2017, we were accepted to the IFP Documentary Film Lab, which led us to our investors at Archer Gray and Fearless Company. We're grateful to Frameline Completion Fund, Palm Center, Sanford & Doris Slavin Foundation, Tawani Foundation, Gobioff Foundation and the American Military Partners Association, Outserve-SLDN and the Transgender American Veterans Association for their support. We were also the first feature documentary to receive finishing funds from the GLAAD Media Institute.
How did you build an audience for TransMilitary?
FD: Our audience and awareness has grown from the grassroots, beginning when we launched our social media presence in 2012. The transgender military community is tight knit. And they were excited about a project dedicated to telling their unique stories. Having this strong and steadfast foundation of followers and media coverage from LGBTQ outlets helped spread the word. Then our Emmy-nominated short film, Transgender, at War and in Love, commissioned by the New York Times in 2015, elevated our following. When President Trump tweeted his desire for a new ban on July 26, 2017, our topic was catapulted into the national conversation.
What have each of you worked before this collaboration?
FD: In 2010, I left my corporate employment to focus on a career in media production. I learned on the job by throwing myself into independent projects, such as filming stories in India, segments at the Republican and Democratic National Conventions, and freelance directing, producing, and writing for LGBTQ platforms including NBC OUT. Realizing that stories of transgender service members were not being told, I started the TransMilitary project in 2012. The first few years, we distributed some segments online. But my partnership with Gabe and Jamie to direct and produce the Emmy-nominated New York Times Op-Doc, Transgender, at War and in Love in 2015 led to the creation of this feature doc, TransMilitary.
We come from the world of hard news. Prior to starting our production company, SideXSide Studios, we worked in a number of newsrooms. Silverman was a video journalist at the Washington Post where he won the Edward R. Murrow Award for his investigative filmmaking, and was nominated for a national Emmy. Coughlin was the supervising producer at USA Today Sports.
At SideXSide Studios we create short documentary films for mission driven organizations, including top editorial outlets, nonprofits, and corporations. TransMilitary is our first original documentary film but not our last.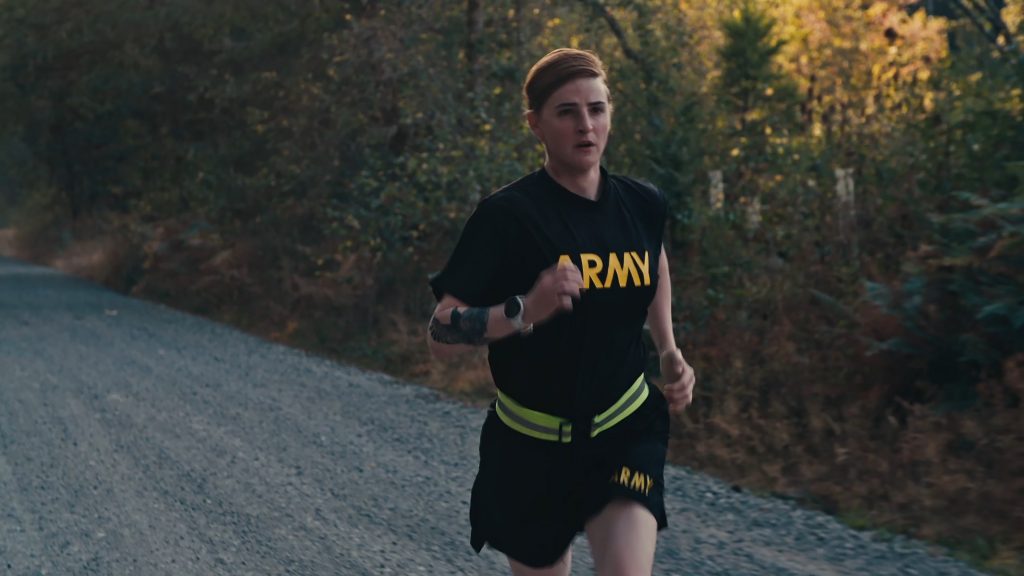 Tell us about the technology used your project. What did you shoot on and why?
FD: Frankly, getting access to active duty personnel was difficult. Between deployments, trainings, and restricted base access, there are only so many places we could get our high-end production cameras. So we had to rely on a few volunteers with Prosumer DSLRs, selfie videos and Skype recordings. This ended up becoming an asset to the film, as it helped us create an organic, intimate feel. For the material we filmed, it was a mix of Canon 5D MIIIs, Canon C100s, and Sony FS7s.
What is your approach to working with subjects? Do you have an idea of your story before you begin or not?
GS & JC: As journalists, we come to every story with an open mind and a healthy dose of skepticism. That attitude is coupled with a fundamental respect for the lived experience of the people we're filming. Our subjects give us the most precious gift one can give — access to their personal lives. For us it's not a complicated formula. It's about being open and honest about who we are and what we're trying to accomplish and what the potential ramifications are for them. Without honesty and respect, you can't capture the moments that make a film meaningful.
FD: A trusting, close relationship with our subjects was fundamental to telling their story in the right way. Although I was a filmmaker documenting their journey, at the end of the day I was one of the team and not a spectator. This relationship allowed us to access intimate moments both on our shoots and through personal video our characters supplied. My approach with making documentaries will always be to become close friends or "family you choose" with my subjects. I want to walk in their shoes as deeply as I possibly can in order to give their real-life experience justice.
What do you see as the main goal of TransMilitary? What do you aim to accomplish with this film?
FD: From the beginning the main goal for me has been to provide the largest, loudest platform for transgender service members to have their stories told. Trans people are twice as likely to serve in the military than cisgender people. Trans people are three times more likely to be unemployed than the cisgender population. And according to the National Center for Transgender Equality, "More than one in four trans people has faced a bias-driven assault." No other transgender military film has stretched this far and our service members deserve to have their place within mainstream media. As 78% of Americans think that being a military officer is a prestigious job, I want to use TransMilitary to change the way people understand what it means to be transgender, and to inspire equal rights, respect, and responsibility within our society.
GS & JC: After Transgender, at War and in Love, the ban was still in place, and we realized there was an opportunity to follow the story to its conclusion. Creating a feature length film allowed us to include more voices and more experiences. As Capt. Cook says in our film, transgender people are not a monolith. The conversation about transgender rights didn't hit Main Street until a few years ago, and it was heavily fetishized. We hope that TransMilitary gives audiences a more well-rounded, honest understanding of what it means to be transgender.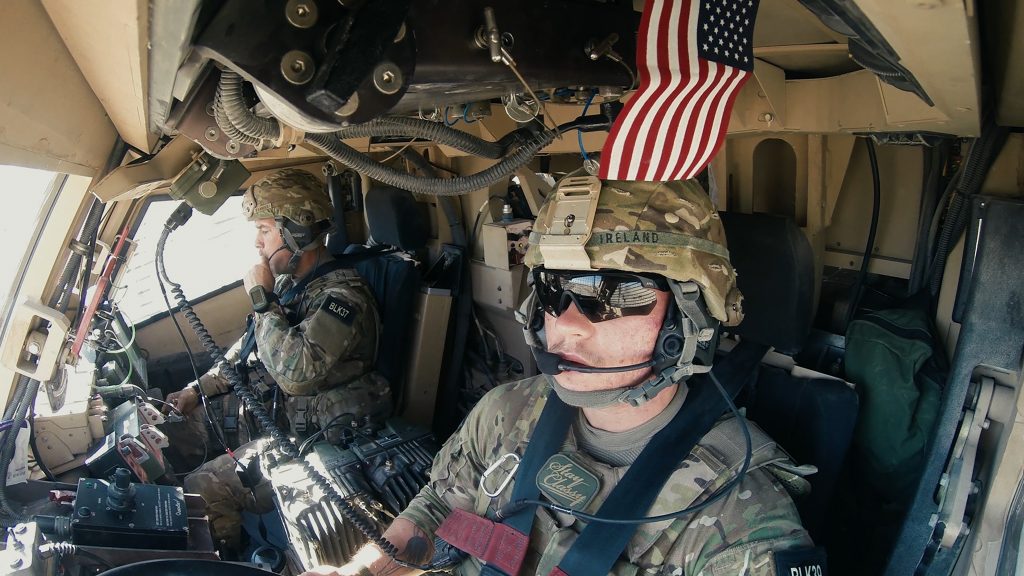 What's next for each of you?
GS & JC: We look forward to buttoning up distribution soon so TransMilitary can reach a wide audience. We're also beginning to work on our next documentary project, as well as our work at SideXSide.
FD: Next for TransMilitary is to ensure it reaches that largest, loudest platform and millions of people get to view the film. Although currently my sights are already set on Thanksgiving. I know that the holidays are a particularly rough time for many LGBTQ people. So it would be a gift if Thanksgiving 2018 that young transgender person can quickly hit play on a screen at home to show TransMilitary to their anti-LGBTQ uncle — and that uncle has a change of heart. We're not over the finish line with this project yet. I'm determined to throw all of my efforts into giving it the biggest splash possible.
For me, personally, beyond this project, I would love to make more films that explore gender and sexuality. There is much stigma and discrimination based upon gender due to ignorance about who we are as human beings. I would like to keep telling personal, human stories that strive to make the world a little bit better of a place to live.
---