A Tribute to Jonas Mekas (1922-2019)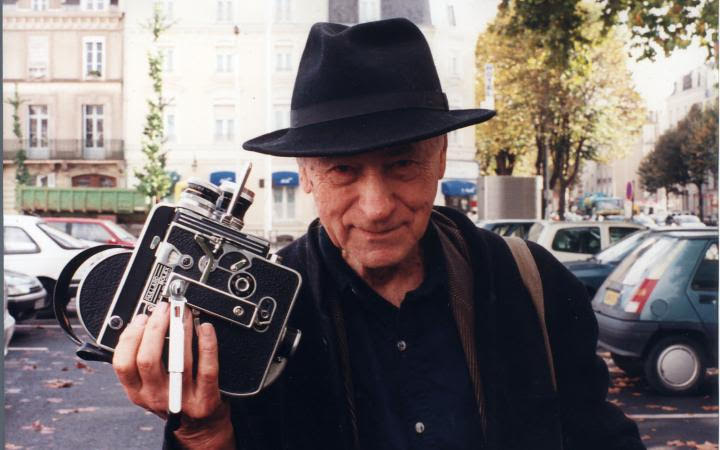 Senior Critic Kurt Brokaw Salutes "The Champion of Avant-Garde Film"
His death at age 96 on January 23 merited nearly a full page in The New York Times, along with multiple photographs, probably the fullest obit of any indie filmer in history.  (Mekas preferred being called a filmer, not a filmmaker.) As a legend of the cinema, Jonas Mekas now joins Iris Barry (1895-1969), who founded the Museum of Modern Art's film department in 1935 and became its first curator, seeking out obscure movies through World War II and raising them to the status of an art form. Mekas took up Barry's organizational skills in the early 60s, growing from a feisty immigrant artisan to an insatiable curator and world class exhibitor of independent cinema.
The Film Society of Lincoln Center on the Upper West Side, and Museum of Modern Art, just off 52nd in midtown Manhattan, stand today as the city's better-known entrances to a century of the world's most notable movies—from marginalized dramas and documentaries to new films and Oscar or oughta-be Oscar contenders.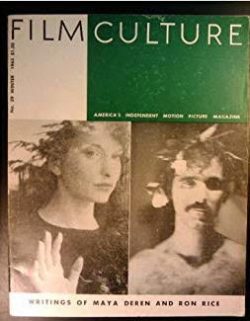 Mekas's Anthology Film Archives, downtown at 32 Second Avenue, will continue as the repository of the lost indie and oughta-be indie classic—some 20,000 works on 35mm, 16mm, Regular- and Super-8mm film, plus another 5,000 video and audio tapes and the world's largest collection of paper materials (books, letters, manuscripts, et.al.) relating to independent and experimental cinema. Anthology's preservation program, started by Mekas in 1972, creates new polyester-based negatives, new projection prints and digital archives for countless films.
The Independent's annual Ten To Watch feature, saluting up-and-coming independent filmmakers, is standing on the shoulders of interviews in Film Culture, the seminal magazine started by Jonas and his brother Adolfas in 1954.  It published 79 issues and had a 42-year run, recognizing the work of Maya Deren, Andy Warhol, John Cassavetes, Shirley Clarke, Robert Frank, Stan Brakhage, Jack Smith, and Kenneth Anger, among many 'underground' talents.  Its contributors included Deren (noted on cover shown), Arlene Croce, Annette Michaelson, Andrew Sarris, Manny Farber and Parker Tyner. Mekas's Movie Journal column ran for 20 years in the Village Voice.
Jonas Mekas practically invented the diary film—a record of everyday moments in his life, using his 40-year Bolex H16 with 16mm film. He began shooting these autobiographical home movies in 1969, many documenting his early immigrant's life adjusting to the pace and rhythms of New York City. The Independent paid attention—we've included a photo of Mekas with several colleagues, from our Summer, 1979 issue. Mekas never stopped. He taught diary film workshops for years in colleges and universities across Manhattan. This is where student shorts really took off.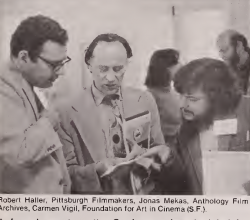 Mekas's movies invite you to see the city with fresh eyes. In Diaries, Notes and Sketches, also known as Walden, he adapts Henry David Thoreau's notion that "Every morning was a cheerful invitation to make my life of equal simplicity, and I may say innocence, with Nature herself," and plunks it into the heart of New York's East Village.  "In my New York there is a lot of nature," he muses.
He photographed Andy Warhol's six-hour Empire, a static shot of the Empire State Building in changing light that Warhol conceived "to watch time pass."  In 1988 Mekas switched from 16mm to video and made 365 Day Project, a 38-hour video of the daily highlights of his life in 2007. And in My Mars Bar Movie, Mekas celebrates the East First Street watering hole "that was always open, there was always the juke box, and very often there was no electricity, and it was old and messy and didn't want to be any other way, it was the last escape place left in downtown New York, so this is my love letter to it."
Mekas felt film art was an adventure with no rational end. "You just keep working and working and, at some point, you say, that's it, it's done. Maya used to say she never finishes her films, she just abandons them…Whatever you want to know about me, you just look at my films, and your questions will be answered."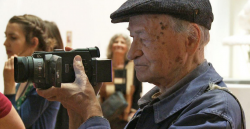 Much of the essence of Jonas Mekas's  life and times is preserved in an extraordinary documentary of his early life, I Had Nowhere To Go, by the Scottish artist and filmmaker Douglas Gordon. Yes, another lost doc.  It's the same title as a volume of Mekas's published diaries. The film, narrated by Mekas, was shown at the 2016 New York Film Festival, and was a critic's choice in The Independent that September. The review is reprinted here:
(REPRINT REVIEW FROM  9/21/16)
 I Had Nowhere To Go; Douglas Gordon; Germany, 2016; 97 min.
Ooh, this doc is cause for celebration. The director is Scottish artist Douglas Gordon, whose 1993 installation slowed Hitchcock's Psychoto a 24-hour marathon viewing experience. Gordon's subject is Jonas Mekas, the 93-year-old filmer (not filmmaker, please) and co-founder of Manhattan's Anthology Film Archives, started in 1970, which presents over one thousand programs each year. What mischief could these two mavericks come up with?
Gordon's concept was shrewd and daring: Mekas had produced so many images since 1949 when he migrated from Lithuania to Brooklyn and started shooting a diary of his daily life, that Gordon felt he didn't need any more. The director was betting if Mekas simply voice-overed adapted readings from his memoir covering the war years he spent with his late brother Adolfas in Nazi labor and displaced persons camps, plus his early years in Manhattan and Brooklyn, he had the essence of a compelling film.
But here was Gordon's biggest leap of faith: The director believed all this could work against a virtually blank screen, for 97 minutes. If the memories and anecdotes were vivid enough. If Mekas was not only a superlative reader but a crackerjack storyteller. And if—here's yet another creative challenge—Gordon could create a sound and music collage that would hold a spectator glued to one's seat.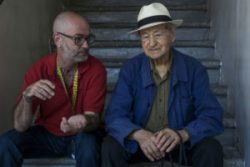 In short, what Gordon set out to create was a diary film/cine memoir you'd attend to not as you'd view an installation—where your eye could wander at will—but a movie in which your eyes would stay riveted on a big screen on which, most of the time, absolutely nothing is happening.
Gordon, who's 50, isn't quite old enough to remember how millions of people worldwide once listened to radio by gathering around it and staring at it. But he must have sensed that the concept might be viable if all the elements—actor, script, sound and music—were working together like gangbusters. And are they ever working in I Had Nowhere To Go.
The actor. Mekas has a lilting, soothing Lithuanian accent. Like Werner Herzog, his voice is instantly recognizable. They're both precisionists who speak in whole sentences—sometimes in whole paragraphs. You don't need to see Mekas to realize he's speaking what Herzog calls "the ecstatic truth."
The script. Gordon and Ninon Liotet (who's also the editor) adapted Mekas's 13-chapter memoir (1991, Black Thistle Press). The events shift back and forth from the war years in the camps, to Mekas's first years of freedom in New York City. They're "fragments of a life," ranging from daily hunger, fear and despair, to the exhilaration of discovering that "everything fits so perfectly in this city."
The anecdotes are vivid: A Russian officer rips the film from Mekas's only still camera. We hear about (or see glimpses of) potatoes being peeled, nights sleeping on barracks' floors, days waiting for Red Cross shipments. Mekas tells how he disguised himself as a woman and walked out of one village. Border guards search Jonas and Adolfas' meager belongings and find little besides books.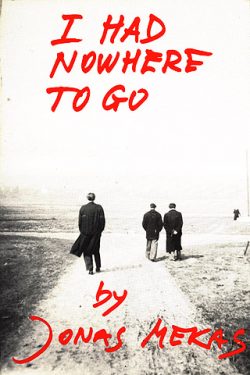 In Manhattan, Mekas gets legitimate work and begins filming with his first Bolex camera. He goes to Blood of a Poetat the Fifth Avenue Cinema, visits the Gotham Book Mart on West 47th 'where wise men fish,' pays a quarter to watch a stripper on 42nd Street caught in "endless and terrifying boredom." The 20th century is no longer the villain in his life. He can sing Lithuanian folk tunes, accompanying himself on accordion. He is a poet, an artist. This is a man who still walks into America's foremost institution of independent film preservation and restoration today, wearing his original World War II jacket.
Sound and music. The centerpiece scene of I Had Nowhere To Go is an aerial bombardment lasting nearly ten minutes. You're staring at an empty screen, cringing under a constant barrage of bombs, mortars, cannons and other artillery. The production sound designer and re-recording mixer was Frank Kruse, who created the eerie/ominous effects track for Laura Poitras's Oscar-winning Citizenfour. Dave Powers and Paul Oberle contributed the original sound elements, which are gripping in their hair-raising simplicity.
This is also the first motion picture edit using Dolby Atmos technology, which integrates 128 audio tracks plus metadata. For this listener, the experience was even more realistic (and scary) than historian Richard Schickel's meticulous restoration of battlefield combat in the soundtrack of Sam Fuller's Big Red One, shown by the Film Society of Lincoln Center in 2004.
Gordon's documentary is a premiere attraction in this fest's newly coined "Explorers" series. It really belongs in "Projections," which is another coy rebranding of what for years New York Film Festivals called "Views From the Avant- Garde." In terms of both originality and accessibility, I Had Nowhere To Go stands shoulder-to-shoulder with Phillip Warnell's Ming of Harlem: Twenty One Storeys In The Air (2014 NYFF). In that documentary Warnell first explored how a Harlem resident kept a 450-pound Bengal-Siberian tiger (Ming) and a 7-foot Caiman alligator (Al) housed in his one-bedroom apartment for years. When NYPD finally hauled "Dr. Doolittle" and his brood away, Warnell built an exact replica of the apartment in a London zoo, installed a replacement tiger and alligator, and started filming. The new Ming and Al, amazingly, immediately took to their new living area, kitchen, bathtub, bed and sleeping platforms.
You don't see stuff like this at the multiplex.
---