Rendez-Vous With French Cinema — Feb.28-March 10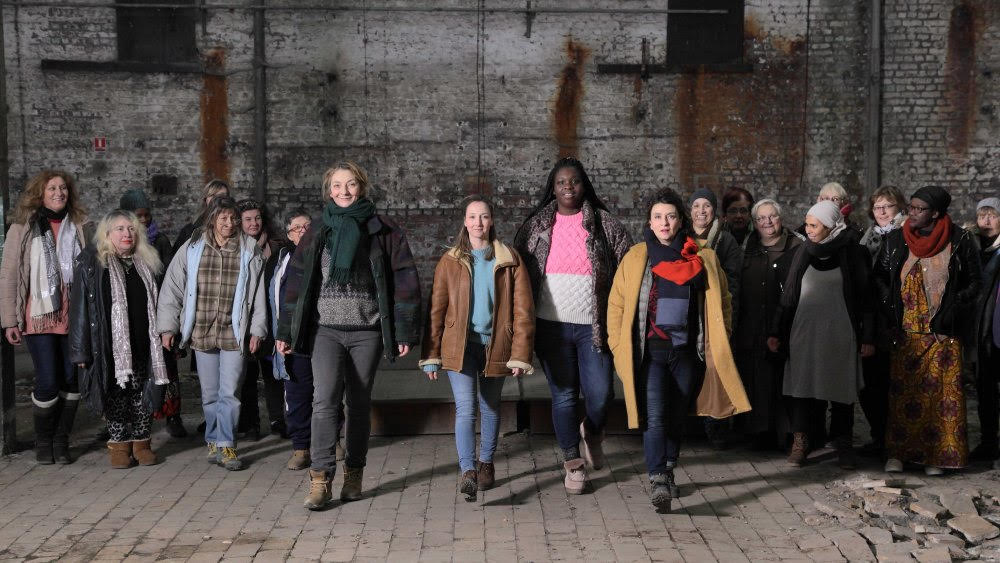 Senior Film Critic Kurt Brokaw picks favorites From Lincoln Center
The early spring grace notes of living-at-the-movies in Manhattan are blooming. Just look at what's free—yes, f-r-e-e—in this 24th annual edition of Rendez-vous, co presented by the Film Society of Lincoln Center and UniFrance:
On Friday March 1 at 5:00pm, you can listen to veteran Writer/Director Paul Schrader in conversation with novelist/poet Russell Banks (The Sweet Hereafter), UniFrance's American ambassador to this 2019 festival of 22 features, most of which are having their North American, U.S. or New York premieres. On Saturday March 2 at 6:30pm, the spotlight is on the rules and boundaries of new French comedies, discussed by a panel in formation. On Monday, March 4 at 6:30pm, get the lowdown on filming abroad by veteran French and American pros.
Plus—If you're under 30 (damn!)  and in town to catch some Rendez-Vous features, the Francophile website Frenchly invites you to submit a review of your favorite fest feature by March 8. The winner will receive a roundtrip flight to Paris and a one-year subscription to TV5Monde. So, if you're dying to one day take the place of your favorite movie critic (whoever she or he may be), dig in.
To make your selection a bit easier, here are this viewer's top three Rendez-Vous selects out of 18 features viewed:
Invisibles; Louis-Julien Petit; France, 2018; 102 min.
You can never tell how a movie will be received locally, but the response to Invisibles, Louis-Julien Petit's new drama of homeless French women, appears to have struck a significant chord in Paris.Petit told Variety (1/18) that "Anne Hidalgo, the Mayor of Paris, saw the film at festival in August and then went on to open a shelter in Paris. Since December 13, 45 women have been given a secure place to live in Paris's City Hall.  Hidalgo told me that she saw the movie and wanted to act, and she did."
 Petit should be thrilled, for the opening of his drama, set in an unnamed French city (and filmed in a metropolitan suburb two hours north of Paris) starts with the local authorities closing its female day shelter. Most of its regulars had come in for warmth, essentials and companionship. Nearly all spent their nights in a cluster colony of tiny tents, which is bulldozed away by the town government. One official glumly points to "a four percent success rate at reintegration" into mainstream society.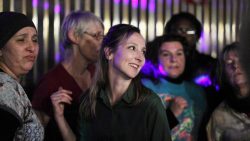 Unbowed, the women who ran the shelter find an empty warehouse and illegally move in the female population they protected, permitting them to stay 24/7. Invisibles shows how, through bonding, imagination and sheer determination, the staff helps prepare its residents for eventual reintegration. The movie obviously moved the mayor of Paris, as it will surely move you.
Inspired by Claire Lajeunie's documentary and book, Sur La Route Des Invisibles, in addition to Petit's own fieldwork in women's shelters, this picture has a singular pedigree: You'll never mistake it for either a documentary or, for that matter, a docudrama. It's a movie whose shelter leaders are acted by well-known actresses—Corinne Masiero, Audrey Lamy, Deborah Lukumuena and Noemie Lvonsky. They're the lead quartet in the big photo above.
But most of the women surrounding them are multi-ethnic, multi-racial nonprofessionals, and the one you're likely to remember longest, "Chantal," is Adolpha Van Meer Haeghe, a former prison inmate who killed her abusive husband. This is Invisibles' cutting edge, and it gives the picture artistic credentials as well as street cred—shaping what you might call a cine-memoir.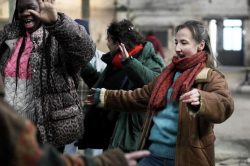 The heart of the picture is the women's transformation of their building into separate work areas in which they reawaken old skill sets and develop new ones—sewing, typing, repairing appliances, assembling a library, putting together resumes and introductory videos, learning role-playing, running an exercise class, applying makeup.  Many are looking for work in which age won't shut them out. Not every woman regains hope, and one is dismissed to a regional institution. There are disappointments and discouragement, but there are tiny victories, too.
A lively, salty sense of humor is born anew. "Better a two-star center that lasts than a five-star center that closes," says one of the organizers with admiration, noting that too much dependence on a social worker can lead to relapse in the outside world. Like anonymous recovery groups worldwide, most of the women know each other by nicknames they've taken or acquired—here, Chantal Goya, Edith Piaf, Simone Veil, Francoise Hardy, Brigitte Bardot, even Brigitte Macron.
In the Variety article referenced here, director Petit reflects that Isabelle Adjani told him movies should either entertain or reflect hard truths, "and I wanted this film to do both."  Mission accomplished, Monsieur Petit: invisibles turn into visibly healthy and productive citizens before your very eyes, and in this movie it's not entirely illusion.
Invisibles shows Thurs. March 7 at 6:15pm and Fri. March 8 at 1:30pm at the Walter Reade Theater. (Q&A with Petit and Lukumuena follows the Thurs. showing.)
Paul Sanchez Is Back!; Patricia Mazuy; France, 2018; 110 min.
The shaggy-dog crime thriller hasn't been entirely ceded to Ethan and Joel Coen. Even the opening shots of an anonymous, bland strip mall near the Roquebrune rock buttes are interrupted by the rat-tat-tat percussion, synthesizers, guitar and bass of  John Cale, director Musay's  principal musician and composer. (Cale was Patti Smith's bass player at an early live show at The Bottom Line in 1975, and had a far larger local following.)  Right away you sense something is going a little haywire.
What slowly develops in this oddball procedural is that the area's most wanted criminal, Paul Sanchez, who vanished in the late 90s after killing his wife and four children and burning their house down, has been spotted again. This isn't especially surprising, because Sanchez (Laurent Lafitte) has successfully reinvented himself as a local swimming pool salesman named Didier Gerard, with a new wife and three new children.  Director Mazuy gives us this vital information right away, both through a car salesman and a family who think Gerard is going to take them in his Spa Pool van to an installed model pool. We get the movie's basic concept upfront.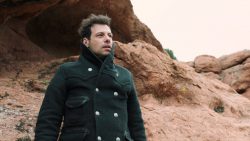 Sanchez and his family are living practically under the noses of the local police precinct.  What we don't discover until much later is that Sanchez not only murdered his first family and burned down their home, he's now wrestling with doing in his second nagging wife and gimme-me gimme-me kids, as well as his company boss who's belittled Paul for seven years and won't even pay his medical bills after a concrete mixer bangs up his arm installing a pool.  So Paul's left home again, burning the company van and getting around mostly on foot, growing angrier by the minute as he takes refuge in the foothills and cliffs of Roquebrune. The movie's cat-and-mouse puzzle rests on whether a newbie constable, Marion (Zita Hanrot) and her cynical journalist crush, Yohann (Idir Chender) can find and stop Sanchez before he kills again.
Like the Cohn brothers' inventions that so cleverly mingle satire with savagery, Paul Sanchez Is Missing!  gives a slew of vignettes over to detailing the endless routine of the precinct's inspector and municipal officers. They're not inefficient oafs, just overworked souls who've prioritized concerns like dog dirt on the sidewalks and whether Johnny Depp should be charged with having sex in his car. "Paul Sanchez is hot air," says the precinct inspector dismissively. We know Marion and Yohann are the ones truly dedicated to criminal pursuit when they halt having cunnilingus to read and consider an email from Sanchez. Who but the French.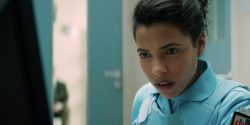 Everything in this slightly wacky movie hangs on our believing Laurence Lafitte's jittery, unhinged interpretation of Paul, and he's an uncanny choice. You know Lafitte's work from taking apart Isabelle Huppert in Elle.  Here he's behaving like a grim-faced Bogart in W.R. Burnett's classic 1941 noir, High Sierra, which this drama begins to resemble when Paul takes refuge in a mountainside cave with a shotgun.  Lafitte even mirrors the portrait of evil etched by Jack Palance in High Sierra's 1955 remake, I Died a Thousand Times.
 Mazuy's movie has logic and continuity holes big enough to drive a swimming pool van through.  But none of that matters because, as in the stories and novels of Cornell Woolrich, Mazuy and Lafitte establish a firm "line of suspense" that fastens you to the screen. That music score of John Cale is another bizarre asset, sometimes counterpointing, sometimes ratcheting up the fear index. You're not sure where this movie is going, even with a couple of tacked-on epilogues that knit together a frazzled sense of closure. The Coen brothers could learn a thing or two from this one.
Paul Sanchez Is Back! shows Fri. March 8 at 8:30pm and Sat. March 9 at 5:45pm.
Raising Colors; Helene Fillieres;  France, 2018; 100 min.
Institutional authority gets a bad rap in Invisibles and Paul Sanchez Is Back!, but it's the core value in Helene Fillieres' carefully observed and smoothly accomplished second feature. Written by Mathias Gavarry and Fillieres (who's also aces in a small but key role), it's this festival's popcorn movie—a coming-of-age journey following Laure (Diane Rouxel), a delicate, privileged, Sorbonne-educated 23-year-old ( 5'3", 106 lbs.), who speaks Russian and  joins the French Navy because it's the best offer she gets. She's thinking of one day becoming a Green Beret, even though she's in a minority of women at the Navy Fusillier Academy.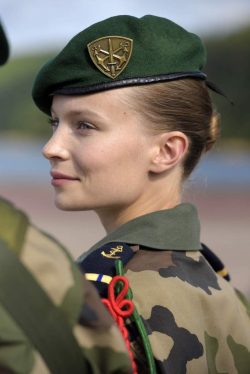 The film's emotional center is not just Laure's attempts to meet the grueling demands of combat training, but her terse longing for her commanding officer, Rivlere (Lambert Wilson), a ramrod-straight precisionist who's been second-in-command for 25 years.  It's a tantalizing, look-but-don't touch relationship that both Rouxel (a svelte, porcelain-skin newcomer) and Wilson (a furrowed, graying veteran) seem born to play.
Laure is initially assigned a Midshipman's desk directly outside the Director of Training's office. Her job as protocol officer is to update the website, take photos, write articles for the Academy magazine.  His byword is "valor and discipline," period.  She's bored. But she's drawn to the severe seven-week training regimen, slithering through mud, climbing ropes and scaling walls, under the stern supervision of the chief training officer (Alex Desces, superb, the toughest field instructor since Adolph Caesar in A Soldier's Story).
 They're training to become a Green Beret equivalent of the WWII French Navy Commando Battalions, a key operational support. It's all male but Laure wants in, echoing the proverb "No women in the Navy, no men either, just sailors." Maybe she's looking ahead to a tour of duty in Afghanistan, like her boss and his training pal just returned from. When Riviere sends Laure off to officer school for two weeks and quietly tells her "I can get along that long without you," we sense the ambiguity of the line.
Director Fillieres makes it clear they've started thinking about each other, night and day.  When Riviere turns down her request to join commando training, Laure starts getting in shape anyway, knowing she can't yet clear an 8-foot wall. She gives up smoking as well as a boyfriend back home during a leave. Riviere watches her in moonlight, attacking the ropes and the wall again and again. She goes over Riviere to his female commandant, who approves her application.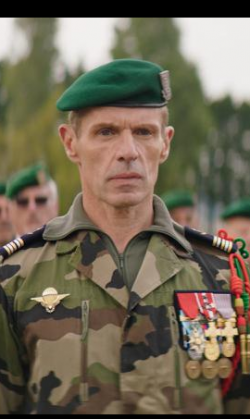 Will Laure pass all the physical tests? Will she be approved for Special Ops support training, simulating actual combat situations in which she'll have to use her knowledge of Russian? What will happen to the short female and male fuses of Laure and Riviere's hearts that are building to—something? First and foremost, it's Rouxel's movie to win or lose.  She's given first-tier support by Wilson as well as Curentin Fila, on point as the gay, black midshipman who becomes Laure's trusted wingman. Location work, production design, cinematography and especially music—including a song by Nick Cave, "Into My Arms," that adds the right touch at the right moment—are all A-level.
Once Raising Colors pulls you in—and it does this very quickly—you're in writer/director Fillieres's capable hands, and you trust her instincts implicitly. The one other director represented in this festival you could say that about is Francois Truffaut, whose 1959 classic, The 400 Blows, is being given a much-deserved encore showing Sat. March 2 at 1:00pm.
Raising Colors shows Fri. March 1 at 4:00pm and Sun. March 3 at 5:45pm. (Q&A follows with Fillieres)
This concludes critic's choices. Watch for Brokaw's favorites in New Directors/New Films, March 27-April 7.
---
---
Regions: New York City