Berlinale: God Exists, Her Name Is Petrunija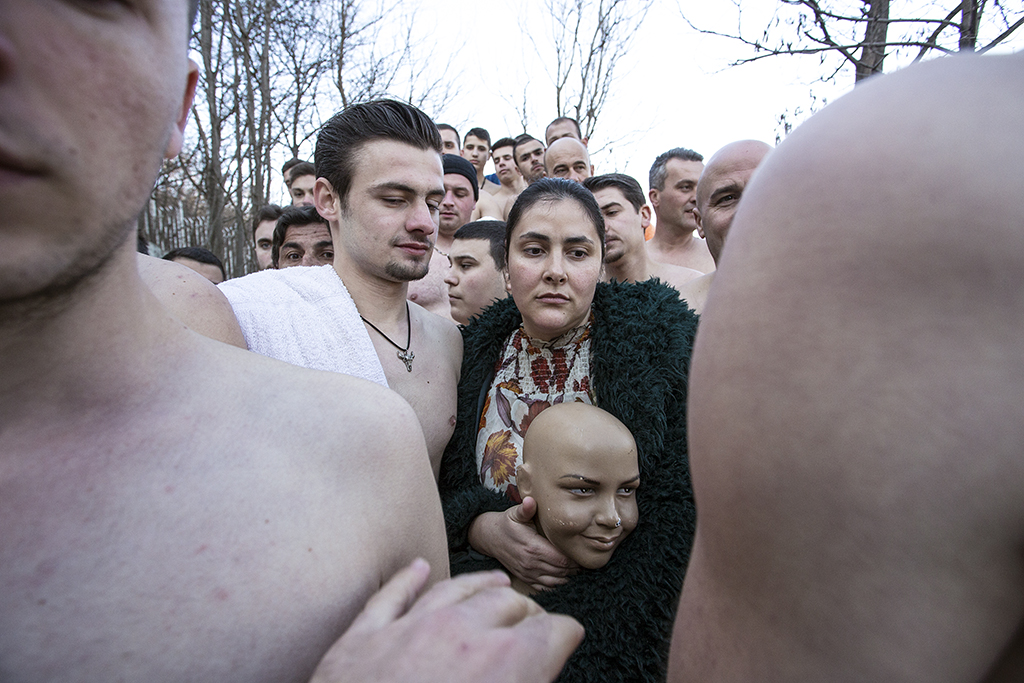 Interview with writer/director Teona Strugar Mitevska about her film Gospod postoi, imeto i' e Petrunija or God Exists, Her Name Is Petrunija, which recently premiered at Berlinale and will release theatrically in Spring 2019.
Macedonian filmmaker Teona Mitevska's film Gospod postoi, imeto i' e Petrunija or God Exists, Her Name Is Petrunya, begins on an ordinary day in the life of Petrunija. Her mother brings her breakfast, which Petrunija eats under the covers, but her mother has actually come to inform her that she has set up (another) job interview for her daughter—wear something nice, she suggests.
Petrunija's day unfolds, at first, much like the many that have come before—after she's left, her mother chases her down to remind her not to tell the boss that she's 32 years old—tell them you're 25, she pleads, it sounds better. But Petrunija, somehow fiercely independent and stubborn despite her obvious dependencies, has no intention of lying about her age or pretending she has more job experience than she does (she has nearly none).
So when Petrunija winds up swept up into being spectator at a an annual orthodox ceremony of swimming for the cross, she instinctively jumps in the water to compete. And even she is surprised when she actually catches it. Chaos and near-violence ensue—when the men who were swimming grab the cross from Petrunija, the head priest is torn between what's "right" (Petrunija clearly caught the cross) and "tradition" (women don't swim for the cross). It seems none of the men think she deserves to keep the cross and the year of good luck it brings.
Thus begins, Macedonian filmmaker Teona Mitevska's Gospod postoi, imeto i' e Petrunija or God Exists, Her Name Is Petrunya, a funny and endearing film about how gender bias passes for tradition, and the female resistance it inspires. The more the system fights Petrunija, the more she digs her heels in to resist—her courage comes not from any lack of fear or desire to be a hero, but from the simple declaration of what's right is right.
Mitevska's previous film, When the Day Had No Name, screened in Berlinale's Panorama Special in 2017, and she returned to Berlinale this year with Petrunija as a main Competition film. The film won two independent juries prizes at Berlinale, Best Film from both the Ecumenical Jury and the German Film Guild. Petrunija will begin theatrical screenings in Macedonia and North Macedonia on March 15, with a release in France on May 1, and a worldwide release to follow.
Here, Mitevska talks with Michele Meek about the initial inspiration for the film, the creation of the work as an international co-production, and what her film says about courage.
Michele Meek: I read that the film is based on a true story. Can you talk about your inspiration for the story?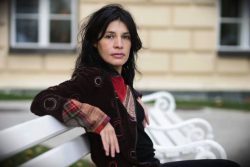 Teona Strugar Mitevska: Every 19th of January for the holiday of Epiphany, the throwing of the cross event takes place in almost all of the orthodox world of Eastern Europe, which means: Bulgaria, Russia, Romania, Serbia, Macedonia included… In 2015, [when] a woman caught the cross in the village of Novo Selo, Stip, her act was deemed as an outrage from the local population as well as the religious authorities. Women were not allowed to participate in the event. Consequently they tried to take the cross away from her, but she would not give in. Next day she gave an interview for the local station encouraging more women to jump for the cross in the future.
I remember Labina [Mitevska, producer and actress] calling me, very excited—I was in a process of editing our previous film—and saying to me: I think we have our next film. I called Elma [Tataragič, co-writer], and we got working. Many persons we interviewed and contacted in the beginning of our writing process were bewildered by our interest in the story of that "crazy," "disturbed," "troubled" young woman, as she was unfortunately labeled. To us these reactions exposed a natural reflex of social conformism; they also reveal the misogyny that is supported by the deeply [embedded] patriarchal norms within our society. It was frustrating and maddening. The story of Petrunija rose from this frustration—we had to react.
The actress Zorica Nusheva makes an incredible performance—funny, sad, inspiring. Can you talk about working with her? What was the hardest scene?
Mitevska: I saw Zorica in a theater play and I loved the quiet strength she projected. She is mostly a comic actress, therefore she has a very good sense of timing within a scene.
I adore working with actors, the creative collaboration that is established is essential to the creation of the character, but the base of it all is the writing. Basically it is difficult to create a good character without a good dramaturgical structure. Everything after is a balancing act, one that takes hard work, long hours of rehearsing and researching. We rehearsed three months before shooting, believe it or not, but that's a comfort the production allowed us, and for me is primordial. This time of rehearsal is not so much used on rehearsing the dialogue but mostly giving the time needed for the actor to be the character, live the character, enter into the essence of the character—once this is managed all is possible. Petrunija defies the established rules, jumps in minus degrees water, takes upon the state and the religious establishment, does what many dare not do, all this because of her strong belief in justice and truth. Her road is quite complicated and hard, and it was important that her character's reactions vary to each situation she encounters—as you mentioned, she laughs, she cries, she challenges, but mostly she persists. I guess the hardest scenes were the physical ones like jumping for the cross in minus degrees cold water, the fight with her mother—whenever violence is involved it becomes a challenge not to over do it!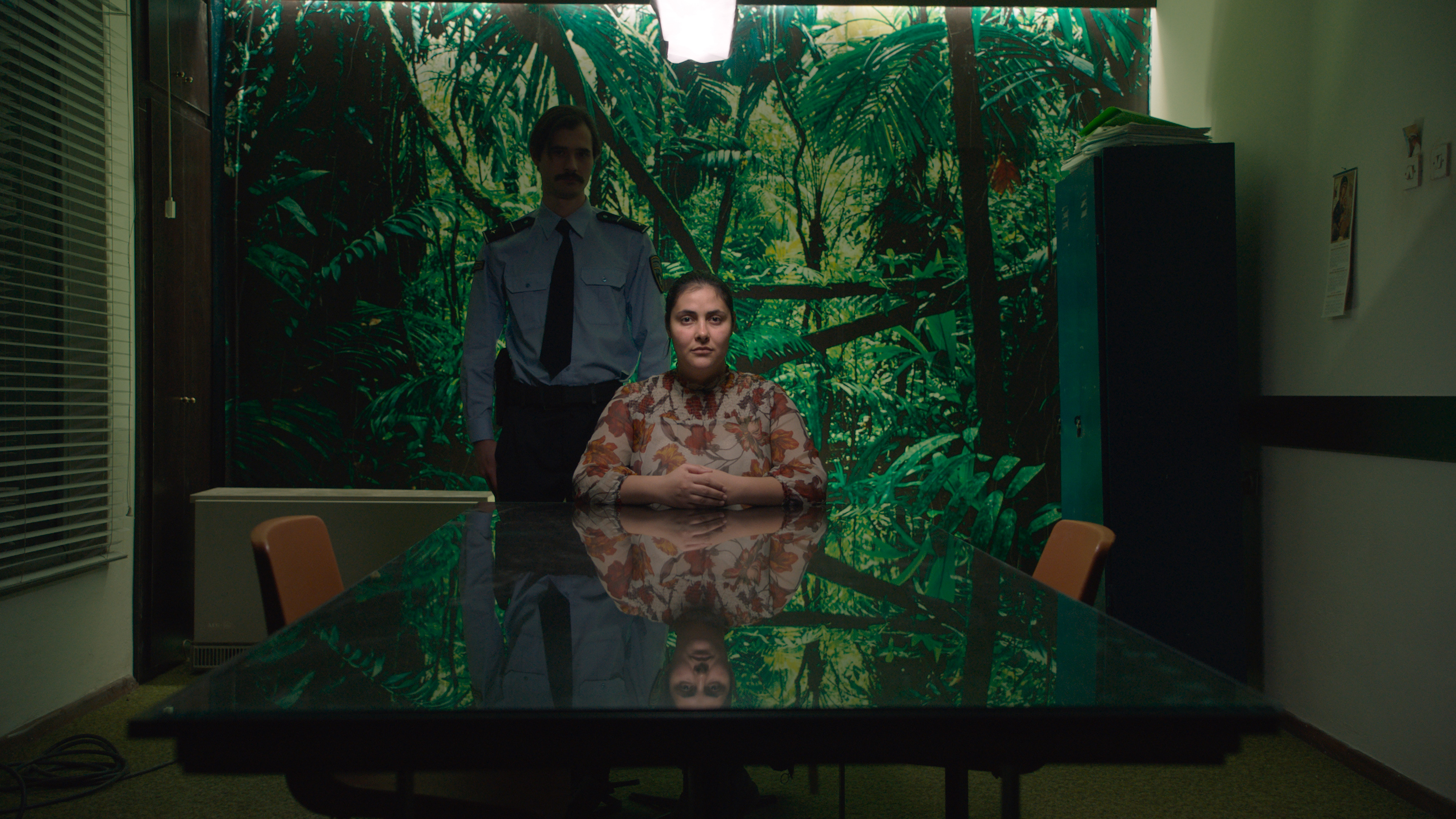 Can you talk about the ending of the film? What is meant by her changed state at the end, and how is the police officer she meets connected to that?
Mitevska: Very quickly we realized that in order for the film to work the character of Petrunija needs to be a transcending one, that within the 24-hour time frame the story takes, she need to grow from a naivety to a force of change, a true heroine of her village….She is a historian by education, by her [final] act she becomes a symbol of change, one that will carry tradition into modernity wisely. With the character of the young policeman we wanted to put forward the idea that not only is Petrunija as a woman a victim of the flawed system of ideas of her society but also is he, as a man. They are both prisoners of it, but it is Petrunija who manages to escape it.
What do you think the film says about courage?
Mitevska: We live in a world of compliance, a world of certain comfort that imprisons us. During the festival, Agneska Holland said something interesting regarding the choice to react—basically she was saying that in our world although many have the choice to react, many don't because of the comfort factor, and she is right. But, we forget that this applies to maybe 10 percent of the world, the western hemisphere. My question is what happens when you don't have even this possibility. And this is where the courage comes, having the courage to create this essential liberty for yourself. Without it, we, human beings are nothing. That is why the character of Petrunija is of importance to us all—across borders, she reminds us that we all have the power to react and change things, make the world a better place and this power comes from the courage of one. Justice, equality and equity for all is what we all do/should strive for.
Essentially this is a story of a struggle of the little man against the social norms that are obviously unjust, but accepted as customary and therefore allegedly justifiable. Moreover, it is a film in which the main character is not only a little man, but she is a woman as well.
It is a story of a woman against patriarchal norms, but it is more a story of an individual fighting against social stratification/power structure/chain of command/hierarchy and the institutions that underpin it.
How were you able to fund your film? I see this was a co-production across countries.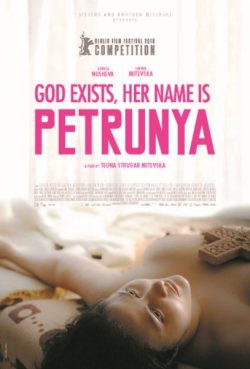 Mitevska: The European system is based of co-productions. When you come from a small country such as Macedonia, the only way to make a film is by involving a co-producing country, this allows you not only to complete your budget but also it gives you the possibility to collaborate with film professionals from all over Europe. I am a firm believer in this opportunity. In Macedonia, for example, we have no post production facilities, also we lack sound professionals. For many years, we didn't even have cameras and lights—now things are better. I have a crew that comes from all over Europe, a crew I have been cultivating for years now, my DOP comes from Belgium, as well as my sound crew and the editing crew, my make-up artist and costume designer come from Slovenia and so forth, and the system of co-production makes this possible. I also work a lot with women, whenever it is possible for me I try to do this. Of course I don't choose my collaborators based on gender only, but if an opportunity opens I go. We can safely say that most of the head posts, 80 percents on Petrunija are European women.
Can you talk about your experience screening at Berlinale? 
Mitevska: The world premiere went surprisingly well. Never have I had a film where the audience has reacted in such a vivid way, they laughed and they cried with Petrunija, in that hour and a half the audience was Petrunija. Since the premiere, the reactions have been inspiring—the film will be distributed in many territories all over the world. This is a great achievement for us—the film is an art house film with large dose of satire that is appealing to the audiences.
I see the film will be released theatrically in March—congratulations! Will you travel to screenings?
Mitevska: Everytime you make a personal film, it is essential that you as a filmmaker defend it, present it. And this is not always easy, it requires a lots of energy and time, but in the atmosphere of today's distribution market when films such as ours go against big hollywood titles we must do the best we can. After all films are made to be seen, intelligent films also not only blockbusters. We must never underestimate the audience.
For more information, visit Sisters and Brother Mitevski Production or find the film on Facebook.
Learn more about Berlinale.
---
---